How I Built A Business Helping People Land Their Dream Jobs
Start A Career Coaching Business
Hello! Who are you and what business did you start?
My name is Austin Belcak and I run a site called Cultivated Culture where I teach people how to land jobs at the world's best companies without applying online.
The company has been around for 3 years now and we've had 50,000+ people come through our community going on to land jobs at places like Google, Microsoft, Amazon, Facebook, SpaceX, Salesforce, Goldman Sachs, Deloitte, ESPN, and more.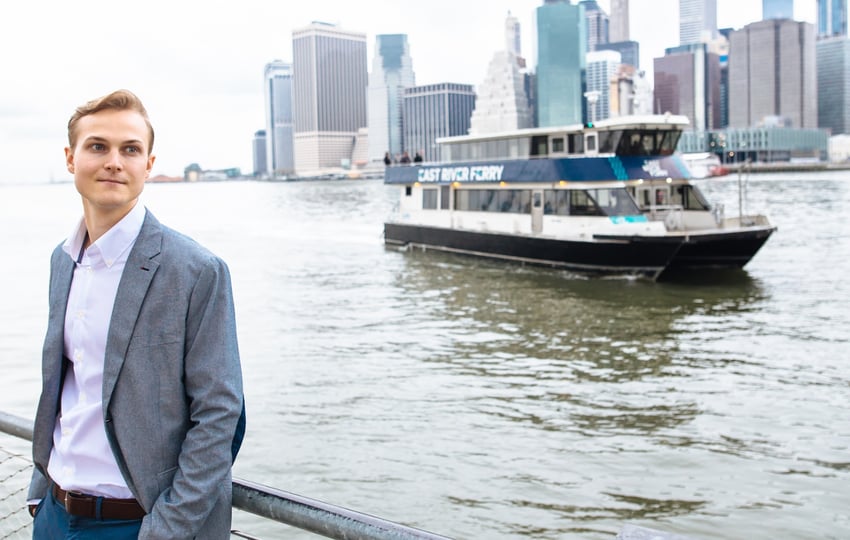 What's your backstory and how did you come up with the idea?
I started Cultivated Culture after struggling to transition into tech as a recent grad with a biology degree and a job in healthcare.
I sent in over 300 online apps and landed less than five interviews. I knew this process was broken but everyone kept giving me the same advice: tweak your resume, apply online, then rinse and repeat because 'it's a numbers game.'
When I started, the job search process was incredibly frustrating and downright depressing. I sent in over 300 online apps and landed less than five interviews (all of which were rejections after the phone screen). I knew this process was broken but everyone kept giving me the same advice: tweak your resume, apply online, then rinse and repeat because "it's a numbers game.".
That wasn't working for me so I had to create my own system through trial and error, tons of testing, and a lot of rejection.
I turned the hiring process into a game and I was determined to figure out how every aspect of it worked. I started A/B testing versions of my resume, tracking results in an Excel sheet. I tested different styles of cover letters, answers to online app questions, cold emails, and approaches to interviewing. I tracked the outcomes from all of them and eventually began to hone in on the strategies that worked.
That led to the process I teach now which focuses on building relationships with hiring managers and finding creative ways to add value. That led to job offers from Google, Microsoft, and Twitter.
After I accepted the job at Microsoft, a lot of people started asking me how I did it. I decided to write up an article including everything I learned along the way.
Outside of the content itself, I spent a lot of time researching other players in the career space who already had established followings. I found ways to work as many of them into the article as I could, linking back to their websites in the process.
When the post went live, I emailed all of them letting them know that I featured them. My exact email was:
Hi [Name],
We haven't met but I love your site and I wanted to let you know that I mentioned your advice on [Advice Topic] in my recent post.
I spent the last two months writing up a 5,000+ word guide on How To Get A Job Anywhere With No Connections. Here's the link, you're mentioned about halfway down.
If you think it's share worthy, I would be super grateful if you'd spread the word :)
If not, no worries at all - keep creating awesome content!
I actually got a lot of replies and shares from those people and the article ended up seeing around 60,000 views in the first month. That's when I knew I was on to something and the rest is history.
Take us through the process of designing, prototyping, and manufacturing your first product.
I'd tried launching a bunch of products (which all failed) before my flagship course finally took off. The big difference was taking the time to validate up front.
I wanted to make sure people would buy what I was selling before investing time to create it.
I started by sending an email to my audience asking if anyone would be interested in beta testing a premium resource around job searching. That was my first point of validation, I wanted to see if people were even interested in the general idea.
After reaching a critical mass of replies (I aimed for 50), I used Google docs to create an outline of the course. It walked through:
Why it's so hard to land jobs today (immediately addressing a pain point)
My story (qualifying myself)
Introduction of the course - what it is and what to expect
A module-by-module breakdown of what's included
Testimonials from people in the audience who had seen success
Pricing (with a 50% discount off the future "retail price" with a working payment link)
I also created a survey that asked people:
If they were interested in buying the course (yes/no)
What they loved about the course
What was missing from the course
What questions they had about the course
Then I replied to each interested person and asked them to read through the course outline and then fill out the survey.
Of the responses, I singled out people who said they would buy the course and encouraged them to pre-order using the payment link (offering a 50% discount and early beta access).
I read a lot about tiered pricing leading up to the course launch so I planned to launch with three sticker prices of $47, $147, $297. The first price was for a version of the course that allowed access to 2 out of the five modules. The second was for the full course, and the third was for the course along with a 30-minute coaching session.
Given the pre-order beta was an "MVP," I only mentioned the middle price so it came in around $73 for beta users.
My goal was to get a 10%+ to sell-through rate. I had 50 people "interested" so I needed at least 5 buyers. I knew that if I could get 10% of people to put money down for something that didn't exist yet, that was a good sign.
I ended up getting 20 pre-orders which validated the product and I spent the next two months building it!
Describe the process of launching the business.
Launching the business was incredibly easy and low cost for me. I think the entire thing cost me about $250 up front.
I bought my domain name for $20 on GoDaddy and WP Engine for hosting. I used WordPress to set up my site (I bought a premium Genesis theme from Studio Press for $60. I signed up with ConvertKit as my email provider (you could use MailChimp to get started for free). Then I bought a landing page builder from Thrive Themes for $70 and I was ready to go.
After that, I just started blogging. I focused on topics that had a lot of search volume in my industry where I could give a unique perspective.
The best advice I can give on launching is to keep it simple and just get started. Don't get caught up in having the best design, fluffy stuff like business cards or the Bentley version of the software that's out there.
Start small and lean and begin proving out your product. If people buy from you with what you have, you know you're on to something and you can invest in the fancy stuff as you grow.
My business is in a great place right now and I still get by on a few hundred dollars a month in overhead. You don't need to go crazy here to be successful.
Since launch, what has worked to attract and retain customers?
My traffic comes from two main sources - my blog and LinkedIn.
Blog posts
On the blog, I aim to make every post I write the most comprehensive post on the topic. I'm also in a space where a lot of the advice is old/outdated so I always try to bring a fresh perspective and back it up with data and experience from my personal job search. People really buy into personal stories, that's typically the #1 piece of feedback I get from my customers -- they love my story and the authentic voice I bring.
If you want this to work, you need to have a killer, highly detailed content. How to guides are great, here's an example of one I did on cover letters and another I did on interview questions and answers. They're both 4,000+ words and they go into a lot of step-by-step details with the answers.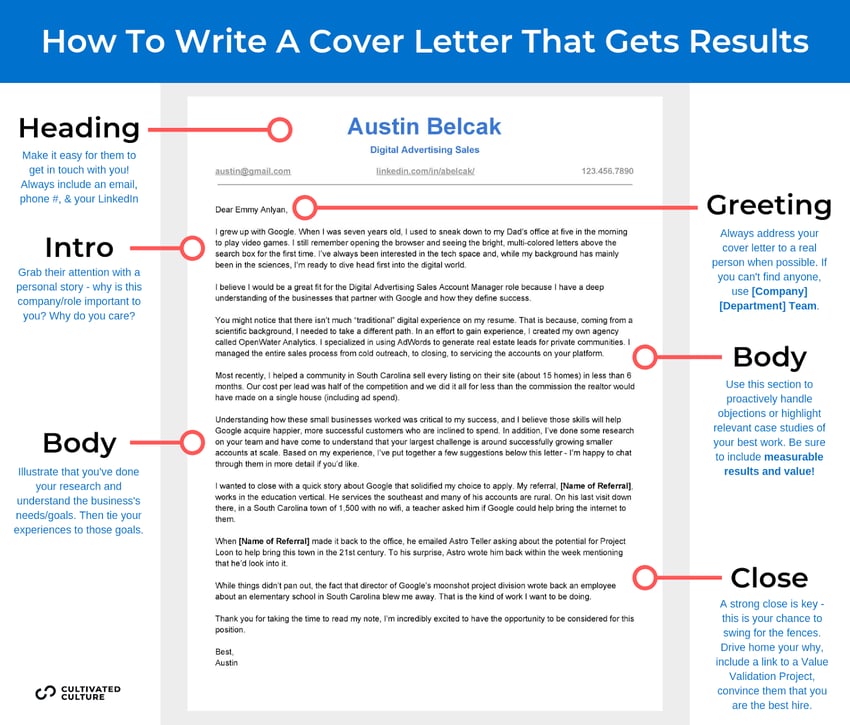 LinkedIn
On the LinkedIn side, I take bite sized chunks of advice from my blog posts and repurpose them. I aim to post 4-5 times every week. When I started out, I had a group of 10-15 people I would text when I posted something and they would all go like it and leave a comment. That helped me build traction with the algorithm and get a lot more views.
I try to bring those some principles of being authentic with my voice and sharing proven strategies from my perspective to LinkedIn. My following has grown from 3,000 - 38,000 people in the past 7 months because of it.
Whether people are coming from the blog or LinkedIn, the end goal is to get them on the email list.
My email list has about 4 months of content dripped out every few days with course launches built into the sequence. Every new person will get X emails and then be sold on a course. It's all evergreen.
The 4 months of content and automated sales funnels allow me to focus all of my time on bringing in new customers, which is great.
Free Tools
I'm also placing a lot of emphasis on product-led growth. The landscape of growth is changing -- pop ups and lead magnets don't work as well as they used to. Right now, free tools are killing it. People want more value for their email address and having a tool that solves a need is a great way to do that.
I just launched a free Resume Builder to do exactly that and I'm also working on a free email finder to help job seekers find email addresses for hiring managers and recruiters. Here's a quick look at the resume builder: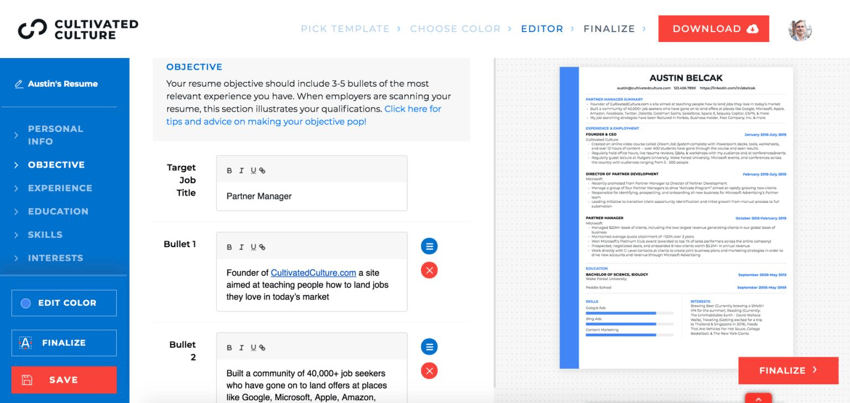 How are you doing today and what does the future look like?
Things are great today. The business is bringing in around $15k-$20k/month and, as I mentioned before, the overhead is only a few hundred dollars.
That's possible because all of my products are digital offerings outside of coaching.
The future is looking great right now -- I'm planning to launch two new courses and heavily invest in more digital offerings while pulling back on coaching.
I really enjoy coaching but it's not a scalable model and my long term plan isn't to trade dollars for hours, it's to scale these resources across a wide audience at an affordable price point.
Through starting the business, have you learned anything particularly helpful or advantageous?
Absolutely! Through all of the screwups that come with trying to start multiple businesses (and failing at most of them), these are the best lessons I've learned:
Action is more important than anything else.
Getting caught up in the perfect color scheme, website design, omnichannel marketing plan, reading a million blog posts, etc. is a distraction from what matters. All you need is a great product and people to buy it, focus on that and then you can spend on the luxuries as the business grows.
Stop reading a million blog posts, stop worrying about what the logo will look like -- just get started. Focus on the basics. Get something up and running, then begin to promote it.
Pick one channel and quadruple down on it.
When I started my business I was trying to do SEO, Instagram, LinkedIn, YouTube, partnerships, affiliate marketing, etc. -- and none of it was working. I eventually pulled the plug on everything and reinvested everything into SEO. My traffic went from 5k/month to 70k/month over the next 8 months. I only recently expanded to LinkedIn about 7 months ago and those are still the only channels I focus on. Don't try to do everything - dial into the one thing that's working and put all of your effort behind that.
Validate your product before you build it.
I wasted so much time and money building these products and ideas that I thought people would love, which ended up being complete flops. Validation takes time and effort, but it's totally worth it in the end. My products before validation maxed out at a couple of hundred bucks. My flagship course after validation grossed $30k in two days during the first launch.
What platform/tools do you use for your business?
Sometimes I feel like half my job is finding the right tools to use! Here are the ones I'm leveraging now:
What have been the most influential books, podcasts, or other resources?
My answer is cliched at this point but the book that inspired me to start my own business and design it with a specific lifestyle goal and model is the 4 Hour Workweek by Tim Ferriss.
Right now, the resource I've gotten the most value out of is Neil Patel & Eric Siu's Marketing School podcast. It's a 5-10 minute daily podcast and I love it because they give you one or two super actionable tactics. I test out everyone they talk about (that's relevant) and their ideas have single-handedly led to the majority of my business's growth.
Advice for other entrepreneurs who want to get started or are just starting out?
The best thing you can do is to take action.
Have an idea?
Stop reading a million blog posts, stop worrying about what the logo will look like -- just get started. Focus on the basics. Get something up and running, then begin to promote it.
If people like the barebones version, you know you're onto something.
The biggest thing I see with "aspiring entrepreneurs" is wheel spinning around perfection.
They want a perfect idea no one has done, so they spend all their time brainstorming.
They want the perfect strategy so they read a million blog posts and get paralyzed by all of the strategies.
They want it to look amazing from day one and then realize it costs a bunch of money to hire a team of developers or go to the best, highest quality manufacturer.
The only way you find the perfect idea is by trying out a bunch of ideas. Most of them will fail and that's ok.
The only way you find the perfect strategy is by testing a bunch of strategies. Most of them won't work either, and that's fine too.
The only way to build an amazing product is to launch a minimum viable product and ask for feedback.
The only way to be successful is to take action, fail quickly, and keep pushing forward!
Where can we go to learn more?
If you have any questions or comments, drop a comment below!
-
Austin Belcak, Founder of Cultivated Culture
Want to start your own business?
Hey! 👋I'm Pat Walls, the founder of Starter Story.
We interview successful business owners and share the stories behind their business. By sharing these stories, we want to help you get started.
Interested in starting your own business? Join Starter Story Premium to get the greatest companion to starting and growing your business:
Connect + get advice from successful entrepreneurs
Step by step guides on how to start and grow
Exclusive and early access to the best case studies on the web
And much more!
Starter Story
Wanna see 52 business ideas you can start with less than $1,000?
Join our free weekly newsletter and get them right now.