I Bootstrapped A $45K/Month Music Merch Brand From My Living Room
I Bootstrapped A $45K/Month Music Merch Brand From My Living Room
Hello! Who are you and what business did you start?
Hello, my name is Dave Harrison and I am the founder of Heavy Metal Merchant.
We are an online retailer that specializes in licensed music merchandise focusing on the heavy metal music genre.
Our main products are apparel items like t-shirts, hoodies, beanies, gloves, wristbands, and even baby clothes along with a wide range of accessories. We also have make some of our own merch designs which are becoming increasingly popular!
Basically, the business started in my lounger room with just myself and a laptop and my cat, with almost $0 selling my old record collection to bootstrapping my business with a nimble team.
We grew sales to 6-figures/week and ship thousands of items every month to people all over the world.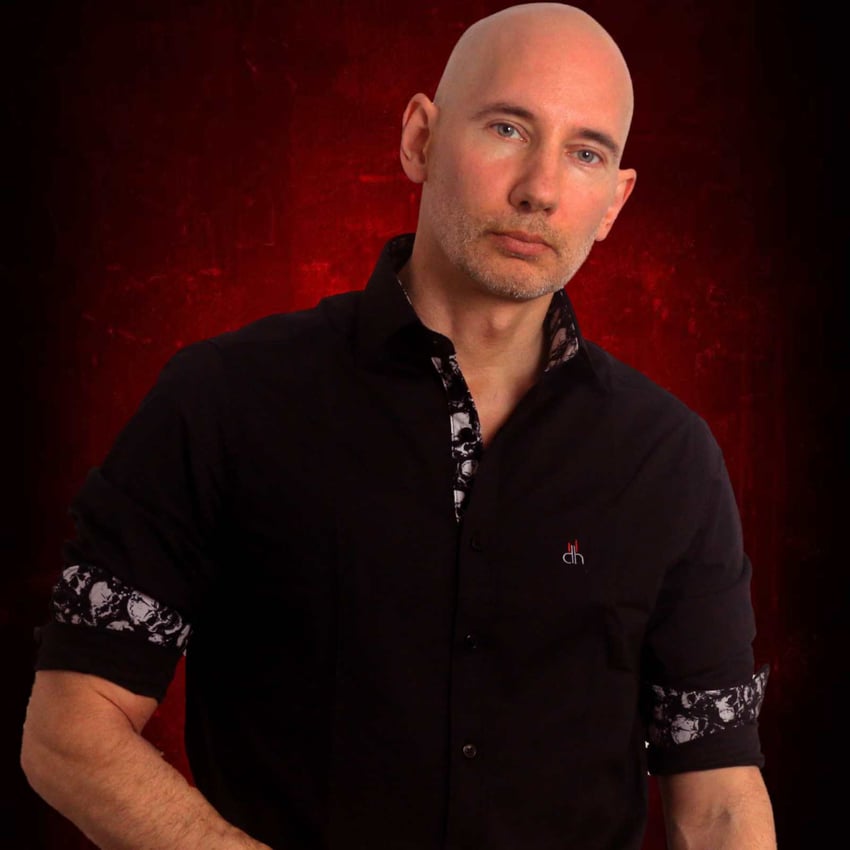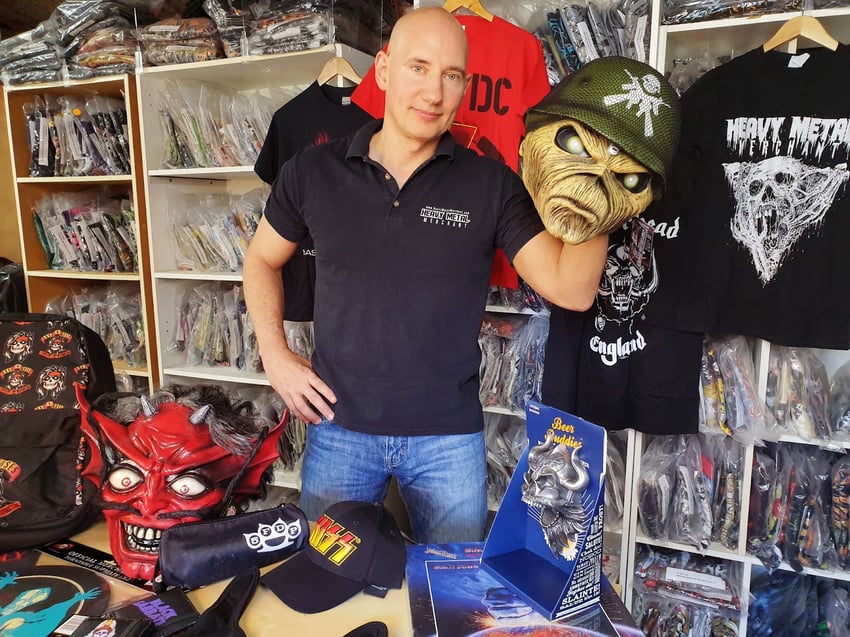 What's your backstory and how did you come up with the idea?
To cut a long story really short I started playing in bands when I was a teenager and was playing gigs since I was old enough to get into the venues. So I have always been around bands and musicians for most of my working life and also enjoyed the business and marketing side later on.
With zero money and the need to pay rent and frugal living costs doing everything to get by from cleaning floors at 5 am in the morning to telemarketing to pay the bills I landed a job at a music magazine and was dealing with bands, promotors, advertising etc.
So Heavy Metal Merchant was a natural extension of that. From a headbanging metal kid to eCommerce business it's been a fun and wild ride for sure!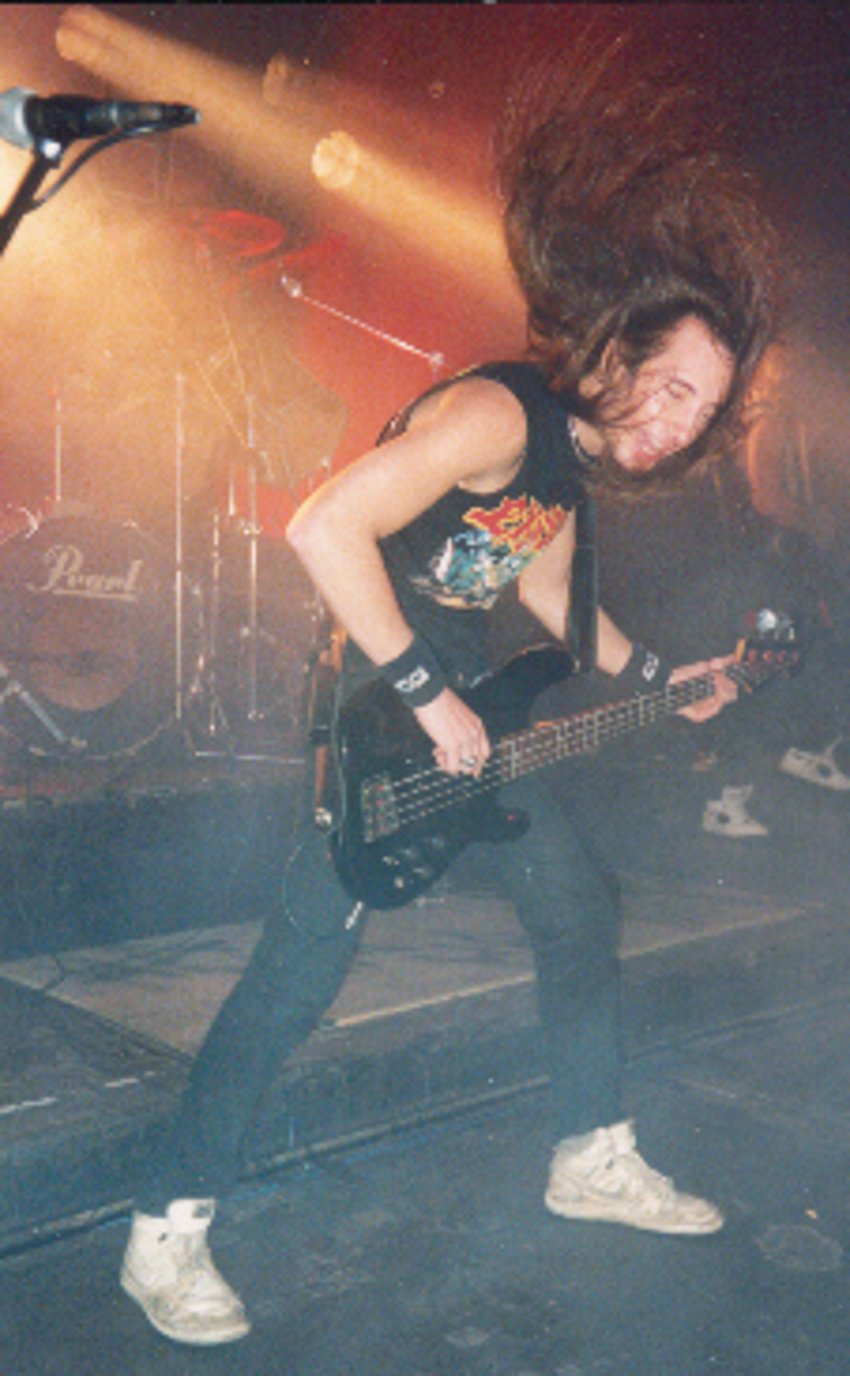 On my way to these jobs, I would listen to audiobooks on business and marketing. Internet marketing just really seemed to click added with a niche I started selling off my vinyl records that I had been hoarding since my teenage years online and it went off like a rocket so this was an aha moment.
From working with one laptop on the couch I pretty much did the hustle and didn't make any income for 6 months and just pumped it back in but after all the sales started ramping up I realised not only had I generated enough income to live on frugally.
I then added a full time employee and focused on growing the team since then. Websites like Fivver and Upwork can be great for this once you have some dependent trained workers.
We quickly discoverd online tribe niches and super fans went together. So the aha moment was born to build a metal tribe online hungry for merchandise that was not always available in the mass market stores. With a nimble operation, we could pass some really good value onto our valued customers who kept coming back.and still do. The loyalty of metal fans can not be understated they are the real heroes of this business.
Timing was very fortuitous for our company. Around 2009, the vinyl boom and online shopping started to hit, and has continued strong to this day. Selling off a sizable record collection online, I then used the funds to acquire more stock bootstrapping everything from retained earnings and to this day, with millions in sales and hundreds of thousands in stock, we have never used outside financing or owe on debts incurred by the business. A pure organic bootstrapped startup growth strategy.
As timing would have it, the old bricks and mortar operations and industry were struggling and I was offered to buy the liquidation of a music store. After flipping that music store, things have just grown and grown and lots of opportunities started coming to us.
Take us through the process of designing, prototyping, and manufacturing your first product.
Having been in the trenches so to speak in bands, it is very important to us that everything we sell is 100% official licensed, so absolutely no bootlegs. We also print up our merch designs too as well as hundreds of different bands from superstars to underground covering thousands of product SKUs.
We work with over 40 suppliers and manufacturers and merchandising licensors many who have come to us over the years as well so a win win for all. We started with T-shirts initially but have grown a lot of stuff from there. Dealing with volume and maintaining efficiancy, and consistency of packaging is important, and being able to pick items fast as our customers go big on the cross to sell with complimentary items our orders can often contain a lot of different units.
Helping out other artists, especially with legal stuff and how they can protect their brand means a lot to us, we also like to sponsor shows and flyer packages, etc. We have worked with a legal firm and published an article on how bands/brands can protect themselves especially on market places international trademarks etc. You can find it here.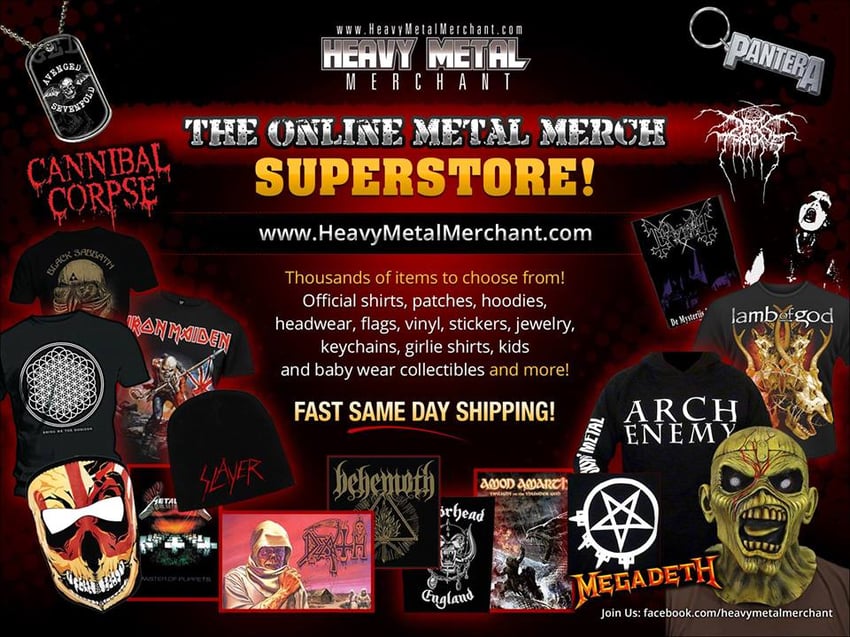 Describe the process of launching the business.
2022 is our thirteenth year, when we started it was a very different scenario to what it has become now, but that is probably a common thread for many businesses that have been around for a while you adapt, modify and evolve as things move along.
The biggest lesson learned is to try things out, and test and you will find stuff that works for you and your customers. Early on we discovered that our customers didn't really like weekly email newsletters, as it was too spammy and interrupted them as soon as they landed on our pages.
Focus on productivity and don't fall into the procrastination naval contemplating traps and falling victim to paralysis of analysis
Initially we ran auctions on marketplaces like Ebayback when the auction format was a thing and not mainly for one of a kind rarities like it is now for second hand lots we would buy and this was even before PayPal even caught on so we would get lots of bank deposits too.
But as things progressed we focussed on bulding out our own website and stocks of new items and for many years. Looking back, It probably wasn't the greatest looking website, but the navigation and ease of finding things within a small out of clicks was there.
Since launch, what has worked to attract and retain customers?
Our sales are mostly through our online store these days and around 65% is domestic sales. Our organic channel is improving all the time so scalled right back on the marketplace platforms and we have full control of order fullfillment.
SEO + Keyword Research
We have been very blessed but lucky to have started at the perfect time. Back then you could post to social media and reach like 90% of your audience for free. Having descriptive keywords in our business name also helped SEO traction. Besides, contrasting colours to the popular social media platforms really helped us stand out.
SEMRush is a great tool to learn about SEO and keywords relevant to your business and it is good to have a basic understanding as this is an unregulated field with agencies signing up business on first page Google contracts taking precious money and overcharging for simple tasks so it is good to have a basic understanding of what is required so you don't get ripped off!!
Those were some of the things that gave us a leg up, and while they didn't cost us anything, they grew our high commercial intent customer lists into the tens of thousands. An interesting learning early on for us in regards to keywords is in Australia the term 'heavy music' is often used it's a bit of a carryover from the alternative 90s era but still used a lot down here.
We found that 'heavy metal' has more than twice the volume of monthly global searches and associated prefixes so understandings like this help you use the right words when building out your website so you are more likely to be found without spamming it. You can use Google Trends to help find your way.
Social Media
As far as ad spends go it is quite minimal as we have so many loyal and repeat customers, but we do like to run awareness campaigns to keep top of mind on social media platforms like Facebook, Instagram, Twitter and Pinterest and also some conversion campaigns.
We definitely look on scaling it up but really it is all about quality of engagement in high interest opt in with high commercial intent rather than sheers numbers for the sake of it that do nothing for the algorithm and look alike campaigns.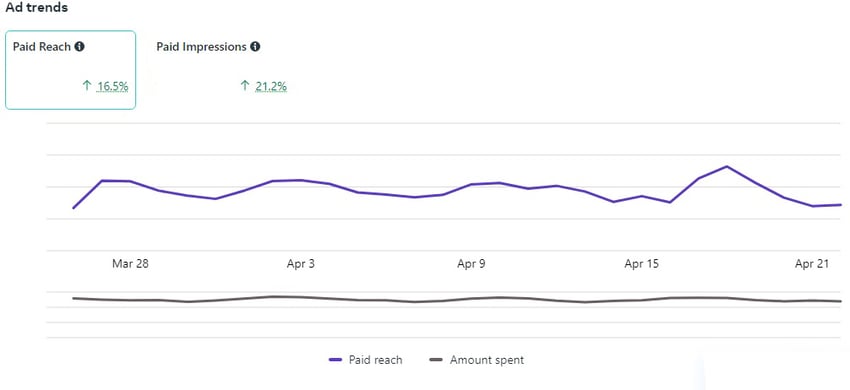 How are you doing today and what does the future look like?
Today Heavy Metal Merchant is a true force in the metal music merch market. Sales have increased over 10x from when it was started and have been profitable for more than 12 years straight with steady manageable growth and a conservative investment strategy this year month to date we are up 5% already.
In terms of business plans, it remains very steady for Heavy Metal Merchant and it has been that way for quite some time, offering a large selection of official merchandise, at fair prices shipped free domestically super fast.
It sounds cliche but we are committed to serving our valued customers with excellence and supporting the niche and subgenres we serve and deep diving to places the big corporate entities don't go.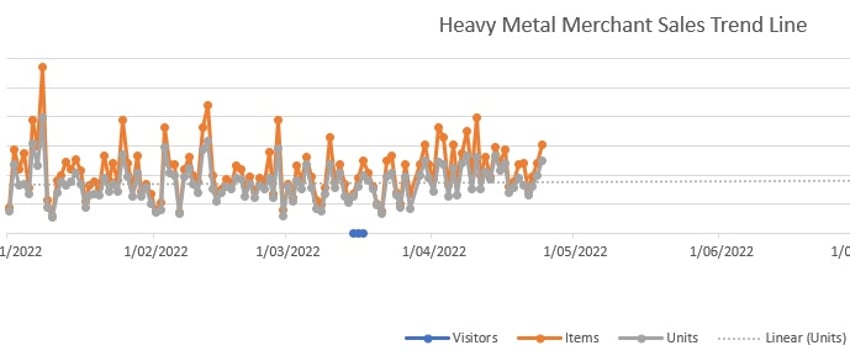 The line that goes up and down is the plot of measurements and the line that is straight is the median average. This way at a glance, you have a visual representation and can see if your business is running at a stable process without knee jerk reactions or wasting emotional energy reacting to daily sales.
Overall for us the artists and bands always come first and being treated with utmost respect and transparency is a number one priority. We make sales reports available 24/7 via dropbox to bands or labels so people who deal with always know where they stand. For us it is about small and family like rather than big and corporate.
We are always looking to expand into new product lines if it makes sense and we make it a priority to add new inventory every week so customers are always coming back and excited to see new things.
Through starting the business, have you learned anything particularly helpful or advantageous?
Jumping on social media platforms like Facebook earlier on in the late 2000s was good for us and others starting up around that time you could reach a large audience before it became pay to play so a lot of that had to do with timing first-mover advantages. Also having some of our marketing built into our business name helped give us a leg up as it is keyword relevant and descriptive of what your business is about. The ability to keep evolving as the only thing constant is change is something that has been a beneficial attribute.
Surround yourself with like-minded individuals and mentors that are walking or have walked the path before, keep learning and educating and remember when taking advice there is no substitute for experience.
Also a good tip is not to fall into the trap of buying fake followers on social media platforms in an attempt to be look big unless you are going for a Hollywood celebrity-type branding where perceptions but not conversions are key.
If it is about conversions of products and building trust in your business, engagement, realness, transparency and true opt-in quality are key. If the comments are clearly irrelevant or gibberish, they're from fake followers. Following/Followed by "fan-buying" services: If you look through their followers and who they're following, you might see one or two fan-buying accounts.
Business is constant problem solving so the ability to make it happen and rising to the challenge is a valuable attribute for anyone.
What platform/tools do you use for your business?
We don't get too fancy with the tools we use for our business generally we to stick to the basics but some of the tools we use almost every day are Excel, Dropbox, Skype, Canva, Photoshop, and stuff like that.
SemRush is handy for SEO. Nothing will make you look unprofessional like bad grammar and punctuation so Grammarly also is super handy for customer communication and your website content.
Over the years we hachanged from an American platform which was a big headache after a while it was slow and sluggish and hard to get customer support now we have a platform that whenever there are any issues we have a tech back end we can call and get issues resolved right away called Maropost. For email we use Mail Chimp
As far as productivity BlockSite and the browser extension News Feed Eradicator are handy ones as it stops you from going down social media or time-wasting on rabbit holes and who is not guilty of that from time to time?
What have been the most influential books, podcasts, or other resources?
Yes, I went through a big voracious reading phase early on some of the classics are definitely must-read with so great insights and paradigm shifts towards thinking about business.
Recently have been thrashing some ebooks on Audible and would highly recommend Building A Story Brand by Donald Miller if you want to learn the golden rules of communicating and connecting with your customer and the Psychology behind it.
Also Napoleon Hill's perennial classic 'Think and Grow Rich' may have been written long ago and have some esoteric content in it but the Chapter 7 on organised planning will really cover a lot you need to know on why people fail and some succeed.
Advice for other entrepreneurs who want to get started or are just starting out?
Don't wait for things to be perfect before you get started!
Focus on productivity and don't fall into the procrastination naval contemplating traps and falling victim to paralysis of analysis, ie becoming a seminar junkie or spending exorbitant funds for self-development coaching gurus rather be proactive get in and take the shots, ride the waves, surround yourself with like-minded individuals and mentors that are walking or have walked the path before, keep learning and educating and remember when taking advice there is no substitute for experience.
Implementing new systems, new focus, and attention, and revamped processes can really light a spark and rejuvenate a business with assets that may be under market value rather than another online me-too business. If you are confident in a brand new idea that can be viable as well just perhaps a little more difficult.
Being an entrepreneur is not for the faint of heart! In the beginning, you will be wearing many hats to keep costs down and putting in hours way above and beyond a normal 9-5 cubicle worker but this will be valuable in helping you to understand every aspect of your business and you can grow and outsource expand from a solid base.
Where can we go to learn more?
If you have any questions or comments, drop a comment below!
-
Dave Harrison, Founder of Heavy Metal Merchant
Want to start your own business?
Hey! 👋I'm Pat Walls, the founder of Starter Story.
We interview successful business owners and share the stories behind their business. By sharing these stories, we want to help you get started.
Interested in starting your own business? Join Starter Story Premium to get the greatest companion to starting and growing your business:
Connect + get advice from successful entrepreneurs
Step by step guides on how to start and grow
Exclusive and early access to the best case studies on the web
And much more!
Together With Food Foundry
Do you want $75k in funding to grow your startup?
Food Foundry is an accelerator program built by Relish Works & Gordon Food Service for early-stage startups disrupting the foodservice industry. Applications are open now through October 23rd! Apply today if you're looking for:
$75K in funding
Specialized early-stage curriculum and resources
Dedicated mentorship from investors and foodservice experts
Highly supportive community to help grow your business
Food Foundry's 2023 cohort will kick off in January in Chicago and end with a final invite-only showcase for companies to pitch to investors and the broader Food Foundry community.
Apply NOW [It only takes 10 minutes!]