9 businesses you can start with less than $5K
9 businesses you can start with less than $5K
This is an archive of the Starter Story newsletter, which is read by 87.2K people every week.
In each issue, we share the biggest business ideas that are working today, along with case studies of founders who are making millions every month. Sign up today ➜
---
9 businesses you can start with less than $5K
Many people are often hesitant to ditch their 9 to 5 because of financial limitations. But you don't necessarily need a huge investment to start your own business. There are plenty of business ideas that you can start with a budget of $5,000 or less.
According to a study, most micro businesses require a startup capital of around $3,000, way below the credit card limit for many people.
Here's a list of businesses you can start with $5,000 or less
#1. Apparel brand
This couple turned a $5K investment into a $7.2M apparel brand.
What started as a hobby selling crafts on Etsy, evolved into a full-time business.
Their secret? Catering to a niche that is often forgotten in mainstream clothing.
#2. Subscription box
This city-themed gift box became a $400K/year business.
What? Are subscription boxes still around? Yeah! And one of their greatest advantages is that they're super low-investment businesses.
This guy started with just $500, running to the store to buy the products every time he got an order. No upfront costs, no storage needed.
#3. Virtual assistants business
This former real estate agent makes $6M/year.
After hiring one VA for his business, he realized how much productivity increased.
With an initial $2K investment, it took just a couple of days to get the first customers, since he already had connections with highly trained VAs and had been telling his colleagues how good they've done to the business.
#4. App development agency
These founders started a $700K/year business with just $500.
If you're a developer you've probably thought about this already. You got the knowledge and a computer, which is basically all you need. Upwork and Fiverr can be great places to find your first customers.
And if you can't code but can find customers, I'm sure developers will be happy if you send work their way.
Learn how to build a 6-figure business
Would you learn how to cook by creating your own recipes?
No, you wouldn't. You'd use the internet to find step-by-step guides and learn by copying from the best.
You can do the same to starting a business. There's no need to figure out everything on your own. You can do the same others did before (and succeeded).
Discover the techniques and strategies to spot business opportunities and to build a business with thousands of customers.
Join today and learn from 3,000+ real-life case studies. No BS, no fake gurus. Just the real deal.
Less than the cost of 99% of online courses out there. Starter Story is a no-brainer investment in your future.
#5. Blog
This blogger makes $216K/year writing about finance.
A classic internet low-budget business. This blogger invested only $200, but she could have spent even less.
The best thing about blogs? You can start one about literally anything. And there will be people searching for information about that. Guaranteed.
#6. Earrings brand
These earrings reached $264K/year in 15 months.
How did they do it? Success was the result of targeting an underserved niche: people with metal allergies who can't wear regular earrings. Most brands leave these people out, and they're about 20% of the world's population!
Again, niches can be huge.
#7. Smoking accessories
These first-time founders started an $840K/year marketplace with $300.
What started thanks to a competition hosted by Target has now made $2M in lifetime sales.
With marijuana being legalized for some uses in 39 states of the US, the sales of smoking accessories are also rising. Joining a growing trend can provide an invaluable leg up.
#8. SMS platform
This founder started a $600K/year SMS platform after 12 failed projects.
Feel like SMS is too old-school? Even today, there is no other universal mobile communication channel (compatible with any device worldwide without installing any software). And it has a killer 98% open rate.
Key takeaway: Don't discard a technology, tool, industry, etc. because it seems old-fashioned. New is always cooler, but a very small percentage of people jump onto using new technologies as they come out, most of the world sticks with old systems for ages. Do you know some industries still use fax machines?
#9. Templates
This woman makes $120K/year selling sewing patterns.
A super overlooked type of business. But consider this, most people need help when they want to make something for the first time, right? It's completely normal, they go to the internet and search for guides and templates.
Creating these documents "for dummies" can grow into a very lucrative business. The cost of making it is virtually $0 and so it can be the distribution.
Plus, a great upside is that you can start a business of this kind to many different needs (and make lots of money with all of them): social media posts ($1M/year), PowerPoint templates (6 figures) or spreadsheets ($240K/year).
Sponsored by SEMRush

How did this company grow so much? What are they doing to get so many customers?_
With SEMRush competitive research tools you can easily identify the top players in your niche and reveal their promotion strategies (so you can copy them).
Try SEMrush free for 14 days and shorten the road to success.

Quick hitters
(1) This solo founder bootstrapped a "simple" business to $1.2M/year. However, getting this far has not been a bed of roses. And keep growing is even more challenging. But he embraced a pretty unique approach to help him make better decisions: magic mushrooms.
The solo founder path is hard, but there are plenty of successful examples to be inspired by: $600K/year e-commerce, $300K/year brand.
(2) This guy went from Upwork freelancer to building a $500K/year business. From translation gigs to managing 10 full-time employees. A great example of how lucrative productizing a service can be.
Do you want to make the jump from working freelance gigs to starting a business? Learn how these starters left the gig life and built a $480K/year agency, a $120K/year WordPress business, and a $444K/year SaaS.
--
Thanks for reading!
Want to start your own business?
Hey! 👋I'm Pat Walls, the founder of Starter Story.
We interview successful business owners and share the stories behind their business. By sharing these stories, we want to help you get started.
Interested in starting your own business? Join Starter Story Premium to get the greatest companion to starting and growing your business:
Connect + get advice from successful entrepreneurs
Step by step guides on how to start and grow
Exclusive and early access to the best case studies on the web
And much more!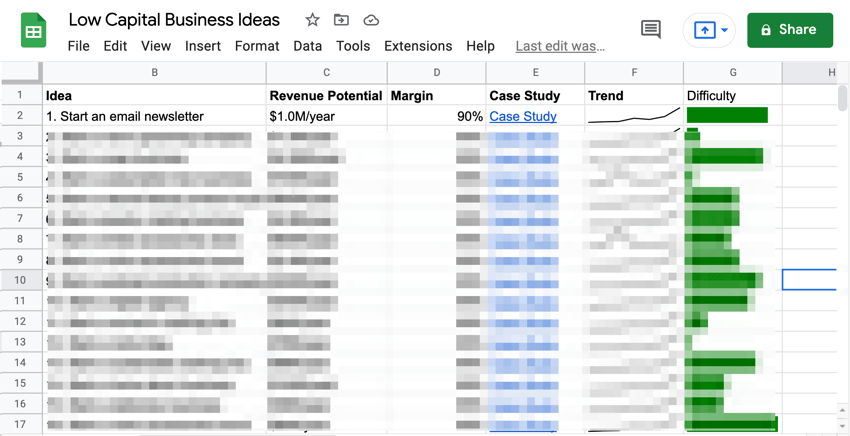 Wanna see 52 business ideas you can start with less than $1,000?
Join our free weekly newsletter and get them right now.
meet the author
David Bustos
Hey there! 👋 I'm David, and if you ever got an email from Starter Story, I probably wrote it. With a background in working with startups and writing, being part of this team is kind of a perfect fit for me.