Thank you Klaviyo for sponsoring Starter Story ❤️
Turn one-time buyers into repeat customers. Try the platform loved by 265,000 brands
Update: How We Grew Our Agency To $700K/Year With A $500 Initial Investment
Start A Mobile App Development Business
This is a follow up story for The Jed Mahonis Group. If you're interested in reading how they got started, published almost 2 years ago, check it out here.
---
Hello again! Remind us who you are and what business you started.
Hello, again! My name is Rob Bentley, and I'm a co-founder and CEO of The Jed Mahonis Group. We specialize in building best-in-class iOS and Android apps for businesses of all sizes, from funded startups to large enterprises. My business partner and I started the company right out of college by investing $250 each and are closing in on our goal of turning it into a seven-figure a year agency.
We continue to be the mobile tech team of our long-standing clients like Profile by Sanford Health, Kwikly, Green Mill, and others, but here are some notable projects we've worked on since my business partner Tim Bornhold last wrote about us:
We partnered with TurnSignl to build an on-demand tele-legal app in response to a growing cultural movement.
We worked alongside the team at Little Free Library to launch an app so book lovers everywhere can find little library locations near them.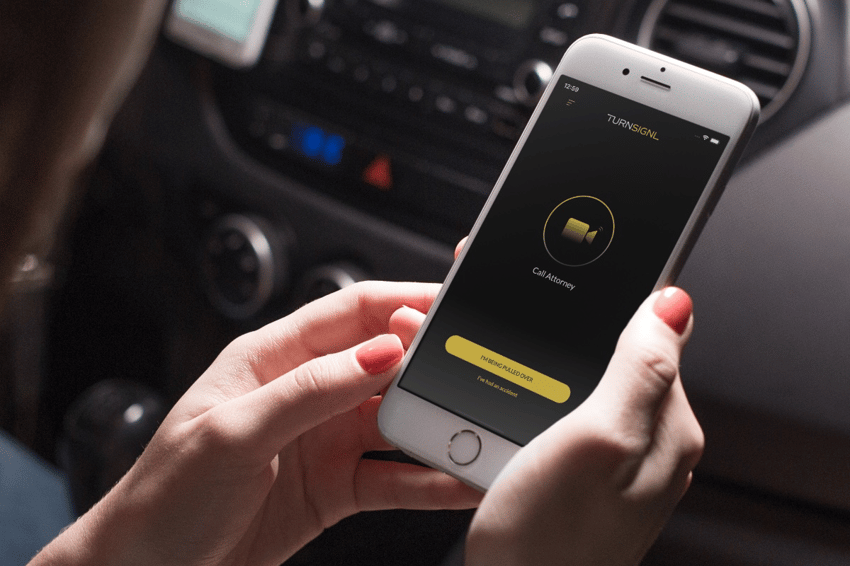 Tell us about what you've been up to! Has the business been growing?
We've been in business for almost 10 years, and every year has seen growth, except last year, 2021.
The sales cycle for $100,000+ projects like ours is a lengthy one, often 6 to 9 to 12+ months, so it would be easy to blame 2021's dried-up sales pipeline on the 2020 pandemic. But we spent a lot of time reflecting and found the biggest contributor to our pipeline struggle was the lack of an outbound sales process.
Since starting our business, we've been lucky with how we've acquired business. It mostly came in the door without any outbound effort on our part.
As we learned the hard way, this will only take you so far, and we knew we needed a focused effort on outbound sales. Initially, we didn't have the financial means to hire a person solely focused on building our sales pipeline, so my business partner and I spread sales responsibilities amongst ourselves in the meantime.
My outbound sales efforts focused on getting quick wins in the door by upselling services to current clients and forging relationships with recruiters. I spent my days pouring through job boards looking for companies needing iOS and Android expertise and reaching out to them to see if they would be interested in a C2C contract.
My business partner focused on the long-term efforts of building relationships with people we wanted to do business with. In this line of business, sales aren't closed on the first interaction. It takes some back and forth to establish trust and clear lines of communication. Having an uninterrupted and distraction-free opportunity to connect with someone is so rare these days, so he started doing Walk & Talks, instead of coffee meetings and Zoom chats, to help differentiate ourselves from our competition and provide a single unique memory that is easy to recall.
We also started using our podcast, Constant Variables, as a targeted method for connecting with companies we want to do business with. By inviting a key decision-maker of a targeted company to be a guest on our show, we are essentially having hour-long meetings where we learn about their company's challenges and introduce our services. (Of course, we do this in a way that isn't solely or slimy to keep the content of the show good, so more people will want to be guests, more people will listen to the show, and more people will get to know us. We recently surpassed 25,000 downloads and have recorded over 100 episodes!)
What have been your biggest lessons learned in the last year?
There is a lot of value in transparency, and it can be a competitive differentiator. We found this to be true when we published our pricing on our website.
Ask any software development shop what it costs to build custom mobile apps, and the short answer you often hear is: it depends on what type of solution you need.
Because of this variability, if you visit any number of software development websites, you aren't likely to find a price breakdown of services. (Trust us, we checked close to a hundred competitor sites and found only two that listed pricing).
But there is some productized consistency in software development, so we added a Pricing Page to our website, breaking down the costs of:
Strategizing and prototyping an app
Building custom mobile software
Supporting custom mobile software
Current clients, prospective clients, peers, and even competitors took notice. It's become the number one visited page on our website after our homepage and has made our sales process a lot simpler.
What's in the plans for the upcoming year, and the next 5 years?
For the next year, we're looking to grow our presence in smaller markets. As more companies become technology companies, finding technical talent is becoming increasingly competitive. One of our clients came to us because the iOS and Android expertise they needed didn't exist in their market, so we're targeting regions like theirs in the upper Midwest.
The previous year's outbound sales efforts between the other co-founder and myself have put us in a good spot to expand our team, and we recently hired our first Business Development Rep. With someone focused full-time on acquiring clients, we expect revenue to double in the next year or two.
For the next 5 years, we want to keep doing what we do best: build strong partnerships with teams who see the value of a mobile app or web tool within the larger context of their organization. We will build and improve our processes so we can address our weaknesses and focus on delivering high-quality software as quickly as possible. We will continue to lead our industry and learn more about emerging technologies so that we can give our clients the best possible advice on how to utilize them.
Have you listened to any good podcasts in the last year?
Your Four Advantages Over an In-House Department by the 2BOBS Podcast talks about when agencies partner with larger organizations, they get put into one of three situations:
1) They get plugged into no existing team.
2) They get plugged into a team of 1-5 people.
3) They get plugged into a team of 6-200 people.
After listening to this episode, we began thinking through our clients and their needs and realized we fit best into Situation 2, so we changed the copy on our website to resonate more with folks in organizations with existing IT teams of 1-5ish people.
Our messaging became clear: "You've got a great IT team who doesn't have experience in mobile. Plug us in and let us lead the way."
If you don't have time to listen to the full 2BOBS episode, here's a cool infographic from their website.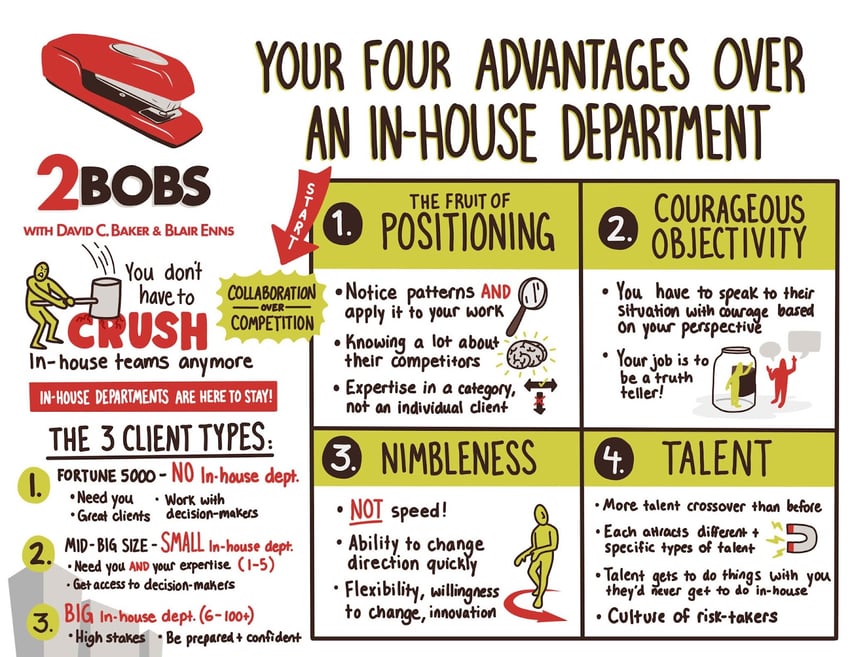 Advice for other entrepreneurs who might be struggling to grow their business?
Communication is everything. Keep in touch with your clients. Keep in touch with your team. If something feels wrong or inadequate, address it right away so it doesn't grow and fester into resentment.
In the app development industry, it's common to hear people say, "Ideas are cheap, execution is everything." After 10 years of running my own business, I couldn't agree more.
The concept of running a business is pretty simple: provide value to someone in exchange for money.
Executing that concept, however, means different things to everybody. That's why you see so many businesses doing the same thing but in slightly different ways. You've got to work with your team and clients to make sure you're always striving to get better. Focus on building your strengths and hiring out your weaknesses.
Are you looking to hire for certain positions right now?
As more projects come in the door, we are looking to hire iOS, Android, and Ruby on Rails engineers. You can check out our Careers Page, email us at [email protected], or, as another point of differentiation, you can directly schedule a call with me.
This isn't a call with an HR rep.
This isn't a call with a recruiter.
I'm a developer by trade, so no matter your level of expertise, and even if you aren't looking for a new gig right now, it doesn't hurt to get connected and grow your network.
You can also connect with me on LinkedIn.
Where can we go to learn more?
The best places to learn more about us are the Jed Mahonis Group website and our monthly newsletter.
Our podcast, Constant Variables, and blog are good places to check out if you're interested in learning more about the non-technical aspects of app development.
-
Rob Bentley, Founder of The Jed Mahonis Group
Want to start your own business?
Hey! 👋I'm Pat Walls, the founder of Starter Story.
We interview successful business owners and share the stories behind their business. By sharing these stories, we want to help you get started.
Interested in starting your own business? Join Starter Story Premium to get the greatest companion to starting and growing your business:
Connect + get advice from successful entrepreneurs
Step by step guides on how to start and grow
Exclusive and early access to the best case studies on the web
And much more!
PROMOTED
Did you know that brands using Klaviyo average a 95x ROI?
Email, SMS, and more — Klaviyo brings your marketing all together, fueling growth without burning through time and resources.
Deliver more relevant email and text messages — powered by your data. Klaviyo helps you turn one-time buyers into repeat customers with all the power of an enterprise solution and none of the complexity.
Join Brumate, Beardbrand, and the 265,000 other businesses using Klaviyo to grow their online sales.
Starter Story
Wanna see 52 business ideas you can start with less than $1,000?
Join our free weekly newsletter and get them right now.