Julien Plouffe
---
This article is a part of our encyclopedia, and is editable by you. Edit ➜
---
Julien Plouffe is an American entrepreneur. Julien started Moonglow Jewelry in 2012 and is based in Miami, FL.[1]
| | |
| --- | --- |
| Company | |
| Location | Miami, FL |
| Companies | |
Career
Early Career
No early career info added yet...
Moonglow Jewelry
Julien started Moonglow Jewelry in 2012. They detail the beginnings of their company in their Starter Story interview: [1]
Q: How did you get started on Moonglow Jewelry?
Unfortunately, I was always messing around in school, I loved socializing and was friends with everyone, I was pretty bad at everything except theater and sports. Bad in a classroom setting, but I flourished out in a crowd selling.
When I turned 16, the principal told my father I should quit school and work for him. I did. My father had a pitch business selling infomercial-type products in fairs across the United States, but most products I sold were either passing trends or did not hold my interest, at least not until Moonglow.
In 2011 at a fair in Springfield, MA called The Big E is where my life changed direction a bit. I was 23. I was selling Moonglow for the first time and the sales were great. People loved the idea, the concept, and I knew this was the product I wanted to focus on and could really build a brand.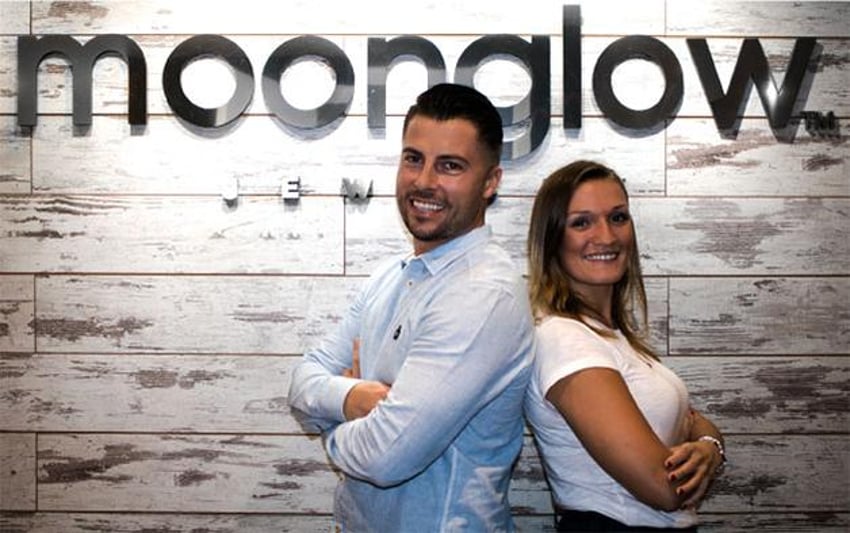 At the age of 25, I broke off from my father's business and concentrated on building Moonglow with a business partner. We set up a website and continued selling in fairs, markets and many other events like Comic Cons. It wasn't too long, we had a crew of four people travelling and doing events for us.
One day I was selling at an event and thought, "There must be a better way" than one on one sales. I really wanted to scale Moonglow and I was getting tired of the traveling; the setting up and taking down at each event; just to do it all again. I decided I wanted to work with boutiques and stores to sell our awesome line to their customers. I spent the money to enter a B2B trade show in New York, (a pricey $10,000) and covered the costs of the show in less than a day, with new orders from stores. I knew from that moment, this is the way to go and scale.
Shortly after the trade show, we hired our Director of Sales who handles all of our in store placement and customer acquisition on the wholesale side.
With ever increasing sales, I could no longer run the company out of my Miami Beach condo. It was time for an office and a warehouse. We opened a small office/warehouse in Doral, FL. Hired two employees, one for customer service and another for picking and packing order.
Now we have a talented team of 12 employees and seven contractors. There are plans to hire additional members as Moonglow continues to grow.
Source [1]
References
Contributors
Contributors to this article:
Pat Walls, Founder @ Starter Story
Wiki Updater