Jon Shanahan
---
---
Jon Shanahan is an American entrepreneur. Jon started The Kavalier in 2015 and is based in Pittsburgh.[1]
| | |
| --- | --- |
| Company | |
| Twitter | |
| Instagram | |
Career
Early Career
No early career info added yet...
The Kavalier
Jon started The Kavalier in 2015. They detail the beginnings of their company in their Starter Story interview: [1]
Q: How did you get started on The Kavalier?
My days with a camera can be traced back to my parents' Sony Handycam when I was 6 directing my friends to make mini movies (still somewhere around here on VHS) but high school was a defining time for that passion as I joined the video club.
There's certainly no substitute for hard work and dedicating thoughtful time to what you're working on. I've published over 500 videos in the last three years and it takes a lot of time and effort to get there but if you show up everyday you will be ahead.
I was a distracted student in high school but my one reprieve was making videos at the direction of my teacher Brad Schulte. One of my earliest projects is still on YouTube which received 700k views at a time when that was a big deal. Most of those views came from people searching for keywords which planted a seed.
I went to La Roche college for design and communications because I loved spending time in Photoshop and illustrator creating. I flourished in college (except for math class) and at the end of my first year I started working for Apple as they were opening a new store near my campus, the 2nd youngest employee in the store. It opened on my birthday in 2010 and it was pure euphoria. I switched my major to IT after realizing I wasn't an excellent designer and could see a larger career path in tech.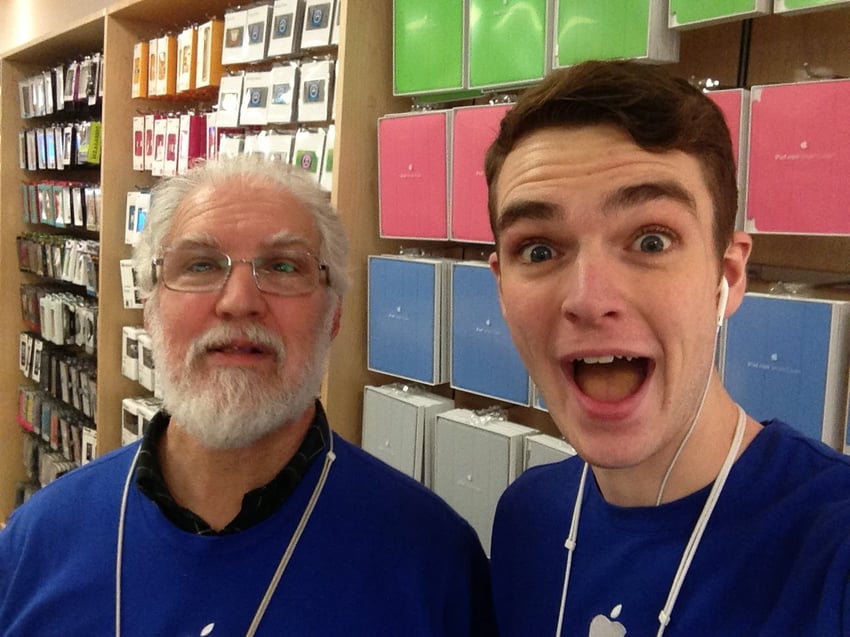 Me @ Apple in 2013
Just before graduation I started full time as a video producer and social media manager for the largest law firm in Pittsburgh based on my prior experience. This was my first office job that I needed to dress wear a tie everyday and started my passion for menswear. I spent a lot of time researching brands, fabrics, designers and learned of this new world. You make a lot of mistakes when you start "dressing well" but you have to start somewhere. My girlfriend (now wife) always encouraged me to improve my style and has much better taste than me.
That lasted a year then I started a sales job with a local tech startup focused on helping the retail industry. Most of my meetings were with c-level executives in fashion so the stakes and my salary went way up. More clothing, higher budget. Learning more about the inner workings of the industry was inspiring and addicting. I did have an itch to create again and tap into my design/video background and my love of YouTube never dimmed. 2014 was a hectic year as my fiancé and I planned a wedding and I started a new job but on my honeymoon the idea for The Kavalier crystallized. It was the first time in 4 years I wasn't actively focused on something for work or school.
I came home, registered the domain, wrote a lot of ideas and concepts for my direction, and decided I would post my first video in January. At the time online mattress startups were just permeating the industry and I wanted to do an honest comparison between them, that video took almost a year to finish. I hoped that someday I would be able to support myself via the channel so that I could produce content full time but had no written road map - just post great videos.
Source [1]
References
Contributors
Contributors to this article:
Pat Walls, Founder @ Starter Story
Wiki Updater