Thank you Klaviyo for sponsoring Starter Story ❤️
Turn one-time buyers into repeat customers. Try the platform loved by 265,000 brands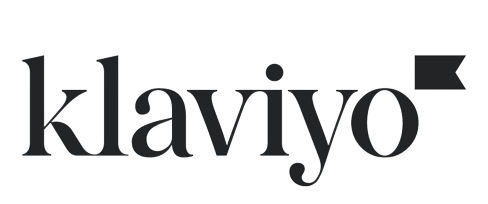 280+ Best Photography Instagram Bio Ideas [+ Free Guide]
•
Updated: January 21st, 2022
280+ Best Photography Instagram Bio Ideas [+ Free Guide]
If you're looking to up your Instagram game, it's imperative that you have a great Instagram bio.
Your Instagram bio is the first thing your followers will see - it should be unique and tell users exactly what you do and who you are.
We understand how difficult it can be to craft a compelling Instagram bio, which is why we curated a list of the 285 best photography Instagram bios.
Additionally, we provide you with examples of the best photography bios on Instagram and a step-by-step guide to get you started.
Looking to generate your own bio? Check out our free Instagram bio generator here.
Creative Photography Instagram Bios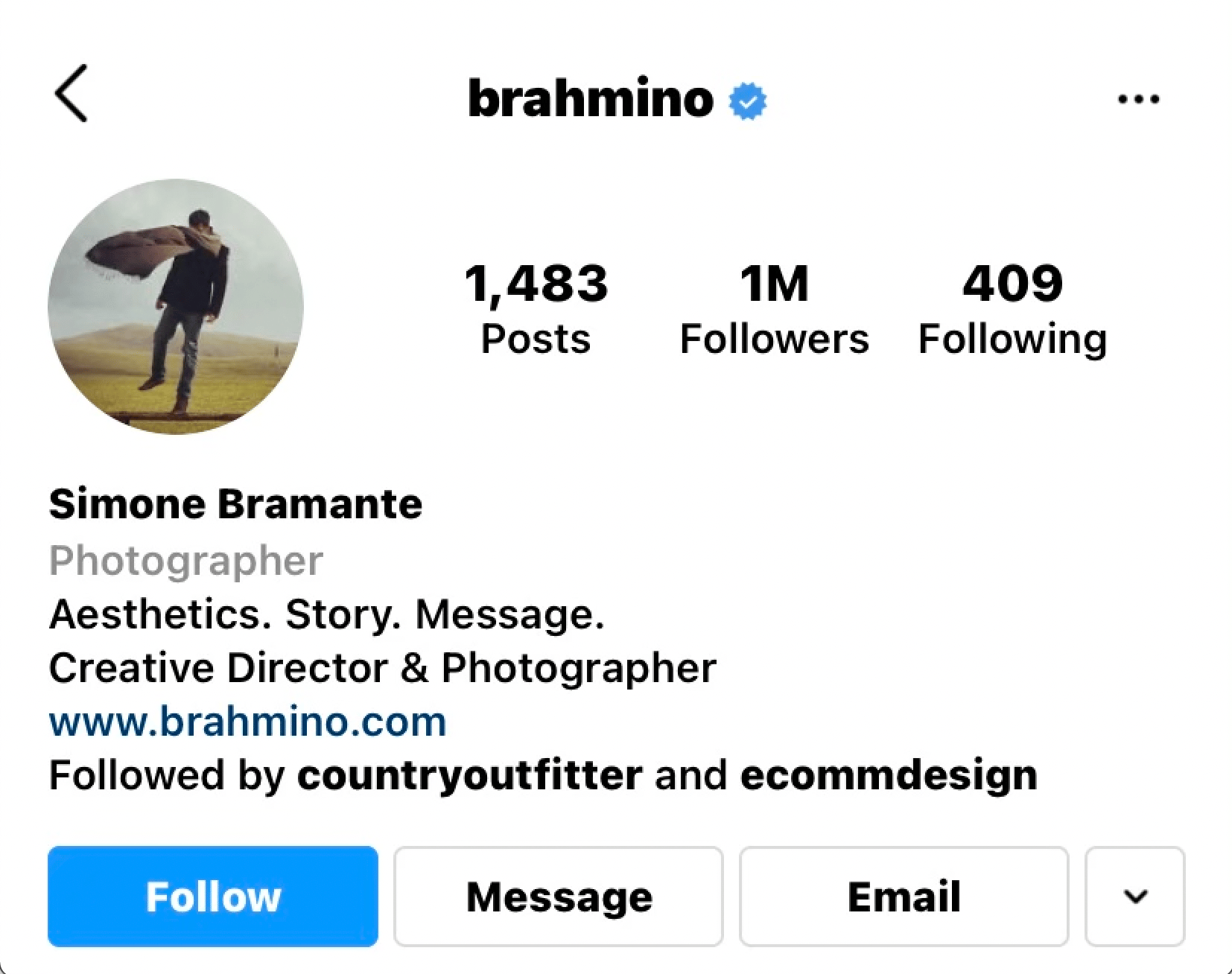 Exceptional images deserve an exceptional presentation.
Photo Click Meets Perfection.
Your image, your focus.
Shoot the inlaws, frame the wife, hang the kids.
Capturing Life's Priceless Moments.
Looking Twice.
Redefine Capturing.
New Memories, New Life.
What you can see you can photograph.
Quality service. Quality photos.
Creating moments, Creating life.
Freedom of movement. Fast access. Flexibility.
Photography moments captured…naturally.
Passionate about capturing all of life's important occasions.
Capture your stories.
Preserving amazing moments forever
Me and my camera: a Journey around the world
Photography is the Passion of Life.
Turn your used photo equipment into cash!
The 1000 word Photograph.
I shoot people and pets.
I Didn't Choose Photography. Photography Chose Me.
We're Photogenic.
Capturing the story of your life, one chapter at a time.
Transforming views.
Let your smiles shine.
A new moment captured.
A Good Snapshot stops a moment from running away.
Camera gear when you need it.
We Care for You.
Framing your memories.
Are You a Camera?
The camera is over you.
Every Image has Power.
Capturing ideas to adorn you.
See the beauty of photography.
Today, everything exists to end in a photograph.
Photography with every season.
Innovative in the moment.
Reinventing moments.
"In photography there is a reality so subtle that it becomes more real than reality." — Alfred Stieglitz
Love for photography. Eat sleep and breathe it. Become a photographer.
My Mom Shoots People.
Humanity of the Moment.
I don't trust words, I trust pictures
Photos from around the globe: My photography diary
If you think Nikon is beyond your reach…It's not!
The Pause Button of Life.
Photos you'll love… with memories for life.
The leader in wireless photography.
Don't mess with me. I have a camera.
Path of passion.
Reaching Full Potential.
Photography is life illuminated
Documenting my life and the things I love to see
My life through pictures
Revealing Great Photography.
Cute Photography Instagram Bios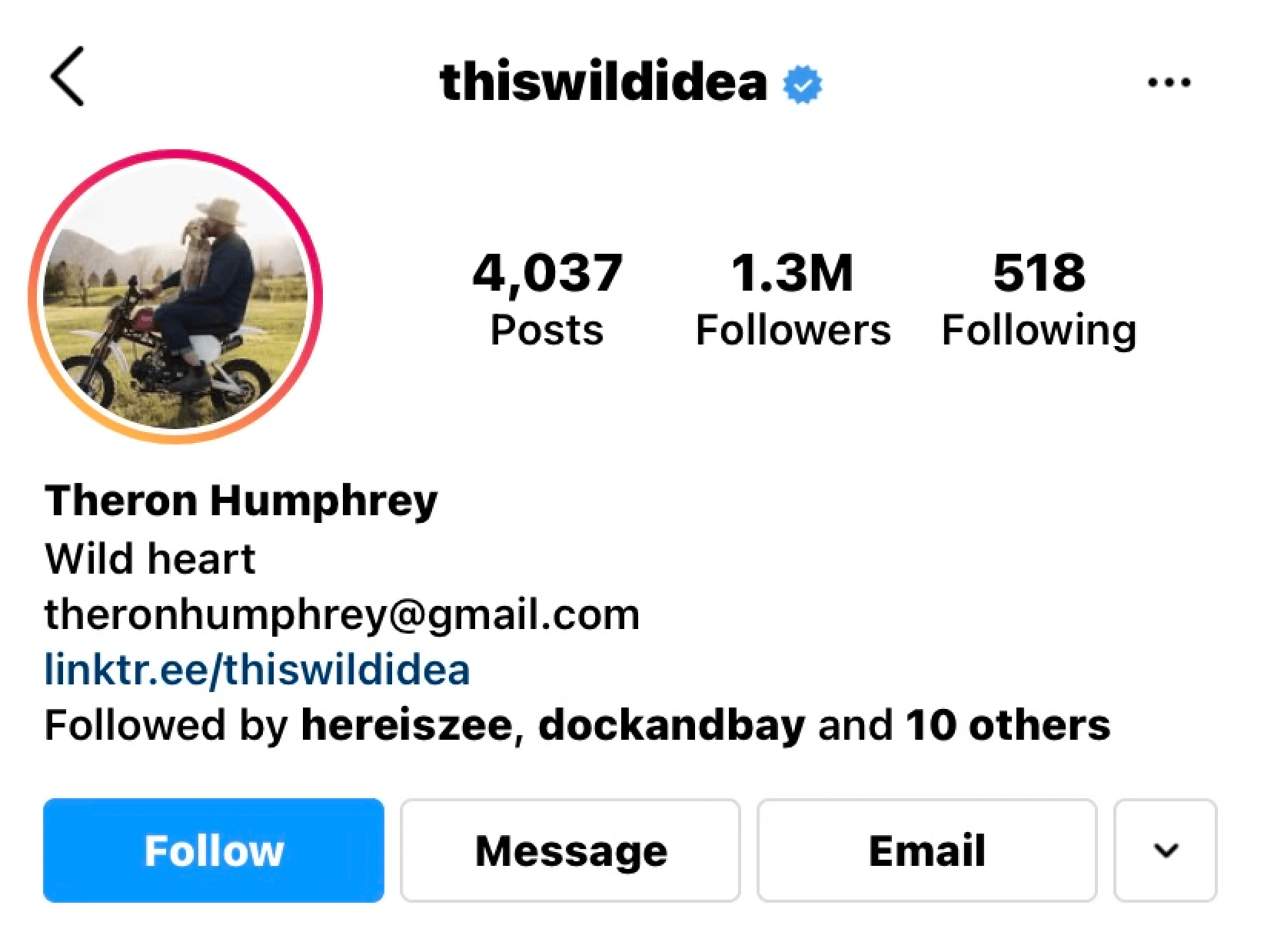 Photography-It's all about light.
Photography is truth – Jean-Luc Godard
Revealing the Core of Your Humanness.
Capturing the pure essence of new life.
Joyful Images, Joyful Life.
The Painter Constructs. The Photographer Discloses.
Content with Silence.
Turn a cloudy day into something beautiful.
A picture never changes, even when the people in it do – Andy Warhol
Perception isn't reality. It's the only reality.
Photography Well Served.
Keeping Moments.
Revealing Greater Truths.
Quality in Every Click.
God creates the beauty-My camera and I are the witnesses.
A camera that puts a world of possibilities at your fingertips. Literally.
Love looks like this.
extraordinaire since
A memory like a finished dish.
Ride your best moments.
Your life in print.
We capture memories.
A Click Of Artistic Joy.
Capturing the Moments That Captivate Your Heart.
To capture ten thousand words in the blink of a moment.
Photographer and biz educator based in (location)
Celebrating Childhood in Photographs.
The Art of Photography.
Not Afraid to Fall in Love.
Explore. Create. Inspire.
Bring Creative Colors to your life.
Capture the Beauty.
Taking Shots.
Photography for Life.
Bring joy with every photo.
Images for the Ages.
Street Photography Done Right.
We Can't Stop Thinking About the Future.
Traveling elopement and wedding photographer — now taking inquires through DM's
Wedding Photographer | Local + Destination Wedding
Real Life, Real Memory. Captured.
Making photography easy. How to take pictures with an iPhone.
A Good Photograph is Knowing Where to Stand.
Capturing the beauty of your everyday life.
Your neighborhood photographer, specializing in
Pampering creativity.
Shoot today. Upload tonight. We ship tomorrow.
Cool Photography Instagram Bios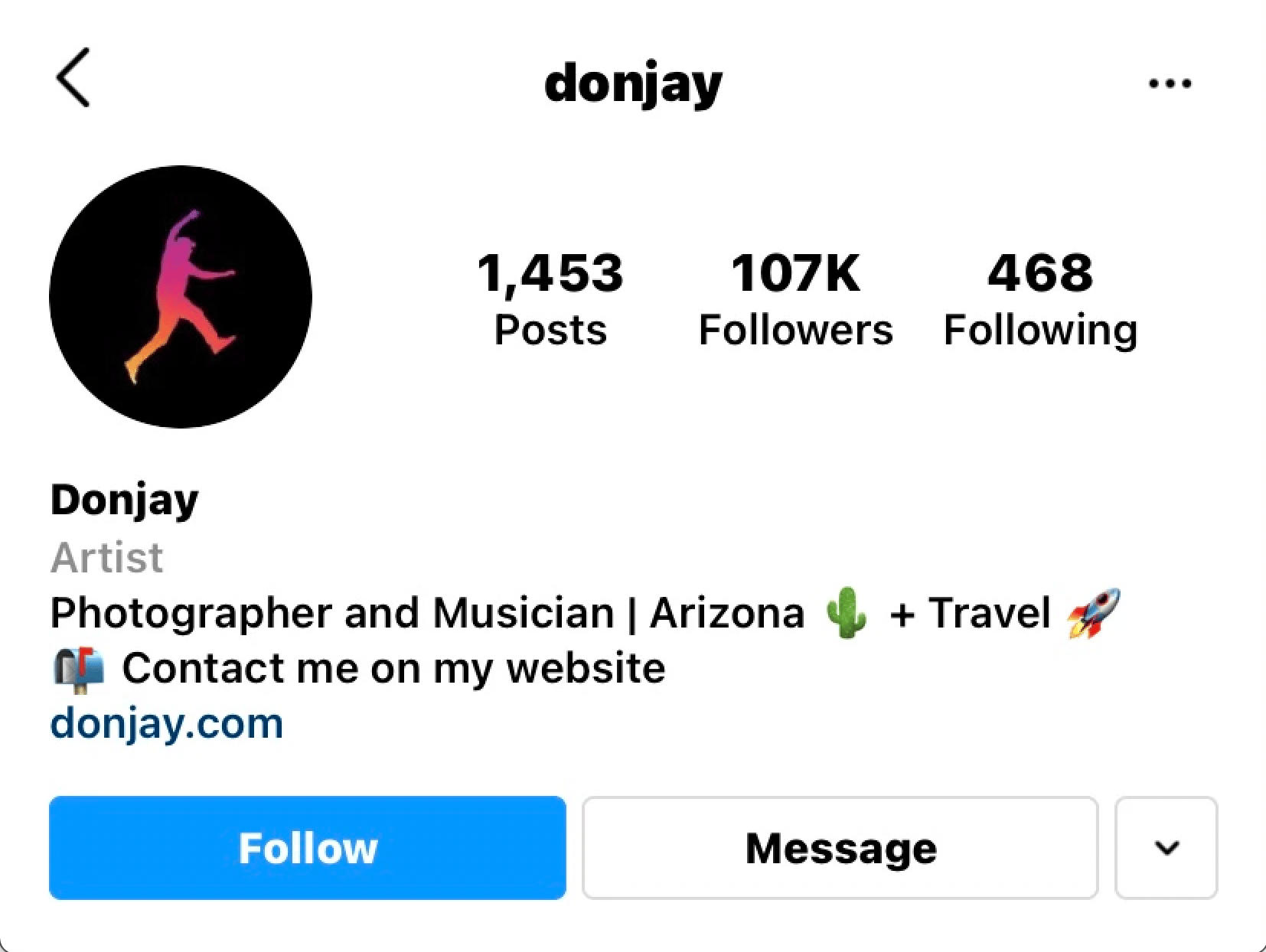 Imagine more.
Its Colorful Explosion.
Photograph: A picture painted by the sun – Ambrose in art
Southeast Wedding Photographer
The story of a and their camera
Adding Light on your Life.
You, Captured.
Altering life by holding it still.
Every picture tells a story. Let me help you tell yours.
My camera – your event: Let's make it happen
Allow a Look into the Future.
Embracing Light.
Focus Your Passions.
Making photography marvels.
Images that take you to the next level.
Take a photo, it lasts longer.
Because every picture tells a story, let me help you tell yours.
The Beauty of Life Captured.
A Love Affair with Life.
Photography helps people to see.
Cinematic & portrait photographer
Celebrating Photography Today.
Photography is a Way of Feeling.
Models, nature and pets, oh my! Want your camerawork to be featured? Shoot us a DM!
What happens inside your mind can happen inside a camera!
Frame your life.
The professionals that take images.
Your tour guide for stunning spots in
Capturing life. Creating art.
In this family, everyone is photogenic.
Open the Door into the Past.
Bring your creativity to life.
The Story I Fail to Put into Words.
Wedding photographer based in (location) or wherever your special day is happening.
You didn't compromise on your camera. You shouldn't on your lenses.
Fill the World with Colorful Joy.
Change your lens, change your story.
The Humanity of the Moment.
Been there. Lit that.
Life, Camera, Action.
Perfect heart.
Artistic. Joyful.
Immortalizing moments with my camera
Impossible to Reproduce.
Think. Love. Create.
Turn a photo into a work of art.
Photos around the world: my visual travel diary
A Camera is a Save Button for the Mind's Eye.
Emotions through photos.
Worth capturing, Worth Viewing.
Prepared to Capture Tomorrow.
Getting into focus with the finest ______
Enjoying Life Through the Lens.
Capturing life as it happens.
Judging from your photography, maybe its time to hang it up.
Unique Photography Bios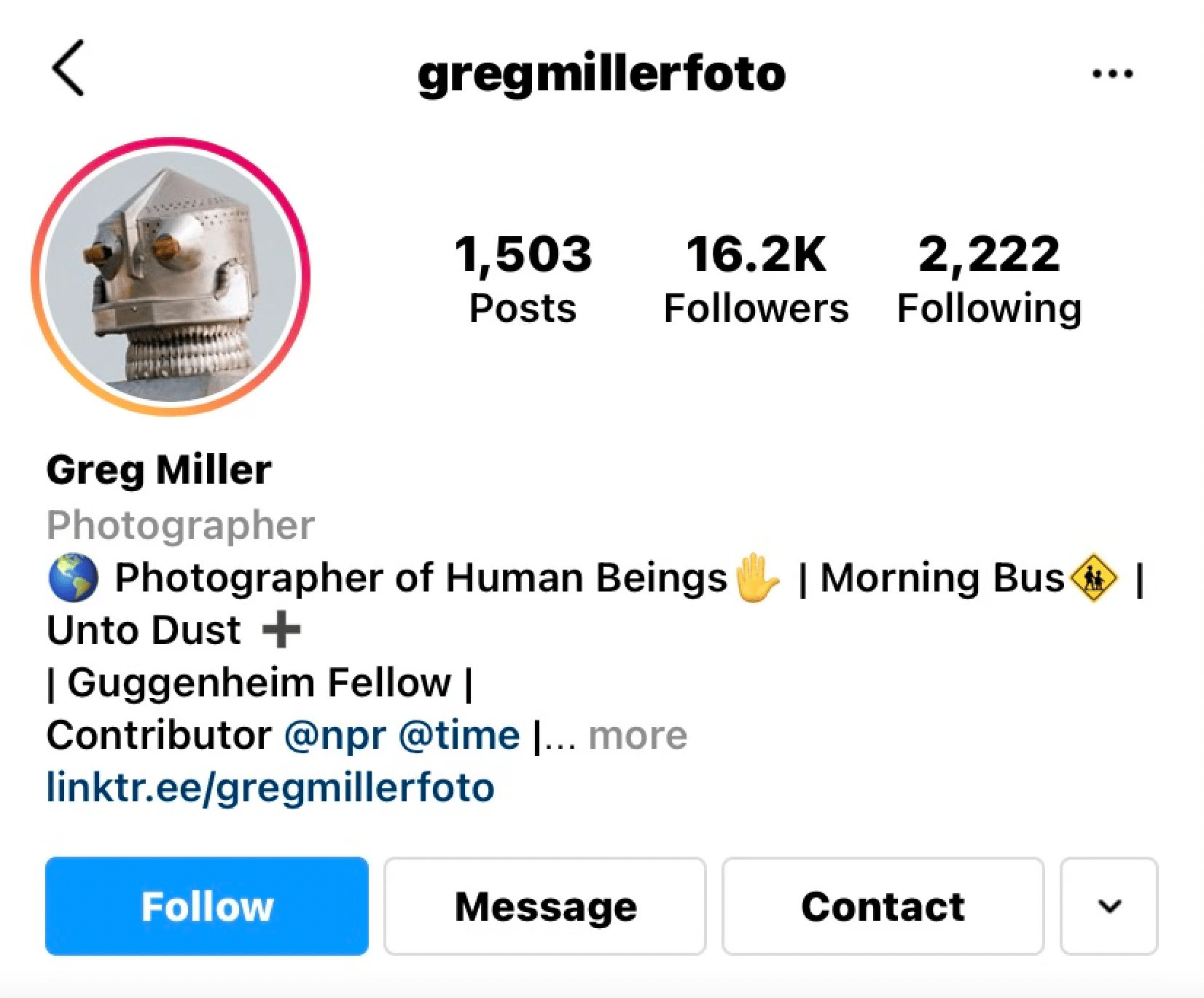 Compel your audience. Capture the moment. Light with purpose.
Creating a timeless look, coupled with a flawless moment.
Candid. Artistic. Joyful.
Life Through the Lens.
Tomorrow's keepsakes, today.
Simply Clicked. Better Enjoyed.
Focusing on your moments, your life.
Capture. Create. Share.
Because you want to remember forever.
Everyone is photogenic.
A picture with words.
Hitting the Shutter.
Photographer | Surf | Events | Travel | Weddings
When Words Become Unclear.
Create the entire scene – simply!
If a picture is worth a thousand words, what's a talking picture worth?
Photographer, artist, and creative mind
Taking pictures is savoring life intensely, every hundredth of a second – Marc Riboud
Do you see what I see?
No one helps you concentrate on your craft like Kodak.
Capturing Priceless Treasures.
Capturing the beauty of your journey.
Artistic Joy of Capturing the World.
A Touch of the Exotic.
We take pictures to record our personal vision of the world.
Inspire, Explore, Create & Showcase.
A Photographic Story.
Clear vision. Clear view.
Exposing reality one picture at a time
Click with Creative Wonders.
Let your true colors shine through.
Click what you feel.
Capturing images beautifully.
Capturing amazing experiences one snap at a time
Go extreme. There's no turning back.
Photography is All About Light, Composition, and Most Importantly Emotion.
Seeing the world through my own lens
In the heart of the image.
Your friendly neighborhood photographer23. Want to appear in one of my photos? Get in touch
Capture it all.
"The best thing about a picture is that it never changes, even when the people in it do." — Andy Warhol
Your Day is a Love Story…Tell it to the Camera.
Control. Create.
Excellence in photography.
| Started in 2016 | Your biggest fan.
More Creativity. More Photography.
Life, Just a Click Away.
Your passion is capturing great moments. So is ours.
Photography Is My Therapy.
Capturing life with natural light photography.
Images that are Show Stealers.
Showcasing memories, love and joy through photography
Add the Greatest Joy of Emotions.
Lose a hobby. Gain a passion.
The professional's source.
Framing Serene Life Moments.
Pure Essence of Creativity.
Photographing the Soul Behind the Smile.
Funny Photography Instagram Bios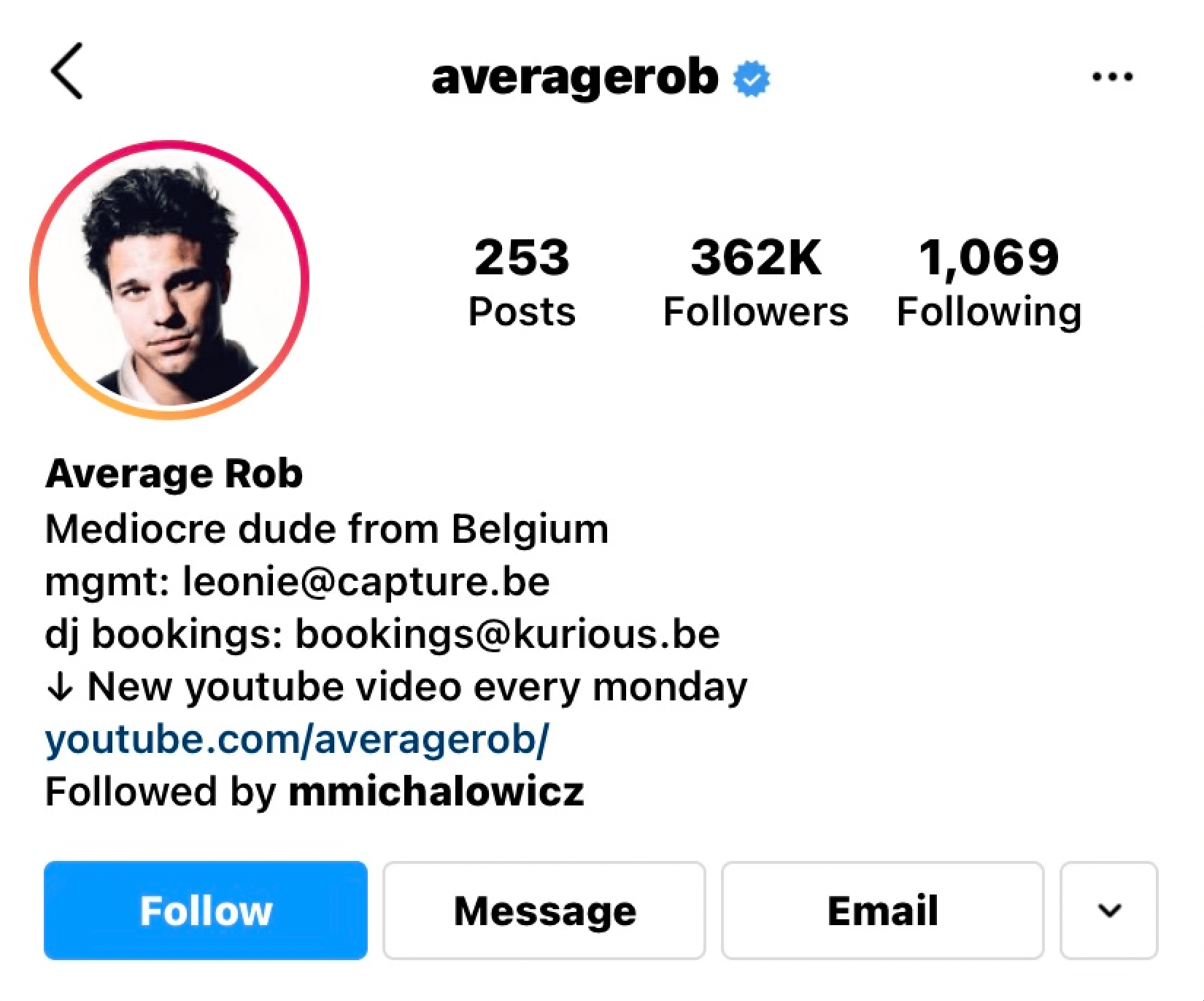 You don't have to be a Pro to shoot like a Pro.
Sharing Your Every Moment.
The power behind the picture.
Words Alone are not Enough.
Don't Stop Seeing.
Captivating hearts.
Back it up. Get it back.
Welcome to my photo library in tiny squares. DM for inquiries!
Dedicated to your Living.
Because Life is Beautiful.
Photography is the story I fail to put into words – Destin Sparks
Experimenting with an iPhone, a tripod and a self-timer
The Leader in Photo Excellence.
Images that tell a story.
Photography from a new perspective.
Images are powerful.
A life well captured.
It's like photography. But more fun.
Your neighborhood photographer, specializing in [type of photography]
Wherever there is light, one can photograph.
Your world through my lens
Photography is the best cure for a bad memory.
See life from a different perspective.
A Flawless Moment.
Adding moments of life.
Rock-solid.
We've got you covered.
Capturing glimpses of life's best moments
When I have a camera in my hand, I know no fear
Today's special moments. Tomorrow's priceless treasures.
When I have a camera in my hand, I know no fear.
The world is more colorful than the eye can see.
Image Matters.
"In photography, there is a reality so subtle that it becomes more real than reality."
Focusing on things that make me happy. Showing them to you along the way.
My camera = your window to the world
Built for speed.
Capture the moment.
Make a statement without saying a word.
Photography Full of Art.
You Photo Will Speak.
Capturing moments from today… Creating memories for a lifetime.
Ready. Set. Wow!
Memories in a snap.
Light Makes Photography.
Quality With Pure Trust.
Photography is the truth.
Photographer | HI-Cali | Events | Travel | Portraits
Shoot for the Moon.
Everyone is photogenic
Your image is our focus
We capture your memories forever
Capturing the beauty of your journey – Category | Travel/outdoor Photography
Today's special moments. Tomorrows priceless treasures
Emotions through photos
Your life in print – Category | Lifestyle Photography
Real life. Memories. Captured
Images matter
Capturing the beauty of your everyday life
Your life captured
The professionals that take images
Images that tell story
Capturing life. Creating art
Creating a timeless look, coupled with a flawless moment
Capturing the pure essence of new life
Frame your life
Memories in a snap
We capture memories
4-Step Guide: How To Create The Perfect Instagram Bio For Your Business
Instagram gives you 150 characters to tell your followers what your business is about.
This is where you are given the opportunity to summarize your company, engage your audience, and leave a great first impression.
We will break down the qualities and aspects of Later's Instagram bio, as a template for you to use.
Step 1: Highlight Exactly What You Do
Your Instagram bio should be a place where you tell your readers exactly who you are.
This should be brief, clear, and to the point. Explain what makes you unique and what you can do for your audience.
In the Later example, they do this in two different ways:
In their profile name, they showcase their company name with a clear description of what they do
They provide even more explanation and boost their brand up, saying they are the #1 marketing platform for Instagram

Step 2: Pitch Your Service [And Use Relevant Keywords]
While it's important to explain what type of company you are, it's also critical to pitch your product or service.
When creating a website, this is often the first thing people see on your site to really understand what you are offering and what makes you stand out from the rest.
Later does this using one line on their bio, and 8 relevant keywords:
Step 3: Provide A Clear Call To Action
Your call to action should be something you are encouraging your audience to do.
This could be in the form of a recent promotion you are offering, a link to a specific article you want eyes on, or just a way for users to get directed to your website.
In any case, you should always provide the user with easy access to whatever it is you'd like them to do. You can do this by providing a direct, embedded link on your bio.
For the Later example, they encourage users to check out their blog where they showcase tips and guides. This is a common strategy that brands use to get more traffic to their blog, and eventually, turn leads into customers.

Step 4: Use Emojis
Lastly, emojis are a great way to break up any text-heavy sections in your Instagram bio.
Be sure to use emojis that are relevant to your brand or to highlight the items you are discussing in your bio.
Later adds emojis to draw the readers eyes to certain aspects of their bio, such as what they do and their call to action:

Want to start your own business?
Hey! 👋I'm Pat Walls, the founder of Starter Story.
We interview successful business owners and share the stories behind their business. By sharing these stories, we want to help you get started.
Interested in starting your own business? Join Starter Story Premium to get the greatest companion to starting and growing your business:
Connect + get advice from successful entrepreneurs
Step by step guides on how to start and grow
Exclusive and early access to the best case studies on the web
And much more!
PROMOTED
Did you know that brands using Klaviyo average a 95x ROI?
Email, SMS, and more — Klaviyo brings your marketing all together, fueling growth without burning through time and resources.
Deliver more relevant email and text messages — powered by your data. Klaviyo helps you turn one-time buyers into repeat customers with all the power of an enterprise solution and none of the complexity.
Join Brumate, Beardbrand, and the 265,000 other businesses using Klaviyo to grow their online sales.
Starter Story
Free
How To Make $10K/Month With A Photography Business
J.B. walks us through exactly how he grew his photography studio into a $120K/year business.