400+ Best Instagram Bios For Nutritionists
400+ Best Instagram Bios For Nutritionists
If you're looking to up your Instagram game, it's imperative that you have a great Instagram bio.
Your Instagram bio is the first thing your followers will see - it should be unique and tell users exactly what you do and who you are.
We understand how difficult it can be to craft a compelling Instagram bio, which is why we curated a list of the best nutritionist Instagram bios.
Additionally, we provide you with examples of the best nutritionist bios on Instagram and a step-by-step guide to get you started.
Looking to generate your own bio? Check out our free Instagram bio generator here.
Creative Nutritionists Instagram Bios
Being a nutritionist means it's time to be healthy for my patients. #vegan #nutritionist
I am a nutritionist with one goal: to make healthy living simple, even for the most perplexed about nutrition. Follow my journey on Instagram, where I'll answer your nutrition questions.
My nutritional advice is simple. Eat whole foods, mostly plants, and mostly from the ground 🌱
Thank you so much for being so supportive along this wild & wonderful journey! I'm also here to help you become your best self, physically, emotionally, and spiritually. Whether your goal is to eat healthier or feel happier, I can
There are no get-fit-quick diets. You get healthy by making simple, positive choices that will bring lasting change to your life.
A picture is worth a thousand words. Share your journey to health with me here: www.susanrcarroll.com
If you're a vegetarian or a vegan, make sure to include a few servings of protein in your daily meal plan.
Being busy isn't a priority. Balance is. #nuwellnessclub
The best option is the healthy option.
Good food, good life.
A picture may be worth a thousand words, but a healthy recipe is priceless.
The best way to eat is the way that works for you, your body and your mind, your activity level, and what you love.
Nutritionist. Non-Diet Nutrition Coach. Health Speaker. #chiropractor #acupuncture #personaltrainer
PhD in Nutrition. RD. NYC. Natural Gains. Real Food For Real People.
Nutritionists are helping people achieve their wellness goals, from food allergies to weight loss.
A healthy diet is a crucial part of staying healthy and is essential for maintaining the body. #nutrition #instafit
I eat mindfully so I can live beautifully. #fitness #nutrition Nutritious meals replace fluctuating diets. You don't have to starve yourself to lose weight! Book an appointment now to get started.
One of the best ways to achieve your ideal weight is through healthy eating. Do yourself a favour and follow my feed for nothing but food porn🍕😳
Nutrition, health, food & wellness! This is my jam. I'm here to help you put together some healthy meals, kick the junk food habit if you're struggling, and help you find fitness that fits into your lifestyle.
Nutrition should be simple, not confusing. Find out more about my top eating tips.✨
Always the perfect season when you make healthy snacking easy. From the grocery store to the desk in seconds. Check out our latest endeavour in @gocarrotsnack in select stores!🥗❤️
For those who want to enjoy the taste of great food and be healthier without giving up!
Sweeten up! Top your apple with a spoonful of peanut butter, banana, and a drizzle of honey 🍏🍌👅
How to stay Full, Smart & Fit… I've got you covered!
Always take your health seriously.
You are balancing the inner demands of your body, mind, and spirit.
The answer to all things holistic, natural and vegan #vegan #nutritionist #sandiego
A holistic nutritionist in the San Diego area focuses on digestion, energy, hormones and weight loss.
As your nutritionist, I'll help you keep your healthy habits on track. Let's work together to reach your goals!
OMG! I am a certified nutritionist who LOVES to help YOU lose weight and improve your HEALTH.
What's on your plate? I help people create healthy eating habits that are manageable for life.
To Holistic Health, the restorative power of real food, and joyful life."
I love to motivate my clients by showing them that there are endless possibilities for achieving one's health goals.
Nourish your mind, body and soul with simple, clean ingredients like eggs, avocado, fresh produce and protein. 😋
Bowled over by the stunning visual connection of #plantpower – Peas and Love – check out my insta
I cook with fruits and vegetables—it's tastier and better for you.
Your primary doctor should focus on your primary nutrition. Sometimes I fit some vitamins in there too…
Today is the day! Let's make your health a priority. Together we can do this. #healthynutritionist #hungryforchange
I'm a registered @dietitian nutritionist who specializes in eating disorders and disordered eating, but I also work with people who just want to lose 25 pounds (or 50), get control of their blood sugar and cholesterol levels,
Hi! 👋 I'm a vegan registered dietitian nutritionist, and I created VeganCoach.com to empower people to optimize their health using a vegan diet. My paid coaching program sponsors this account for aspiring vegans, the Vegan Coach
A Nutritionist Approved Diet Plan to Live Your Life #vegan #glutenfree #paleo.
Nutrition isn't complicated- it's simple. Eating better makes you feel better, look better and perform better #health #fitness #mydiet
I'll be your health-minded guide through an interesting and delicious world of food.
Be healthy. Eat well. Be happy. 🥑🍏
Fall is here, and what better way to celebrate than with a healthy and tasty kale salad! #bodyslimmedbycheryl
If you're looking to lose weight and still enjoy your meal, email me at [email protected]
A healthy, happy you are possible. ❤️
Hello, and thank you for following (nutritionist) and my journey to clean eating and living. I am a Lifestyle Nutritionist specializing in teaching individuals about nutrition and healthy eating habits that promote sustainable weight management, energy, and vitality.
A nutritionist is not my title; it's my lifestyle. Let's work together to create an eating strategy that meets your goals.
Whole Food Plant-Based nutritionist & coach, sharing my passion for food & health care in the Los Angeles Area. Let's do this! 🍃🌿 @nutritious_notes 🍃🌿
Healthy food can be delicious! Click the link in the bio to learn more about my holistic nutrition practice.
Real Food. Real Life.
My goal is to get you all the nutrients you need in a fun, easy way—one balanced meal at a time. Join me!
Start now! Boost your energy and nourish your body with real, nutritious food. Reach out if you'd like some help!
Let's talk about food.
Thank you for following me and for your support. Be well and remember health is wealth.
Thank you so much for the positive feedback! As always, I'm here to help if you ever need it. If you're interested in working with me one-on-one, subscribe, and we'll work together!
just another moment in a very awesome and busy life:)
I've got nothing but love for you.
Knowledge can't be acquired from any source other than those who have it. 🤓👍
No one can fail who works on all sides of his business.
I am a nutritional therapist.
Being a nutritionist and practising functional and integrative medicine, my goal is to make every patient I see feel like they did when they came in. Healthy, happy and balanced.
Nutritionist, writer, & student of life. Runaway with Little Bear @kirinkirinsky.
I help people achieve their health goals by coaching them on fitness, nutrition, and mindset!
Always keep it real. So here it is, 100% #real food nutrition. Not just what you should eat, but how to get there! Contact me to get started today!
I help people get healthy, stay motivated and get the results they're after through a range of evidence-based nutrition services.
Nourish is fueled by nutrient-rich ingredients like kale, tomatoes, cranberries, and avocado.
Live Well. Nourish Wellness.
Believe in yourself! I'm a nutrition coach. Whether you want to lose weight, gain muscle or just be your healthiest self, I can help you reach these goals. Let's discuss how we can take the steps to
My favorite tip for healthy eating: Keep it seasonal! It's not only a great reminder to grab veggies and fruits at their peak season but also constitutes the practice of mindful eating.
Nourish your mind, body, and soul from the inside out.
Good nutrition is the key to radiant beauty.
I'm an internationally recognized holistic nutritionist with a background in traditional Chinese medicine.🏋️‍♀️💪❤
Nutritionist Sofi Tucker has tried to cut junk food out of her diet completely. But now and then, she craves sweets. Okay, all the time. Here's how she balances enjoying these treats with eating healthy.
– Delicious and healthy recipes with a Mediterranean and Paleo approach. – Helping people achieve their health goals sustainably and practically.
Embracing a #sugarfree lifestyle eases digestive stress, calms mood, and helps maintain stable blood sugar levels.
Eat to lose weight. Eat to gain weight. Eat to feel better. Eat to feel worse. We all know that dieting sucks. I help you change your relationship with food and eat in a way that makes you feel good about yourself without restrictions.
They are committed to empowering women on their weight loss journeys with encouragement, education and realistic expectations. Let's get started!
Have some fun this summer with kid-friendly recipes made with our nutrient-rich fruits, veggies and lean proteins. 😎
Nutritional therapy uses food and nutrients to support healing, vitality, recovery, and prevention.
Are you struggling with making healthier choices? Are you not seeing the results that you would like to see? I am here to help.
Loving and supporting the entire world, one yoga moves at a time. 🍏🍎🌽
Ask not what you can do for yourself but what you can do for the greater good. -Mahatma Gandhi
The secret to my success is having the right mindset.
Ash Flurie is a holistic nutritionist who helps busy millennials kick their sugar cravings and create diets that work for them.
Healthy eating shouldn't be hard. Read my tips and recipes on @shape_magazine!
* With a focus on radiant health, food as medicine, wellness coaching, whole foods plant-based nutrition *
If you are looking for ways to get healthier or more active, check me out. My approach is so easy to follow.
Making nutritious, delicious food is my passion. I balance a sweet tooth with my love for seasonal produce and whole foods so you can enjoy your favourite sweets without feeling guilty.
Husband + wife team on a mission to end the gluten-free diet fad and empower people to eat real food.
Your body has the answers within itself. Find your path to health, happiness and healing with functional nutrition.
"Eat to live" isn't just a cliché. It's the way I live my life
I am interested in how to be kinder to your body? Check out my website!
Curious about how to improve your nutrition? Curious how to feel better tomorrow than you do today? Curious about how to eat real food and still feel satisfied?
"Healthy eating does not have to be expensive. It's our habits that make us unhealthy, not the ingredients of our food." ― John Robbins.
Nutrition is about choices, not sacrifices. The key to making good ones for you is to find tasty ways to make them healthier—simple!
I help my clients create healthy ways of living. I believe food is a big contributor to our emotions, moods and lifestyle.
Real food can fuel a real lifestyle. I help clients make healthy changes easy, sustainable, and delicious.
Your diet is your bank account. Spend wisely 💰😏
Cute Nutritionists Instagram Bios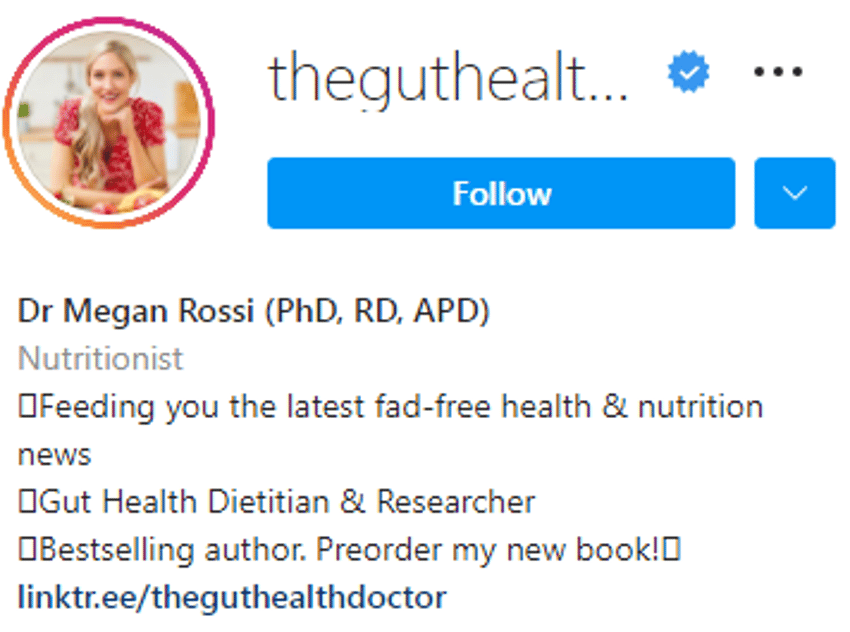 It's not about 'being' healthy. It's about what you can do. It's about taking this moment, right now, and deciding to be the best version of yourself.
Clients feel energized and rejuvenated after sessions in my private practice.
Tracking your macros shouldn't be complicated. Eat real food, not too much, at least 80% plants, and choose quality sources of protein + healthy fats in moderate portions.
You are making real food the centre of your plate, not the side dish.
"Eat food. Not too much. Mostly plants." —Michael Pollan
#NAPTip: Caffeine isn't the only thing that boosts your energy. When you're feeling sluggish, prioritize sleep. You'll activate more fat-burning hormones, and your body will be less likely to store carbs as fat. 👉
One to grow on the best fall fruits and veggies for your growing little one 👶👚🍅
Quit thinking about what you want to achieve and start doing it! TASTE the results!
It's not what you eat, and it's what you digest.
Yoga is a practice, not a performance.
Nutritionist // Nutrition Messages // Sustainable Life Choices
Nutritionist, health coach, semi-professional blogger, and violinist extraordinaire.
As a Kinesiologist and Nutritionist, Ali offers healthy recipes and fitness advice.
Hi there! I'm a plant-based nutritionist, YouTube creator, and Instagrammer based in Los Angeles. I'm obsessed with healthy living and doing things that feel good. I'm always happy to answer your questions.
Nutritionist & Personal Trainer. I teach you how to eat better, move more and improve your health. Learn more.
I'm on a mission to bring plant-based eating and lifestyle into the norm and show you that eating clean is simple, enjoyable and not boring…and results in long term weight loss! I am all about life-long habits.
I help my clients lose weight, eat better and feel amazing by educating them on the proper food combining strategies.
My mission is to support women as they make dynamic, sustainable changes in their lives! Helping people reach their health goals is what I truly love.
I'm so proud of you guys – keep up the great work! Feel free to contact me if you have questions about how to start tracking macros, troubleshooting your current diet, or just want to pick my brain. Contact information is
Body Mind Nutrition gives you a holistic approach to overall wellness. We look for signs of nutrient deficiencies that may be affecting your mood, energy, and cognitive function through lab testing and nutritional counselling. Don't wait any longer to start taking care of every part.
Incarcerated individuals have a higher risk of developing heart disease, but our nutritionists can help them maintain good cardiovascular health with proper diet and exercise.
My mission is to help you reach your peak– performance, health, and happiness
I'm a registered dietitian and the Nutrition Director at @myfitnesspal 💪 I love writing, running 20Ks, and reading cookbooks 👩🍳
I'm a Registered Dietitian on a mission to help people live happy, healthy lives. Tune in for recipes on all my social platforms!
Healthy eating isn't a diet, and it's a lifestyle. and it starts in the kitchen. #nutrition
Are you making the right food choices? I can help you negotiate a healthier lifestyle with these easy tips ☀🍎😊
It's never too late to change the way you look at food. I want to help you live a healthy and balanced lifestyle.
Nutrition is the key to leading a healthy lifestyle. Contact me for more information!
Keep it simple with healthy, feel-good food.
Fitness is what you make it. Create a routine and stick to it every day. It's not about eating less and moving more, and it's about eating smarter and exercising. Take your time and do what works best with your body and mindset.
A good diet is a key to overall good health. Healthy Choices Now is a nutrition team seeking to provide San Jose area residents with info and tips for a healthier lifestyle.
Nothing is more satisfying than a life well-lived. Let me help you live that life.‍♀️
As much as possible, shop the grocery store's perimeter for fresh produce like these local vine-ripened tomatoes.
Just keep swimming 🐠👉
To love what you do and feel that it matters—how can anything be more fun?
Action is the foundational key to all success.
I'm a Registered Dietitian with a strong interest in health, nutrition, exercise physiology and public health.
I help busy women to step away from the smoothie bowl and into the kitchen. On their terms, at home, with no judgement
Turn your nutrition into art.
They break the stigma of "healthy" food by showing that nutrition is fun with creative recipes.
There's no experience more satisfying than working with clients to overcome barriers in their health and fitness journeys. I look forward to working with you!
Need help eating. I am here for you! I'll help you kick your bad habits, fix what's not working, and build a plan that fits into your lifestyle.
Healthy can be so delicious! I'd love to share some tips with you about how to incorporate healthy whole foods into your life.
I'm a dancer and a foodie and zodiac sign Cancer and Pisces
Think I'm fat?
There's no shortcut to healthy eating, but that doesn't mean finding the best and freshest ingredients and preparing them in a tasty and satisfying way can't be fun.
"Nothing tastes as good as skinny feels." An inspirational thought to live by for those ready to commit to a healthy lifestyle.
When you are feeling stressed out, depressed, anxious, have sleep problems…sometimes you need to know about nutrition strategies to feel better. It is so important to take care of yourself. My book offers tools—for when I'm not here.
Only fish tacos and yoga for dinner tonight, hehe.'
They say breakfast is the most important meal of the day. I'd like to add that dinner is too. And lunch…
Your body is a single instrument played by the masterful creative energy of your consciousness.
Ginny is a registered dietitian nutritionist who specializes in weight loss & diabetes management. #raw #vegan #paleo
Hello! I'm a registered Nutritional Therapy Practitioner and a Lover of Nutrition. I'm also a business owner, a wife, a mom, an enthusiast runner, and an adventure seeker. Aside from all that, I am on a mission to educate,
Nutritionist, blogger at The Healthy Chef, mom of three, lover of food and all things pretty.
Guilt-free – yummy – counting calories? Don't! Let's be reasonable together.
Push your healthy habits even further by following my new @eat2b_healthier account on Instagram. I'll be sharing delicious, nutrient-dense recipes that will help nourish and fuel you for life!
Nutritionist, Fitness Trainer, Author of Die Fat or Get Tough
If you're feeling hungry, it means you need to eat; listen to your body and be grateful for what it's telling you.
If you want to be an MVP when it comes to nutrition, I'm your girl. I make healthy living a tasty adventure.
YOUR body is the only one you get, and it's #worthit to put in the work to make it strong + healthy
If you are considering any lifestyle/diet change, please don't hesitate to reach out. I love hearing from people and am always willing to lend a non-judgmental ear and offer healthy guidance where best suited.
My clients always ask about my smoothies—but I wouldn't say I like to give away my healthy secrets. So here you go! 😉
I'm here to help you get healthy! This is where it's at, from nutrition, hair, health & beauty tips to crazy life stories… this is where it's at.
Sound and tasting good is just as important as looking good.
Always believe in your ability to move forward #positivevibes
Nutritionists are offering proven solutions to help you reach your health goals. Check out my website for more information.
Take steps towards better health. Eat for your wellness, not to lose weight. I provide individualized nutrition counselling for my clients who want to improve their overall life quality through dietary changes.
Eat well, feel good. I'm a chef and health coach who believes in an intuitive approach to food
Drink up. . . like this pretty drink on my bio
Food is my passion. I believe that it can be an amazing tool for nourishing your mind, body, and soul. Healthy food doesn't have to be boring. Healthy food can be quite delicious – try a bowl of
We don't just give you nutritional advice. We'll help you find the best ingredients and share recipes to keep your taste buds happy, too.
It's not just food—it's living, breathing nourishment that feeds your mind, body and soul.
I like to think of food as one of the great pleasures in life—an art, a science, and my work is all about achieving balance.
What is your healthy mantra today?
Fit for a healthy lifestyle is a choice. And a pastel sky, a crisp spring breeze or a first walk of the day with your dogs can lead to lasting moments of happiness. When you're surrounded by these little things that make you smile,
You are getting ready for the coolest Galentine's Day ever! Show the loves in your life how much you appreciate them with these easy, healthy date toppers.
I'm a registered dietitian nutritionist and certified personal trainer, and I love people.
What is your favourite food group? #fitness #nutrition #workoutmotivation
I wish I were a box of chocolates… But I'm not. I'm the person behind the blog and Instagram account, Making Sense of Nutrition.
Hi. I'm a Registered Dietitian and registered Yoga teacher, and I've been studying nutrition for over 15 years.
Nutrition and Diet Advocacy: A Passion and a Profession.
Think healthy, think mindful. You have the power to change your life #healthyliving #wellnessjourney
I believe in making delicious food with real, whole foods. I know you can look better and feel better without busting your diet.
Clean eating isn't always easy, but it is always worth it. Life is too short to eat boring food that doesn't fuel your body the way it deserves. Here to help you see both sides of the debate—the delicious.
You know that food is your medicine if you feel better, look better and live longer.
My favourite summer vegetables are green beans, zucchini, snow peas, corn, green salads.
My goal is to help you be the best version of yourself by making small changes–and big ones, if you're up for it.
Keep running, or you'll never eat that doughnut.
Hello! I'm a registered dietitian nutritionist with a passion for food as medicine. My goal is to help you feel as good as you look through healthy lifestyle changes focusing on nutrition.
Nutritionist, runner, lover of pasta.
I am continuing to pursue my passion for educating people. I want each person I interact with to learn something new, even if that's just how beautiful food can be! #nutrition #makeup##
My passion is to help you feel your very best, plant-based. Fueled with fruits, vegetables, grains and legumes, your body will feel replenished with a healthy dose of vitamins, minerals and protein.
I'm a food and lifestyle coach in Toronto – I specialize in nutrition and creative approaches to flavourful living. Contact me for consultations.
I love food and everything about it: eating and cooking and playing with it and photographing it! I'm a former vegetarian and vegan and now eat a mostly pescatarian diet. I've been a personal trainer for 10 years and am certified.
Starting today, let's bring some order into our diets & mindful eating.
Nutrition, you got this! __ nutrition can be confusing. Join me for tips on eating healthy that fit into your life. *Link in bio._ #nutrition
Fitness gives you the tools to improve yourself. Nutrition supplies the building blocks to help you thrive. Teaming together is key.
Fitness is like a pyramid. Some basics must be strong for you to build your strength, endurance and aesthetics.
Eat well. Feel good. Have fun.
Eat whatever you want, but make sure you love what you eat. – Joy Bauer
Thanks for following my journey on this beautiful earth
Cool Nutritionists Instagram Bios
Welcome to my (not so) underground lair
Happiness is homemade.
Being a nutritionist in the fitness industry is like being a chef: playing with ingredients.
Nutritionist: helping you always feel right as rain
I help busy women feel good in their bodies through nourishing meals and fitness! 💪
Since my very first Whole30, I have been following Robb's lead. As a nutritionist, I tell my clients to eat food the way it is – the whole, real, good stuff. The stuff that doesn't need any more
My journey is to help people on their health and wellness journey, guiding them to real food and meals that not only taste incredible but leave you feeling satisfied and energized.
My mission is to inspire you to live your healthiest self! Follow me for fitness, nutrition & wellness tips that are simple, easy & sustainable.
As you age, your daily routine should change to reflect that your skin will inevitably experience changes as well.
My mission is to help you find a healthy balance between a whirlwind lifestyle and a sound diet. My goal is to provide you with the tools to help you remain energized, focused and healthy while still enjoying your favourite foods every day.
A warm welcome to my gluten-free followers! I'm glad you're here and hope you feel right at home. Together we'll learn how to achieve your health and wellness goals in a real and practical way.
I know you want the whole cake, but it's not good for you. How about a cupcake instead?
Perfection is not about being perfect. It's about getting closer to perfection every day. #nutritionist 🌿
Nutritionist | Lifestyle Consultant | Wellness Expert.
Nutrition is everything. Eat well, eat often, eat clean.
Where eating healthy is all about balance.
Get naturally healthy meals with tips from a registered dietitian.
#breakfast before workouts is key– so put good fuel in your body with the right ingredients. ☕🍏 #breakfast #loseweight with #nutrition ✔️
Healthy eating and lifestyle choices should be delicious and easy. Located in NYC, I help busy women stress less and enjoy more delicious food while feeling great.
Studies have shown that eating the same healthy breakfast every day can significantly improve mental performance. #healthyliving
Live your best life through healthy eating, feeling great mentally and physically, and helping others do the same.
In case you could use a little help from your friends ─ your food pals, to be exact.
Gut health is the foundation of overall health. How do you keep yours healthy? 💩
I promise it's not too late to lose weight, gain energy, and get your health back on track!
Are you feeling tired? Get your nutrients from lunch. Be a student of the practical. Pick the prime choice over the prime rib.' – Julia Child.
Here's to all the goals we set. May they burn brighter than the candles on my birthday cake
…your path to health and wellness starts here. #lifestylecoach
Nutritionist, columnist, reader, foodie, daring adventure seeker and listener, I prefer the taste of adventures to money and fame.
Not just another pretty face. A real person who eats and cares about what she puts into her body.
Passionate about helping people find the right lifestyle fit for their individual needs! Food for thought, live life in a way that makes you happy and healthy!
Let's Create Your Eating Plan To reach your goals! Let me help you take on the challenge of getting to a new level of fitness and nutrition.
I was repping my favourite healthy, filling, & forgiving smoothie bowl combo on the regular. Find out why I love this combo so dang much here.
Finally! Everyone knows that coffee and chocolate help with weight loss, but what about the ever-popular avocado?
We've got the recipe for living our healthiest lives. Let us help you make the meal. And while we're at it, let's chat about blenders while our hands are in the cookie jar.
Healthy doesn't have to be boring. Together we'll explore fresh ideas for handmade meals that are vibrant, delicious and nourishing!
#ImportantHealthFact. . It's easy for your kids to have a nutritionally balanced lunch by packing one of these sandwiches. What you pack matters—a lot!
Healthy can also be delicious—and fun. Let's work together to get you the right foods to get your body feeling happy and playing at its optimal level.
Health doesn't have a short shelf life.
My recipe for life: There is always a way, just keep finding it.
Being an expert in your field is always something to be proud of, but being humble enough to accept help is the true beauty of being the best you.
A balanced diet is a cookie in each hand.
A balanced diet is chocolate in both hands.
A burger is meant to be eaten like you love it.
A good dinner will make anyone smile.
A party without cake is just a meeting.
A taste of the food life.
Abs aren't made in the kitchen but cookies are.
All happiness depends on a leisurely breakfast.
All I want for Christmas is food!
All I want is food and affection.
All the coffee, please!
An apple a day…
Anything is good if it's made of chocolate.
As long as there's pasta and Chinese food in the world, I'm okay.
Be a cupcake in a world of muffins.
Be a Fruit Loop in a world of Cheerios.
Behind every successful person is a substantial amount of coffee!
But first coffee!
Caffeine and kindness.
Cake brings people together.
Cauliflower is nothing but cabbage with a college education!
Cheese, milk's leap towards immortality.
Cooking with love provides food for the soul.
Cool as a cucumber.
Count the memories not the calories.
Cupcakes are muffins that believed in miracles.
Dear food, either stop being so delicious or stop making me fat.
Divided by nations and united by food.
Don't be eye candy, be soul food.
Don't be upsetti, eat some spaghetti.
Don't lie to yourself! You know you want the whipped cream on top.
Donuts worry be happy!
Donuts kill my vibe.
Drink some coffee & pretend you know what you're doing.
Eat like you love yourself.
Eating good food is my favorite thing in the whole world. Nothing is more blissful.
Eating just in case I get hungry later!
Eggscuse me?!
Espresso may not be the answer but it's worth a shot.
Espresso yourself! #REF!
Everything you see I owe to spaghetti.
Extra fries…? Oh, you said exercise!
Filter your coffee not your dreams.
First I drink coffee, and then I do the things.
First, we eat then we do everything else.
Food is an important part of a balanced diet.
Food is for eating, and good food is to be enjoyed.
Food is fuel!
Food is more intimate than you think.
Food is my best friend.
Food is not just eating energy, it's an experience.
Food is the ingredient that binds us together.
Food tastes better when you eat it with your family.
Food, Friends, Sunshine!
Friendship goals: eating together.
Fruit is definitely on the maintenance diet. It's on the lifestyle diet.
Good food ends with good talk.
Good food is a celebration of life.
Good food is a good mood.
Good food is the foundation of genuine happiness.
Unique Nutritionists Instagram Bios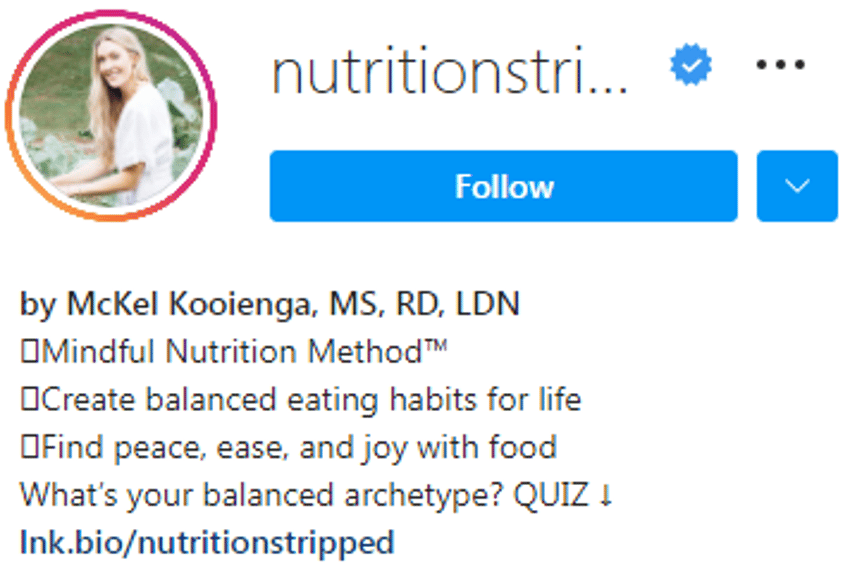 Good friends, Good Food, Good Times!
Good pancakes make people happy.
Good taste lasts forever.
Greatest wealth is health, and good food is the secret to get!
Happiness is a pancake breakfast.
Hey there hot-tea.
Honey comes from bees, but pancakes come from heaven!
How do I like my eggs? Umm… in a cake?
I am thankful for all the different ways there are to eat potatoes!
I can't be on the cheeseburger diet all the time.
I cook with wine. Sometimes I even add it to the food.
I don't need an inspirational quote, I need coffee!
I don't want to taco 'bout it!
I eat cake because it's somebody's birthday somewhere!
I enjoy long, romantic walks to the fridge!
I followed my heart and it leads me to the fridge!
I get way too much happiness from good food.
I like hashtags because they look like waffles!
I love the smell of coffee in the morning!
I love you a waffle lot.
I love you berry much!
I scream for ice cream!
I spend a lot of time holding the refrigerator door open looking for answers!
I think food is, actually, very beautiful in itself.
I was always a junk food person, still am.
I wasn't able to choose between two food options so I ordered both.
I would love you if you were pizza.
I'm a lady in the street but a freak in the buffet.
I'm on a seafood diet. I see food, and I eat it.
I'm soy into you.
Ice cream is cheaper than therapy.
If food were free, why work?
If we weren't meant to have midnight snacks why is there a light in the fridge?
If you are out of ideas, coffee is the idea to bring out other ideas.
If you combine good flavors, food turns into an orchestra.
If you see tasty food, go and eat it.
If you're afraid of butter, use cream.
It's all about spice.
Its cake o'clock!
It's hard to be sad when you're eating a cookie!
It's coffee o'clock!
Just a general life update: Hungry again!!
Just GO for it!!.
Last name hungry. First name always!
Let them eat cake!
Let's take this moment to … Instagram our food.
Life is a combination of magic and pasta!
Life is too short to eat bad and unhealthy food.
Living the sweet life!
Looking for a snack!
Love for rice is the new cool thing for me.
Love you a brunch.
Lunch hour is the best hour of the day.
Mustard Chicken Curry… I cook to live and live to eat.
My friends tell me that cooking is easy, but it's not easier than not cooking.
My head says go to gym. My heart says eat more ice cream!
Nacho cheese!
NEVER regret the potatoes.
Never settle for just one scoop!!
Nothing brings people together like good food.
One healthy meal at a time.
Pasta doesn't make you fat. How much pasta you eat makes you fat.
People who love to eat are always the best people!
Pizza is love! Pizza is life!!
Pizza is the only love triangle I ever want!
Rain drop Drop top all I do is eat nonstop.
Sandwiches are wonderful. You don't need a spoon or a plate!
Skip the diet. Just eat healthily.
Snacks are meals too, just smaller ones.
Spread love as thick as Nutella!
Squeeze the day.
Stop letting food be the boss of you.
Surround yourself with pizza, not negativity!
Tasty food is the bliss of live.
The best things in life are sweet.
The most dangerous food is wedding cake!
The only thing good about china is Chinese food.
The only thing I like better than talking about food is eating.
There is no sincerer love than the love of food.
There's no "we" in fries!
There's nothing more romantic than Italian food.
Waffles are just pancakes with abs.
Weekends are for brunch!
When you're downie eat a brownie!
Whisk me away!
Wi-fi, food, my bed. Perfection!
Wine + dinner = winner!
Winter is the time for comfort, for good food and warmth.
Without ice-cream, there would be darkness and chaos.
You can't be sad when you are eating ice cream.
You can't buy happiness, but you can buy good food.
You can't please everyone, you are not an avocado!
You don`t need a silver fork to eat good food!
You feel better when you're eating food that retains nutritional value.
You know, food is such – it's a hug for people.
You're my butter half.
You're one in a melon.
Your diet is a bank account. Good food choices are good investments.
Good food, good life!
Beach body in summer, beach body in winter. Whatever the season, whatever your goals, the protein you need is here.
Funny Nutritionists Instagram Bios
How eating one less dinner out per week could land you $5,400 a year 💰
"Training Tuesday". Train hard, train smart, and train with the best 💯%1. Test your limits here + get swole.
A healthy snack pack that gives you that boost in energy you need to keep going!
It's not about how much we eat, but what we choose to eat 🍦
Bump it up a notch with more protein
Can you guess what's on our menu for Thanksgiving?
Berry good. Find your energy, stay fit, and fit in a healthy snack too—all with the 10 g of protein in every 6-piece pack of our berries.
Treat your body right—get shredded with Fit Crunch. Fit Crunch are delicious, low-calorie, gluten-free crackers made of whole grains with no preservatives or artificial flavors that'll let you live your life, guilt-free
Bold flavor season is officially upon us. Start it off right with this deliciously easy chicken dish made with nutritious kale, sweet potatoes, and green beans
It's a-ok to be healthy and happy
Protein-packed, delicious, minis! Life's better in mini form How are they so cute
When mom gives us selective attention, but we're not in the mood to share
Let's get our daily dose of cute with some adorably delicious recipes #ad
The more delicious in life, the healthier.
It's easier than you think. Start with Spinach or Kale. We make it a breeze to get those daily servings of greens."
Good food for every age
These Snacks Are So Good They'll Make Their Way Into Your Party
Try These Proteins
Holidays mean lots of parties and gatherings with loved ones. Keep healthy habits the same before and after the big day!
As summer gives way to fall, we begin to crave stews and comfort food. It's also a great time of year for growing and fermenting healthy foods like sauerkraut
Food that is made with real ingredients – no artificial flavors, synthetic colors or sweeteners, added sugar, or high fructose corn syrup – and is minimally processed.
If you're in the East Bay, you have to check out. These vegan kale chips are all made locally in Oakland and taste so fresh and crisp. I'm eating one right now as I
There is a place for every single one of us in this movement to improve the health and wellness of our bodies, our families, and our nation. Let's do it together.
Good thing avocados are full of good fats and fibre to keep you full and energized all day long.
My fridge always has so many different healthy options to keep me nourished and energized throughout the day.
What's your favorite way to season up raw nuts? Here are some of our favorites: Cinnamon or chilli powder, sea salt and rosemary, and parmesan cheese. Add them on top of salads or yogurt for a boost of protein and crunch
🥒 When it comes to your waistline, think diet before 'diet.'
Your path to better health starts here.
Whether it's a morning smoothie to power up your day or a spicy veggie dish for dinner tonight, we've got delicious recipes and tips that will help you prepare satisfying, nutritious meals—with a little help from Nature Valley
What's better than a good night's sleep? A restorative overnight oat. Now available in five delicious flavors. #overnightoats
You're never too old to laugh at yourself. Sign up and get emails from Walmart's Grocery section. #WalmartFashion #BringingItBack
Summer vacation is for relaxing. Do you stand at the kitchen counter and do a little dance every time you use your new Nutri Ninja®?
Cool. Refreshing. Naturally sweet. @xxxxx Iced Teas are the perfect choice for a healthy snack on the go #RefreshWithTeavana
Fall means it's time to change up your wellness routine. Change by eating healthier + cooking at home more often. Try this fall weight loss smoothie bowl recipe: 1/2 cup whole wheat rolled oat, 1/2 cup frozen berries,
Making healthy food options easier to find and more fun to eat. We're here to shake things up—for the better. 😃🍾
Food should not be boring, but it also shouldn't taste bland. Enjoy the freshest tasting, most colorful veggies of the season at whole foods.
Alright, alright, alright. 🎶 Every day is a good day to… add veggies into your life! 😋
Just because you have food on your teeth doesn't mean that you can't do a sexy photoshoot.
Smoothies without the guilt! Get your greens – with this smooth™ fruit and veggie smoothies that are all-natural, delicious, and packed with nutrition.
You can keep calm because you're eating this [healthy food, healthy meal, healthy snack] for dinner.
Get your daily dose of (healthy and tasty) vitamins with #greensplus
"I've got a snack attack!" who you say? Us, when it comes to these healthy snacks #snackattack #satisfyysnack "
Spoiler alert: Eating a variety…
Fall has fallen over here and gone a little nuts. Layers upon layers of deliciousness are happening, PS: I'm doing this Whole30 thing and it definitely feels like a WholeMonther.
These Dogs Will Remind You That It is Never Too Late to Make the Most Out of Life*
Life is one big beauty pageant #NailedIt
Good food and good music are my love language. A positive and honest caption for restaurants wanting to show off their healthy menu options.
We've got all the right groceries to keep you balanced all summer long. Shop Whole Foods Market now for healthy, delicious eats. #WholeFoodsMarket
Little changes make a big impact—introducing new, healthier versions of America's snacks. #LoweringMyScore
Becoming your best self is a journey. But it's not a solo mission. Find the support you need to understand your health and achieve your goals. Together, we are strong. Together, we can #BeatObesity.
Good food is worth sharing.
Keep your mind moving, your body strong, and your soul in tune with these satisfying meals.
Looking for some good reads to guide you in bringing more green goodness into your diet and daily life? Look no further. Here are three books by @xxxxxx that will help you make the great green shift.
Don't forget to get some fruits and veggies into your diet!
This is us in a healthier state. We want to see you there!
Hello, October. If you've got a busy schedule ahead, fuel up with nutrient-dense foods that'll keep you moving.
Let's get real here. The best way to make the most out of a meal is to shop consciously. #eatclean
Baby, it's cold outside, but this healthy seasonal salad is hot.
It's time to get pumped about #NationalToastDay because who doesn't love toast and what goes better with toast than avocado…#Breakfastin5
Cucumbers are nature's weight-loss secret. Full of water to fill you up, and fiber to help you feel full and satisfied #FitFoodieFriday
Eat well, live well with these nutritious #HealthyGrabNGo options!
Eating healthy should still be delicious. We're committed to finding ingredients that embrace both perspectives.
Beef up your day with protein-packed snacks from Blue Diamond that contain no added sugar or artificial ingredients.
Fit Food – A Different Kind Of Fast
Too cool for school, these yoghurts and oatmeals are making us feel like a boss. 💪 #ReplaceYourSkillsWithYours
What's #cleaneating and #glutenfree look like? 👩🏻🍳 We've got you covered. 🍗 (No one will know that these meatballs are made entirely of
Strong arms, lean waist – this is what success looks like.
Good food is an extension of who you are.
Let's make the fall healthy and delicious! #bestfoods #healthyfoods
Being healthy and active is just a perk of this adorable City Bites legging. 😜
My kitchen, my rules. A photo of your food and a hashtag are all you need for a healthy dose of 💪🏼 ➡️ #pawandmunch
You're getting better every day. Keep it up, and celebrate your progress by eating well and living better.‹
Good things come to those who eat good. . . and this is so true when it comes to finding balance in our relationships with others. Thank you, @xxxxxxxx, for sharing these thoughtful words of wisdom.
A runner's high is just a great excuse to take your dog out for her morning walk. 😁
We're here to help you get cooking again.
"Eat fruits and vegetables, nuts and seeds, beans and legumes. These foods contain the right balance of vitamins, minerals, and quality protein." 🍏 😆🥒🍎
Good food doesn't have to be complicated. Our meals are real, wholesome, and made from scratch.
Food isn't about who makes it or where it came from. It's not even about the flavors and textures in your mouth or the dopamine that hits your brain when you take that first bite.
I love chicken and broccoli. Bu,t I don't think they love me.
Pamper yourself with a fresh juice made from the freshest organic produce grown right in our own California backyard.
Nourish and brighten your skin this week with our #10DayCoffeeFaceChallenge.
Thanks, @xxxxxxx for this fantastic idea. I encourage everyone on Instagram to use this method
When you've got the munchies and have no snacks at home, the ideal food is healthy no matter what.
Today's healthy food is tomorrow's medicine. – Hippocrates #food #health
Fall is the best time of year for cold-pressed juice. Enjoy a fresh, delicious day with organic fruits and vegetables.
How do you work with a client or digital agency to create an effective social media ad?
Friends don't let friends eat crappy food. We should be friends.
Fresh fall produces in the house. Time to clean out those crispers! Throw some of these in and you're well on your way to a delicious lunch bowl.
Calories are only a suggestion.
Be kind to yourself, make healthier choices over time. Balance is everything, and it's OK if you don't get everything right all the time!
No matter the occasion, @xxxxxxx keeps the party going with quality, hearty options for people on the go.
Let the weekend begin with fun activities, a #HealthyBBQ, and delicious healthy food to fuel our busy week ahead. 😋
Just try my new #peanutbutterenergybar –Only 100 calories–filled with superfoods from both sides of the Atlantic. A healthy snack that's actually fun to eat!
Surround yourself with vegetables and you'll want to eat them. Tour the showroom and imagine all of your favorite dishes springing to life in your kitchen.
Day by day, week by week, this is what it looks like to thrive. #HealthyLiving
No fake stuff. No junk stuff—Just real food that's clean and delicious. Made for people who like to eat, dream, create
The time of year when sweet potatoes, squash, and apples are in season! This week we're featuring recipes celebrating these ingredients!
4-Step Guide: How To Create The Perfect Instagram Bio For Your Business
Instagram gives you 150 characters to tell your followers what your business is about.
This is where you are given the opportunity to summarize your company, engage your audience, and leave a great first impression.
We will break down the qualities and aspects of Later's Instagram bio, as a template for you to use.
Step 1: Highlight Exactly What You Do
Your Instagram bio should be a place where you tell your readers exactly who you are.
This should be brief, clear, and to the point. Explain what makes you unique and what you can do for your audience.
In the Later example, they do this in two different ways:
In their profile name, they showcase their company name with a clear description of what they do
They provide even more explanation and boost their brand up, saying they are the #1 marketing platform for Instagram

Step 2: Pitch Your Service [And Use Relevant Keywords]
While it's important to explain what type of company you are, it's also critical to pitch your product or service.
When creating a website, this is often the first thing people see on your site to really understand what you are offering and what makes you stand out from the rest.
Later does this using one line on their bio, and 8 relevant keywords:

Step 3: Provide A Clear Call To Action
Your call to action should be something you are encouraging your audience to do.
This could be in the form of a recent promotion you are offering, a link to a specific article you want eyes on, or just a way for users to get directed to your website.
In any case, you should always provide the user with easy access to whatever it is you'd like them to do. You can do this by providing a direct, embedded link on your bio.
For the Later example, they encourage users to check out their blog where they showcase tips and guides. This is a common strategy that brands use to get more traffic to their blog, and eventually, turn leads into customers.
Step 4: Use Emojis
Lastly, emojis are a great way to break up any text-heavy sections in your Instagram bio.
Be sure to use emojis that are relevant to your brand or to highlight the items you are discussing in your bio.
Later adds emojis to draw the readers eyes to certain aspects of their bio, such as what they do and their call to action:

Want to start your own business?
Hey! 👋I'm Pat Walls, the founder of Starter Story.
We interview successful business owners and share the stories behind their business. By sharing these stories, we want to help you get started.
Interested in starting your own business? Join Starter Story Premium to get the greatest companion to starting and growing your business:
Connect + get advice from successful entrepreneurs
Step by step guides on how to start and grow
Exclusive and early access to the best case studies on the web
And much more!
Together With
BigCommerce
The simplest way to start selling online
With BigCommerce, you can build, run and grow a better online business in less time, with less cost.
Start a trial: Build a store that caters to your unique needs. Get 15 days free when you pick your plan, no strings attached.
Launch your store: Customize your storefront with powerful features. No design skills needed.
Convert more sales: Build buzz, find your target customers, and drive even more online traffic.
Start your free 15-day free trial today ➜ (no credit card required)