100+ Marketing Blog Post Topics & Ideas
•
Updated: August 10th, 2022
100+ Marketing Blog Post Topics & Ideas
Looking to write a new Marketing blog post but experiencing some writer's block?
Coming up with new blog post topics and content ideas can be time-consuming and daunting.
What's even more challenging is coming up with a great content idea - one that will bring you the right traffic and resonate across your audience.
Writing a great blog post can take hours, days, and sometimes even weeks, so it's critical that you do your research to ensure your post will reach your intended audience.
In this post, we provide you with:
Marketing blog post topics to write about
Marketing blogging ideas
Other Marketing content ideas
Real-world examples of Marketing blogs and topics
Proven tips and strategies on how to find the right Marketing blog ideas.
How-To-Guide Marketing Blog Post Ideas
How to create your Brand Strategy
How to run a marketing campaign
How to perform Copy-writing and Graphic Designing
How to open Digital Marketing Agency
How to use Google Search Engine
How to perform a Marketing Case Study Analysis
How to create a marketing inbound campaign
How to learn the basics of SEO
How to change your Instagram account into an advertising platform
Step-bu-step guide to Social media marketing
How to set up your own marketing company from scratch
How to create a marketing blog
How to curate a marketing package for your top clients
How to customize your advertising banners
How to create brand awareness for your Small Business locally
How to define the right level of Marketing Investment
How to not get looted in the name of advertising
How to stay away from fraudulent marketing agencies
How to start your brand marketing via Pinterest
How to keep a check of your competitors through market research
How to get more clients via social media marketing
How to optimize B2B Demand Generation & Sales Enablement
How to learn the basics of marketing automation online for free
How to stay on top of current marketing trends
How to learn about Amazon's retail marketing strategies
List-based content style
Lists are a great way to consolidate information and provide your user with a quick and simple read.
For those that want a quick answer or don't have time to read a long article, lists are a great way to quickly answer your searcher's query.
List content is great for driving traffic to your blog, and they are often quick to create.
List-Based Marketing Blog Post Content Ideas
5 Things to Avoid Failure In Social Media Marketing
5 Tips for Choosing Content Marketing Topics
7 ways to expand your reach with Search Marketing
3 tip to stay on top of the New Era of Digital Commerce
10 must-know Evolving Trends in Mobile Marketing
4 Tips to Help Your Business Generate More Clients via Social Media
5 Design Principles to Master for Better Display Ads
15 Banner Ad Design Tips to Get More Clicks
8 Tips For Effective Banner Design to run your Marketing campaign
4 Easy techniques to Find your brand niche
Top 50 self-learning SEO websites in 2021
12 best courses for youth to keep up with marketing
5 tricks to learn Social media marketing at home
10 Social Media Marketing Secrets You Need to Get More Clients
List of top 10 ways to engage with your followers and keep more coming
10 Marketing Tricks From the Pros
10 Digital Marketing Tips and Tricks from Top Brands
7 Psychological Marketing Tricks to Redefine Your Strategy
64 Creative Marketing Ideas to Boost Your Business
8 Effective Branding Tips
11 Branding Tips For A Better Company Image
18 Sneaky Ways to Build a successful Advertising Company
Top 10 Most Effective Marketing Strategies for B2B and B2C
17 Powerful Marketing Strategies That You Should Steal in 2021
18 of the Best Marketing Techniques for 2021
Other blog post styles
There are various other blog post styles you can use to create content.
When you combine a mix of different blog post styles into your content strategy, you create an engaging experience for your audience.
Here are some other blog post styles you should consider experimenting with:
Ebooks
Infographics
Video content
Case studies
Interviews or Q&A's
Other Marketing Blog Post Topic Ideas
Why Social Media Is Important for Business Marketing
The Definition of Advertising in Less Than 50 Words
Latest SEO and advertising trends
Guide to Content Marketing
Blogs on search engine marketing and Google's algorithm updates
Things To Do Before Jumping Into Paid Internet Advertising
Where Is the Line Between Creepy and Creative in Advertising?
The Advertising Media That Consumers Trust Most
Research the most popular social media channel
Fresh Approaches to Create Content Your Customers Want
The Only Features You Need to Use in SEO Tools
WordPress SEO Tutorial for Beginners
Keep your advertising simple but brilliant
The art of influencing for brand visibility
A Smooth Approach to Digital Marketing
The Importance of Diversity & Inclusion In Sports Marketing
The Beginner's Guide to Evergreen Content marketing
What happens when a Brand fails its Community
What is the role of Google Analytics in advertising
The Ultimate Guide to Branding
Impact of branding management on business performance
Importance of social networking on brand building
Understanding The Who, What, Why, & How of Digital Marketing
A Practical Guide to the Top Email Marketing Automation Tools
The Best Social Media & Digital Marketing Metrics to Focus on that can change your brand image
Best Marketing Blogs In 2022:
Mention offers current news and content around media, best practices for marketing, and advice from experts in the industry.
Readers love their content because they cover the latest trends in this niche and showcase their content in a easy-to-digest manner.
The blog gets around 368.2K visitors/month
QuickSprout provides you with up-to-date guides, analysis, and insights in marketing knowledge from successful entrepreneurs.
Readers love reading their articles because they offer expertise across various categories such as entrepreneurship, marketing, ecommerce, management, technology, and many more.
This blog gets around 476.8K traffic/month
Grow & Convert provides information around content marketing, SEO, content strategy, customer research, and more tips to help grow your business.
The blog has around 50k views per month
John Doherty is the founder of Cedo and he comes with great marketing knowledge to help you make the right decisions for your business.
Readers love his blogs because of his fresh take on the industry and current marketing trends,
The blog gets around 50K traffic every month
Autopilot offers you deep knowledge about the latest ecommerce trends, marketing automation, customer onboarding, and other important aspects of marketing.
This blog gets an average of 50K visitors each month
Guide: How To Find Content Ideas
Finding the right content type and topic for your blog is critical. The last thing you want is to spend hours and days writing a piece of content that doesn't end up performing well.
We've outlined tips to help you find the right blog post topic
1. Find Blog Post Topics Using Google
Google search is a great (and free) tool for finding a content type and topic.
You can actually use google autocomplete to see what people are searching for: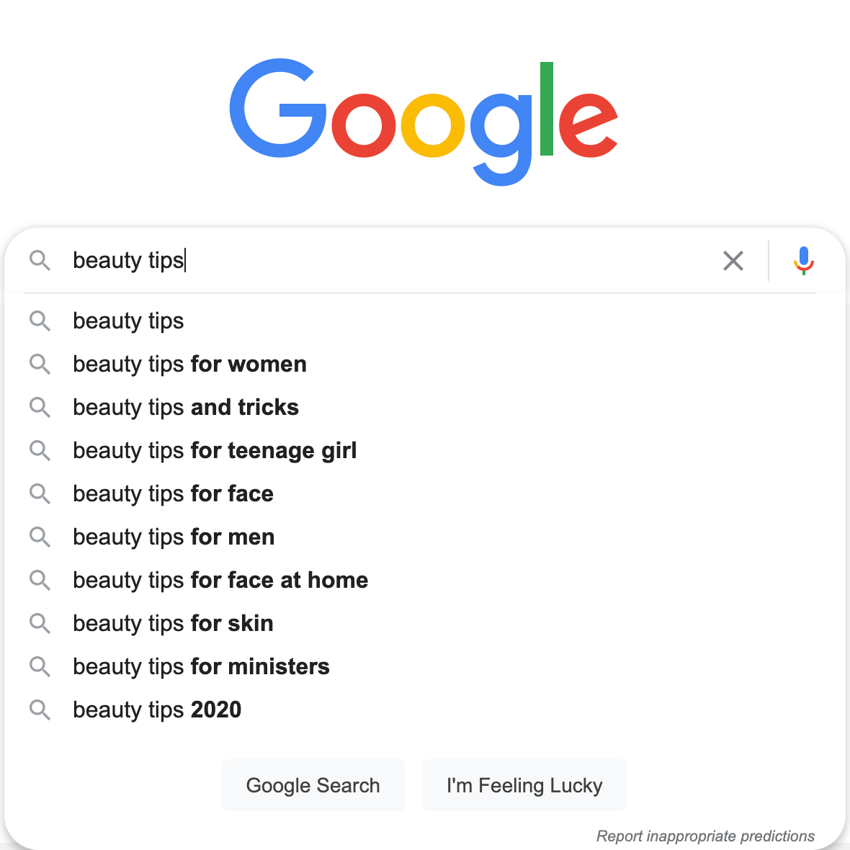 2. Find Blog Post Ideas Through Competitors and Useful Websites
A great way to find content types is by seeing what your competitors with similar audiences are doing.
There are a few different ways you can do this:
Manually going through different websites to see what others are writing about
Use a tool like ahrefs to see top-performing websites and topics
3. Find Content Ideas Using Google Search Console
Google search console is a great and free way to see what your audience is searching for: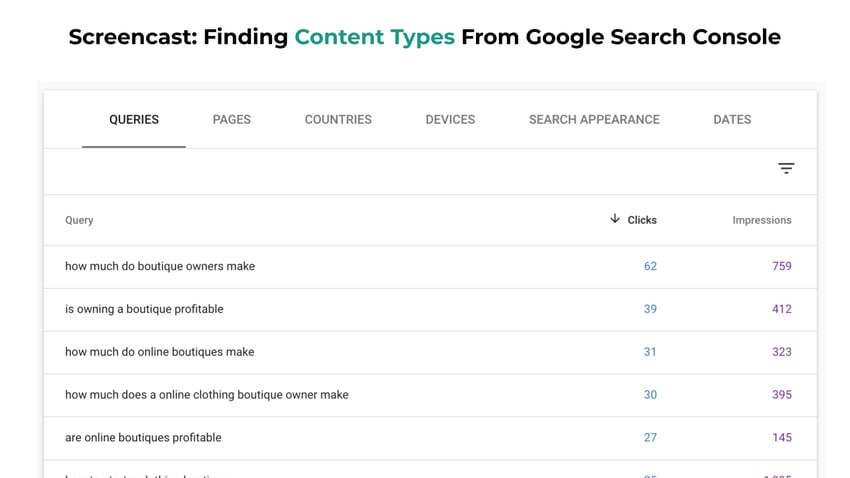 4. Make Sure You Can Perform Well For The Content
Just because your audience is searching for something, doesn't always mean you can win for that content.
Consider looking at existing search results and other top-performing websites. Then, ask yourself a few questions:
Are these top-performing sites massive businesses? If so, what would it take to rank for something like this?
Is the existing content in the search results good quality?
Are there ways that I can improve this content type? (ie. adding photos, videos, optimizing keywords, making the posts longer and more valuable to the reader, etc)
Want to start your own business?
Hey! 👋I'm Pat Walls, the founder of Starter Story.
We interview successful business owners and share the stories behind their business. By sharing these stories, we want to help you get started.
Interested in starting your own business? Join Starter Story Premium to get the greatest companion to starting and growing your business:
Connect + get advice from successful entrepreneurs
Step by step guides on how to start and grow
Exclusive and early access to the best case studies on the web
And much more!
If You Don't Rank In Google, You Don't Exist.
In order to be successful, you need to be visible online. If you're not, then your competitors might be stealing customers from you.
Semrush lets you quickly create content that ranks, and compete with the biggest brands in your niche.
Try Semrush Free Today ➜