102+ Best Instagram Bios For Your Makeup Brand [2022]
•
Updated: January 20th, 2022
102+ Best Instagram Bios For Your Makeup Brand [2022]
If you're looking to up your Instagram game, it's imperative that you have a great Instagram bio.
Your Instagram bio is the first thing your followers will see - it should be unique and tell users exactly what you do and who you are.
We understand how difficult it can be to craft a compelling Instagram bio, which is why we curated a list of the best makeup brand Instagram bios.
Additionally, we provide you with examples of the best makeup brand bios on Instagram and a step-by-step guide to get you started.
Looking to generate your own bio? Check out our free Instagram bio generator here.
Creative Makeup Brand Instagram Bios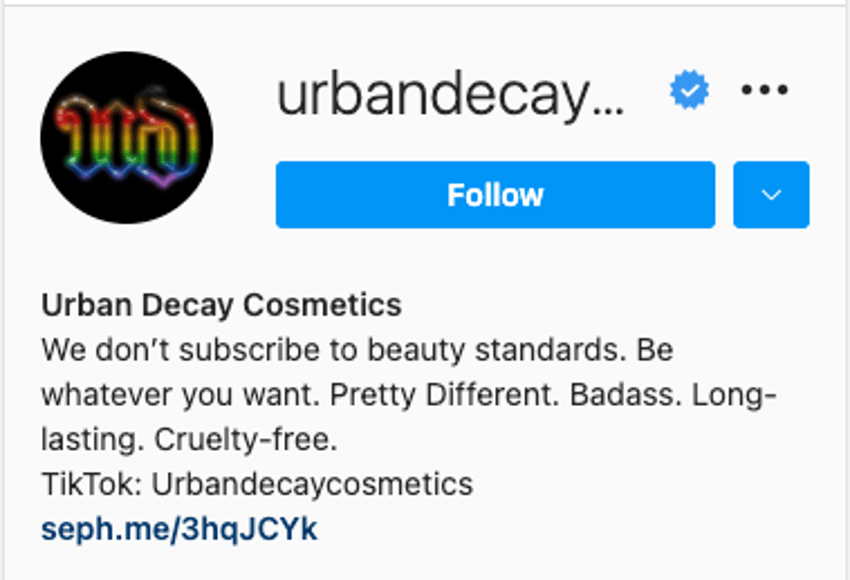 "A smile is the best makeup any girl can wear."– Marilyn Monroe
"If you're sad, add more lipstick and attack." – Coco Chanel
"I love the confidence that makeup gives me." – Tyra Banks
"Never ask a girl with winged eyeliner why she's late." – Unknown
"Beauty begins the moment you decide to be yourself." – Coco Chanel
"Joy is the best makeup. But a little lipstick is a close runner-up." – Anne Lamott
"Makeup is the finishing touch, the final accessory." – Marc Jacobs.
"Creativity is your best makeup skill, don't be afraid to experiment." – Pat McGrath
"Your eye makeup says so much about you and your style." – Laura Mercier
"You can be a woman who wants to look good and still stand up for the equality of women." – Meghan Markle
"I do put on a little makeup every day because it helps me feel put together. Mascara is essential." – Emma Stone
"Treat your makeup like jewelry for the face. Play with colors, shapes, structure – it can transform you." – Francois Nars
"The most beautiful makeup for a woman is passion. But cosmetics are easier to buy." – Yves Saint Laurent
"That's one of the things I love about makeup. You can change your whole attitude by just doing your eyeliner or lipstick differently." – Beyonce
"I just like playing with makeup and clothes – so I really don't feel like there are rules, and if there are rules, then I think it's up to you to break them." – Kesha
"Beauty is power, and makeup is something that really enhances that; it's a woman's secret." – Charlotte Tilbury
"Foundation should unify tone, but it shouldn't take away the individuality of the skin." – Francois Nars
"Girls have always wanted to be pretty, even in Egyptian times. Cleopatra wore all the eyeliner, you know." – Rita Ora
"If she likes makeup, let her wear it. If she likes fashion, let her dress up. But if she doesn't like either, let her be." – Chimamanda Ngozi Adichie
"I love being super–tough, but if I need to put on a dress and do my hair and makeup, I can do that too." – Elizabeth Rodriguez
Cute Makeup Brand Instagram Bios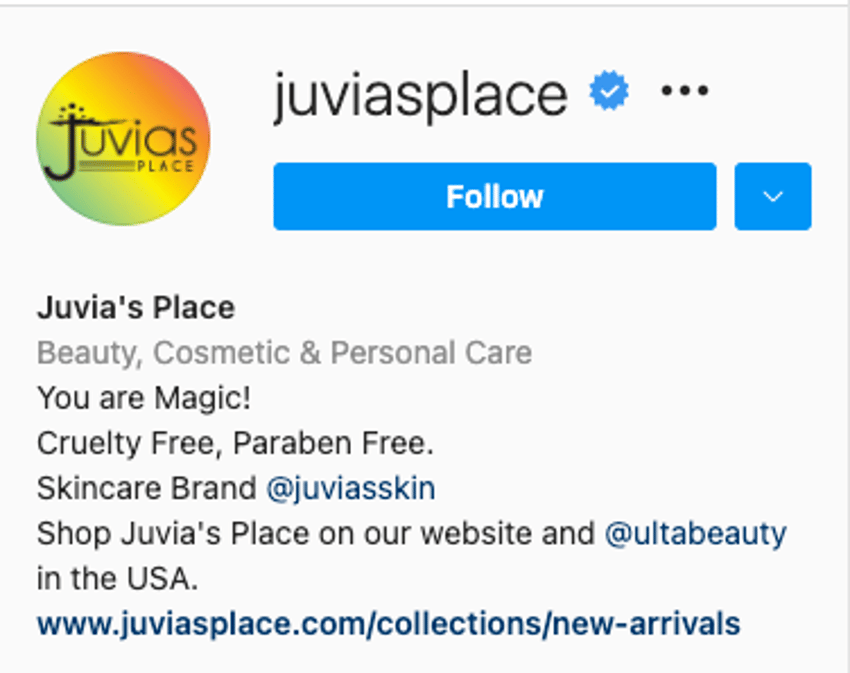 "I believe in manicures, I believe in overdressing, I believe in primping at leisure and wearing lipstick." – Audrey Hepburn
"To me, the essence of truly modern makeup is the freedom to be yourself, to express who you are." – Francois Nars
"When I put on makeup, I'm not doing it to pander to antiquated patriarchal ideals of feminine beauty. I'm doing it because it makes me feel good." – Sophia Amoruso
"Lipstick is really magical. It holds more than a waxy bit of color – it holds the promise of a brilliant smile, a brilliant day, both literally and figuratively." – Roberta Gately
"Fenty Beauty was created for everyone: for women of all shades, personalities, attitudes, cultures, and races. I wanted everyone to feel included. That's the real reason I made this line." – Rihanna
"Have a better relationship with your makeup and take the time to learn what your products will do." – Sam Fine
"Black eyeliner. It's standard. It's all you need. It just makes the world a better place." – Marilyn Manson
"Bronzer is a booster. Choose a shade that's one shade darker than your skin tone. It adds warmth and richness." – Sam Fine
"The notion that wearing makeup is anti-feminist is silly. Cleopatra pretty much invented the eyeliner, and she ruled a kingdom!" – Natasha Scripture
"There's nothing worse than sleeping in makeup. You wake up looking like a painting that's been left out in a rainstorm." – Nina Dobrev
"Makeup can only make you look pretty on the outside, but it doesn't help if you're ugly on the inside. Unless you eat the makeup." – Audrey Hepburn
"Sometimes you just have to put on lip gloss and pretend to be psyched." – Mindy Kaling
"Just because you want to be glamorous, don't be a sheep about your eye makeup." – Loretta Young
"I believe all women are pretty without makeup – but with the right makeup can be pretty powerful." – Bobbi Brown
"Good skin is the best foundation for your makeup." – Holland Roden
"I feel beautiful without makeup on, but when I do put makeup on, it just gives me this extra pop." – Cardi B
"Whether I'm wearing lots of makeup or no makeup, I'm always the same person inside." – Lady Gaga
"I love natural beauty, and I think it's your best look, but I think makeup as an artist is so transformative." – Marina and the Diamonds
"I really believe less is more. When you get older, too much makeup can be aging, and when you're young, you should enjoy the fact your skin is free from lines and wrinkles rather than overloading it with products." – Louise Nurding
"That's the mistake women make – you shouldn't see your makeup. We don't want to look like we've made an effort." – Lauren Hutton
Cool Makeup Brand Instagram Bios
"There's beauty in the things we think are imperfect. That sounds very cliche, but it's true." – Laverne Cox
"Less makeup is better, and it's always better to let your natural beauty shine. Essentially, be happy with your appearance.
"Makeup is not a mask that covers up your beauty; it's a weapon that helps you express who you are from the inside." – Michelle Phan
"The best thing is to look natural, but it takes makeup to look natural." – Calvin Klein
"Keep it simple. You don't want to overdo it with too much makeup or crazy, over–the–top hairstyles. Let your natural beauty show through." – Heidi Klum
"I don't have makeup on all the time, but when I want, I have fun with my friends choosing clothes and putting nail polish on." – Emma Watson
"Beauty to me is about being comfortable in your own skin. That, or a kick-ass red lipstick." – Gwyneth Paltrow
"Real beauty isn't about symmetry or weight or makeup: it's about looking life right in the face and seeing all its magnificence reflected in your own." – Valerie Monroe.
"I'm very proud of my skin and face, and I have no problem not wearing makeup. I don't wear makeup because I feel like I need to cover myself up or because I don't feel confident. I wear makeup because it's fun; it's like painting on my face." – Zendaya
"To me, beauty is natural beauty. If you're naturally yourself, you're beautiful." – Young M.A
"Beauty, to me, is about being comfortable in your own skin. That, or a kick-ass red lipstick." – Gwyneth Paltrow
"Lipstick is really magical. It holds more than a waxy bit of color – it holds the promise of a brilliant smile, a brilliant day, both literally and figuratively." – Roberta Gately
Recommended by 4 out of 5 people who recommend things.
Sprinkling kindness everywhere I go
Trying to be a rainbow in someone's cloud.
Fabulous ends in "us" coincidence? I think not.
Sometimes we could always use a little magic – don't hide the magic within you
Always aiming to be a rainbow at the end of a thunderstorm.
Fair is where you get cotton candy.
Just keep swimming.
Unique Makeup Brand Instagram Bios
Sharing my happy thoughts.
You keep me safe. I'll keep you wild.
Being myself – Everyone else is taken.
Time is precious, waste it wisely.
I'm a cupcake in search for her stud muffin
Do you know what I like about people? Their dogs.
The best things come from living outside of your comfort zone.
The bad news is time flies. The good news is you're the pilot.
No this isn't a dream, this is my reality
I already want to take a nap tomorrow.
If I cannot do great things, I can do small things in a great way.
When nothing goes right…. swipe!
Simplicity is the key to happiness.
In a world of darkness look up at the stars
All I do is win, win, win. No matter what.
To love oneself is the beginning of a life-long romance.
I would rather die of passion than of boredom.
In a world where you can have everything. Be a giver first.
Whether you think you can or you think you can't, you're right.
Together we could be unstoppable
Funny Makeup Brand Instagram Bios
Wanting to be someone else is a waste of who you are
Creativity solves everything.
I'm real and I hope some of my followers are too.
If "love is in the air" why is the air so polluted?
Sweet as sugar, tough as nails.
Catch flights not feelings.
Midnight snacker 🌝
I can't remember who I stole my bio from or why.
Currently saying yes to new adventures
Everyone else was taken so this is me
I'm cool, but global warming made me HOT
People call me Sara but you can call me tonight 😉
Simplicity is the key to happiness
If I was a writer, I'd have a better Instagram bio quote
You can't become the best without first being the worst
In a world of worriers, be the warrior
It won't always be easy, but always try to do what's right
She turned her can'ts into cans and her dreams into plans
Life is what happens to you while you scroll through Instagram
It's my time to step into the spotlight. I've earned it.
I practice what I post
4-Step Guide: How To Create The Perfect Instagram Bio For Your Business
Instagram gives you 150 characters to tell your followers what your business is about.
This is where you are given the opportunity to summarize your company, engage your audience, and leave a great first impression.
We will break down the qualities and aspects of Later's Instagram bio, as a template for you to use.
Step 1: Highlight Exactly What You Do
Your Instagram bio should be a place where you tell your readers exactly who you are.
This should be brief, clear, and to the point. Explain what makes you unique and what you can do for your audience.
In the Later example, they do this in two different ways:
In their profile name, they showcase their company name with a clear description of what they do
They provide even more explanation and boost their brand up, saying they are the #1 marketing platform for Instagram

Step 2: Pitch Your Service [And Use Relevant Keywords]
While it's important to explain what type of company you are, it's also critical to pitch your product or service.
When creating a website, this is often the first thing people see on your site to really understand what you are offering and what makes you stand out from the rest.
Later does this using one line on their bio, and 8 relevant keywords:

Step 3: Provide A Clear Call To Action
Your call to action should be something you are encouraging your audience to do.
This could be in the form of a recent promotion you are offering, a link to a specific article you want eyes on, or just a way for users to get directed to your website.
In any case, you should always provide the user with easy access to whatever it is you'd like them to do. You can do this by providing a direct, embedded link on your bio.
For the Later example, they encourage users to check out their blog where they showcase tips and guides. This is a common strategy that brands use to get more traffic to their blog, and eventually, turn leads into customers.
Step 4: Use Emojis
Lastly, emojis are a great way to break up any text-heavy sections in your Instagram bio.
Be sure to use emojis that are relevant to your brand or to highlight the items you are discussing in your bio.
Later adds emojis to draw the readers eyes to certain aspects of their bio, such as what they do and their call to action:

Want to start your own business?
Hey! 👋I'm Pat Walls, the founder of Starter Story.
We interview successful business owners and share the stories behind their business. By sharing these stories, we want to help you get started.
Interested in starting your own business? Join Starter Story Premium to get the greatest companion to starting and growing your business:
Connect + get advice from successful entrepreneurs
Step by step guides on how to start and grow
Exclusive and early access to the best case studies on the web
And much more!
Together With
BigCommerce
The simplest way to start selling online
With BigCommerce, you can build, run and grow a better online business in less time, with less cost.
Start a trial: Build a store that caters to your unique needs. Get 15 days free when you pick your plan, no strings attached.
Launch your store: Customize your storefront with powerful features. No design skills needed.
Convert more sales: Build buzz, find your target customers, and drive even more online traffic.
Start your free 15-day free trial today ➜ (no credit card required)