122+ Best Job Application Email Subject Lines [2022]
•
Updated: January 20th, 2022
122+ Best Job Application Email Subject Lines [2022]
If you're looking to boost your email open rates and increase sales, your email subject line is the first (and most important) step in achieving those goals.
Did you know that 33% of email recipients open emails because of an engaging subject line?
That's why it's critical to craft a catchy email subject line that will get you the traffic and conversions you deserve.
We've put together a list of 122+ best job application email subject lines [2022].
Some are proven examples from other successful campaigns, and some are creative ideas to inspire you.
Creative Email Subject Line Ideas
Referred by David Samuelson for Senior Vice President of Sales
Regarding the product director role (experienced team leader, expert in agile development)
Seema Product Manager from Amazon, applying for Ecommerce manager with you
See why this growth hacker could be one for you in just 15 seconds
Hi, it is me. Your LinkedIn Friend
Referral from Sally Malone: Sara Sanford, Resume for Speech Therapist Position
Why I will work for you? Let me prove you!
Need help with my resume
10 things you don't know about Sheela
( First name) (Last name) – opportunity of interest
Job posting #876: Communications Manager
Public Health Associate Position - Your Name, MPH
Applying for Marketing Manager, Houston, Job ID 25, John Smith
Following up on our chat at the HR Expo (this is Aya Belsky)
Job Application, Randall Langdon, Applying for Financial Advisor Position, New York
Rare talent requires exceptional representation
Assistant HR manager looking for next role.
I am different. Hire me
Your next hire me or someone else?
I forgot to mention at the data panel yesterday…
Hi, I'm looking for a job and you have what I'm looking for.
Recommended by Sidhu
Jake Simone Data Manager
Hello, is it me you are looking for?
Why you should employ me
You have won the lottery. I am available at your service.
Informational Interview Request - XYZ College Student
Your next Great sales hire. I will show you why I am saying so
I have done my research. You need me!
Hiring me will change your company
I only need 3 minutes of your valuable time
Following up on the accounting position
Make a great decision before your 2nd cup of coffee. Hire me ( give reason)
Research Assistant Resume
Marketing Manager position - Linda Brown
I am your next superstar. Here is why?
I am looking for new opportunities and challenges
If you're looking for a team player, that would be me.
Job inquiry - Steven Sloan
Following up to potentially join your department at XYZ Co.
I should be your next Key accounts manager
I'm your next great radio announcer - Let me show you why
I will do anything for my boss
Passionate, leadership, superwoman and extraordinary
Managing Director Position
Regarding the program coordinator position, applied January 28
Meeting Follow Up - Subject of Meeting
Social Media Expert Seeking New Opportunity
I work for your direct competitor. Hire me I will increase your company sales.
Hi Jan, Ann Cobb suggested I contact you
Resume - Medical Records Coordinator
Sending over my resume as promised (this is Marta from the sales happy hour)
Thanks for making time, this is Ashley from Marcelo's network
Some people want to be superstars, some want to be rock star but I want to work with you.
Don't miss out this opportunity to hire me. I am a phone call away
I am looking for job opportunities. Keep in mind!
Looking for opportunity
HR manager with hospital background would like to join your company
I am interested to hire me for adding value to your company
Do you need me as a candidate for the position of marketing manager with you?
Resume coordinated, Public Relation Officer
HR Generalist (REQ-7881) - Polly Kim
Job application — Marketing Manager, Job ID 25 — John Smith, Google Creative Certification
Application for Sales Associate
Job #345 - Referred by Sharon Rey
Job Inquiry - Your Name
Hiring me will change your company's way of thinking
Inquiry — Jane Doe, PR Specialist Open to New Opportunities
How can I make a contribution to your company?
Would hiring Maneka help your business goals and team? I am available now!
Fellow Sandy suggested that we must connect with each other
Data Entry Specialist, ID# 550894 + Your Name
Thank You - Job Title Interview
Social Media blogger - Job #135 - Jane Smith
Referred by FirstName LastName
Fellow UT-Austin alum from yesterday's webinar following up
Demanding work.
Nurse Case Manager I – Nancy Luther, RN
How can I help make your company achieve its next goal?
Profile of a Marketing manager for a role that you advertised
Seeking Jobs in Marketing, Branding or content writing.
Merchandising expert - 15 years' experience - Nick Brown
Job inquiry — John Smith, 10+ years of experience in IT
Communications Director Position - Your Name
Administrative Assistant Job - Your Name
Let's continue our conversation on SEO from the marketing meetup yesterday
Meeting Request - Your Name
Job Posting #321: District Sales Manager
Application for research assistant role - Sasha Martin
Marketing Director Looking for Next Role - 10 years experience
Ae you interested to hire me?
Atif- The best addition to your team
Unemployed graduate seeking employment opportunities
Following up on the interview
Hiring me can bring your company sales results
HR Operations Manager Looking for Next Position
Hire me: I am the right fit for your job
Looking for job. Please hire me
Award-winning HR professional looking for opportunities
Put me in your team rather in interview
Mr. Smith, I enjoyed your online presentation on sales tactics
Applying for Accountant Director — Jane Doe, CPA
Resume attached. Please hire me.
You have the right job that I am looking for.
Seeking right opportunity
You were looking for the candidate for Sales & marketing position. I am available
Financial analyst role application (Derrick James)
John Eka Project manager
Results guaranteed, followed by cover letter for a specific opportunity
Thanks again for offering to review my SDR resume!
I need a job on urgent basis. Please hire me.
Job application — IT Analyst — John Smith, Microsoft Certified
It is a high time to boost my career. Hire me
Job Inquiry — Referred by Jane Doe — Joe Smith, HR Specialist
Reaching out to my network
Executive director, Digital marketing looking for a job
What my resume does not tell you.
I am highly motivated, hardworking and interested in your managerial position in marketing department
If you're planning to hire a software expert, make me your first call
Appreciate your time yesterday! Attaching my resume
Inquiry - Your Name
Referral - Your Name
GUIDE: How To Write A Great Subject Line
As we mentioned above, crafting a catchy subject line is critical to the performance of your email campaign.
While just a few words may seem like a small piece of your overall message, this is the first impression your audience will have before they decide whether to open your email.
If your subject line isn't engaging or appealing enough, there's a chance it could get buried in your reader's inbox.
Let's go over the proven tips on how to craft a subject line that boosts engagement:
What makes a great subject line?
First, let's discuss the fundamentals of creating a great subject line:
Spark interest and curiosity
A clear and urgent call to action
An offer/intriguing discount
Personalization (this can be done by sending out different versions of emails to subscribers based on their preferences)
Relevance - make sure your subject line covers the current trends and topics within your industry
5 Tips To Crafting a Great Subject Line
Now, let's dive into the specifics of how to create a great subject line for your next campaign:
1. Use a familiar sender name
Although this may seem obvious, it's a piece many marketers miss the ball on.
Your readers want to feel like your email is coming from a human and not a corporation or automated system.
One of the easiest and most effective ways to do this is by changing the sender's name to YOUR name or someone in the company that is well known.
Here's a great example of this from Marketing Examples

Pro Tip
Avoid the "no-reply" sender name at all costs. This makes your email feel unfamiliar, unapproachable, and less personable.
2. Keep your subject short and to the point
If your subject line is too long, it will get cut off, which could impact your reader's chances of opening your email.
The rule of thumb (for both mobile and desktop) is to keep your subject line under 50 characters.
3. Add personal touches to your subject line
If you have access to information about your subscriber (ie. name, location, etc), you can use this to benefit your subject line and catch your readers attention.
It's important not to go overboard here, but adding even the simplest touch such as their name can build trust and rapport.
Here's a great example of a personalized email + offer I received from BarkBox with my dog's name in the subject line: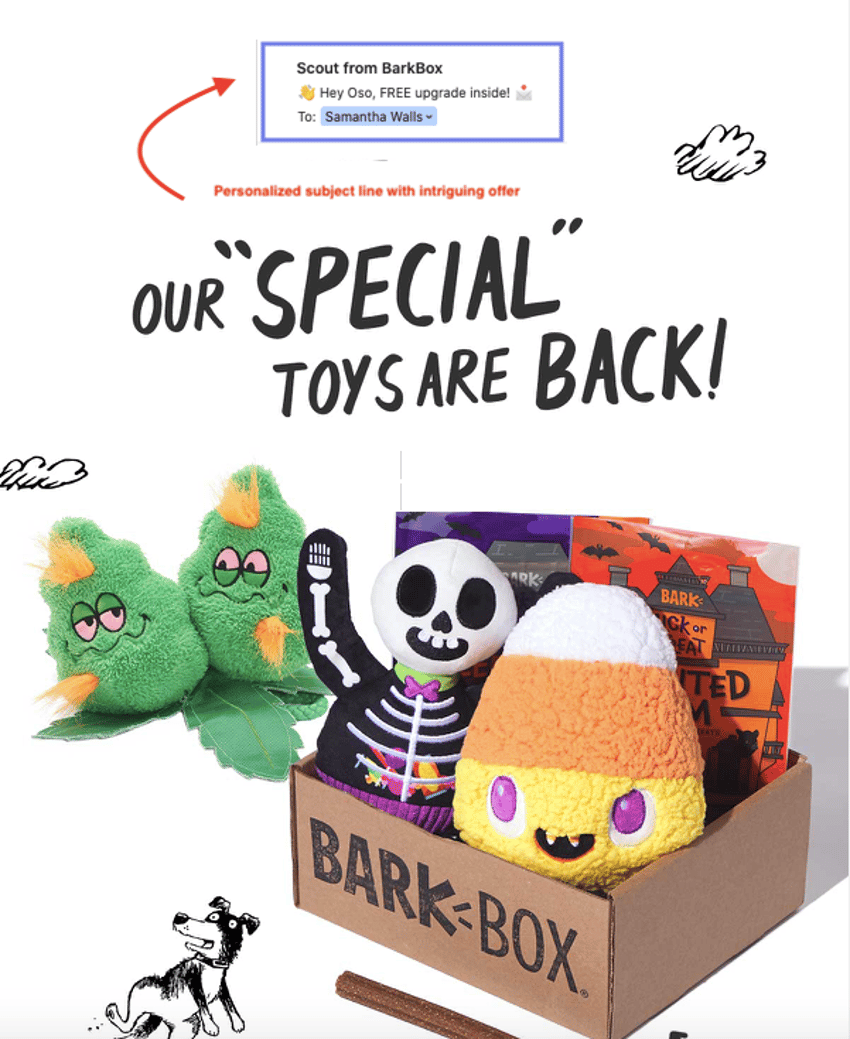 4. Avoid making any false promises
Your subject line makes a commitment to your reader, so it's important you don't stretch the truth just to simply get more opens and clicks.
In the grand scheme of things, making false promises will end up hurting your open rate as your readers will lose trust in you.
5. Give them a sneak peek of what's inside
Telling your subscriber what is inside helps with open and clicks.
For example, if you're providing your reader with a free guide or e-book, consider making your subject line something along the lines of:
"Your FREE marketing e-book awaits!"
Conclusion
If you want your email campaign to perform well, it all starts with your subject line.
Think about the emails you receive in your inbox and what makes you click vs what gets buried - odds are, the same habits go for your customer.
We hope you enjoyed our guide + list of 122+ best job application email subject lines [2022].
Want to start your own business?
Hey! 👋I'm Pat Walls, the founder of Starter Story.
We interview successful business owners and share the stories behind their business. By sharing these stories, we want to help you get started.
Interested in starting your own business? Join Starter Story Premium to get the greatest companion to starting and growing your business:
Connect + get advice from successful entrepreneurs
Step by step guides on how to start and grow
Exclusive and early access to the best case studies on the web
And much more!
If You Don't Rank In Google, You Don't Exist.
In order to be successful, you need to be visible online. If you're not, then your competitors might be stealing customers from you.
Semrush lets you quickly create content that ranks, and compete with the biggest brands in your niche.
Try Semrush Free Today ➜