3 T Shirt Designer Business Success Stories [2022]
•
Updated: September 8th, 2022
3 T Shirt Designer Business Success Stories [2022]
Become A T Shirt Designer Business
Here are some real life success stories of starting a t-shirt designer business:
1. Designious ($180K/year)
Alexandru Dumitru (from Bucharest, Romania) started Designious over 14 years ago.
Team
3 founders / 2 employees
Case Study
Hi, I am Alex Dumitru and I am a co-founder at Designious. Designious is a graphic design library that provides extra tools like an online designer app and an API that helps both graphic designers and print-on-demand entrepreneurs. At the moment we make around $12-13k per month.
My background is in IT and business development, but I've worn many hats along the way, from sales to customer support.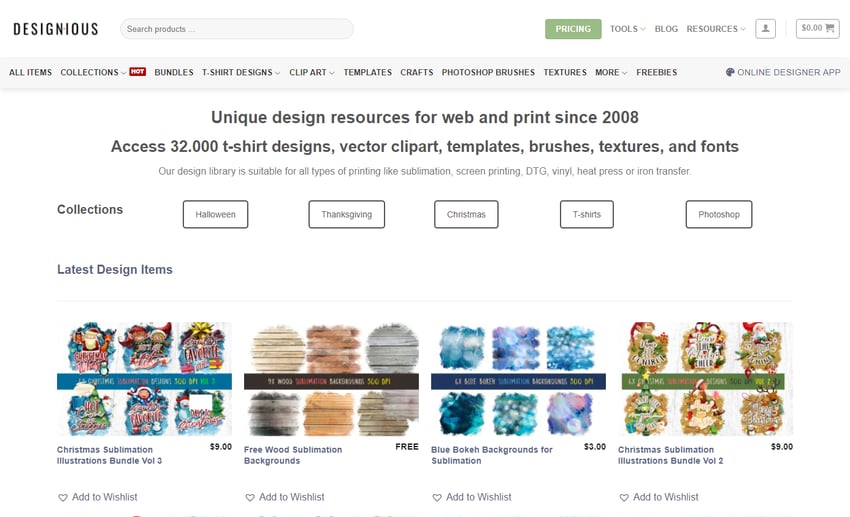 2. Goober Prints ($79.2K/year)
With a full-time job, a baby at home, and a thriving side hustle, Troy Parker was becoming a master juggler. He was excited about the growth of his Etsy shop, Goober Prints, but was beginning to reach the ceiling of his own capacity. Troy specializes in fun, quirky, customizable direct-to-garment…
Troy Parker (from Crystal Lake, Illinois, United States) started Goober Prints over 3 years ago.
Team
1 founders / employees
Case Study
Troy Parker is the founder of an Etsy shop selling customizable garments for both humans and pets. He specializes in fun & weird customized garment & accessory printing.
Goober Prints had a breakthrough year in 2020, increasing total sales to $80,000 from just under $10,000 in 2019. In 2020 he sold around 4000 items in total and this gave him a boost to turn his side hustle into a full-time business.

Read the full article on sidehustlenation.com ➜
3. Ratchet Clothing ($1.21M/year)
Dhillan Bhardwaj (from Long Eaton, Nottingham, UK) started Ratchet Clothing over 10 years ago.
Team
1 founders / employees
Case Study
25-year-old Dhillan Bhardwaj dropped out of college and went on to start his own unique & budget-friendly high street clothing line, Ratchet Clothing.

Ratchet is an organically grown unisex handmade clothing brand specializing in tie-dye and other various hand printing methods.

This brand has been worn by many big named celebrities such as Miley Cyrus, Madonna, Drake, Rihanna, Zara Larsson, and many more.

Currently, Dhillan has multiple shops across England - Long Eaton, the Broadmarsh Centre, and Sheffield.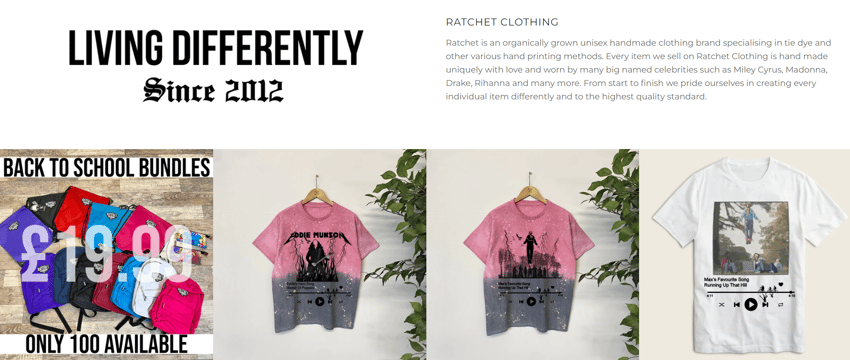 Listen to the full podcast on podcasts.apple.com ➜
Want to start your own business?
Hey! 👋I'm Pat Walls, the founder of Starter Story.
We interview successful business owners and share the stories behind their business. By sharing these stories, we want to help you get started.
Interested in starting your own business? Join Starter Story Premium to get the greatest companion to starting and growing your business:
Connect + get advice from successful entrepreneurs
Step by step guides on how to start and grow
Exclusive and early access to the best case studies on the web
And much more!