6 Home Cleaning Service Success Stories [2022]
•
Updated: October 21st, 2022
6 Home Cleaning Service Success Stories [2022]
Start A Home Cleaning Service
Mopping floors, making beds, cleaning other people's bathrooms, and vacuuming surfaces are not everyone's cup of tea. However, if you are looking for a quick way to earn money, consider starting your home cleaning business.
Home cleaners earn per hour or chore, and can work for as many hours to maximize their income. Office-going people or parents with kids to look after do not have the time to clean their houses. Others are just messy and lazy and prefer paying a home cleaning services to keep the house in order.
To start a home cleaning business you do not need any particular skills or prior experience. You can advertise online, perform tasks, get referrals and build a steady clientele.
Here are some real life success stories of starting a home cleaning service:
1. MaidThis Franchise ($1.2M/year)
Neel Parekh (from Los Angeles, CA, USA) started MaidThis Franchise over 9 years ago.
Team
1 founders / 9 employees
Case Study
Hey! My name is Neel Parekh and I am the Founder and CEO of MaidThis® & MaidThis® Franchise, a cleaning franchise that helps residential homeowners and short-term rental hosts (Airbnb, VRBO, etc) with their cleanings.
We made our niche focus on cleaning Airbnbs and vacation rentals, in addition to regular home cleaning, which is a rapidly growing industry. We became the first cleaning franchise specializing in vacation rental cleaning.

Local businesses are often pretty old school and typically aren't the best with marketing, especially digital marketing. We're bringing new-age marketing tactics to this old-school industry.

Remote work: we've been able to stay extra nimble and lean with having a global workforce. This was initially done out of necessity so I could travel, but quickly became a huge competitive advantage. Our office team works across 8 different countries.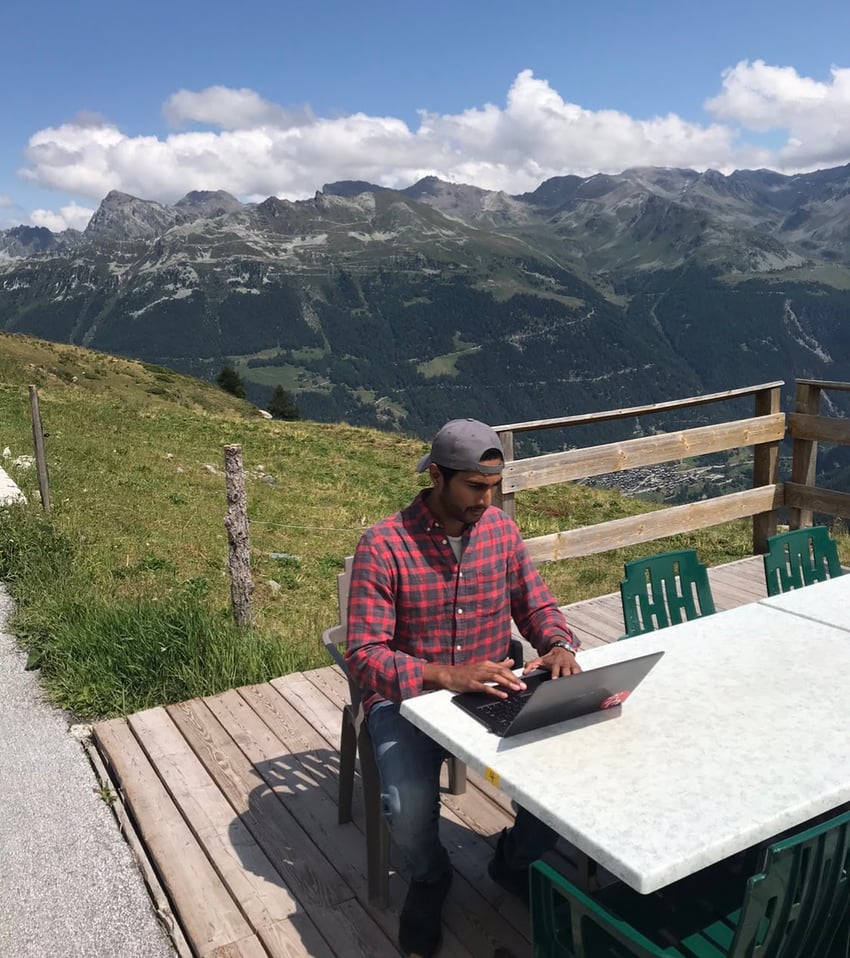 2. Two Maids & A Mop ($7.2M/year)
Ron Holt (from Birmingham, Alabama, USA) started Two Maids & A Mop over 19 years ago.
Team
1 founders / 500 employees
Location
Birmingham, Alabama, USA
Case Study
Hello dreamweavers, empire builders and world changers. My name is Ron Holt, CEO & Founder of Two Maids & A Mop.
Today, we serve 82 markets across the country and generate more than $25M in annual revenues. The Two Maids & A Mop network employs more than 500 hard-working employees everyday and here's an amazing and boastful stat:: my little cleaning business that only cleaned two homes on its first day cleaned nearly 400,000 homes last year! It's been a crazy ride built on a ridiculous dream from a small-town country boy who believed his 250 square foot office space was just a temporary home that would one day grow into one of America's most successful residential cleaning brands.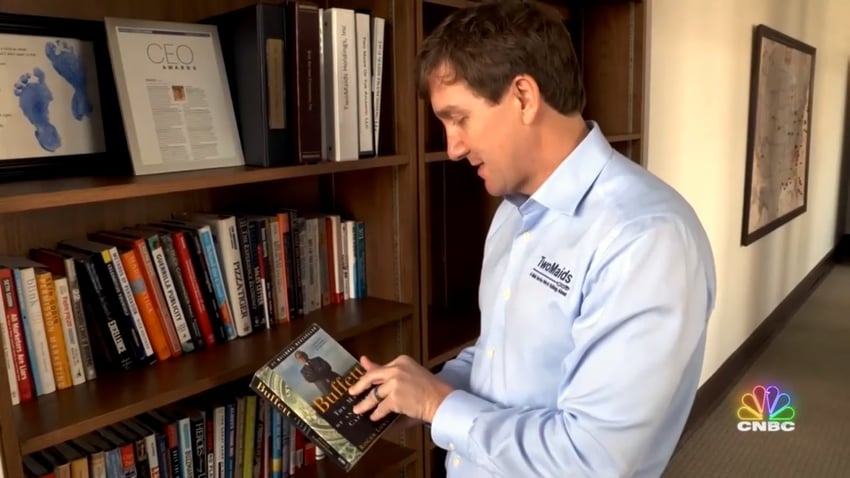 3. DeluxeMaid ($1.2M/year)
Finn shifted from a typical engineer job to starting his local house cleaning business. He launched in 27 days. Nowadays, they're making $60k/mo.
Case Study
Finn shifted from a typical engineer job to starting his local house cleaning business. He launched in 27 days. Nowadays, they're making $60k/mo.
4. Go 2 Girls ($996K/year)
Read this inspiring story from Crystal Hamm about how she grew her maid service to a 7-figure business.
Crystal Hamm (from Raleigh, NC, USA) started Go 2 Girls about 5 years ago.
Team
1 founders / employees
Case Study
Crystal Hamm founded Go 2 Girls, a woman-founded & women-operated house cleaning service co in Wake County, NC.
They provide cleaning services for bathrooms, bedrooms, kitchens, and living rooms.
Crystal wants to ensure that both her clients and staff are satisfied with the company's service and work ethics.
The company also offers free cleanings to women undergoing cancer treatments.
Go 2 Girls supports various nonprofit organizations, including school fundraisers, The American Red Cross, Colitis Foundation, and The Salvation Army.
Watch the full video on youtube.com ➜
5. Bright & Beautiful ($5M/year)
Ten years after leaving her high-powered job Rachel Ray employs nearly 500 staff and has a turnover of £5m
Rachel Ray (from Wales Scotland ) started Bright & Beautiful almost 16 years ago.
Team
1 founders / 800 employees
Case Study
Rachel Ray was motivated to found Bright & Beautiful when she observed a need for an expert cleaning service.
In 2007, Ray quit her demanding job as a business consultant to launch her own professional housekeeping franchise.
She made this a priority to use non-toxic, environmentally friendly products for cleaning her business.
There currently oversee over 50 franchises for Bright & Beautiful in the UK.
Read the full article on manchestereveningnews.co.uk ➜
6. Mrs Buckét ($3M/year)
Name: Rachael FlanaganCompany: Mrs BucketCompany description: Domestic and commercial full service cleaning companyStarted in: 2005
Rachael Flanagan (from Swansea, UK) started Mrs Buckét almost 18 years ago.
Team
1 founders / 48 employees
Case Study
In 2005, Rachael Flanagan founded Mrs Buckét, a business providing industrial cleaning services.
They operate a commercial cleaning company that has won numerous awards. They provide commercial cleaning services and facilities to companies in the public and private sectors.
Mrs Buckét offers commercial building services to facilities in south Wales and Bristol for prestige car showrooms, offices, manufacturing & educational institutions.
When she started out, Rachael was only 18 years old, and she had just £20, which she used to buy a hoover and flyers.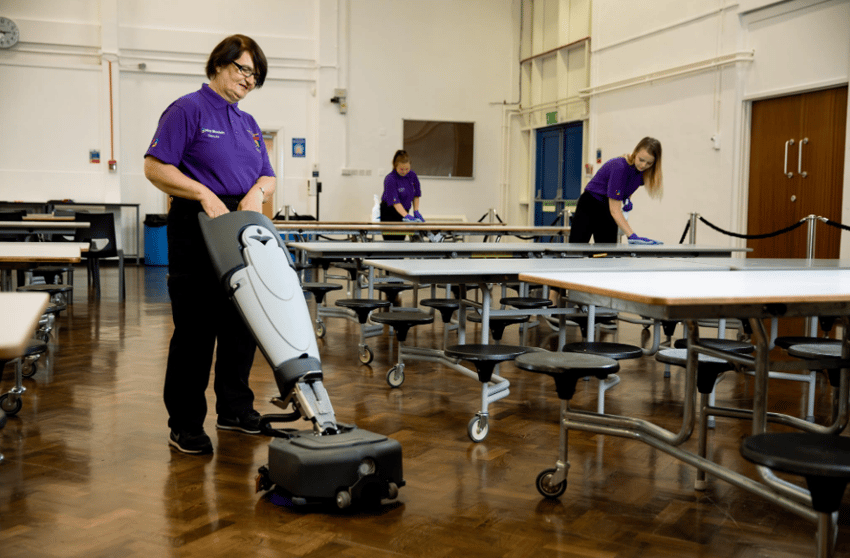 Read the full story on startups.co.uk ➜
Want to find more ideas that make money?
Hey! 👋 I'm Pat Walls, the founder of Starter Story.
Get our 5-minute email newsletter packed with business ideas and money-making opportunities, backed by real-life case studies.