5 Deodorant Brand Success Stories [2022]
•
Updated: September 15th, 2022
5 Deodorant Brand Success Stories [2022]
Here are some real life success stories of starting a deodorant brand:
1. SmartyPits ($2.2M/year)
Stacia Guzzo (from Bend, OR, USA) started SmartyPits over 8 years ago.
Team
2 founders / 13 employees
Case Study
My name is Stacia Guzzo, and I'm the founder of SmartyPits Deodorant. SmartyPits is free of aluminum, phthalates, parabens, and propylene glycol, and we give a portion of sales back to breast cancer research and survivor support.
In the last 21 months, SmartyPits has grown from making under $100,000 in 2016 to making over $500,000 by the end of Q3 in 2018.

2. American Provenance ($960K/year)
Kyle La Fond (from Blue Mounds, WI, USA) started American Provenance over 7 years ago.
Team
1 founders / 9 employees
Case Study
My name is Kyle LaFond, and I'm the founder of a natural products manufacturing company called American Provenance. Specifically, we make deodorants, body washes, and grooming products primarily intended for men. Unlike the vast majority of our competitors, we actually make our own products, in our own facility, with our own people. We're proud to be part of the resurgence of American manufacturing.
We launched American Provenance from a renovated machine shed on my 4th generation family farm in mid-2015 and have now eclipsed $3M in lifetime revenue. Today, you can find our products on over 4,000 shelves nationwide, with more to come.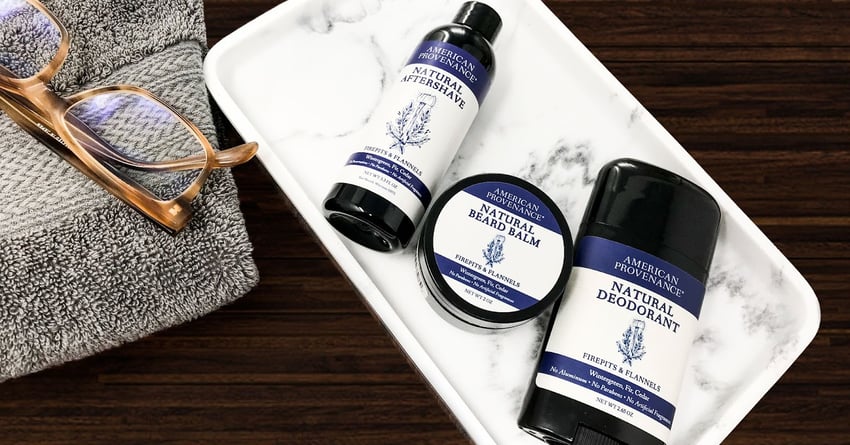 3. COTY
Coty is a global beauty company making cosmetic, skin, fragrance & hair brands. We positively disrupt to create a radically inclusive world of beauty.
Website traffic: 200K/month
Business rank: #85.8K
Check out their full website ➜
4. Beauty Independent
The eyes, ears and voice of beauty entrepreneurs. Daily industry news, industry knowledge, trend reports and data-driven content. Here for the Fierce
Website traffic: 140K/month
Business rank: #85.8K
Check out their full website ➜
5. Revlon
Always a trendsetter, Revlon has been providing women with accessible and original beauty products to inspire and empower. Discover our new product lines today.
Website traffic: 320K/month
Business rank: #134K
Check out their full website ➜
Want to start your own business?
Hey! 👋I'm Pat Walls, the founder of Starter Story.
We interview successful business owners and share the stories behind their business. By sharing these stories, we want to help you get started.
Interested in starting your own business? Join Starter Story Premium to get the greatest companion to starting and growing your business:
Connect + get advice from successful entrepreneurs
Step by step guides on how to start and grow
Exclusive and early access to the best case studies on the web
And much more!
Starter Story
Free
How To Start A Deodorant Brand
If you're starting a deodorant brand, or looking to grow, this free 25 page guide is for you. Join our free weekly newsletter and get it right now.