5 Coffee Shop Success Stories [2022]
•
Updated: September 15th, 2022
5 Coffee Shop Success Stories [2022]
Coffee shops feature a low-cost stock but are profitable businesses. Opening your coffee shop can be a great rewarding experience.
If you plan to open a coffee shop, you may purchase a franchise, buy an existing business, or start from scratch. Whichever the decision, ensure a strategic location and renovate the space to create an inviting atmosphere. Develop a fantastic offering and begin marketing the business even before you open.
Here are some real life success stories of starting a coffee shop:
1. Camper Cafe ($180K/year)
Beth Baxter (from Reading, UK) started Camper Cafe over 11 years ago.
Team
2 founders / 2 employees
Case Study
My name is Beth Baxter and I co-founded Camper Cafe, a mobile coffee van business. The idea for our business started with my partner's love for vintage VW campervans. He had a rusty old shell of a T25 Campervan given to him, that he wanted to convert into a trailer for his motorbikes.
Although we never really thought about this ever becoming more than just a lifestyle business, we found we were turning so much work away from that in 2019 when the company was turning over around £150k from working only 70 days of the year, we decided that I should go full-time to see the potential.
2. Onit Coffee ($630K/year)
Onit Coffee is a Sacramento food truck that serves coffee, protein shakes, and other beverages.
Shadi Khattab (from Sacramento, CA, USA) started Onit Coffee over 2 years ago.
Team
1 founders / employees
Case Study
In January 2020, founder Shadi Khattab launched Onit Coffee - a coffee food truck.
This Sacramento-based food truck offers coffee, tea, protein shakes, and other hot & cold beverages. They also serve a range of vegan & planet-based drinks for guilt-free consumption.
This young CEO, Shadi Khattab, came from Syria to Sacramento with the purpose of building a business and impacting his surrounding community in a positive way.
Customers can feel good about getting coffee from Onit because a portion of the food truck's profits is donated to neighborhood organizations.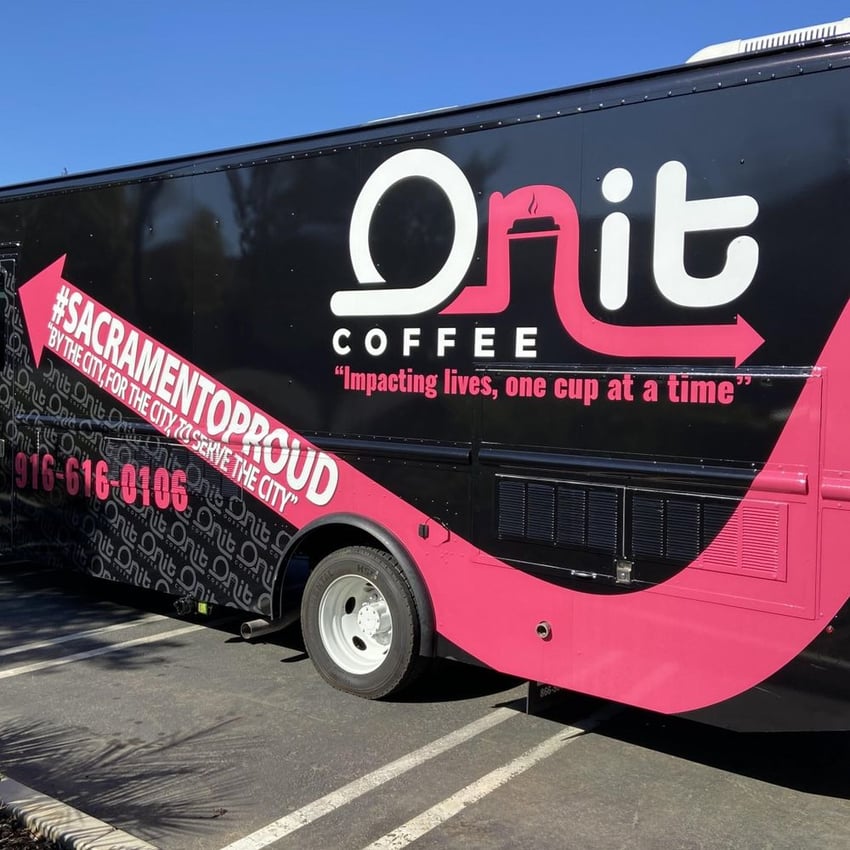 Watch the full video on youtube.com ➜
3. Keurig
Website traffic: 1.96M/month
Business rank: #37.6K
Check out their full website ➜
4. Coffee Roaster
We're a specialty coffee roaster with cafes in LA, SF, NYC, and Japan. Come browse our coffee, brewers, accessories, brew guides, and more.
Website traffic: 360K/month
Business rank: #53.1K
Check out their full website ➜
5. Dutch Bros
Dutch Bros Coffee is a privately held drive-through coffee chain headquartered in Grants Pass, Oregon, United States, with company-owned and franchise locations throughout the western United States.
Website traffic: 1.37M/month
Business rank: #126K
Check out their full website ➜
Want to start your own business?
Hey! 👋I'm Pat Walls, the founder of Starter Story.
We interview successful business owners and share the stories behind their business. By sharing these stories, we want to help you get started.
Interested in starting your own business? Join Starter Story Premium to get the greatest companion to starting and growing your business:
Connect + get advice from successful entrepreneurs
Step by step guides on how to start and grow
Exclusive and early access to the best case studies on the web
And much more!
Starter Story
Wanna see 52 business ideas you can start with less than $1,000?
Join our free weekly newsletter and get them right now.