Thank you Klaviyo for sponsoring Starter Story ❤️
Turn one-time buyers into repeat customers. Try the platform loved by 265,000 brands
How I Started A Late Career Making Thought Provoking Art That Generates $6K/Month
Start A Craft Photography Business
Hello! Who are you and what business did you start?
My name is Suzann Kaltbaum, I am a fine art photographer.
"I just snap and go". Intuition is an entrepreneur's secret weapon. What started as a passion project, travel photography has turned into a lucrative business.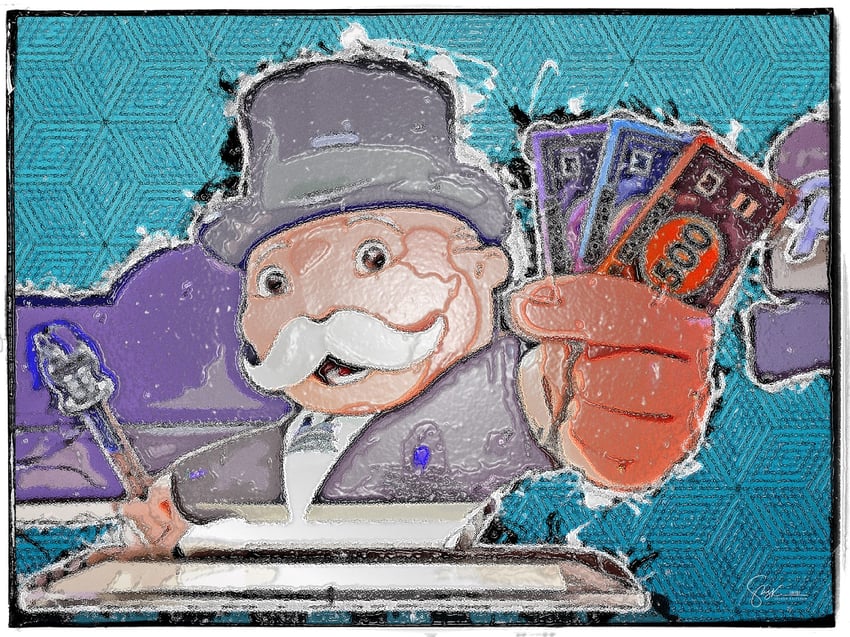 I always loved capturing a special moment and as I learned new mediums I began to develop my craft and hone my skills. Pretty soon after experimenting with different digital methods, I found this blended technique that resonated with me and my clients. The beauty of being a digital artist is that I can work anywhere at any time. Combining innate creativity with this technique has helped me create art that I'm really proud of.
To the casual observer, it looks like the work is created with paint and brushes instead of a digital camera and Photoshop.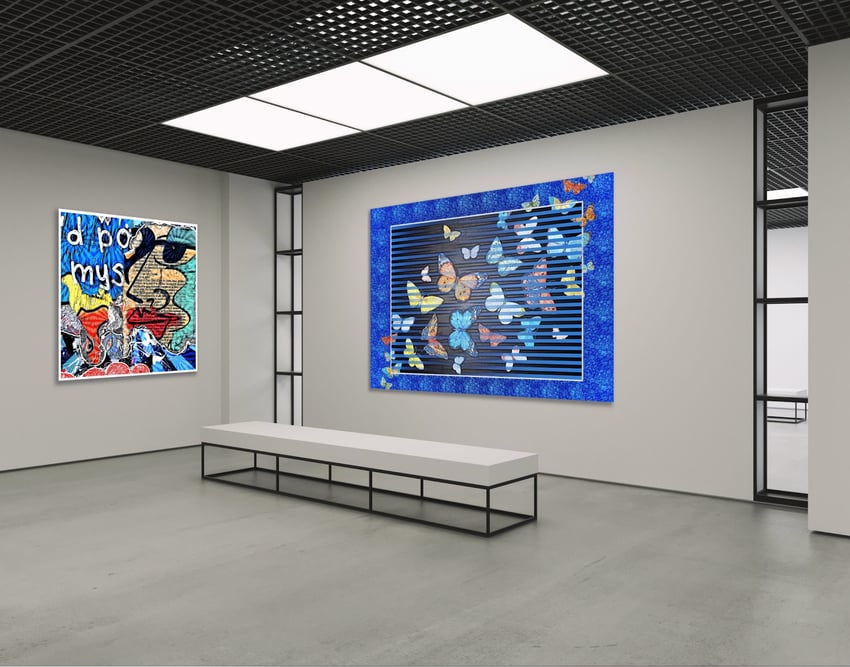 Printing on mixed metals helps highlight the picture to elevate the design and customers' points of view. Starting locally, joining clubs like the Orlando Camera Club, also gave me a platform to meet others creating in this space and opportunities to network and grow my business.
What's your backstory and how did you come up with the idea?
I started my business when I became an empty nester. Finding myself with free time, I began traveling more often, always with my camera by my side. It naturally evolved into this catalog of work. As word spread the work began to speak for itself and I continued to work on my craft and find ways to exhibit my art. Whatever the catalyst or inspiration, seize the opportunity to jump into your passion and explore all possibilities. In a few short years, I have now won awards and have had my work featured in Ronald Mcdonald House.
JUST DO IT while you have time now! The rest will fall into place. Believe in yourself.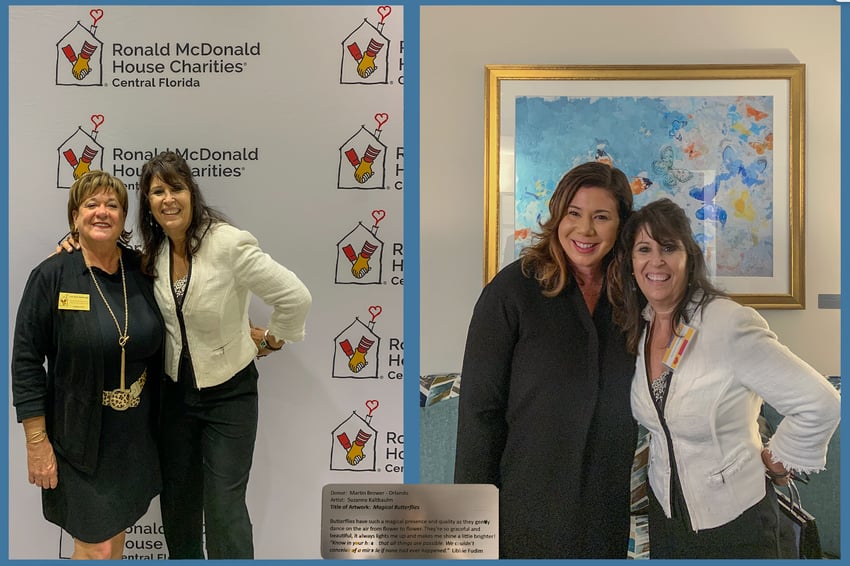 The Florida Hospital's "Art of Healing" exhibit
And featured at several restaurants, the Hyatt Regency, and the Orlando Museum of Art to name a few.
Take us through the process of designing, prototyping, and manufacturing your first product.
My passion for photography grew alongside my children. As I continued to capture special moments in our lives from behind the lens I realized that the art and inspiration were my children and as they began their next step into the world, so did I.
When my youngest graduated high school I decided it was time for a family photo. And in our home, the dogs rule the roost. I came up with this idea for 1 family photo and it actually contains elements of 6 photographs fused into one. The time it took to learn how to use digital tools, cameras, and other mediums excited me and I realized that the final product did align with my vision. The complexity of the blended methods is also important to note.
For example one of the biggest additions to the photo is that the background curtain is just that: a blank curtain. I added the picture frame, shadow around the frame, and made our photograph look like a painting. The most difficult part was inserting the frame behind my dog Winston and making it look authentic!
Editing doggy fur is not easy. I added the smoke, red tip to the cigar, I had to photoshop the heads of the dogs so they were both looking at the camera. My dogs are not that well trained to sit in one place and the details make all the difference. I even had to erase the leashes so what's not in the picture is just as important as what IS in the final edit of the combination of photographs.
Creating this I realized how much I love photography. I love photo manipulation and watching the evolution of the digital tools continues to advance which continues to elevate my craft. The ability to change an everyday photograph to what I see in my mind and share it with the world amazes me.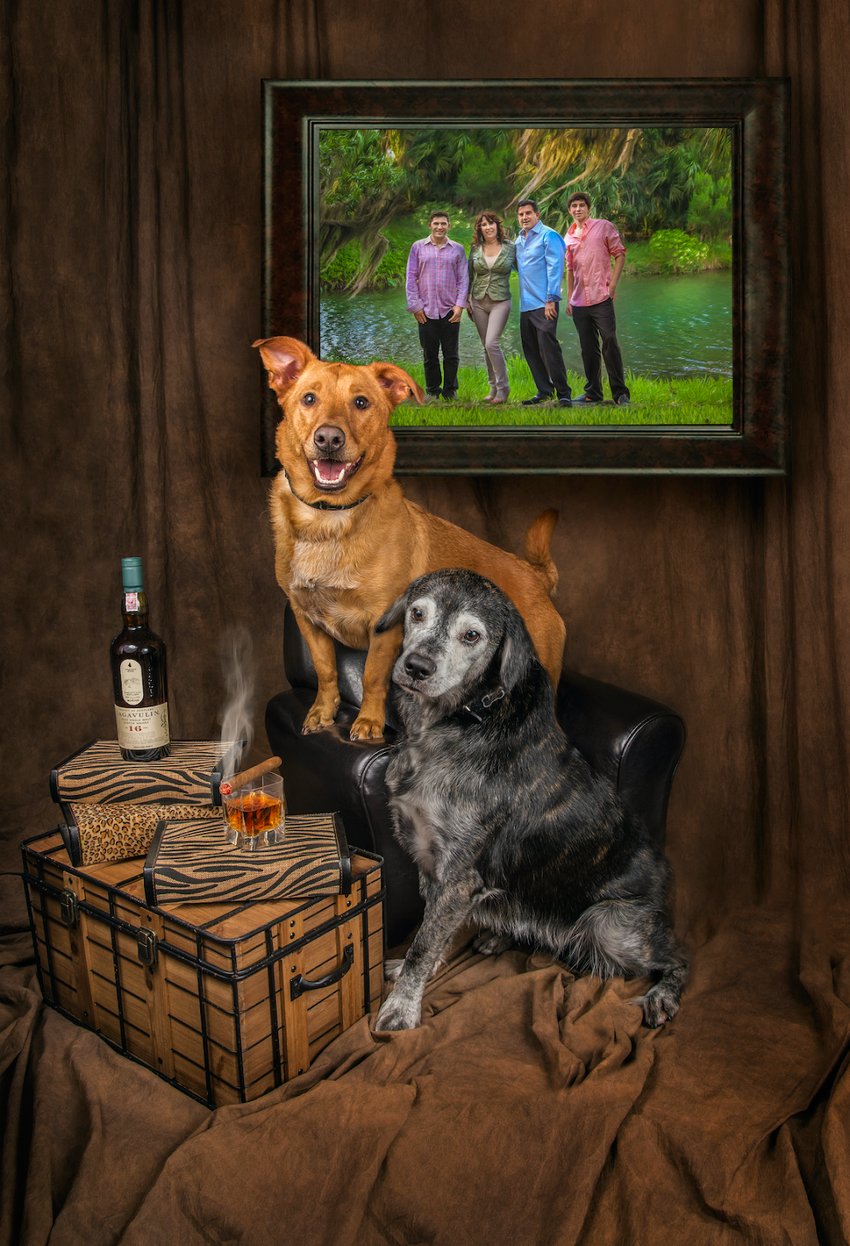 Describe the process of launching the business.
I started creating art for friends and family after the family portrait gained a lot of buzzes. I had a friend that worked for a law firm that was expanding her practice. She encouraged me to build a website to showcase my art and she would present it to her firm for the new locations to showcase. Well, this was the push I needed.
I built my site suzannk.com and started adding in new art regularly. In the beginning, I advertised on Facebook and Instagram as well as word of mouth.
Since launch, what has worked to attract and retain customers?
I've found that for my business the best sales tool is my art speaking for itself. The hard part is that people need to see my art in person to appreciate the beauty of printing on HD metal. It is hard for the colors to pop through computer screens and tablets or phones. HD metal is what makes the difference.
The image is printed on the metal using an intricate process called the dye sublimation method. The image is fused into the metal. Creating colors and clarity. So for my art, I have found that in-person events work well to showcase my art. Art shows, trunk shows, home shows, the local museums have many events for local artists. My costs to start the business were relatively low. My art is custom-cut to each client's specifications so I do not have a large inventory, just several samples. People need to be able to touch and feel.
I create my art on my computer so the overhead is low, no need for canvas, paint, paintbrushes, etc. My biggest cost is my computer and my camera. I try to be consistent by posting my art pieces on my Facebook and Instagram feeds. I also post on LinkedIn. I do a lot of direct messaging through Facebook, Instagram, and LinkedIn. I handpick who I communicate with in hopes of finding a good fit for my business and developing a relationship. I target designers, builders, the hospitality industry, I have found that works much better for my art than advertising. The key is to believe in what you are selling and be genuine!
My artwork is created from photographs I have taken and manipulated into fine art. This image shows the before and after of a butterfly, I photographed at the Butterfly Rainforest in Gainesville Florida.

All my pieces have a story to tell. I love sharing with people the story of my art. When I come back to why I took the original photo, what I was feeling etc. This piece is the perfect example it was created from a photo I took while visiting Italy.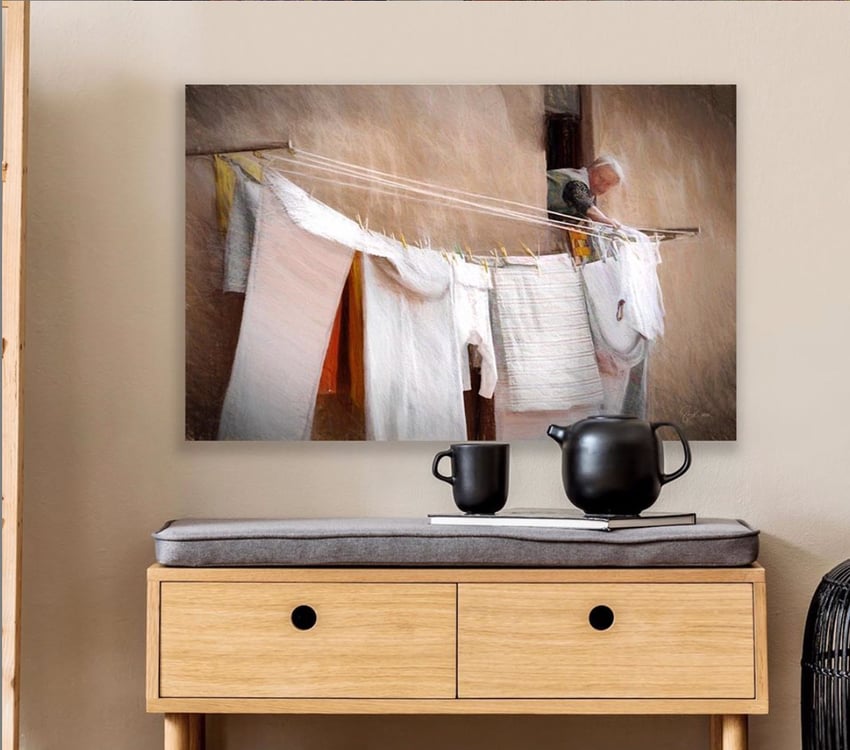 I LOVE taking photos of laundry when traveling abroad. I don't know why, maybe it's the symmetry, the colors or perhaps it just brings me back to simpler times. Whatever the reason when I spotted this laundry billowing in the wind I immediately wanted to snap a photo. Just as I raised my camera to my eye this beautiful woman stuck her head out to check her laundry. I can not begin to explain my excitement. She was perfect! I could not have paid for a better model. I knew I had to act quickly to get the shot. In a moment she could be gone. My hands were literally shaking. In the end, I got the shot.
Every time I tell that story it brings me back to that moment and the emotions. My goal is to share with people the story behind each piece of my art that they purchase and share the special story and moment and bring them with me for the journey. I pour my heart and soul into my art and feel a bond with each of my pieces and my clients. My art pieces are all limited edition, signed, numbered, and come with a certificate of Authenticity.
I follow up each sale with a personal thank you card thanking them and sharing a small bit of background of the original image. I participate in art shows and belong to different groups of artists, photographers, and small business owners. I have gotten my best advice from other artists and business owners. I love interacting with people and found that people like to help each other and aren't afraid to ask for help or advice. Find people that are doing similar things as you and ask for help. Join groups online through social media platforms and local resources like public libraries.
How are you doing today and what does the future look like?
The future looks GREAT! I continue to expand my business and create art to bring joy to others!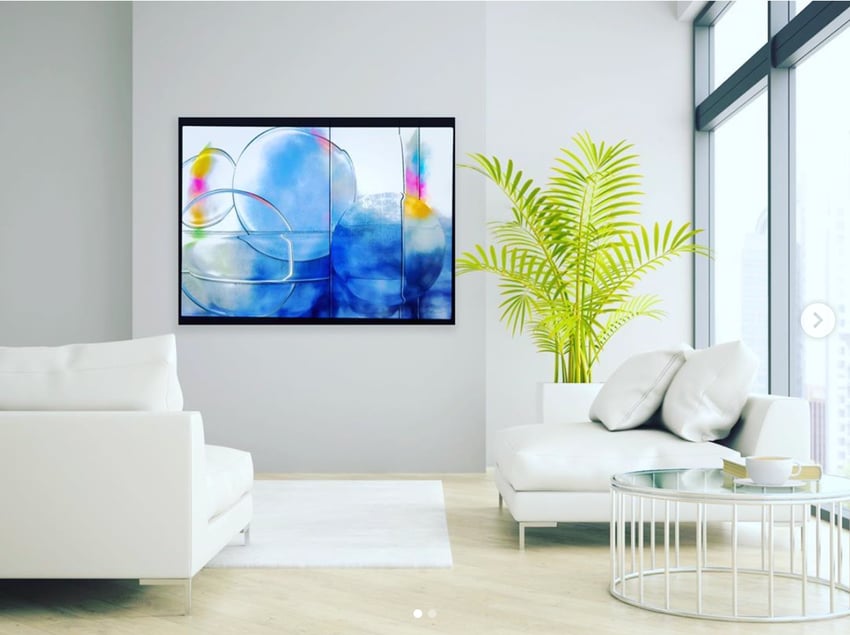 I don't know what tomorrow will bring, but whatever it is I know it will be spectacular. The important thing in business is to be willing to adapt. I think there is a lot of potential for growth with online shopping especially now that people have seen how more convenient and easy it is to shop from home. I plan to check out online options.
Through starting the business, have you learned anything particularly helpful or advantageous?
My best advice is don't be afraid to take a chance. My biggest struggle is getting out of my own way. I used to make excuses for why something wouldn't work. I would say I need to do more research, I need more time, money, etc. Well in life there is never enough time, money, or experience.
JUST DO IT while you have time now! The rest will fall into place. Believe in yourself. Will you make mistakes along the way? Maybe. We all do. The lesson is to learn from your mistakes and use the wisdom you gained to try again. Getting better and better until you succeed. Do everything with integrity and honesty and you will be fine. No, you will be GREAT.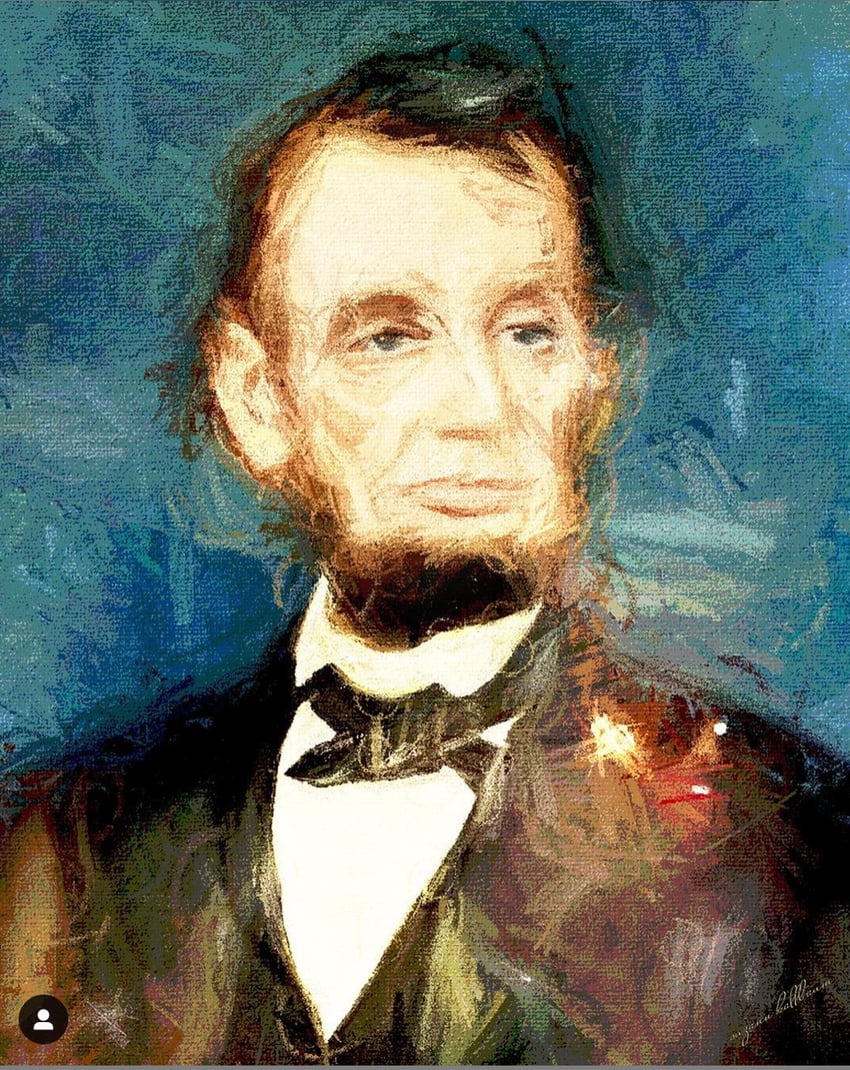 Advice for other entrepreneurs who want to get started or are just starting?
Do not get in your own way and just do it. Taking chances. Keep trying and trying.
Where can we go to learn more?
If you have any questions or comments, drop a comment below!
-
suzanne kaltbaum, Founder of Suzann K Fine Art
Suzann K Fine Art has provided an update on their business!
5 months ago, we followed up with Suzann K Fine Art to see how they've been doing since we published this article.
Want to start your own business?
Hey! 👋I'm Pat Walls, the founder of Starter Story.
We interview successful business owners and share the stories behind their business. By sharing these stories, we want to help you get started.
Interested in starting your own business? Join Starter Story Premium to get the greatest companion to starting and growing your business:
Connect + get advice from successful entrepreneurs
Step by step guides on how to start and grow
Exclusive and early access to the best case studies on the web
And much more!
PROMOTED
Did you know that brands using Klaviyo average a 95x ROI?
Email, SMS, and more — Klaviyo brings your marketing all together, fueling growth without burning through time and resources.
Deliver more relevant email and text messages — powered by your data. Klaviyo helps you turn one-time buyers into repeat customers with all the power of an enterprise solution and none of the complexity.
Join Brumate, Beardbrand, and the 265,000 other businesses using Klaviyo to grow their online sales.
Together With Klaviyo
Companies using Klaviyo see a 95x ROI (yes, 95x)
Use Klaviyo to turn hard-earned customer data into hard-working emails and texts.
Try the platform that 265,000 brands use to grow their business.
Try it now (it's free) ➜