Thank you Klaviyo for sponsoring Starter Story ❤️
Turn one-time buyers into repeat customers. Try the platform loved by 265,000 brands
How I Started A $2.3K/Month Learning Platform To Teach People How To Start A Web Design Business
Create A Web Development Course
Hello! Who are you and what business did you start?
My name is Ray DelVecchio, and I launched my blog, Website Profit Course, in 2015. The main goal is to help people who want to start a web design business by serving local small business clients.
Given the circumstances of 2020, I believe this mission is even more critical today. With remote work going mainstream, it's easy to lose our community connections. Almost all of the best relationships that I've built throughout the years have come from one-on-one work with small business owners who live close enough for me to meet them.
Too many beginners seek quick, passive income (myself included). I want more folks to use service workers to create the same long-term value that I've experienced while gaining online marketing skills that they can utilize for any side-project down the road.
The flagship product that I sell is a Web Design Business Pro membership, where I provide the exact step-by-step training system with all the resources that landed me several web design clients. It includes a private forum for subscribers to ask questions and interact with each other. Within the last week, I've heard from 3 members who've got their first paid gigs, including one who recently found two clients, netting him $4,900 plus recurring maintenance income!
My average online revenue over the last year is $2,350/month. That's split between the paid membership community and affiliate marketing, where I recommend web hosting providers and premium WordPress themes for professionals.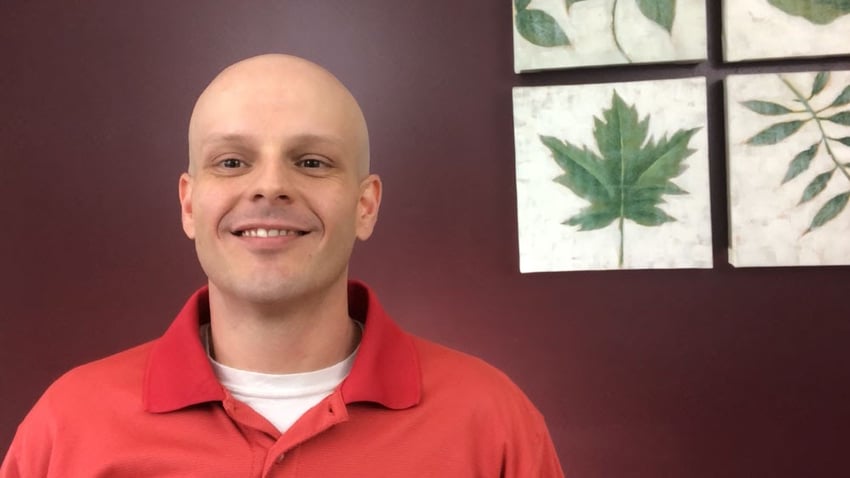 What's your backstory and how did you come up with the idea?
Growing up, I was a computer geek and a good student. My favorite subjects were math and science, which led me to major in computer & electrical engineering. During my senior year, our graduating class met with a professor to discuss our future.
One of the first pieces of advice that has stuck with me is you only own two things on the internet - your website and your email list. Everything else is on someone else's platform, and you're at the mercy of their algorithm.
He asked, "who here has a job lined up"? About half the class raised their hand.
The next question was, "who here is going to graduate school"? Another quarter put their hands up.
I was in the minority who didn't have a plan and felt uncertain of what decision to make.
He encouraged us to apply to a Master's program since it would likely be free tuition with a research stipend, allowing us to earn an extra $10-15K per year once we did find employment.
So that's what I did.
Looking back, it was the wrong decision, yet it made my vision very clear.
Everyone around me at graduate school was insanely passionate about engineering. Meanwhile, I burnt out.
By the end of graduate school, though, I found something that captured my interest, and it was building websites.
It started by learning HTML & CSS basics and progressed to using content management systems like WordPress.
After finishing grad school, I moved back home with my parents and decided to pursue web design full-time. At the time, I had no money coming in.
My first clients came through referrals from my network. Over the years, my business slowly grew, and I felt more confident identifying the right clients that matched my skills, turning them into recurring customers.
I made a bit of money through blogging in the early days, but they all flamed out because the subjects weren't true passions. With authentic freelancing experiences to share, I gave it another go by teaching what I learned about client web design.
I bought my domain in late 2014, launched the blog, and published my first YouTube video in January 2015, then self-published a book on Amazon in May 2015. Below is the original book brainstorm.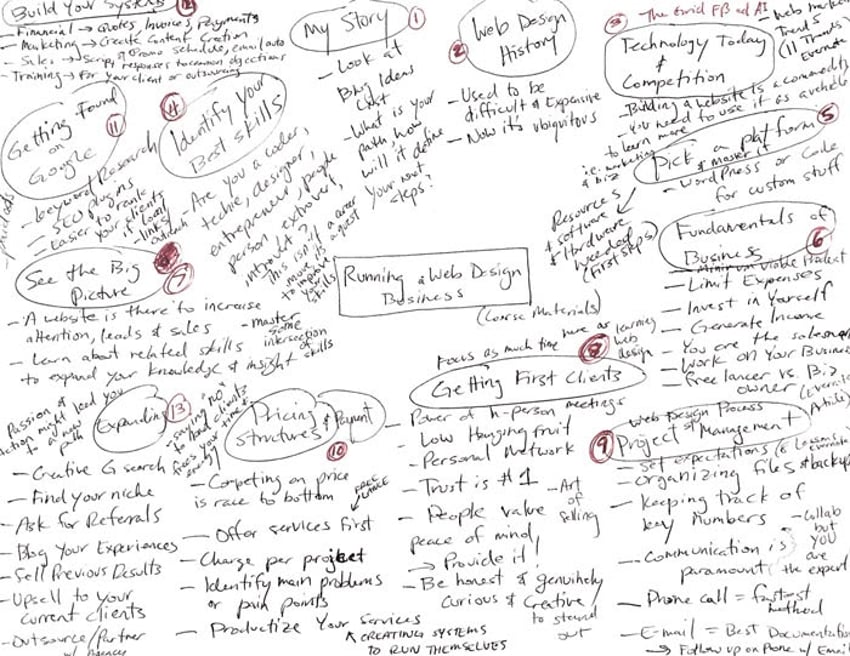 Within a year, I created the first digital product, which morphed into the current Web Design Business Pro membership.
Take us through the process of designing, prototyping, and manufacturing your first product.
My first product was a screen recording of me building an actual client WordPress website for a tree service company split into 12 parts with a few extra PDF bonuses.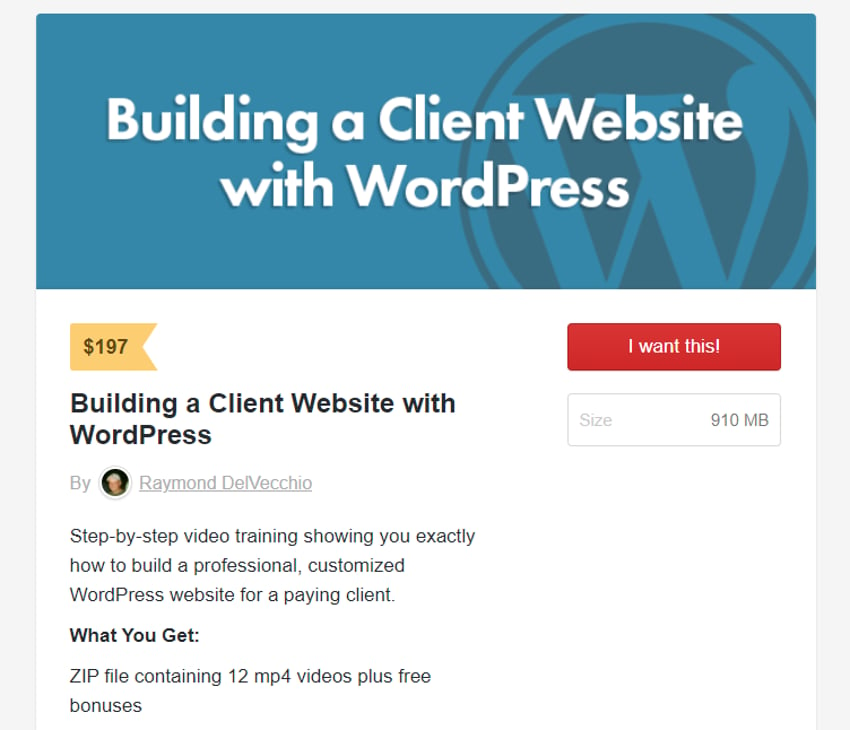 This product was initially made available as a one-time digital download on Gumroad, and it took about ten months before I got my first sale! Over the next year, I made a handful more.

The grand vision was a complete video course to go into much more detail about how I picked my niche, found clients, and built my business. Getting those first few sales gave me the confidence to keep building on the first version.
Describe the process of launching the business.
After selling several copies of my first digital download, I decided to combine those screencasts into the new "Web Design Business Plan" product and pre-sell it to my email list for $67 before building it out. It leaped faith, and to my surprise, I got six buyers off of nothing but a sales page.
After confirming that people were willing to buy, I fulfilled all of the deliverables and increased the price while adding new tools and templates.
I then wrote automation sequences sent after people signed up to my email list to sell on autopilot. That captured some low-hanging fruit, and I stayed in constant communication through broadcast emails.
Once I felt there was enough value, I turned the one-time product into the current Web Design Business Pro paid membership.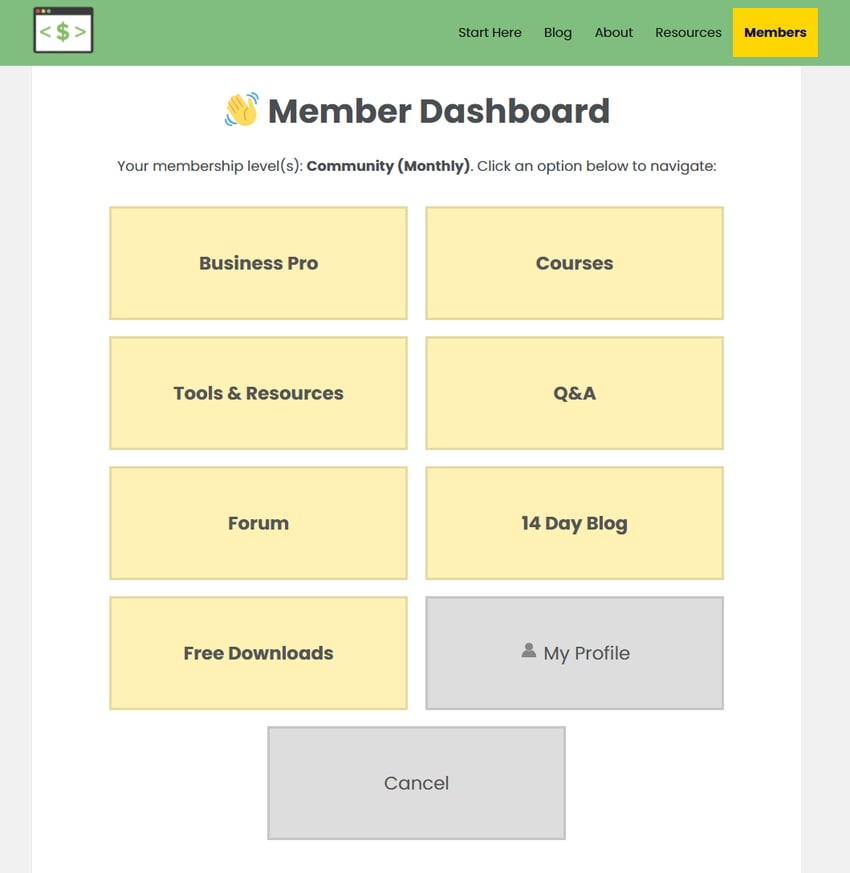 I did not doubt the value of my product because I was the original proof of concept. I have been working with local clients for over a decade now. Two of my first clients have continued to pay me monthly, and I know by providing personalized service, others could do the same.
The business plan that I used worked for me, and it was only a matter of people taking the plunge to implement it for themselves. That still didn't make the process of selling online vs. one-on-one any less frightening. I had to learn new skills like copywriting, which I still consider myself a novice.
My most significant expenses were screen recording software (Camtasia for $299) and WordPress membership software (WishList Member for $297).
I had most of the other pieces in place from client work, like hosting and design software.
The biggest takeaway was you can pre-sell an idea without a product, saving you tons of time if nobody buys or shows interest.
Since launch, what has worked to attract and retain customers?
The core growth strategy for me has been publishing consistently to my YouTube channel, blog, and email list. Videos take me a while to plan, record, and edit. So I've fallen short of my goal of publishing weekly, but I do my best to upload monthly at a minimum.
Email is where I build and strengthen the relationship with subscribers by telling them personal client stories and tactics that don't make it into blogs or videos. On average, I send 3x per week.
One of the first pieces of advice that has stuck with me is you only own two things on the internet - your website and your email list. Everything else is on someone else's platform, and you're at the mercy of their algorithm. There's no doubt that getting access to someone's inbox is a direct line of trust that is hard to replicate.
I also re-use content across all these mediums by expanding off-the-cuff emails into long-form writing and transcribing YouTube videos that go to my blog. At the end of each piece of content, I'll include a clear and relevant call-to-action, whether it's to capture an email address or send them directly to my membership sales page.
Because I have experience managing Google search ad campaigns, I've also incorporated some of my marketing budget towards testing this as a growth channel.
How are you doing today and what does the future look like?
Because my product is a digital membership, most of the revenue that comes in is pure profit. That has allowed me to reinvest in areas like outsourcing tasks and Google PPC campaigns.
I still haven't mastered ads to the point where I know if I put in $1, I'll get $2 back. When I began advertising, I wasn't correctly tagging people on my email list to an initial traffic source, which didn't help with measuring performance.
My main goals for the future are to get better with paid campaign infrastructure, encourage more community interaction, and promote through guest posts, interviews, and podcasts.
One of my weaknesses is not letting go of lower-level tasks that I could hand off to others. I'm getting better, but my personality is that of a perfectionist, which I'm realizing doesn't mix well with entrepreneurship!
Through starting the business, have you learned anything particularly helpful or advantageous?
The most obvious is I wish I would have started sooner. There seems to be a significant advantage with YouTube's algorithm for first adopters, and I believe my growth would be much higher had I taken the plunge a year or two before I first began publishing.
One bit of advice I hate is it takes three weeks to form a habit. I can't tell you how much I disagree with this. It took me 12-18 months to replace some of my bad habits with better ones.
However, I was good at selecting topics with search traffic and injecting my personal experiences. A few of my early videos took off almost immediately since I did the keyword research. That is far less common today, and I've had some videos which look like flops that now get boosted by YouTube after 9-12 months.
The lesson here is that algorithms are unpredictable. They can be your best friend or worst enemy. Capturing emails to build an audience is vital.
One of my best skills is organizing my workspace, both physically and digitally. Documenting the essential processes helps tremendously to speed up things like content creation. I have an SOP (standard operating procedures) spreadsheet and task list document were ideas I jot down on paper end up.
I'm also extremely introverted, and that has kept me from going after partnership opportunities. One of the reasons I'm writing this story is to overcome that self-imposed limitation.
Self-employment is often an up-and-down journey, and I'm a firm believer that the best way to mitigate risk is by incorporating recurring revenue into your business. That's why I turned the one-time products into membership, and it's my primary pricing model for client work, too.
What platform/tools do you use for your business?
All my important files are on Google Drive and Dropbox.
I'm a spreadsheet junkie with some coding chops and have become fascinated recently with the ability to automate between Google's services using Google Apps Script.
The Web Design Business Pro membership includes two custom-built tools using Google Apps Script. The first is a time tracker that automatically pulls information from your Google Calendar. The second is a sales emailer that sends customized prospecting emails from your Google Sheet lead list with a button press (via Gmail).
I build all websites with WordPress, measure traffic with Google Analytics, and monitor the search performance using Google Search Console.
For graphics, I subscribe to Creative Cloud and mostly use Adobe Photoshop & Illustrator.
For communication, Mailchimp is my email provider, and my favorite new tool is Grammarly. Editing always took me forever since it's kind of subjective. Grammarly has gamified editing where I aim to get a 100 score and call it done. It saves me so much time writing emails and blogs.
For my membership, I created videos with Camtasia and went with WishList Member to protect content. That integrates with Stripe/PayPal for payment processing.
Lastly, I have a few automation "recipes" connecting the above services using IFTTT.
What have been the most influential books, podcasts, or other resources?
Three podcasters have profoundly influenced my life, not just with the business but inspiring me to be a better person. That's Tim Ferriss, Joe Rogan, and Jocko Willink.
Like a ton of others, reading The Four Hour Work Week planted the seed of building a lifestyle business instead of getting a 9-5 job.
My first time listening to the Joe Rogan Experience was when Tim was a guest. Both Tim and Joe have had phenomenal guests on how to be healthier. In building my business, my health slipped in all areas - sleep, diet, and exercise. I attribute most of my improvement on those problems to listening to guests of those two guys.
Then Tim & Joe both interviewed Jocko, and he is arguably my favorite podcaster today. Like I said previously, I can be a perfectionist, and Jocko preaches simplicity, discipline, and fast action to get past overthinking. That's what I needed to push me forward.
Most of my favorite books have also come from recommendations on these podcasts. A few worth highlighting is Essentialism by Greg McKeown, The ONE Thing by Gary Keller, and The Effective Executive by Peter Drucker.
Advice for other entrepreneurs who want to get started or are just starting?
It sounds trite, but the best thing you can do is start today. Like right now.
And you might be able to guess my recommendation. Buy your domain and launch a website! It's cheap, easy, and an outlet that you have full control over.
If you're not sure of your business idea, register your personal domain name and start writing to clarify.
Another big belief that I learned both in business and improving my health is strategy and tactics aren't as crucial as your habits. What you do every day will make or break your life.
We all have bad habits, and instead of looking inward, the instinct is to find an external reason why we're not moving forward.
One bit of advice I hate is it takes three weeks to form a habit. I can't tell you how much I disagree with this. It took me 12-18 months to replace some of my bad habits with better ones.
Pick a habit, like publishing to your blog, learning WordPress, crafting a product, and make that your focus every morning. There is power in iteration through small steps and approaching a goal with a fresh mindset each day.
My idea of a lifestyle business is to work seven days a week. But I don't try to push the limits of how much I can work in a day. Instead, I achieve balance by stepping away from the computer every afternoon. Few things in life are genuinely urgent where you must be available 24/7.
Prioritize the first half of your day for productivity and the second half of the day for family, friends, health, and hobbies.
Where can we go to learn more?
If you have any questions or comments, drop a comment below!
-
Ray DelVecchio, Founder of Website Profit Course
Want to start your own business?
Hey! 👋I'm Pat Walls, the founder of Starter Story.
We interview successful business owners and share the stories behind their business. By sharing these stories, we want to help you get started.
Interested in starting your own business? Join Starter Story Premium to get the greatest companion to starting and growing your business:
Connect + get advice from successful entrepreneurs
Step by step guides on how to start and grow
Exclusive and early access to the best case studies on the web
And much more!
PROMOTED
Did you know that brands using Klaviyo average a 95x ROI?
Email, SMS, and more — Klaviyo brings your marketing all together, fueling growth without burning through time and resources.
Deliver more relevant email and text messages — powered by your data. Klaviyo helps you turn one-time buyers into repeat customers with all the power of an enterprise solution and none of the complexity.
Join Brumate, Beardbrand, and the 265,000 other businesses using Klaviyo to grow their online sales.
Starter Story
Wanna see 52 business ideas you can start with less than $1,000?
Join our free weekly newsletter and get them right now.