How We Developed A $25K/Month Referral Software For Tech Startups
•
Published: June 4th, 2021
Start A Referral Marketing Platform
Hello! Who are you and what business did you start?
Hi, my name is Kevin Yun. I'm one of the co-founders of GrowSurf, a referral software for tech startups.
We are a B2B SaaS startup. Our customers are B2C and B2B tech startups that want to integrate a referral program into their products for low-cost customer acquisition.
We are currently around $25k MRR. All of our metrics are openly available here.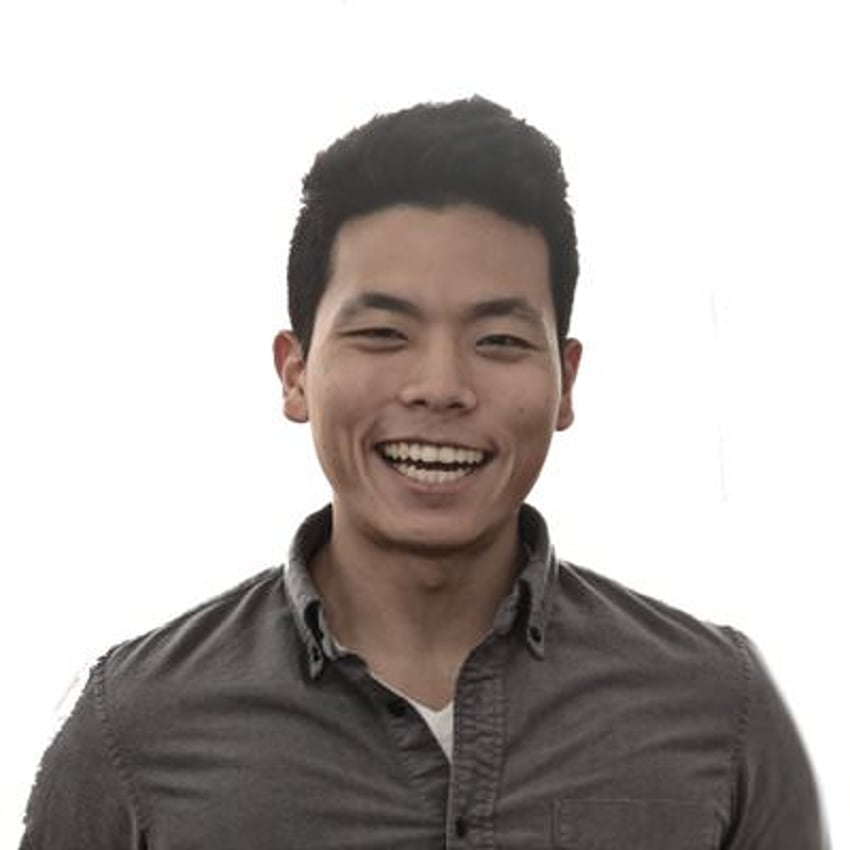 What's your backstory and how did you come up with the idea?
My cofounder Derek's background is in software engineering, and I previously started a UX+UI design boot camp and worked as a designer. I handle marketing, design, and front-end development for GrowSurf. Derek handles server-side architecture and development.
We were eager to get customers, but in the process, this led to using generic marketing words and a compromised product that wasn't a good fit for anyone.
We had worked on various web projects together before, and I would always search for referral software we could plug and play. None of the results on Google were ever a good fit.
After years of waiting for someone else to build the ideal referral software, we made it ourselves. The vision was to create a platform that made integrating a referral program into your product as streamlined as possible.
Take us through the process of designing, prototyping, and manufacturing your first product.
We built the first version of GrowSurf in a few months using tools like Firebase and Heroku, which helped us build and deploy quickly. The goal was to launch and get feedback. Because we used Firebase as a main database, what we saved in upfront productivity we lost in months of development time, as we eventually needed to migrate to a database service that supported the use-cases for our SaaS.
Because we built everything in-house, the costs were just paying for upgrading the Heroku server and purchasing the domain name at the time of launch. The plan was to build a free tool, then we would later introduce premium features if we saw any traction.
These are product screenshots of the first version: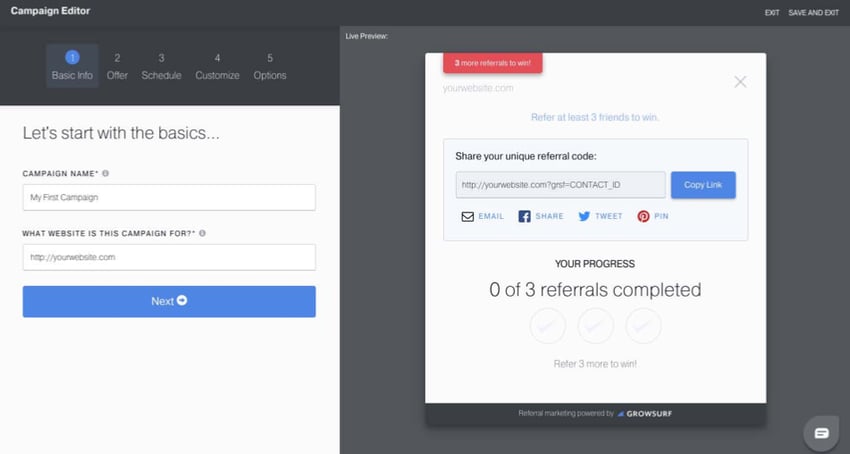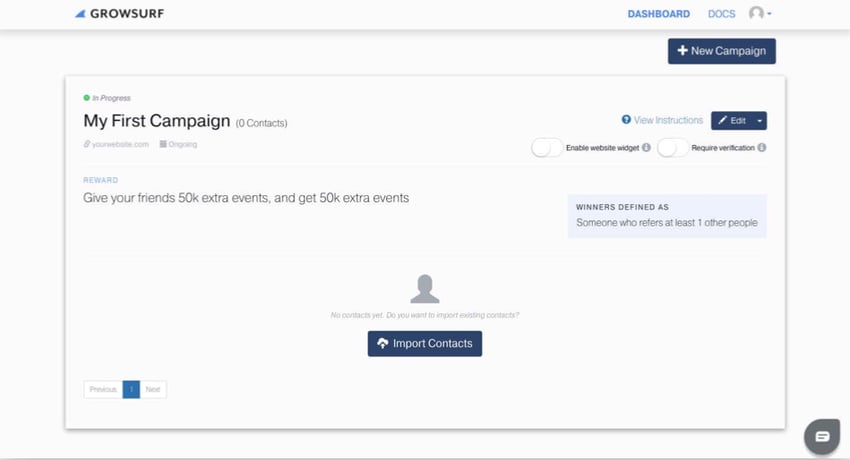 Describe the process of launching the business.
When we launched, we did everything you would expect in a SaaS launch checklist. This included posting on places like Hacker News and Product Hunt (PH), and hoping you got enough upvotes to make it to the PH newsletter, which got some more exposure. This is how we got our initial batch of users and feedback. So for a few months, we were trying some cold emails as well and doing outreach to beta testing user lists to get some bites. Throughout this time, the product we had was super poor and failed to meet customer use-case requirements.
Because we had a generic product, our customers were all over the place, from eCommerce to retail mom-and-pop stores. We were eager to get customers, but in the process, this led to using generic marketing words and a compromised product that wasn't a good fit for anyone. Until we returned to our original vision and rebuilt the product from scratch over a year did we find any MRR.
Find customers and help them with their problems. Don't fall into the trap of thinking that "if I build it, they will come."
Once we had improved messaging to target a specific ideal customer, we found sales. Our initial customers laid the foundation of our social proof. And without the buildup of social proof over time, converting new customers from a landing page would have been more difficult.
Since launch, what has worked to attract and retain customers?
What's worked has been a couple of things. The obvious dogma I'm gonna iterate here: SEO and content work. This is something we're actively improving upon.
Other than that, we have also focused on improving the product with the ideal customer in mind. When we hear feedback from prospects and customers, we listen for patterns and implement improvements for ideal customers.
People love specific solutions to specific problems that they have. They are looking for a glove that fits their hand. One of the other things we did was hire a professional B2B SaaS copywriter to optimize our landing pages. When our words match what our customers are looking for, that's when we become a contender. When prospects do their research, these are the Tweets that let us know that our website copy is on point:
Here's an example of what I would have changed in a past cold outreach email to be more relevant to an ideal customer: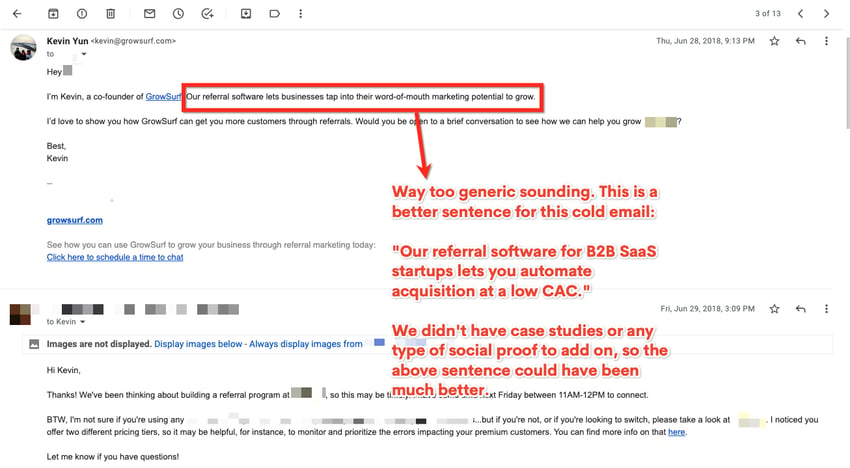 How are you doing today and what does the future look like?
We are currently around $25k MRR, with an average 6% monthly growth rate. Our churn is currently 8%, but we're actively working on reducing this. The future for us is filled with strategies to increase retention. What this translates to is customer success: making sure that customers can find the results they want.
We're also starting to grow the team. Recently, we brought on a new CMO, and we're currently hiring for a customer success manager.
On the SEO side of things, we're also investing more into tools, processes, and resources that help us push out better content consistently.
The goal is to steadily reach $1 million in annual recurring revenue with a tight-knit, distributed team.
Through starting the business, have you learned anything particularly helpful or advantageous?
Here are some takeaway lessons I have for those in the 0-to-1 stage:
Find customers and help them with their problems. Don't fall into the trap of thinking that "if I build it, they will come." Speak with potential customers. Speak their language once you've established your customer profile.
Maintain your product vision. When we returned to focusing on our target customers, we discovered that our product fits these businesses much better than any other type.
Make the best product possible for your customers. Don't sacrifice design and experience to get somewhere quickly. If you're starting from scratch, thoroughly investigate the true use-cases for customers, as well as what's really holding them back.
Choose your customers wisely. Our software isn't for everyone, it's designed for specific people in mind.
What platform/tools do you use for your business?
I really appreciate SaaS tools that take care of things that I hate to touch -- like compliances, taxes, and accounting. We use Deel for international HR/payments, Gusto for domestic HR/payments, Bench for monthly bookkeeping, and MainStreet for tax R&D credits. I would highly recommend these just for the amount of time and energy they will save you as a startup founder.
I've also been very happy with these SaaS services that we use for building product: Postmark (for emails), Help Scout (customer tickets), Stripe (payment processing), and Cloudflare (network hosting). And for team productivity and communication, we use Slack, Trello, and G Suite.
Overall, we're happy with the SaaS we pay for every month, as we get good mileage on each.
What have been the most influential books, podcasts, or other resources?
Founders at Work by Jessica Livingston is a great collection of anecdotes by founders who have some excellent going-through-the-grind stories. The Halo Effect by Paul Rosenzweig is another book I always recommend because it debunks causation vs correlation very thoroughly (eye-opening if you grew up reading business books like Built to Last).
As far as podcasts go, listening to SaaS founders who are bootstrapped tell their stories on Indie Hackers, Mixergy, and Latka is also extremely helpful.
Advice for other entrepreneurs who want to get started or are just starting?
It's a numbers game. If you are thinking of starting, you should just start. Don't think that everything has to be just right (e.g, timing, your education, your experiences). Launch, iterate and keep at it. Most of us mere mortals need a few tries (or even more) to get it right. Retain that initial naivety and relentlessly hold on to that motivation. But stay honest with yourself and seek constant improvement.
Are you looking to hire for certain positions right now?
Yes, we are looking to hire a full-time Customer Success Manager. If you have experience in B2B SaaS/startups and you are a "people person", we'd love to talk with you.
Where can we go to learn more?
-
Kevin Yun, Founder of GrowSurf
Want to find more ideas that make money?
Hey! 👋 I'm Pat Walls, the founder of Starter Story.
Get our 5-minute email newsletter packed with business ideas and money-making opportunities, backed by real-life case studies.