How To Become An Expert At Cold Calling
•
Updated: October 6th, 2022
How To Become An Expert At Cold Calling
What Is Cold Calling?
Cold calling is a technique salespeople use to contact prospects who have not expressed interest in your products. Sometimes referred to as telemarketing, cold calling typically involves in-person visits or door-to-door marketing.
Salespeople have used cold calling to generate qualified leads and achieve their sales targets. The target-driven sales communication tool is one of the important skills you can develop as a salesperson.
So, in this post, I am going to share important cold-calling tips, and explain how the sales technique works.
Cold Calling Key Takeaways
The goal of your first call is to set the meeting, and not a sales pitch
Before the call, write down what you intend to say
Ask a question to engage them within the first 2-3 sentences of talking
Expect to get objections on every first cold call
Before calling, identify the prospects pain points and judge if your solution can fix it
How Cold Calling Works
Cold calling targets potential prospects who have not yet shown interest in purchasing your products or services. Therefore, the salesperson quickly finds a way to connect and interact with the target customers, trying to initiate the sale.
Cold calling occurs exclusively via phone or video conferencing. Under the model, the salesperson plans on making more sales.
Unlike warm calling, the salesperson knows nothing about the person they are contacting.
Therefore, the initial call is not about presenting a sales pitch. It's about securing that important appointment where you can pitch the customer to subscribe or even try your offering.
Do's and Dont's of Cold Calling
You have a targeted list of prospects and now it is time to begin cold calling. Now what? Cold calling will only become effective if cold calling etiquette is observed. Here are essential dos and don ts when cold calling:
Don't center the conversation on you
Do focus on your prospects
Don't assume your offering is the perfect solution
Do allow the prospect to evaluate your solution
Avoid focusing on pushing for a sale right away
Focus on relationship building and gain trust than pushing prospects to purchase
Don't try to overcome all concerns on your first call
Real-World Examples of Successful Cold Calling
Here are some inspiring cold-calling stories for you.
1. How Wilbur You Built a Successful Business By Cold Calling 100 Prospects A Day
Wilbur You, the CEO, and founder of Youtech & Associates, had started two businesses that failed to pick up well. However, his third attempt turned out to be an inspiring success story, thanks to his realization that cold calling could generate leads.
Wilbur started cold calling 100 companies per day. According to him, the rejection rate was high, but he never gave up.
He held to his goal of calling up to 100 companies, and after two weeks he had two orders valued at $500 each.
In three weeks' time, he stopped making calls so that he would concentrate on clients' work. Soon after, referrals started rolling in and he never looked back ever since.
What started as a website building company, is today a successful marketing agency
2. Travis Richardson Built An All-Inclusive Marketing agency Through Cold Calling
Travis Richardson started Impressions Agency in 2013. Started from a humble background, the online digital marketing agency has grown to an all-inclusive digital marketing agency.
According to Travis, Cold Calling was their main tactic to get in front of a ton of customers.

On one of our first days back from Costa Rica. He started cold calling in the company of his brother-in-law and his first call was to a plumbing company.
Travis dialed the plumbing company and the first thing was an objection followed by a hung up. He called a couple of times and finally, the tables now turned.
The owner of the plumbing company wanted to meet with him. According to Travis, pushing through is the difference-maker. In the early stages of the game, this is what made the business so successful.
Here's a picture of the two brothers cold calling in their basement: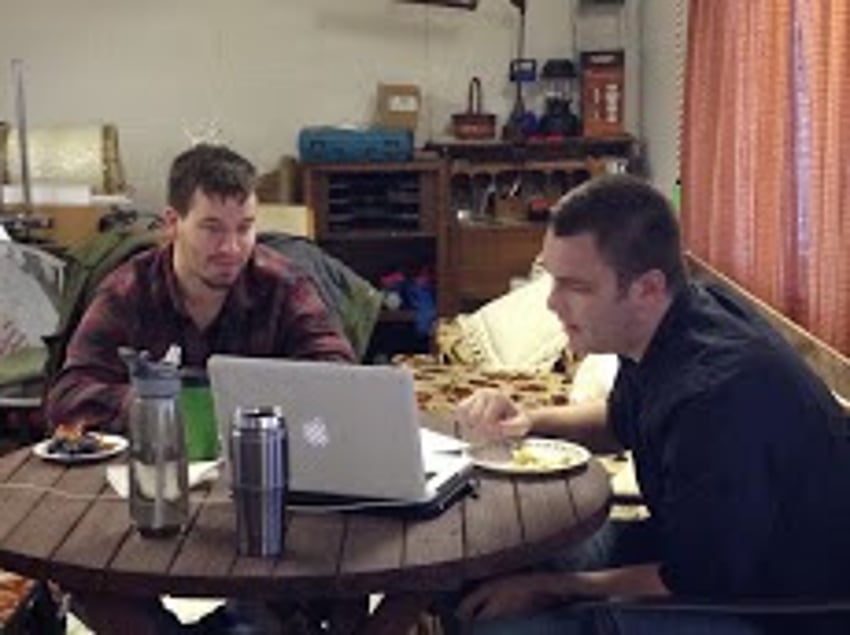 Tips To Start Cold Calling
Steps to cold call like a champion:
Identify a prospects and call them
Introduce yourself and get straight to the point
Make a bold claim to get their attention

Qualify the prospect
Address any doubts the prospect has
Request to speak to decision-makers
Lockdown an appointment
Confirm the appointment, and then make more cold calls!
With modern technology, cold calling is not expensive. you can make hundreds of phone calls via platforms like:
Call Recorder for Skype
Automatically record and save call audio and video on your Mac.
Businesses using Call Recorder for Skype:
6 successful businesses are using Call Recorder for Skype ➜
Google Hangout
A unified communications service that allows members to initiate and participate in text, voice or video chats, either one-on-one or in a group.
Businesses using Google Hangout:
49 successful businesses are using Google Hangout ➜
Facebook Chat App
Live chat with your customers using Facebook Messenger.
Businesses using Facebook Chat App:
78 successful businesses are using Facebook Chat App ➜
Contributors
Contributors to this article:
Pat Walls, Founder @ Starter Story
David Gitonga, Writer @ Starter Story
Want to start your own business?
Hey! 👋I'm Pat Walls, the founder of Starter Story.
We interview successful business owners and share the stories behind their business. By sharing these stories, we want to help you get started.
Interested in starting your own business? Join Starter Story Premium to get the greatest companion to starting and growing your business:
Connect + get advice from successful entrepreneurs
Step by step guides on how to start and grow
Exclusive and early access to the best case studies on the web
And much more!