Thank you Klaviyo for sponsoring Starter Story ❤️
Turn one-time buyers into repeat customers. Try the platform loved by 265,000 brands
Long-time friends Oliver and William started their own digital marketing agency while in college.
•
Updated: April 19th, 2022
Hi! Tell me about you and your business.
Hi, my name is Oliver Op de Beeck, I'm 22 years old, and I started Kreatix with my co-founder William Matthynssens.
Kreatix is a digital/marketing agency. We offer development, marketing, design and consulting services, the full online package to our clients. At Kreatix, William handles the technical side of things. He is our primary developer and makes sure all of our client's websites are running smoothly. I mainly focus on the marketing, graphic design and business development side.
Today, we're servicing more than 150 clients with 15 more in the pipeline right now. We each bill about 55 hours a week, but we are always working.
What's your backstory and how did you come up with the idea?
I love the internet, and I've been addicted to my computer since I was 12 years old. I blazed through high school and always had a bunch of time on my hands. I love learning online, and I learned most things just by Googling and searching YouTube.
I started out learning graphic design and then moved to making Youtube videos, where I built up a channel with over a million views. I also helped friends and family with graphic design and other things if they needed it. I never charged anything for it, just was eager to learn.
Our mistakes make us what we are. I wouldn't prevent them. We love experimenting and I think people should stop overthinking and start doing more.
William and I became friends in high school. In university, I started teaching myself and learning more about social media and digital marketing/consulting. Although I was studying Cross Media Management, I was really craving to start my own business and create my own future.
In my freshman year at university, William and I started Kreatix to supplement our studies. We felt like our classes at school were outdated, and we wanted to learn by doing.
After one year of running Kreatix, we had so much business that we had to make the decision to drop out of school. We were pretty much fully booked, and to this day we still are. Three years later, we are happy we did this. We have learned so much.
Describe the process of starting Kreatix.
After all the legal things (that our accountant handled) we bought the domain name and built a simple landing page. This took us one day. The landing page just said we could make an affordable website for you.
We made a Facebook post saying we started a business and that we are now accepting clients. We instantly got a lead - our friend's parents.
This became our first project: to build an e-commerce website. We didn't know how to build it, so we just YouTube'd how to do it and found out about WooCommerce. We started building it right away it was an adventure. It took us a few weeks and we worked on it non-stop. We earned $5,000 from that deal and our client was very happy because we spent a lot of hours perfecting it.
That's the last time we ever posted something commercial on Facebook. We hate (cold) selling. Word of mouth worked for us because we made sure we delivered a great service.
How have you attracted clients?
We attract customers through inbound marketing and storytelling on Facebook and LinkedIn.
A successful marketing tactic for us is to showcase a behind-the-scenes look on social meetings: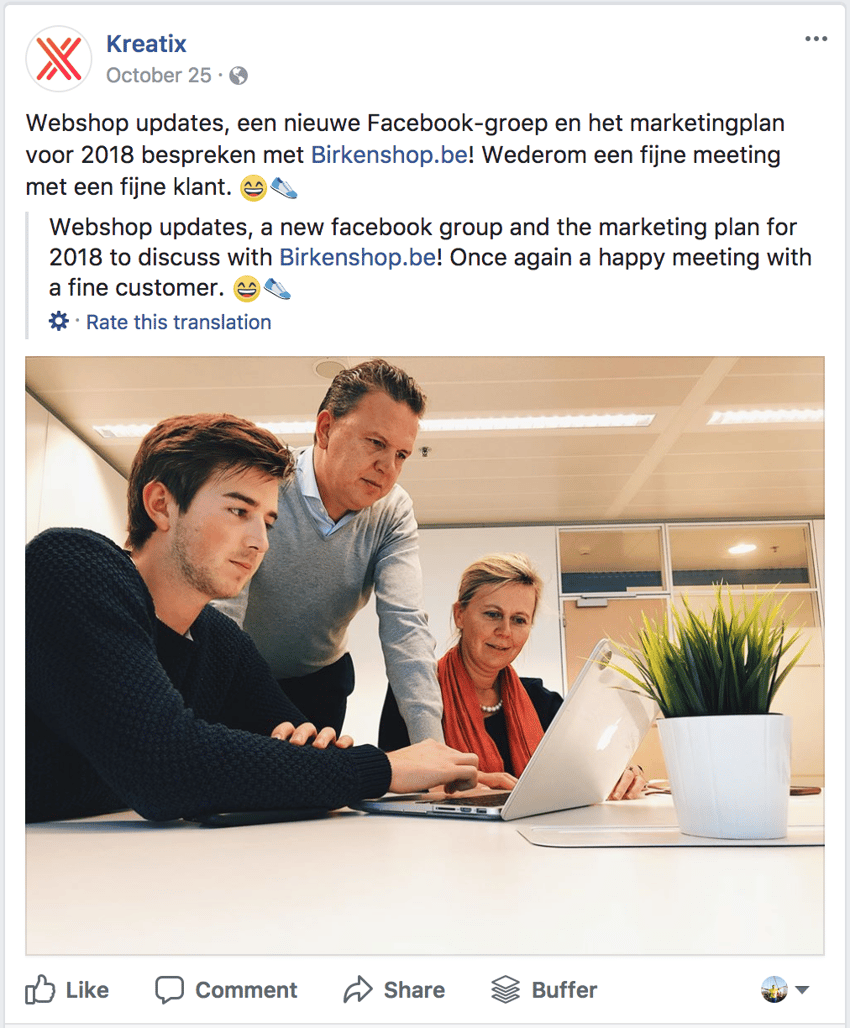 Instead of advertising our work that we deliver (website, design, etc), we advertise us. It works. People want to work with us because they know we are human and that we are trying to understand them.
We never really ran ads or cold called. That's not our style. We prefer if clients come to us, and right now that's working pretty well.
If you could go back, would you do anything differently?
We love our mistakes so we wouldn't change a thing.
But in retrospect, I would start using contracts earlier in the process. We got shafted a couple of times, and a proper contract would have prevented that. We don't want to lock our clients in, but now we provide some basic terms and conditions before starting to work. Legal stuff is important.
Some of the ways we got shafted was clients not paying us, or us having to do a lot more work for the same price because it wasn't clear or specific enough in our proposal. It cost us many hours.
Our mistakes make us what we are. I wouldn't prevent them. We love experimenting and I think people should stop overthinking and start doing more.
Where you are at now and what are your plans for the future?
We have built a very solid foundation in the last three years. We're ready to become one of the better agencies in our province.
Our inbound lead strategy is thriving and we get leads daily, without having to reach out. It's a long term investment that's really paying off.
We're continuing to push our inbound marketing strategy to our clients. They see our growth, our kindness, and our top-notch service. We are transparent, and we share everything. We're highlighting our values, not our services. It's working. We believe in people to people instead of B2B.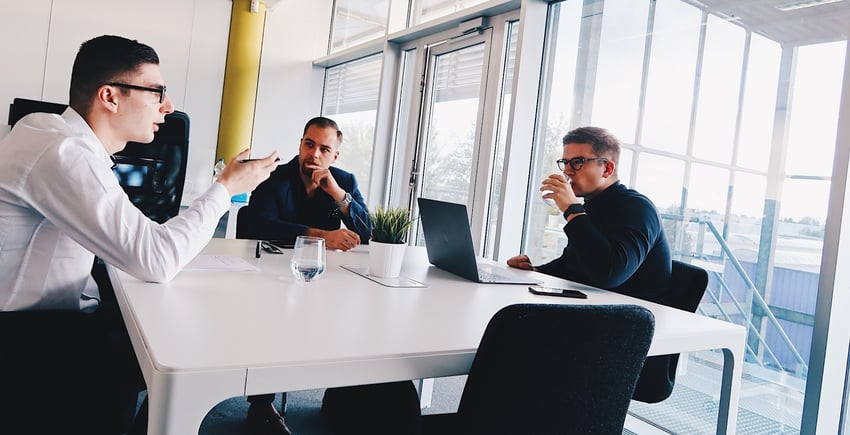 We are starting to do more LinkedIn consulting, such as helping local CEOs and entrepreneurs reach their goals on LinkedIn. We coach them on storytelling, inbound marketing, and outreach. LinkedIn is super powerful, and we're crushing it there.
We have the ability to pick and choose our clients now. We have more work than we can handle, but we don't mind sacrificing a weekend for a client or two.
We want to hire more employees, but it's insanely expensive to do that in Belgium so we are holding off right now. But if we land a big multi-year contract, nothing is off the table.
Advice for other entrepreneurs who want to get started or are just starting out?
Seriously, just start. Stop reading advice, guides, tips. Stop watching Youtube videos.
Go out there and do something. Fail, learn, adapt and try again, multiplied by 100.
Overthinking is the worst thing you can do. If you can take a calculated risk, take it. And always look ahead.
Where can we go to learn more?
-
Oliver Op de Beeck, Founder of Kreatix
Want to start your own business?
Hey! 👋I'm Pat Walls, the founder of Starter Story.
We interview successful business owners and share the stories behind their business. By sharing these stories, we want to help you get started.
Interested in starting your own business? Join Starter Story Premium to get the greatest companion to starting and growing your business:
Connect + get advice from successful entrepreneurs
Step by step guides on how to start and grow
Exclusive and early access to the best case studies on the web
And much more!
PROMOTED
Did you know that brands using Klaviyo average a 95x ROI?
Email, SMS, and more — Klaviyo brings your marketing all together, fueling growth without burning through time and resources.
Deliver more relevant email and text messages — powered by your data. Klaviyo helps you turn one-time buyers into repeat customers with all the power of an enterprise solution and none of the complexity.
Join Brumate, Beardbrand, and the 265,000 other businesses using Klaviyo to grow their online sales.
Together With Klaviyo
Companies using Klaviyo see a 95x ROI (yes, 95x)
Use Klaviyo to turn hard-earned customer data into hard-working emails and texts.
Try the platform that 265,000 brands use to grow their business.
Try it now (it's free) ➜