Thank you Klaviyo for sponsoring Starter Story ❤️
Turn one-time buyers into repeat customers. Try the platform loved by 265,000 brands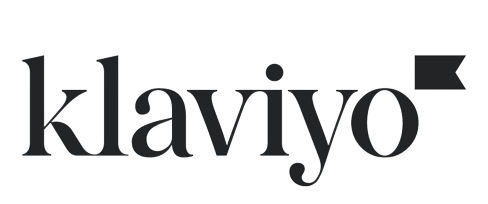 Twitter Polls: A Simple Guide
Twitter Polls: A Simple Guide
This article is a part of our encyclopedia, and is editable by you. Edit ➜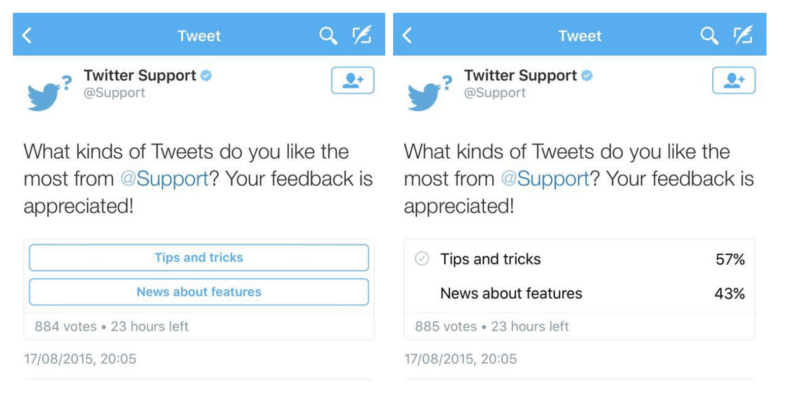 Topic
Social Media (Organic)
Cost Details
Twitter does not charge you to run a Twitter Poll
What Is A Twitter Poll?
Twitter Polls are native surveys designed to collect feedback and give people the chance to weigh in on questions.
One great way to increase engagement is conducting Twitter polls.
Not only are these fun for your followers to interact with, but they can also be used to conduct market research and gain constructive feedback for your brand or industry.
Twitter Poll Key Takeaways
Creating Twitter polls provides a valuable source of market research data and shows your audience you care about them.
To achieve success through Twitter polls, find a balance between keeping engaging while gathering usable information.
Twitter polls can be about anything, but it is worth considering how relevant you want to keep the topic to you and your brand.

Before launching a Twitter poll, always stop and think about the kind of debate you might cause.
To maximize the reach of your poll, pin the post to the top of your profile page.
Understanding How Twitter Polls Work
Twitter polls have been a tool to turn opinions and ideas.
Entrepreneurs can create a very-simple Twitter poll with just a click of a button and gather votes from their audience.
The polls are embedded directly on tweets rather than having to use Twitter cards. The Twitter polls feature:
Four voting options
The number of votes counted so far
Time left before polls close.
Once your followers vote in a poll, you will see the results as they currently stand. Only the voter will see the option he selected. After the polls have ended, the results will update for all Twitter users to see within the original Tweet.
Real World Examples of Entrepreneurs Running Twitter Polls
1. Eventbrite
Eventbrite is an American event management and ticketing website.
They use Twitter Polls to get insights from their audience and potential customers.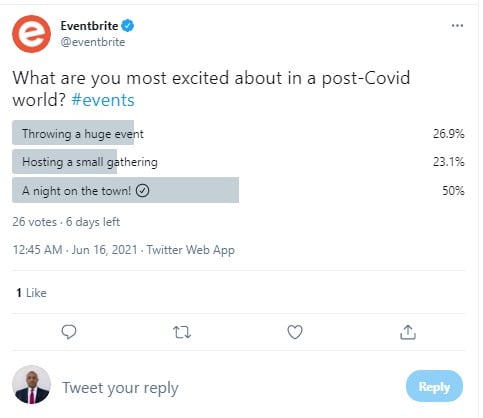 Eventbrite Twitter polls may serve different purposes. To help current customers decide which type of events to organize, and may nudge Twitter users to look out for upcoming events.
2. Benjamin Rivers
Benjamin Rivers is a Toronto-based designer and creator of story-rich and innovative video games.
Benjamin used Twitter polls to get insights from his Twitter followers.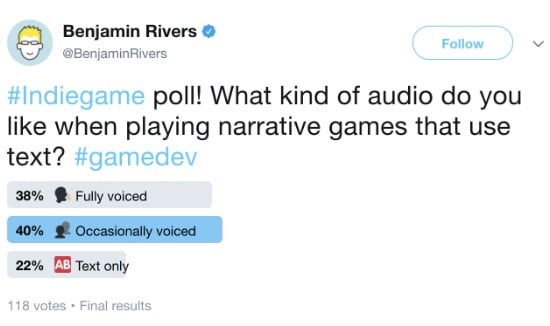 Such Twitter polls have helped Benjamin to pursue his game development and provide his customers games they love.
Getting Started With Twitter Polls
Login to Twitter and click on "new tweet"
Click on the poll button located in the tweet box
Write the Tweets in the form of questions or sentences to encourage users to participate
You can add a minimum of two and a maximum of four answers to allow users to choose easily
Set how long you want the poll to last for
Post the poll on Twitter
After the polling time elapsed, you will see the winning answer.
Creating Twitter polls does not have to feel overwhelming. Open Twitter today and get started easily. alternatively, you can hire social media marketers on Upwork or Fiverr, for assistance with Twitter polls.
Twitter
An online news and social networking service where users post and interact with messages, known as tweets.
Businesses using Twitter:
1154 successful businesses are using Twitter ➜
Upwork
The largest freelancing website, where businesses connect with talented freelancers.
Businesses using Upwork:
304 successful businesses are using Upwork ➜
Fiverr
Freelance services marketplace at affordable costs.
Businesses using Fiverr:
277 successful businesses are using Fiverr ➜
Contributors
Contributors to this article:
Pat Walls, Founder @ Starter Story
Samantha Walls, Head Of Content @ Starter Story
David Gitonga, Writer @ Starter Story
Want to start your own business?
Hey! 👋I'm Pat Walls, the founder of Starter Story.
We interview successful business owners and share the stories behind their business. By sharing these stories, we want to help you get started.
Interested in starting your own business? Join Starter Story Premium to get the greatest companion to starting and growing your business:
Connect + get advice from successful entrepreneurs
Step by step guides on how to start and grow
Exclusive and early access to the best case studies on the web
And much more!
PROMOTED
Did you know that brands using Klaviyo average a 95x ROI?
Email, SMS, and more — Klaviyo brings your marketing all together, fueling growth without burning through time and resources.
Deliver more relevant email and text messages — powered by your data. Klaviyo helps you turn one-time buyers into repeat customers with all the power of an enterprise solution and none of the complexity.
Join Brumate, Beardbrand, and the 265,000 other businesses using Klaviyo to grow their online sales.
Starter Story
Wanna see 52 business ideas you can start with less than $1,000?
Join our free weekly newsletter and get them right now.