How An Innovative Kids Suitcase Design Turned Into A $12M/Year Company
•
Published: August 13th, 2020
Start A Kids Suitcase Business
Hello! Who are you and what business did you start?
Rob Law MBE CEO and Founder of Trunki - although the official title is Trunki Daddy
I started trading 14 years ago in 2006 with the launch of the first-ever ride-on suitcase for kids, the business has now grown to become a global brand and we've sold over 4 million suitcases in over 100 countries.
I'm passionate about inspiring future business leaders and designers and have received 2 honorary doctorates and an MBE from the queen for service to a business.
I've just launched my memoir 65 Roses and a Trunki: Defying the Odds in Life and Business, a book that shows how anyone can overcome challenges and become more resilient.
One of the secrets to our success is understanding our customers, and we have 2 of them: parents (primarily mum) who are looking for utility, function, and value. The child, who wants a product that's fun, full of character, and a friend who will share all their travel adventures with both real and imaginary.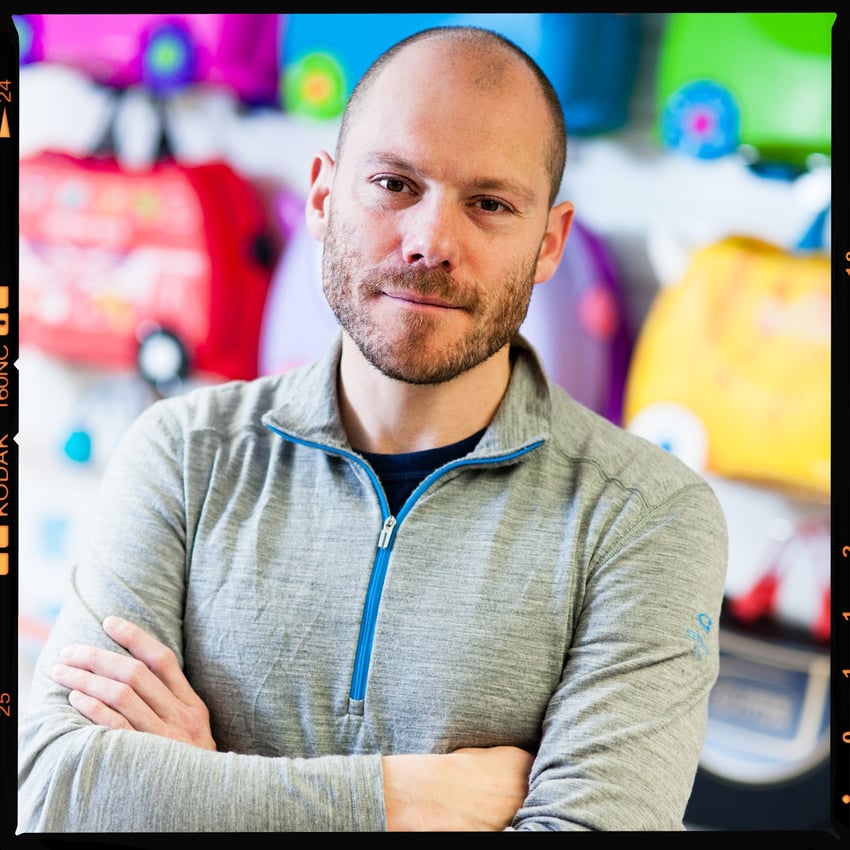 What's your backstory and how did you come up with the idea?
I was 19 and a 2nd Year Product Design student at Northumbria University (the same course as Jony Ive of Apple fame had done a few years earlier). During the course, we were asked to enter a national luggage design competition. When I went looking for inspiration at a Department Store, I found myself looking at ride on toys for kids and thinking about how much space they waste. Often, they have a lift-up seat with barely enough space to store an apple. The idea came to me to make a ride-on toy that maximized the internal space so it could function as luggage and entertain kids while traveling. I went on to win the competition and approached a luggage manufacturer to license the design. They told me I'd invented a toy and when I approached toy manufacturers, they said it was luggage!
5 years later I finally found a toy company that took Trunki on and I signed a global licensing deal with them to manufacture my design and sell it anywhere in the world. They went bust 3 years later having only ever sold Trunki in the Middle East of all places!
Shortly after that I decided I could do a better job, launched Trunki as a lifestyle brand (not a toy or luggage) I quit my job as a product designer, and started the business. 9 years after the initial idea!
If you don't have happy customers there's no point in investing in any marketing.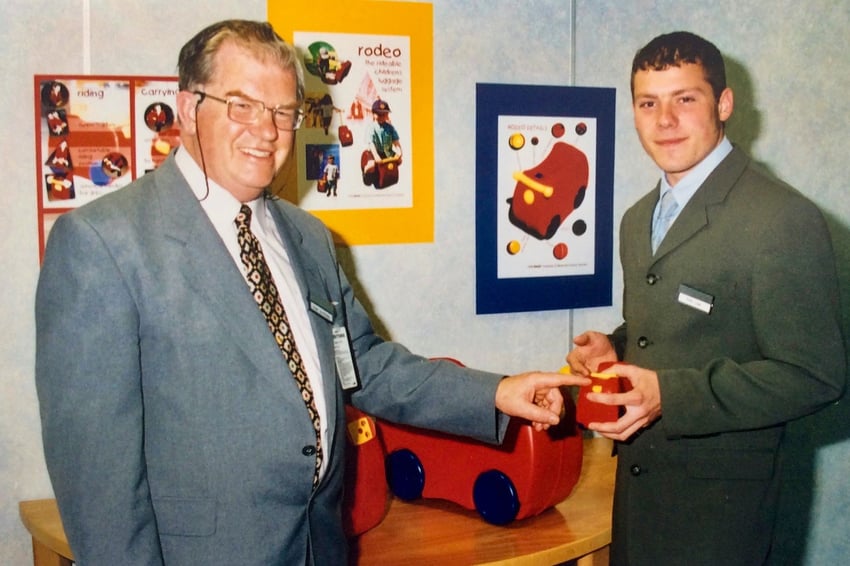 Bit of back story on my battle with Cystic Fibrosis.
Realizing my life would be short, I put CF behind a wall and didn't think too much about it. My daily routine of physio and drugs was just a routine and I believed I was as normal as the next person.
Sport played a key roll in keeping me healthy, although I was no good at football and cricket (more down to poor coordination than fitness) I found I was a good middle-distance runner. I also loved mountain biking and took up swimming.
Later in life, I became a triathlete and competed in Half Ironman Triathlons. I knew from a young age I couldn't fulfill my dream of being an astronaut as they need strong lungs and the same was true for being a soldier.
I also have dyslexia and was stuck in Special Needs classes in school but I knew I was good with my hands and loved art and woodwork. At 14 after researching design careers, I discovered product design and found my real passion, my element as Sir Ken Robinson says. I then focused intently on doing all I needed to get onto the best university course in the country.
So I guess that defying the odds is down to finding a passion, maintaining a relentless focus on getting better at it, and embracing the challenges that get in the way of progress. It's all about sustaining a resourceful and resilient mindset.
Take us through the process of designing, prototyping, and manufacturing your first product.
Designing the product for manufacture is what I'm trained to do, I build my prototypes and created the 3D CAD files to make the tooling (moulds to make plastic parts).
Once launched though a product still needs to evolve with market feedback. Like a car, we're now on our MK5 version. The initial MK1 was designed with no carry handles, as my research highlighted children were not advised to carry heavy bags as it can damage their backs. So it launched with just a tow strap. But I got many calls from customers saying it needed carry handles as they were the ones carrying it up the escalators etc. MK2 featured carry handles!
The MK5 is 100% plastic and removed the 25 metal parts that held the previous version together. This is great from:
A safety point of view, eliminating small parts and the possibility of toxic metal like lead bing in them

Much easier to assemble with a design that just snaps fits together and was instrumental in us reshoring production back to the UK (attach a pic from 2012 celebrating both Olympics and first UK production run)

Most importantly, it makes it easy to recycle at the end of its life span (around 5 years minimum but is often handed down or resold) although I like to recommend they are kept as childhood memory boxes and kept for lifetimes! Reuse if the main goal to achieve sustainability.
.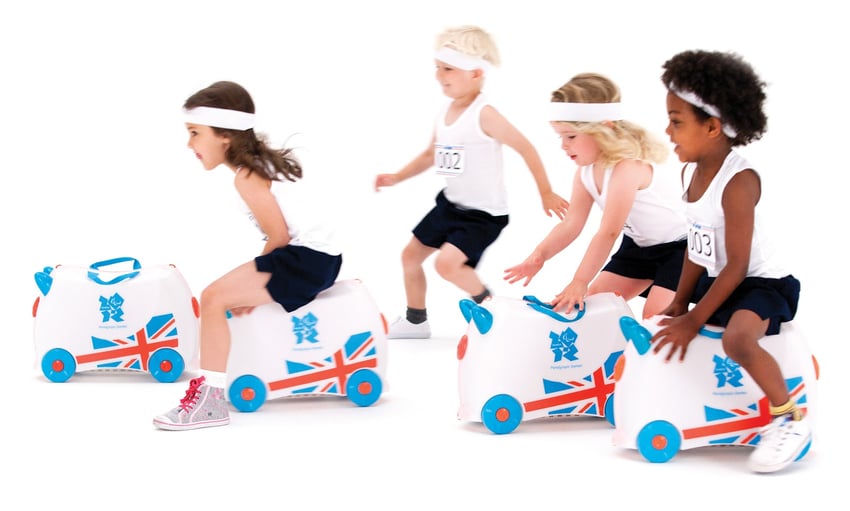 Describe the process of launching the business.
My first year of trading saw my manufacturer go bust, later on, I got humiliated on Dragons' Den, there was the summer hand luggage ban of 2006 to overcome, the BBC called Trunki "Wheelie Rubbish" and all the while I'm personally fighting Cystic Fibrosis.
Try to keep a very positive mindset. If things start to drain you, remember that the problem will be finite and focus on the present.
Solving these problems required resilience and creative thinking to overcome and are explained with psychological insights to help anyone overcome setbacks in my new book.
Since launch, what has worked to attract and retain customers?
The first big win was being rejected by Dragons Den and becoming one of the most infamous episodes. I went into the Den 2 weeks after my first stock arrived asking for £100k for 10% of my business. The pitch went well and I towed Richard Farleigh around the studio. Everything was going to plan until Theo got hold of Trixie, the pink Trunki, and used his brute force to pull off the tow strap. At that moment we all lost our judgment. I failed to convince the Dragons it was an easy problem to solve (the hook just needed molding in a stronger plastic) and the Dragons turned into a pack and attacked.
Among their many negative comments were, "Your business is currently worthless," "I don't see the business opportunity," "I don't like the product, I don't like the business,… I'm out".
I left the Den wishing I'd invented a Time Machine, not a ride-on suitcase! 4 months later when the program aired, BBC advertised the episode as "Wheelie Rubbish" and I knew this could be game over for my business. However I also realized I would get a decent amount of web traffic, even though I might not sell a single Trunki, so I thought I'd try and use the opportunity to gain customer feedback on the product. That night over 2,000 people filled in the survey with amazing endorsements and delight in discovering my brand.
Despite my humiliation in the Den, I'd proved that there was a market for this unique product. Parents and children loved it and that night I sold out my entire stock and couldn't keep up with the demand for the next 3 years.
Customer service has always played a vital role in the business and I see it as the foundation of marketing. If you don't have happy customers there's no point in investing in any marketing. I guess a great example is customer reviews, we have gained over 10,000 Amazon reviews averaging 4.6* across our product range on their websites in the UK, EU, and the USA. That has been a key driver in consumer confidence to buy.
How are you doing today and what does the future look like?
In 2019 we turned over £9.5 million, employ 80 people, and have our own UK factory in Plymouth making suitcases and our warehouse and logistics hub. So it's a very tight and slick supply chain.
Despite working with over 45 distributors covering up to 100 countries, our main focus is becoming a digital-first business. Our websites in UK, FR, DE, and USA are supported by the vast majority of our ad spend on Facebook and Google.
Amazon has been a key player and we've seen great ROI on the AMS platform. It used to be on PR in the early days and we still invest a little on it.
Our latest product to launch is the Ride range, Folding balance bikes, and scooters that come with a Trunki strap to tow dawdling kids to the shops and to carry over shoulder or buggy when they inevitably get tired.
I've been working 3 days a week in the business for the last 4 years. That's because I've built a great team and can focus some of my energy on my young family and other projects, like writing a book.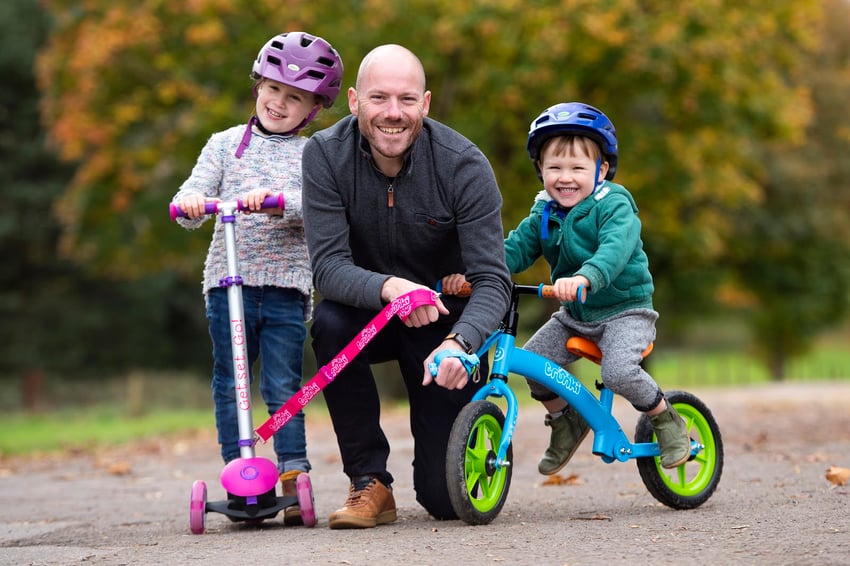 Through starting the business, have you learned anything particularly helpful or advantageous?
When we fail is when we truly learn.
I've lost a £1m court battle over a copycat product but came out on top using the power of PR.
Bought a factory out of administration for the cost of a new car. But then had to invest nearly £2m to turn it around. It's not only one of my proudest achievements but has allowed us to move our sales to 65% export and embrace a digital-first strategy
Currently going through COVID with luggage being one of the worst affected consumer good categories, but we're selling more than ever on some channels
What seems like an insurmountable problem can be overcome, the storm will pass but it will be exhausting and you need all your mental energy to overcome it. So use that energy wisely, stay focused on the things you can control and ignore the rest. You need an open mind to see the opportunities you have and to make the most of them. That may take you away from your initial direction so be open to change. There are no right or wrong ways, just ways that work and ways that don't. Remember success is just a hiatus in a series of defeats.
What platform/tools do you use for your business?
We run Shopify and our ERP is Netsuite. Everything has been in the cloud for the last 5 years which makes working from home a breeze. I'm not so close to each platform to be able to give any more intel.
What have been the most influential books, podcasts, or other resources?
The favorite business book is Good to Great by Jim Collins.
The favorite podcast is How I Built This.
I highly recommend having a personal coach and join a small business group to help share the challenges and solutions for running a business.
Advice for other entrepreneurs who want to get started or are just starting out?
Running a business is not easy (if it was everybody would be doing it!) If you're prepared to put everything on the line, take risks that could leave you penniless, start a business. If not work for one!
Either way, try to keep a very positive mindset. If things start to drain you, remember that the problem will be finite and I focus on the present, not the future. Take time to appreciate the things I have.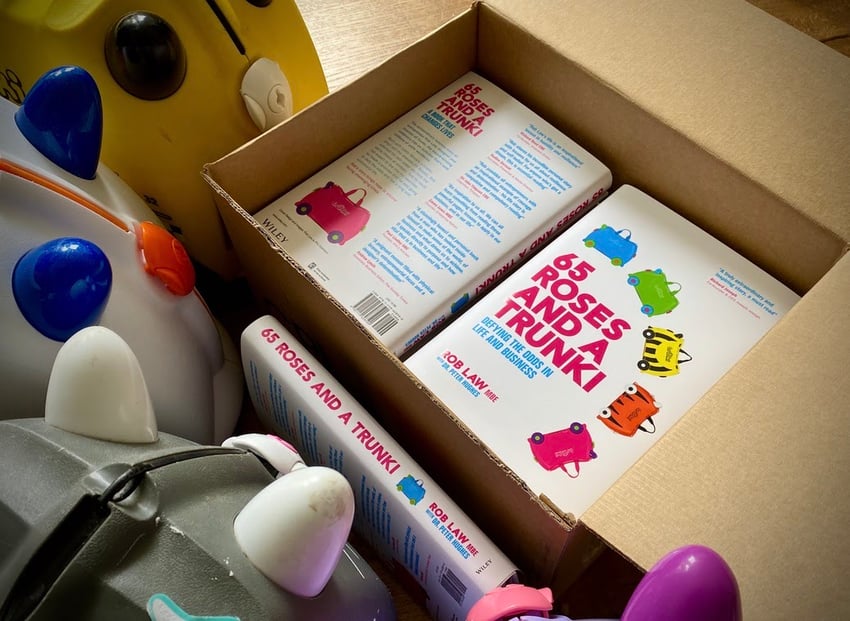 Are you looking to hire for certain positions right now?
We're not currently recruiting but as the world is not more digitally savvy and embracing e-commerce and social media more than ever before, these are the areas of business I think there will be no shortage of roles in during and post COVID.
Where can we go to learn more?
Read my whole story in my new book, get top tips on becoming more resilient and gain insights into my marketing strategies. 65 Roses and a Trunki: Defying the Odds in Life and Business.
Follow my story on:
And Trunki:
If you have any questions or comments, drop a comment below!
-
Rob Law, Founder of Trunki
Want to find more ideas that make money?
Hey! 👋 I'm Pat Walls, the founder of Starter Story.
Get our 5-minute email newsletter packed with business ideas and money-making opportunities, backed by real-life case studies.