Thank you Klaviyo for sponsoring Starter Story ❤️
Turn one-time buyers into repeat customers. Try the platform loved by 265,000 brands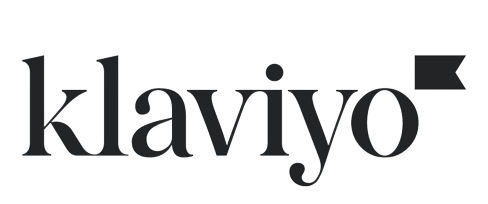 How We Built A $1.5M/Month Survey And Research Solution
Start A Mobile Survey App
Hello! Who are you and what business did you start?
My name is Aaron Platshon and I'm the co-founder and CEO of TapResearch. TapResearch builds technology that makes it easy and fast to inform decisions with consumer insights.
The TapResearch platform consists of 2 primary offerings - Sample and Insights.
Sample provides market researchers with the best way to access the survey respondents they need. Insights make it fast and easy for any decision-maker to go from question to answer to a decision within one seamless interface.
Sample and Insights are both built atop our foundation, Audience Network, which is a large scale respondent network that delivers surveys to hundreds of millions of people through mobile apps where billions of people spend their time, money, and attention.
Every month, TapResearch generates roughly $1.5M in revenue by delivering over 1M surveys for hundreds of clients who rely on our data to make decisions.
What's your backstory and how did you come up with the idea?
I grew up in and around Silicon Valley and knew at a young age that I wanted to 'do startups.' The potential to make an impact, to move at a fast pace, to take risks, to avoid bureaucracy, and big company politics all appealed to me.
Startups can take a LONG time, and they require extreme grit and commitment. Make sure you have that before you leap.
I went to college in Pennsylvania and after 4.5 years on the east coast, I was ready to return to California.
After college, I had the opportunity to join Tesla Motors as one of the first 40 employees and one of the earliest 'business' hires. As an early employee in a rapidly scaling organization, opportunities were plentiful (I got to work in product management, sales, and marketing in the US and later in Europe) and I benefited from significant exposure to virtually every part of the organization. Long story short, I learned a ton in a very short period and got to play with fun cars and interesting people every day.
I left for another electric vehicle-related startup called Better Place, which was, sadly, not a better place. I left Better Place with two colleagues to start my first company, Wheelz, which was a peer-to-peer car sharing marketplace (think Airbnb for cars).
At Wheelz we encountered frustrating experiences trying to do consumer research to inform how to build our product for car owners. After raising funding from Zipcar and scaling throughout California, Wheelz was acquired by Turo.
That experience ultimately inspired us to create TapResearch to make it easy for anyone to inform decisions with insights from any target audience. The initial spark of the idea was specifically from our co-founder and CTO, Kevin Chang, who had, in a past life built, published, and monetized mobile games.
He was convinced that mobile games would be a powerful channel to reach and engage millions of people - and we believed if we had a way to reach people at scale, we could build a new category of insights products.
Take us through the process of designing, prototyping, and manufacturing your first product.
We incorporated the business in August 2013 and raised $1M of seed capital from Angel investors in September - some of these investors had backed Wheelz previously and others were people we knew previously. We worked with a law firm known for its expertise with venture-backed startups and technology businesses because we knew we wanted to build a big company, and it was important to establish a legal foundation that would be familiar to any future venture capital investors.
Next, we assembled a small team of a few more software engineers and one designer and spent the next few months building the first version of our product. We wireframed the UX, sought feedback from people in our target market, and rapidly iterated on the product until we had an MVP that (mostly) did what it was supposed to do.
As we started to build our respondent network (by partnering with mobile app publishers) and to sell our insights product to customers, we were getting decent feedback but we soon realized we could not deliver on the value proposition - we had a chicken and egg problem!
We didn't have access to enough respondents to deliver research projects in a reasonable amount of time, and we didn't have enough surveys to drive meaningful revenue to mobile publishers. Uh oh.
We turned all of our attention to solving our chicken/egg problem. The first problem to solve was to figure out how to access A LOT of surveys. If we could do this, we had a shot at successfully building our respondent network. We found that the traditional market research industry badly needed new ways of reaching respondents, especially younger age groups who were difficult to reach through their traditional methods, but were plentiful in mobile apps. With this newfound solution to our survey inventory challenges, we were off to the races building our roster of market research customers and scaling our respondent network.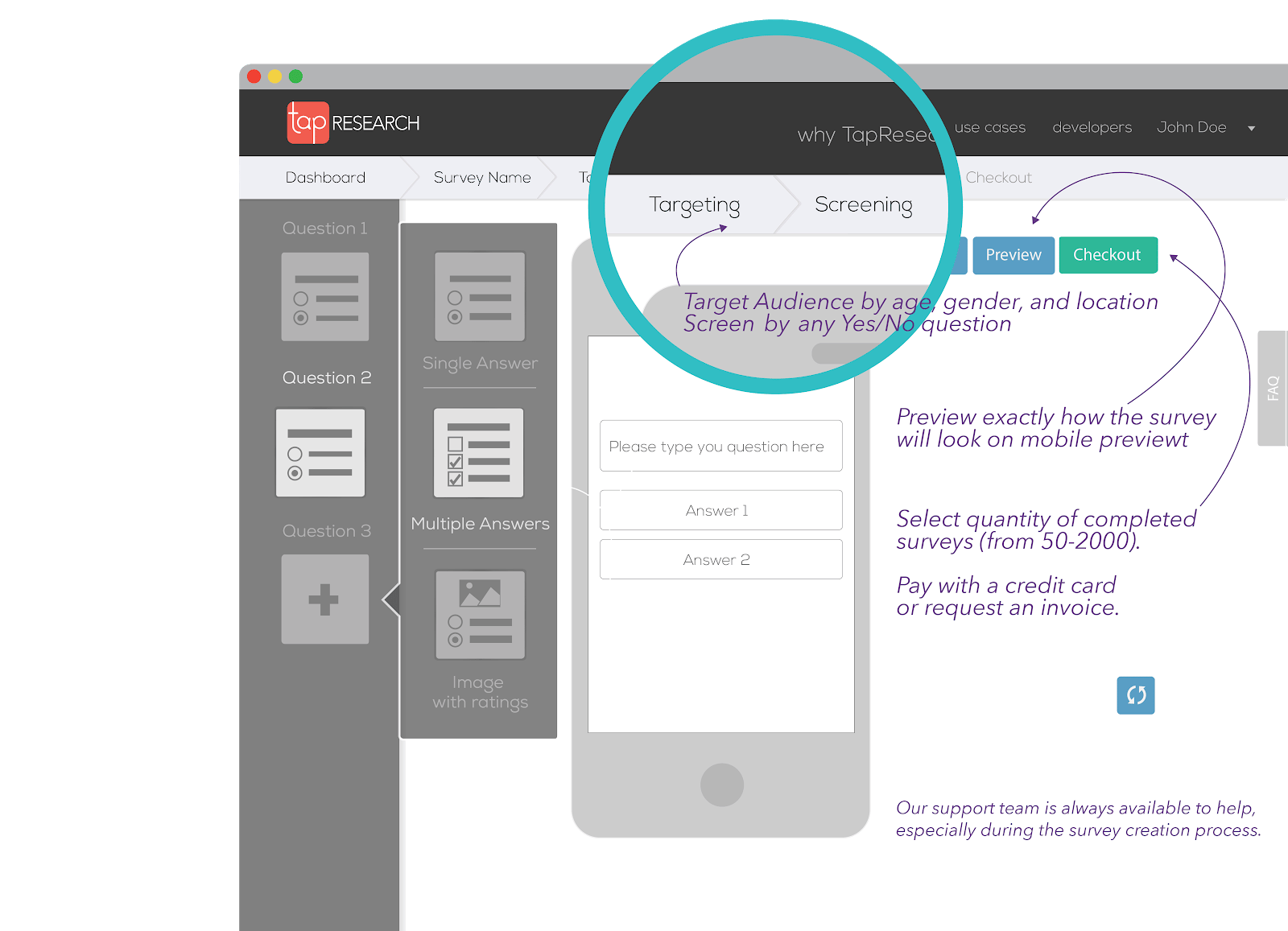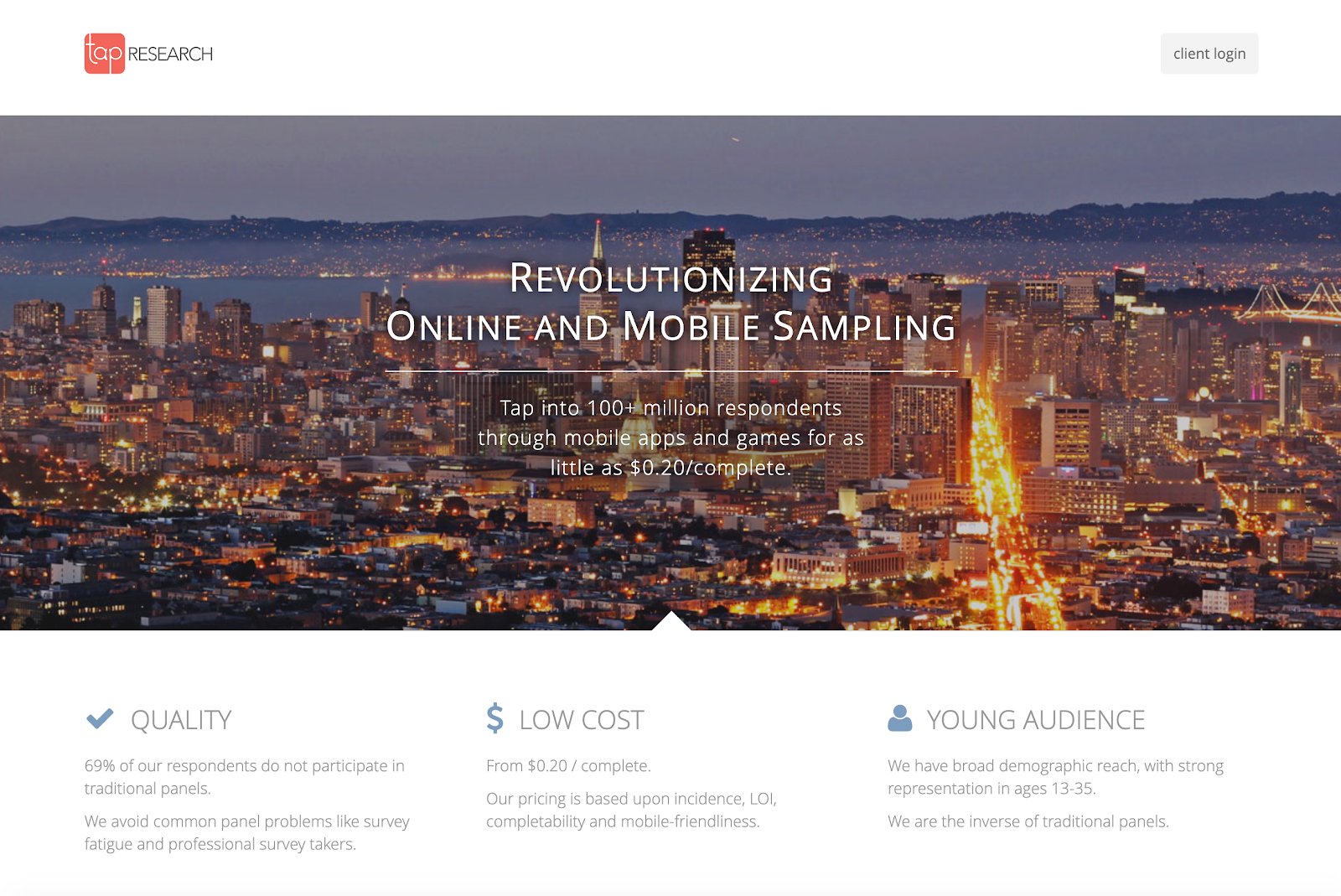 An early version of the website circa early 2014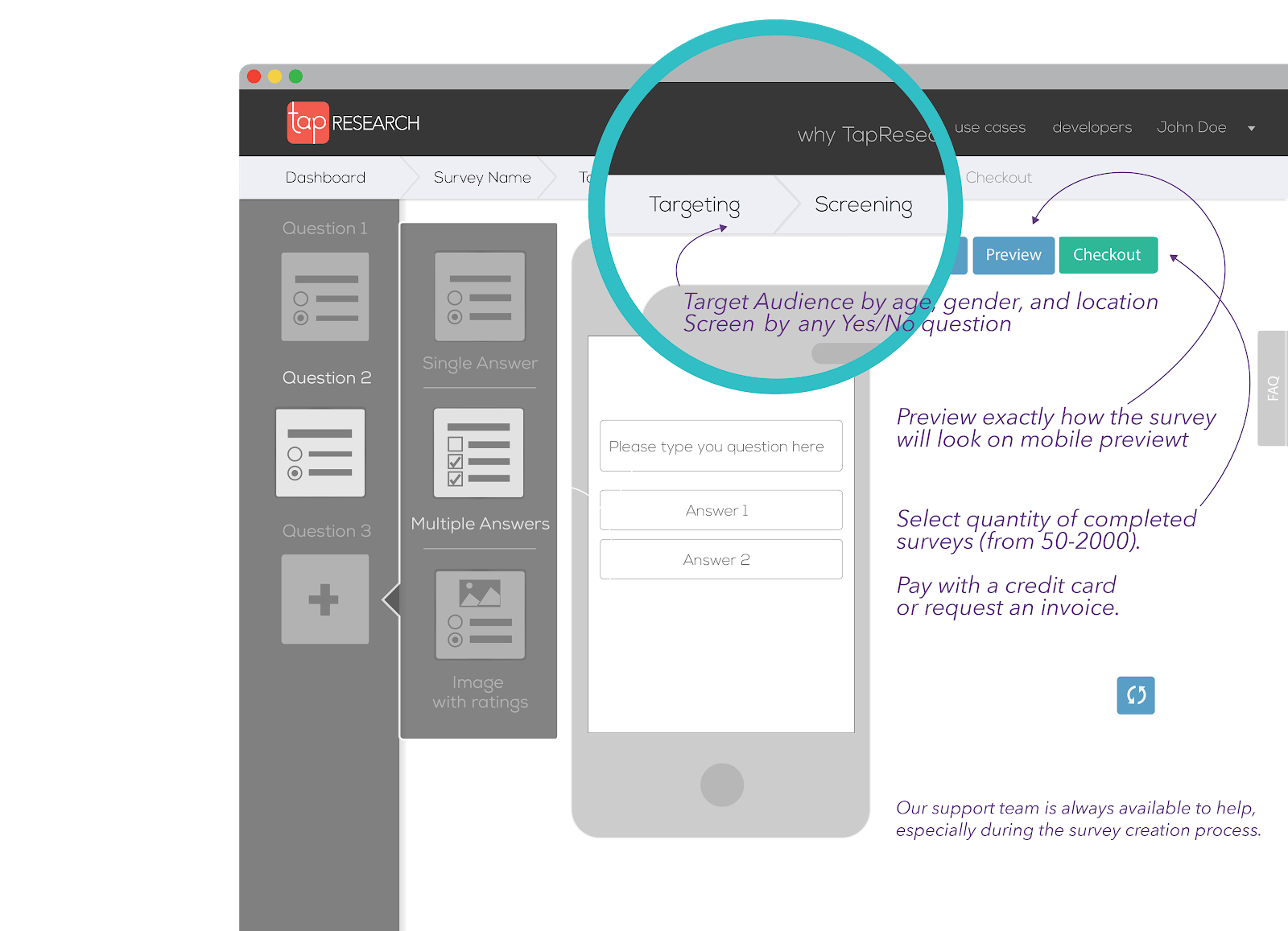 Early wireframing of product
Since launch, what has worked to attract and retain customers?
Our initial target customers were large market research industry players, and given how they buy, we employed a direct outbound sales approach as the most efficient customer acquisition strategy. These customers need our respondents daily and typically buy from us through technical integrations and spend 6 figures plus on an annual basis.
To support those efforts we built a marketing website and a few other pieces of collateral that we developed internally, but we did little else beyond direct outbound sales for quite some time.
Over time, we have developed better self-service capabilities in the product and our marketing so that we can avail ourselves of additional customer acquisition channels and better serve smaller customers.
How are you doing today and what does the future look like?
Today we're doing better than ever! Revenue is growing, gross margin is expanding, and we're working on some really exciting new products. We have a 20 person team and are looking forward to rapidly expanding that over the next couple of years.
In June of last year, we moved into an amazing office space, but due to COVID, we had to close the office and move to a mandatory work from home policy back in March. I'm not sure when we'll be able to get back together in person. Fortunately, we are ideally suited to working remotely and I think we're operating more efficiently than ever.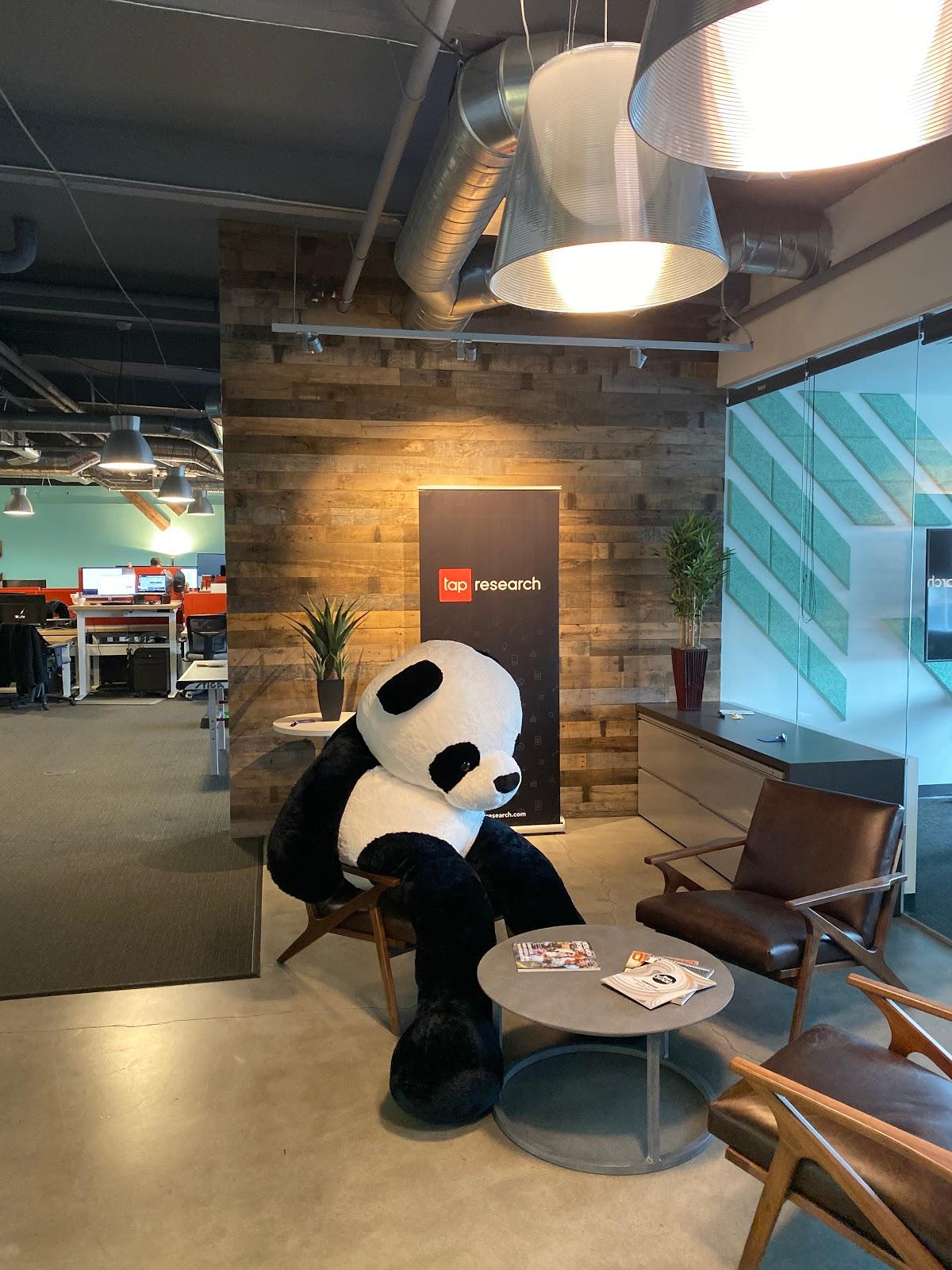 Jack, our office panda is getting lonely these days
Through starting the business, have you learned anything particularly helpful or advantageous?
One surprising part of being in the same industry and business for several is how much domain expertise you develop - and how that exponentially increases the number of new opportunities you see.
It was counterintuitive for me - I once believe that breadth and exposure to lots of things would lead to new ideas, but I think the opposite is true.
What platform/tools do you use for your business?
Probably similar to many others, but I use Slack, Zoom, Front, Intercom, Gmail/GDocs, Carta, Bamboo, Periscope (now called Sisense) for BI.
Advice for other entrepreneurs who want to get started or are just starting?
Just a few I'd mention:
Learn from other people's experiences and strategies, but DO NOT try to copy what has worked for someone else, thinking it will work for you. YOU have to own your decisions and make the right ones for your specific situation.
Startups can take a LONG time, and they require extreme grit and commitment. Make sure you have that before you leap.
Make sure you NEED your co-founders and they NEED you. If the company could exist without any one of the founders, they should not be one.
Are you looking to hire for certain positions right now?
We're always looking for talented, ambitious people to join our team! Our current openings are available on our website and several additional positions will be added soon!
Where can we go to learn more?
If you have any questions or comments, drop a comment below!
Want to start your own business?
Hey! 👋I'm Pat Walls, the founder of Starter Story.
We interview successful business owners and share the stories behind their business. By sharing these stories, we want to help you get started.
Interested in starting your own business? Join Starter Story Premium to get the greatest companion to starting and growing your business:
Connect + get advice from successful entrepreneurs
Step by step guides on how to start and grow
Exclusive and early access to the best case studies on the web
And much more!
PROMOTED
Did you know that brands using Klaviyo average a 95x ROI?
Email, SMS, and more — Klaviyo brings your marketing all together, fueling growth without burning through time and resources.
Deliver more relevant email and text messages — powered by your data. Klaviyo helps you turn one-time buyers into repeat customers with all the power of an enterprise solution and none of the complexity.
Join Brumate, Beardbrand, and the 265,000 other businesses using Klaviyo to grow their online sales.
Starter Story
Wanna see 52 business ideas you can start with less than $1,000?
Join our free weekly newsletter and get them right now.