How I Rebranded My Business And Grew Revenue To $55K/Month [Update]
Start A Pinterest Strategy Teaching Business
This is a follow up story for PVA Enterprises LLC. If you're interested in reading how they got started, published over 1 year ago, check it out here.
---
Hello again! Remind us who you are and what business you started.
Hi! I'm Kristin Larsen, founder of PVA Enterprises LLC, a business that teaches people how to become a Pinterest manager.
Founded in 2016, we've had over 4,500 students work through our programs and build a business that suits their lifestyle and income needs.
Some of our students simply want a side hustle that brings in an extra $500 to $1,000 per month, whereas other students go on to create businesses that bring in 5 figures per month through an agency model or digital products model (or both).
In addition to training our students, we're an industry leader in the Pinterest management industry and have helped almost 500 businesses find a Pinterest specialist to suit their needs. We estimate these leads have earned our students nearly $3.5 million in revenue!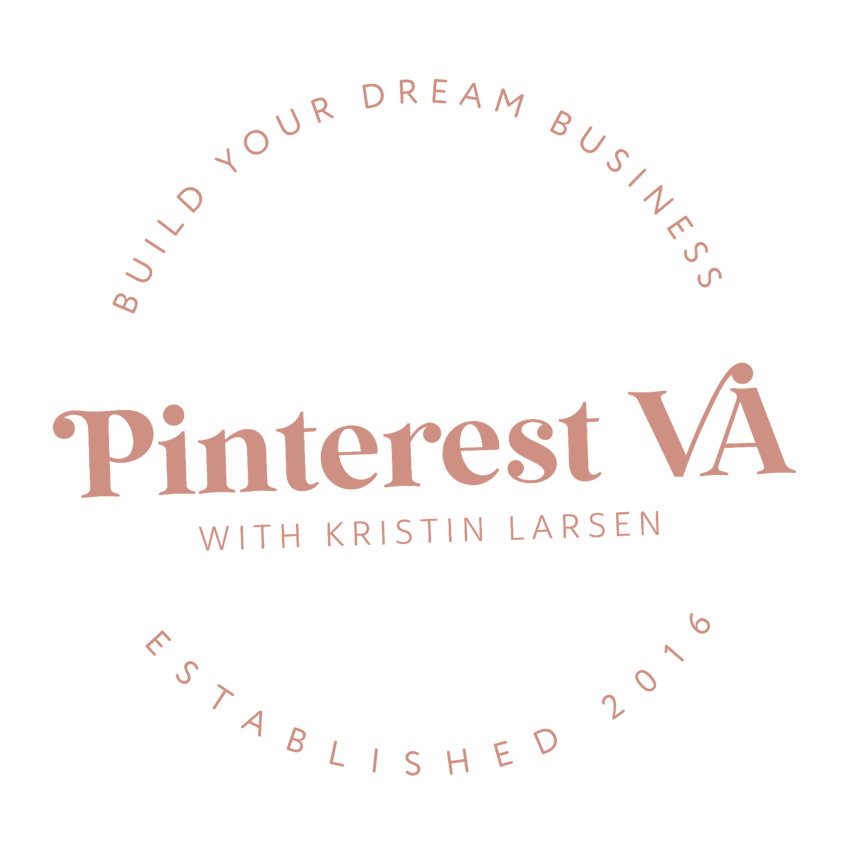 Tell us about what you've been up to. Has the business been growing?
Things have been great since our last Starter Story and income has been steady despite working less, and for that, I am incredibly grateful. Although it sounds a little contradictory, this last year has been dedicated to both leveling up and chilling out – I guess you could say we've been more intentional about our 'hustling' and learning when to take a break. But I'll get to that in a moment!
The biggest project we tackled in the last year was a complete rebrand (logo, colors, fonts) and website redesign.
I've known for a while that I wanted to take the website to a new level. The old website served us well, but it started to feel a bit amateurish to me and it got to the point where every time I looked at the site, I found something new I didn't like.
Here's the top of the old homepage. For years, the homepage also served as the sales page and there wasn't much else to the site.
After the rebrand, the homepage is an introduction to the brand and also serves as a way to funnel visitors into our free workshop and free starter kit. We also showcase a few lower-priced products and blog posts.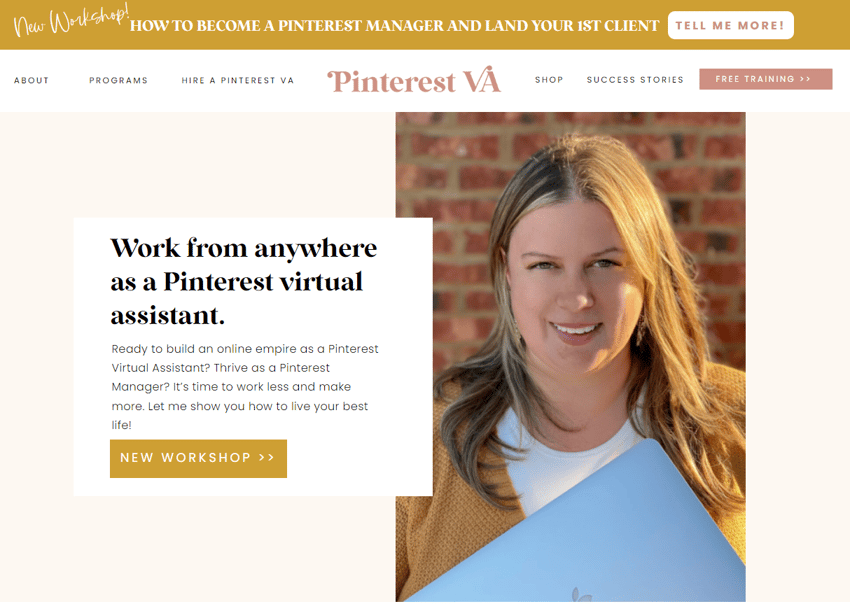 The new site also features a programs page, a shop, success stories, and a refreshed Hire a Pinterest VA page.
Something else I've done this year starts a TikTok account for the brand! This was completely outside my comfort zone but has been such a great decision for the brand and the business.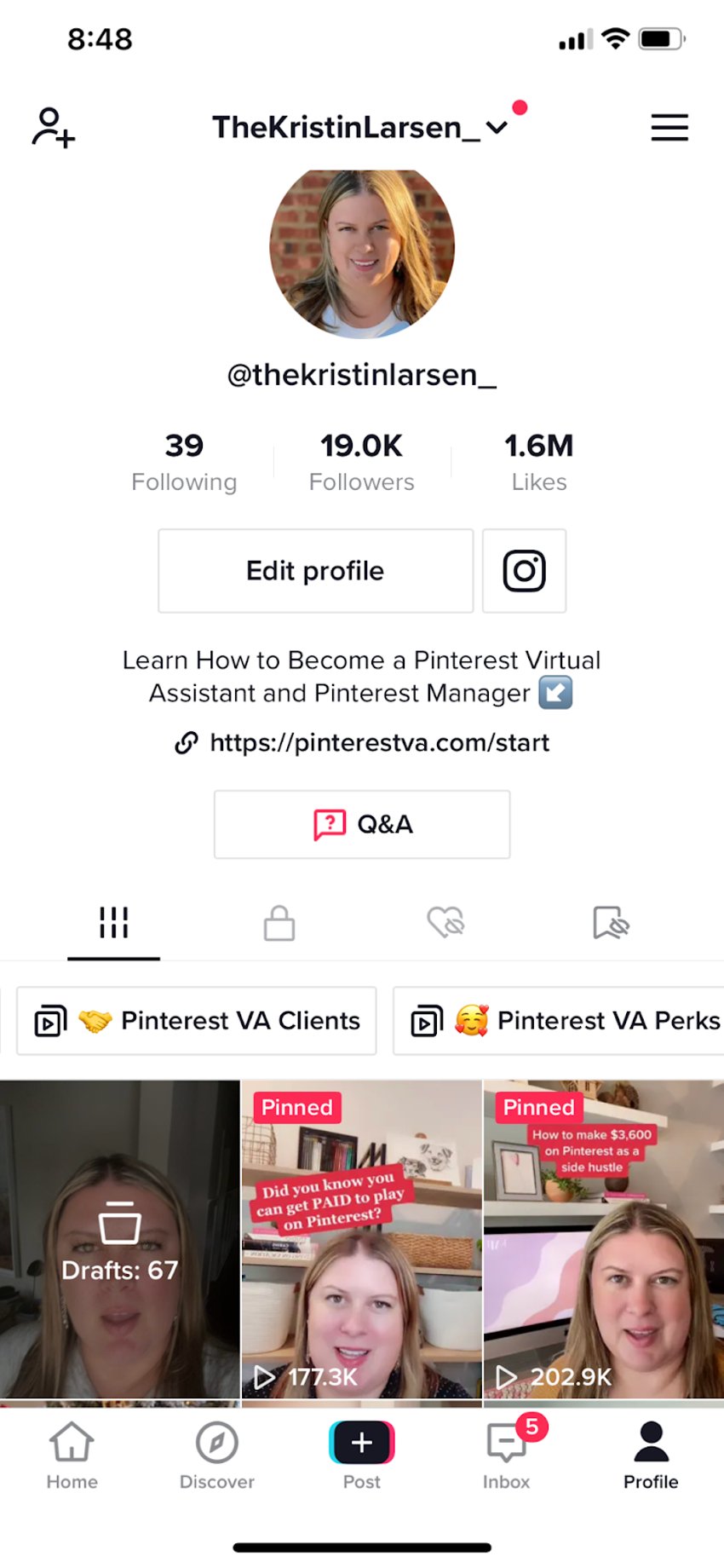 Not only has it put Pinterest VA in front of an entirely new set of people, but I also find that the general attitude about Pinterest on TikTok is really fun and refreshing. I come from the blogging world where a lot of bloggers have a particular way of thinking about Pinterest and a lot of them compare it to the Pinterest of five years ago.
On TikTok, especially with the Gen Z audience, they're excited about today's Pinterest and look at it with a completely fresh perspective. They're also very video-focused, which is great because Pinterest wants businesses and content creators to share videos to the platform via Idea Pins (similar to Instagram Reels or TikTok videos).
It's okay to sit back and let your team take care of things. Although I am still highly present in the business, I've been working less and taking more time off. My team has taken on more work this year, which has been a big relief.
We're seeing a whole new set of younger students who take the program and are so excited about this platform that's entirely new to them, and they've been spreading that excitement to new clients in their age range. Every once in a while, I hear people complain that 'Pinterest is dead,' but really, it's just getting started!
Last but certainly not least, we firmed up our program offerings in the last year. The business started with a single program and evolved into offering a supplemental community and other add-on features. Figuring out the 'just right' combination of program features has been tricky, but I am extremely happy with what we offer now.
We now have three distinct program tiers, each with its name:
Tier 1: Become a Pinterest VA Today!
Tier 2: Pinterest Manager Academy
Tier 3: Pinterest Expert Business Academy
Pinterest Expert Business Academy, our high-level program with individualized feedback from myself and my team, was entirely built out in early 2021 and has been a great addition to the program line-up!
What have been your biggest challenges in the last year?
Remember our amazing rebrand and new website? As amazing as it was, it was also challenging. Although we hired a few contractors to do the site redesign and copy, I don't think I fully realized how much prep work was required to get the site to its final state. Add in a few hiring snags, and it was a less-than-enjoyable process.
The new site is built on Showit, a drag-and-drop website builder that functions a lot like Adobe Illustrator on the backend. I'd seen Showit in action and was really impressed by how versatile and eye-catching the designs could be, but sometimes that versatility is a bit overwhelming.
After the site was handed off to us, my team and I realized we had to learn a whole new platform to make even simple changes. Thankfully, we have it figured out now!
Another challenge faced in the last year was Facebook ads. Since the iOS changes, I've found it increasingly difficult to track conversions, so calculating ROI has been tricky. I've decided to pull back on Facebook ads for now, and thankfully, I haven't seen a noticeable shift in sales. I'm, of course, still running Pinterest ads!
Lastly, balancing work with life has been a bit of a challenge, so I'm learning to pull back from the business a little. When the pandemic hit and we were all hunkering down, it was easy to go into non-stop work mode because there wasn't much else to do.
I kept that up until fall 2021 when I went on a much-needed vacation and realized I was exhausted. I love my business, and I love working, so it's hard to recognize the signs of being overworked.
My team and I took time to relax and reset from mid-November through the end of December; then we hit the ground running in January on figuring out how to work more intentionally.
We instituted three major changes:
More automation behind the scenes. If it can be automated, do it!
No more open-ended Slack conversations. It's too easy to feel like you always need to be available when Slack is open. We moved a lot of tasks to Trello and only use Slack when it's necessary.
Recognizing that it's okay to spread projects out. The work will get done, and it's okay to decide a project will be done in six months rather than by the following Monday.
What have been your biggest lessons learned in the last year?
The biggest lessons learned were built on the changes we made earlier this year.
It's okay to spread projects out; the work will get done. Don't overload yourself even if you're excited about things.
It's okay to sit back and let your team take care of things. Although I am still highly present in the business, I've been working less and taking more time off. This year, my team has taken on more work, which has been a big relief.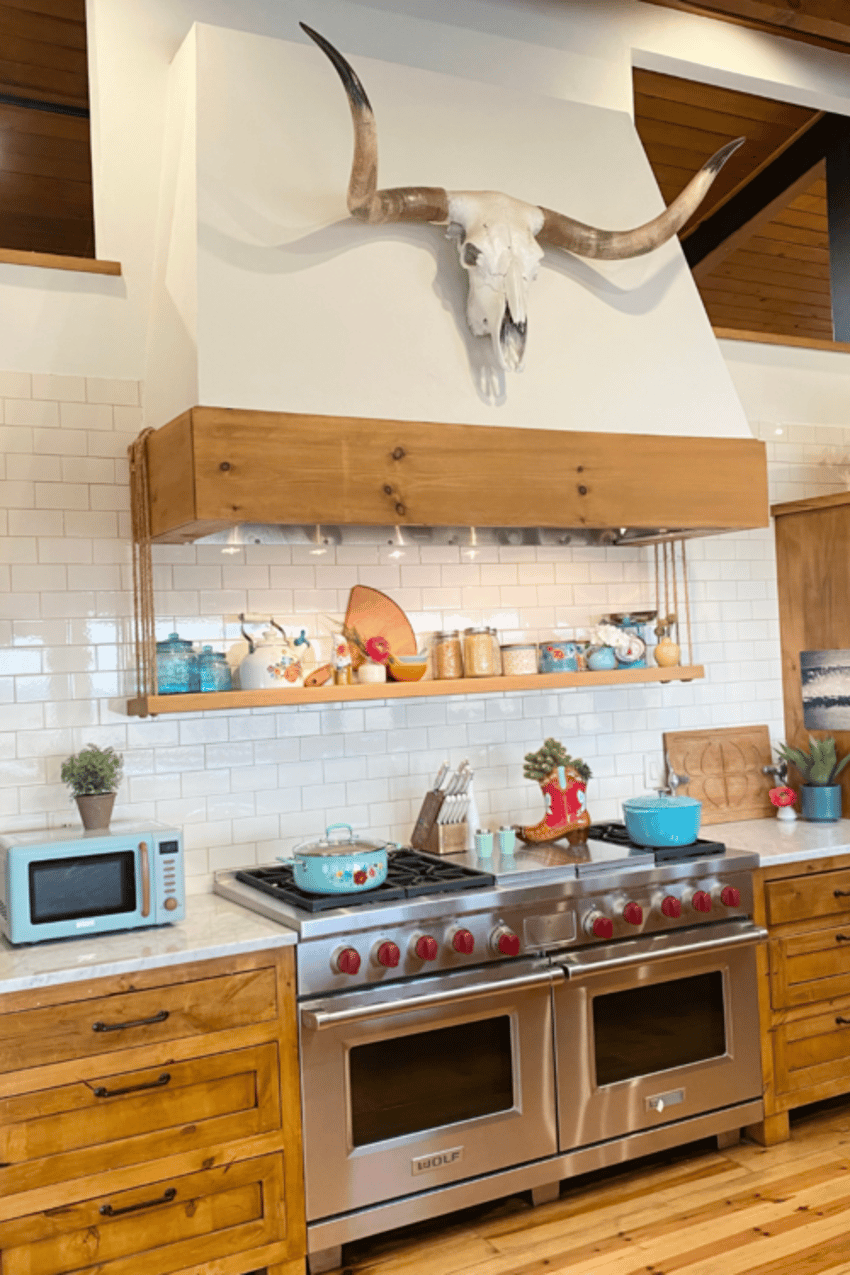 A photo from one of my recent trips to The Pioneer Woman Lodge in Oklahoma where the Food Network show is filmed. This trip has been on my bucket list for a while!
Projects are better done than perfect. After the first launch of our new program, Pinterest Expert Business Academy, we decided to shorten the length of the program from 1 year to 12 weeks and make a few other minor tweaks. We would have never known we needed this change if we hadn't launched it in its original format.
What's in the plans for the upcoming year, and the next 5 years?
My biggest goal for the future is to continue to be the leader in the Pinterest management industry, both for students and for businesses looking to hire someone to help them with their Pinterest presence.
We'll keep the programs updated with the newest Pinterest changes as we have always done. As the platform evolves, we evolve.
Make sure to take time for yourself. Growth doesn't have to be constant, and you can't show up every day at 100% if your batteries are running low. Give yourself permission to take a break or bring on more help if you need it.
I also plan to jump in on other platforms to capture new audiences organically. I'm fully embracing video content and plan to continue to do so.
As far as paid promotions, I mentioned earlier that I pulled back on Facebook ads. I had every intention of branching out to Google ads and YouTube ads in the past year, but other projects took priority, so that's still on the to-list. TikTok ads are another option to explore as well.
Generally, the best results have come from email marketing to our list and partnerships with affiliates. I'm always on the lookout for new mutually beneficial affiliate partnerships, so I hope to make some new connections in that area in the upcoming years.
Since the day I launched my very first Pinterest program, I've found that a lot of people don't understand how powerful Pinterest can be for businesses, so marketing the program(s) requires both a sales and an education mindset. That's best achieved when I can get someone to subscribe to our email list or to attend a live online workshop where I can educate them before pitching them on a program.
What's the best thing you read in the last year?
I decided to step away from listening to my usual list of business-related podcasts in the past year. I found they weren't bringing me joy or inspiring me in the way they once had.
While I appreciate the polished production levels of so many podcasts, I was looking for that everyday, an unedited personality that was more in line with how I run my business.
I also really needed this time to focus on my creativity and goals without being influenced by how other brands run their businesses. This was the best decision for me!
While not necessarily like my business, I have found a lot of positivity and inspiration watching diverse business owners from all backgrounds on TikTok sharing their thoughts and goals.
Whether someone is a brand new shop owner selling stickers out of their guest bedroom or a lawyer sharing a day in her life in NYC, I have found these business owners and I all have something in common.
These moments of video content are focused on sharing what it's like to be an authentic business owner and fostering a community. This new layer of brand accessibility has been inspiring for me to share my business in a way I never have before.
Advice for other entrepreneurs who might be struggling to grow their business?
Don't be afraid to dive into new things, whether that's a new platform, project, or idea. You don't know what will work until you give it a try.
Once a business becomes 'successful,' sometimes trying out new things to grow can be a little scary because you don't know if you will be able to replicate that initial success. There can be a lot of pressure (internal or external) to get it right every time, but you have to be open to some failures even if you're generally successful.
Other than that, make sure to take time for yourself. Growth doesn't have to be constant, and you can't show up every day at 100% if your batteries are running low. Give yourself permission to take a break or bring on more help if you need it.
Where can we go to learn more?
If you have any questions or comments, drop a comment below!
-
Kristin Larsen, Founder of PVA Enterprises LLC
Want to start your own business?
Hey! 👋I'm Pat Walls, the founder of Starter Story.
We interview successful business owners and share the stories behind their business. By sharing these stories, we want to help you get started.
Interested in starting your own business? Join Starter Story Premium to get the greatest companion to starting and growing your business:
Connect + get advice from successful entrepreneurs
Step by step guides on how to start and grow
Exclusive and early access to the best case studies on the web
And much more!