Project Repat: $10MM Business Making Quilts From Old T-Shirts
Ross Lohr
•
Published: October 7th, 2018
Hello! Who are you and what are you working on?
My name is Ross Lohr, and I'm a co-founder of Project Repat. We make it easy and affordable for customers to turn their memorable t-shirts into a one of a kind, custom t-shirt quilt backed with cozy fleece.
People buy quilts from Project Repat because we have the most affordable price, which is due to us fine tuning the production process by making more than 250,000 t-shirt quilts over the past 6 years. While traditional quilts can be very expensive, we've found a way to make them at a much more affordable price.
We currently make 2,000 custom t-shirt quilts per week at 2 production facilities in the United States. In 2018, we will make 90,000 t-shirt quilts and do $10MM in sales per year.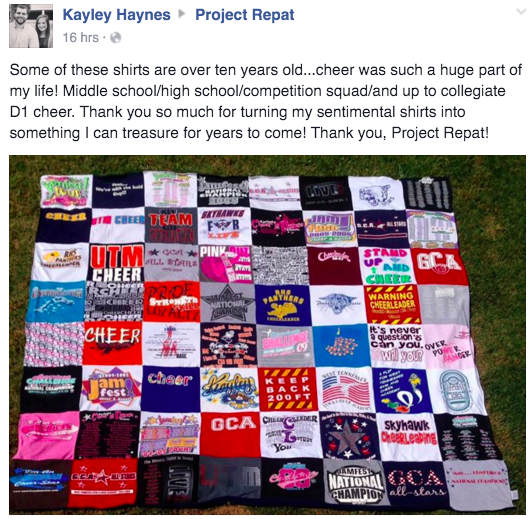 What's your backstory and how did you come up with the idea?
The Project Repat story starts in Nairobi, Kenya, where I was doing non-profit education work. After sitting in traffic for 2 hours, he discovered the cause of the jam: an overturned fruit and vegetable rickshaw pushed by a Kenyan man wearing a t-shirt that said "I Danced My Ass Off at Josh's Bar Mitzvah"
Amazed by all the incredible t-shirts that get sold off and sent overseas by nonprofit and for-profit companies in America, we began working with Kenyan artisans to design new products out of castaway t-shirts, including bags, scarves, and re-fabricated t-shirts.
The next thing we knew, we had sold 2,000 quilts in a week and that put $80,000 in our bank account. At the time, that felt like the most money we would ever see in our lives. We were sleeping in our office and showering at the gym at that time.
Those products were "repatriated" (or returned to the country of origin) back to the United States and sold to raise money for nonprofits working in East Africa.
When trying to sell our upcycled products at markets in Boston, we quickly discovered the difference between a "good idea" and a real business: while potential customers liked the idea of a repatriated upcycled t-shirt bag, they didn't like it enough to actually buy it. What customers did ask for, time and time again, was an affordable t-shirt quilt.
We had heard enough: instead of shipping goods all around the country, why not create fair wage jobs in the United States and create a product that has a lot of meaning for customers? As they say, the rest is history. Rather than 'repatriating' t-shirts back to the United States, Project Repat creates a high quality, affordable t-shirt quilt with minimal carbon impact that 'repatriates' textile job back to the United States.
Describe the process of designing, prototyping, and manufacturing the product.
We really learned the most in designing our custom t-shirt quilts through the feedback of what our customers were asking for. When we started out, we really knew nothing about the textile industry, or quilting, or turning t-shirts into quilts.
We originally were offering a t-shirt scarf made out of t-shirts. But after hearing so many times about how customers wanted a quilt, we decided to try making a quilt for them. It took 10 hours and would have costed more than $250!
We decided that there must be a better way to make this product at a more affordable price. So we designed a quilt with t-shirts on both sides and nothing in between, just like our t-shirt scarf but with more rows and columns. It worked pretty well! Nobody had ever made a t-shirt quilt that way before.
Don't be afraid to try things out and fail! Be flexible - don't get hung up on an idea that just won't work.
After launching on Groupon and selling 2,000 t-shirt quilts made this way in a week, we had a couple of customers send us backing material to use on the back rather than just t-shirts. We used that experience to determine that it would cost less, and result in a better finished product, if we backed all of our quilts with fleece instead of t-shirts.
We have also learned a lot from our manufacturing partners. In order to make our prices as low as possible, we have had to listen to feedback from our manufacturers and learn what the custom is sending us, since it's custom. It's hard to scale a custom product! But we've spent a lot of time at our factories learning the process inside and out and learning what the customers are sending us so that we can create systems and fine tune our instructions process for our customers so that we can create as efficient of a system for making these quilts as possible.
Describe the process of launching the online store/business.
At first, we just had our website up and few different products that people could buy. But a website is no good unless you're able to drive traffic to it! You can't sell a product unless people can see it. That can be very difficult for startups who don't have advertising budgets.
We tried to raise some cash at an accelerator program in San Francisco. Nobody was interested in giving us any money.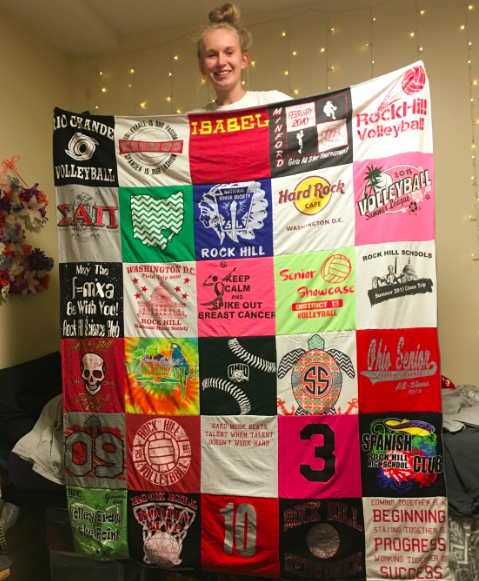 We used our last $2,500 on a video made by founders of The Grommet, who would talk about our product and offer it to their customers. That was the first time we got any sales, at about 100 quilts over 2 weeks. We received an email from the founders of The Grommet, with whom we were familiar with from previous lines of work.
They were offering a video for $2,500, and we thought this might be a good way to get in front of potential customers in our target demographic. We thought it was a good idea to have two moms talking about how great Project Repat was, and introducing the product to their customer base. We sent them some samples and they took care of the rest. The day it launched, we started receiving lots of interest and questions about the process (many of the answers we didn't even know in terms of how the quilts were made!). And then the orders came.
Our big break came when Groupon National decided to feature our product. Nathan had been in touch with a rep from Groupon from his previous job, and used the opportunity to reach out to her and ask about featuring us. Because of our social mission, they ultimately ended up putting us in a program called Groupon Grassroots, in which they didn't take a cut of the sales. All we had to do was give their customers a discount off the retail price.
The next thing we knew, we had sold 2,000 quilts in a week and that put $80,000 in our bank account. At the time, that felt like the most money we would ever see in our lives. We were sleeping in our office and showering at the gym at that time.
We learned a lot from those first 2,000 customers from Groupon, and although the product wasn't 100% perfect yet, we were able to get validation that this was a product that the market desired, and make a lot of tweaks to the final product to make it as good as possible.
While we were sleeping at the office and after the campaign went live, we had about 200 boxes show up at our office that week. We had to play tetris every day to move boxes around our tiny office in the Back Bay in Boston, just so that we could get out of the office and so that they didn't fall on us while we were sleeping.
At the time we were using a small non-profit organization to make the quilts for us, but they could really only make about 10 per week. We had heard of another cut and sew operation in Fall River, MA, so we got on the phone and asked if they thought they could make them. Once they said yes, we hired a U-Haul, piled 250 orders in, and drove them down to drop off at their facility. They were essentially figuring out the process as they went, and while they made some mistakes along the way, they eventually got into a rhythm. Since then, we've fine tuned the process to make it as efficient and precise as possible.
It's scary to sell first, and then figure out fulfillment second. But it put a lot of pressure on us to figure it out on the fly, and made more sense to have the orders first and figure out the logistics second, rather than spending a lot of time and effort building the perfect product without knowing whether the market would validate it.
How are you doing today and what does the future look like?
We are going great today! We're growing at about 70% over last year, and we're on track to earn $10MM in revenue this year.
We've hired two full time employees, and we are hoping to open our 3rd production partner on the west coast later this year for our busy holiday season and add a new product made out of baby onesies to our business.
Through starting the business, have you learned anything particularly helpful or advantageous?
At first, it seems like you need to make everything perfect right from the beginning. You can't possibly launch your product until it's made perfectly, right? Otherwise customers will be unhappy and you're entire idea will be ruined.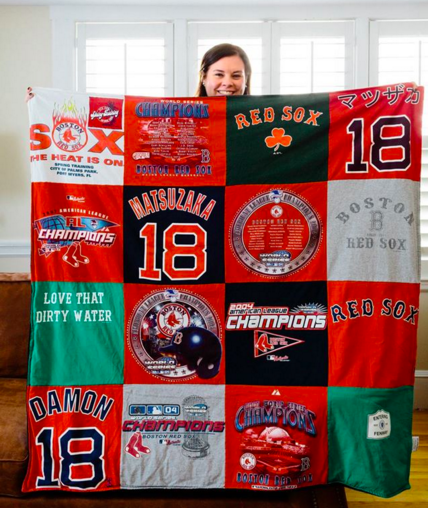 Now that I'm a successful entrepreneur, I have realized that this couldn't be farther from the truth. Too many people try to start businesses by locking themselves in a closet for more than a year building the perfect product that hasn't been tested or validated by the market. Once they launch their product, nobody is interested because they didn't get feedback and fine tune the product into something that people actually want.
We didn't figure out how to make the perfect quilt or spend thousands of dollars on R&D. Instead, we tried a bunch of products, found the one that was validated in the market, and sold a bunch of them and fine tuned the process on the fly.
What platform/tools do you use for your business?
Advice for other entrepreneurs who want to get started or are just starting out?
Don't be afraid to try things out and fail! Be flexible - don't get hung up on an idea that just won't work. Make sure to validate your ideas with real interactions between your product and potential customers.
The worst thing you can do is lock yourself in a room, build something for many days or years, and then finally put it out into the world without getting feedback along the way.
Where can we go to learn more?
-
Ross Lohr, Founder of Project Repat
Want to find more ideas that make money?
Hey! 👋 I'm Pat Walls, the founder of Starter Story.
Get our 5-minute email newsletter packed with business ideas and money-making opportunities, backed by real-life case studies.
Join Starter Story
See exactly how online businesses get to millions in revenue
4,818 founder case studies
Access to our founder directory
Live events, courses and recordings
8,628 business ideas
$1M in software savings