This is an archive of the Starter Story newsletter, which is read by 87.2K people every week.
In each issue, we share the biggest business ideas that are working today, along with case studies of founders who are making millions every month. Sign up today ➜
---
Sponsored by SEMRush
SEMRush is the tool I use to grow Starter Story traffic.
We reached 1M+/month thanks to features such as its impressive keyword research tool.
Amazon gold rush
Can Amazon keep growing?
Short answer: Yup.
In 2021, its revenue was $469B -> 67% up from the previous year. Yeah, you read that right.
Thus, the Amazon gold rush is still alive and strong. There are over 9M sellers on Amazon. And they just keep coming.
You can chase that Amazon gold. And you may just find it. But there's a different opportunity to make money in the Amazon economy and it's as big as the biggest seller on the platform: sell the picks and shovels.
Amazon is so big, you can make millions finding little niches and being the best in the world at them.
Here are just a few ideas:
#1. Create kickass product listings
A poorly written description, low-quality images, or not using the right keywords can bury a product on the last page of every search.
This guy makes $720K/year writing Amazon product descriptions.
#2. Handle shipping and logistics
Dealing with shipments from a garage has risks and being late often can kill a business.
This immigrant entrepreneur built a $60M/year fulfillment business.
#3. Master inventory management
Getting an order and realizing you don't have stock of that product or taking too long to order a new batch can also cause major dealy problems.
These founders grew their business to $6M/year in 3 years helping Amazon sellers with their inventory.
#4. PPC ads campaigns
Many sellers just start advertising without any kind of strategy. That's a recipe for wasting a lot of money.
This agency makes $12K/month running PPC ads campaigns.
#5. Video killed the photo star
Did you know that people who watch a product video are 3.6x more likely to buy the product? Hard to find a better selling point for your service than that.
This company grew to $360K/year by making incredible product videos for e-commerce businesses.
#6. Data analysis
Once a seller has more than a couple of listings, managing and understanding all the information that Amazon provides can be daunting. Especially for someone who's already struggling with everything else.
This plugin for sellers on Merch By Amazon (see how niche is possible to go?) makes $120K/year.
Another example: This Google Sheets add-on that connects with Amazon Seller Central grew from $8K/month to $23K/month in one year.
Finally, you could take the 360º route and create an agency that tackles several of these issues. This successful seller used his expertise to start an $80K/month business that helps other Amazon sellers.
Starter Story Summer Sale
Summer's here! Some would say it's a great time to relax by the pool.
But if you're like me, you get tired of that pretty quickly.
What to do instead? Create your next income stream.
3 reasons why now is the best time:
#1. Your potential competitors are not working.
#2. People are willing to spend more money during the summer (facts).
#3. You can start making money in just a matter of weeks. This couple reached $10K in sales in a few weeks (now they're making over $10M/year).
Take this chance and benefit from our 25% OFF Summer Promo -> Access 3,000+ real-life case studies and copy their winning strategies step-by-step. No BS, no fake gurus. Just the real deal. Join us today and learn how to start a successful business.
$tock images
3.2 billion images are shared daily on the Internet.
There's a never-ending need for images. Every blog post, almost every social media update, etc needs an image.
The stock photo market generates a $4 billion revenue and grows 5% per year.
That 5% growth can go to the ~30 dominant players' pockets. OR some fresh competition can try to get some of it.
This guy decided he wanted a piece of the cake and started a ShutterStock competitor that now has 1.4M customers.
When the demand is so huge, don't get discouraged by the presence of big competitors. They can't please everyone, which means there's value left to capture. Read opinions and tweets about what people don't like about those services and make it better.
Small players can launch and grow within this space, see other examples:
Sponsored by Klaviyo
Take your email game to the next level
Klaviyo is the tool we've used to grow our email list to over 250K readers. I love it.
These are my favourite things about it (100% real, forget that they're our sponsors):
Crazy good tools to create high-converting popups (We get ~10K new subscribers per month)

Email marketing flows to collect the cash you were literally leaving on the table
If you haven't paid enough attention to your email channel, get Klaviyo today!
Quick hitters
(1) This weird apparel creation makes $1.2M/year in sales. What if you bred sweatpants with overalls? That's actually a great recipe for DTC brands to succeed: originality.
More examples? This Apple watch accessory makes $200K/month, this mystery game reached $5M/month in sales.
(2) This travel Chrome extension topped the AppStore charts. A really underappreciated kind of business that has been the seed of huge companies like Grammarly.
Want to see how others built great businesses in this space? This plugin reached 250K users, this guy makes $360K/year with a Chrome extension that hacks the Instagram and TikTok algorithm, and this extension for Amazon sellers makes $120K/year.
--
Thanks for reading!
Want to start your own business?
Hey! 👋I'm Pat Walls, the founder of Starter Story.
We interview successful business owners and share the stories behind their business. By sharing these stories, we want to help you get started.
Interested in starting your own business? Join Starter Story Premium to get the greatest companion to starting and growing your business:
Connect + get advice from successful entrepreneurs
Step by step guides on how to start and grow
Exclusive and early access to the best case studies on the web
And much more!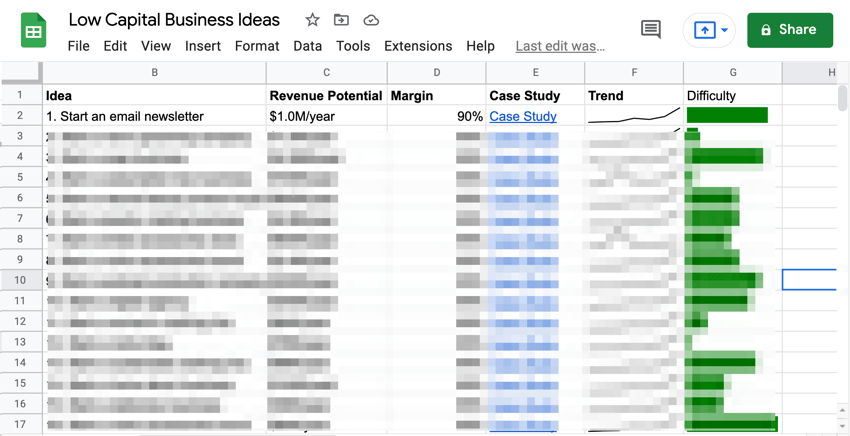 Wanna see 52 business ideas you can start with less than $1,000?
Join our free weekly newsletter and get them right now.
meet the author
David Bustos
Hey there! 👋 I'm David, and if you ever got an email from Starter Story, I probably wrote it. With a background in working with startups and writing, being part of this team is kind of a perfect fit for me.