Thank you Klaviyo for sponsoring Starter Story ❤️
Turn one-time buyers into repeat customers. Try the platform loved by 265,000 brands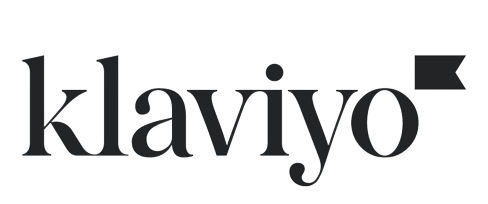 On Starting An 'All-In-One' Podcast Production Company [Serving 2,500+ Podcasters]
Start A Podcast Production Company
Hey! I'm Jacob Bozarth. I'm the co-founder and CEO of Resonate Recordings, a podcast production company. We're in the business of making podcasting easier.
We serve podcasters from all walks of life, including businesses and nonprofits, podcast networks, and many independent creators and hobbyists as well. As we've grown, our clients have asked us to expand into new services. We now offer all-in-one podcast services to help businesses and professional podcasters grow their brands. We now produce, edit, mix and master your podcast for you. We've also built software for you to manage production, remotely record in studio quality, and host your podcast to distribute it on Apple Podcasts, Spotify, Google, etc.
When we started Resonate, I really wanted to solve a simple problem: Many podcasts had poor audio quality and almost no editing.
Now, 5 years after going full-time, Resonate has served over 2,500 podcasters, from hobbyists to Fortune-100 brands. We've also worked on 13 podcasts that have hit #1 in Apple Podcasts. Some of our top clients include Salesforce, Abbvie, Twitter, Honda, EA Sports, Schneider Electric, Colgate-Palmolive, and podcast networks like Tenderfoot TV and AudioChuck.
What's your backstory and how did you get into entrepreneurship?
I started Resonate as a side-hustle with my friend Mark Owens in September of 2014. At the time I was working at a corporate job in healthcare and really wanted a change.
When Mark and I first started Resonate, we were recording demos of songs and editing podcasts. But over time, I started to see a massive opportunity in the podcast space, and we decided to niche down.
I graduated from MTSU with a degree in Audio Engineering. Because of that background as an Audio Engineer, it drove me crazy when I started a podcast where I really enjoyed the content but was distracted by the poor audio quality, background noise, and tons of "likes", "ums", stutters, and coughs.
I started Resonate to make it easier for podcasters to get a professional mix and master of their show. Because I did Resonate for 3 years as a side-hustle I was really able to test my desires to become a business owner and learned a ton.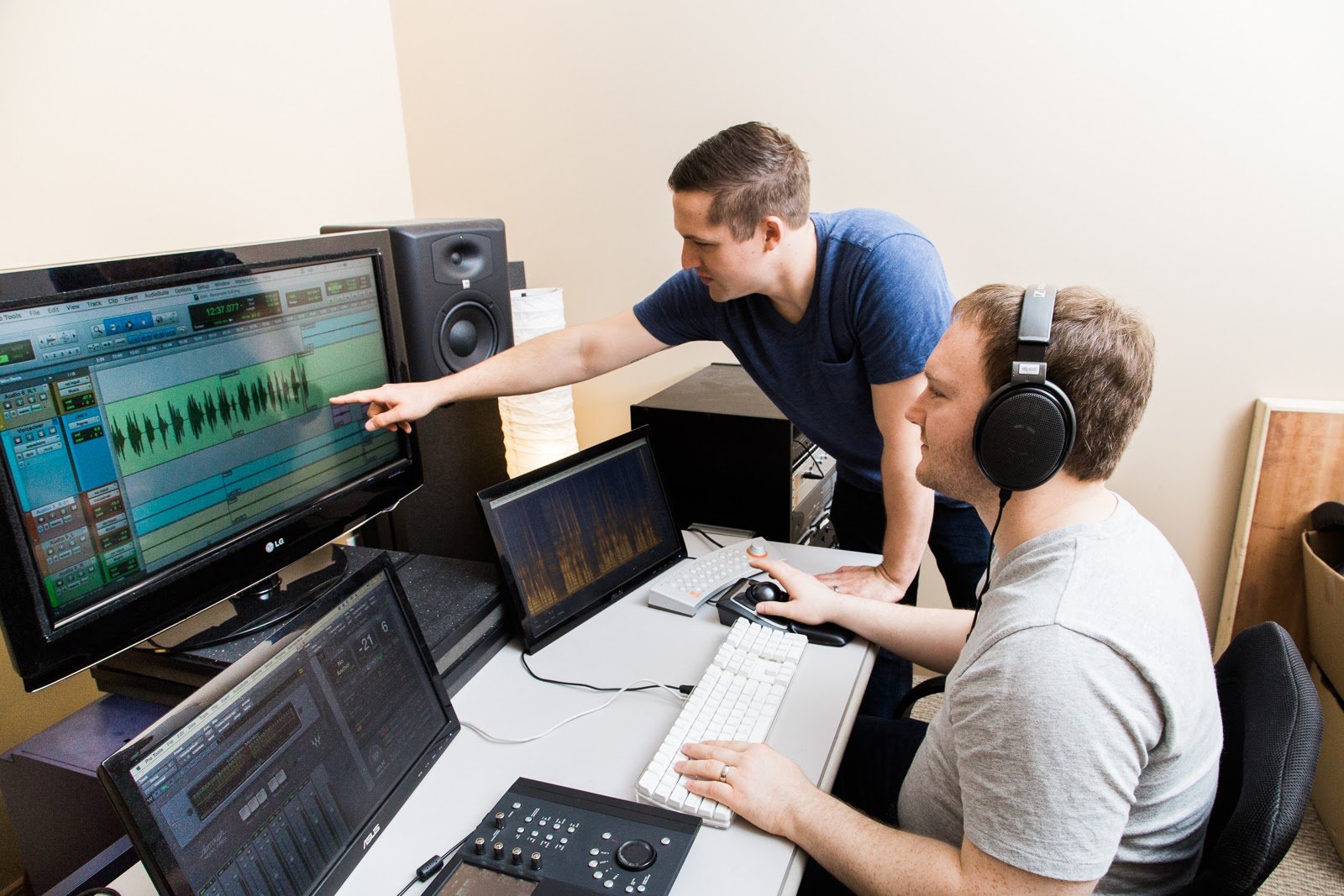 Jacob working with Dayton Cole, Lead Mixing Engineer and Resonate's first employee (2017)
In late 2016 I felt called to go full time with Resonate. Mark was able to help me come up with a budget for me to go full time. With enough runway to support me, my wife, and our 2 kids for 3 months, I went full time with Resonate in January of 2017. It was a risk but I haven't looked back since.
Going full-time increased our business and with that I needed help. It was during this time that Mark told me that he felt called to take his career path in a different direction. He encouraged me to move full steam ahead without him. We ended the partnership on good terms and I went all-in on Resonate hiring our first employee shortly after Mark and I parted ways.
Take us through your entrepreneurial journey. How did you go from day 1 to today?
It's been a long journey, and in a lot of ways, it feels like I'm still just getting started. I started Resonate as a side-hustle in 2014, editing podcasts, doing sermon audio, and recording music demos with my co-founder Mark Owens.
At the time I was working a full-time job as a healthcare auditor. I didn't enjoy that job, to say the least. I was ready for a change.
I remember taking 1 day of PTO from my full-time corporate gig at the time and reaching out to some of the top podcasters on Apple Podcasts. I reached out to Payne Lindsey of Up and Vanished and offered to help take on the editing and mixing for him. We got the name Resonate added to the end of each episode and things literally changed overnight. The next day we started to get way more website traffic and the phone started to ring.
When I started I had no idea what I was doing. I had never even been a manager up until that point. I decided it was time to take a calculated risk, though, and dove in full time. Fast forward to the end of 2017, and we had hired the first 3 full-time employees.
Around that same time, Mark Owens decided he felt called to do other things and decided to step out of the company. Mark Minnery, who was a great business mentor to me for several years, joined as a part-owner and board member in 2017.
In 2018, Resonate started to grow exponentially. I learned a ton in that second year as we hired more people and started to expand our services to things like writing podcast show notes and offering more of the services our clients wanted.
Starting Resonate has taught me so much about what it means to be a business owner and a leader.
Fast forward to 2020, Resonate was still growing rapidly, but then the world suddenly shut down. One of the hardest things we had to go through was laying off 5 of our really incredible employees. It was probably the most difficult decision I've had to make, but we knew we'd have to make several tough decisions to ensure the entire company didn't go under because of the state our world was in.
Over the years, I've been able to learn a ton by listening to our clients and the problems they have, listening to our team, and surrounding myself with wise leaders who are equipped to make the hard decisions it takes to run a business. It's been a long journey, and definitely has had its ups and downs, but I really feel like I'm living out my calling in life.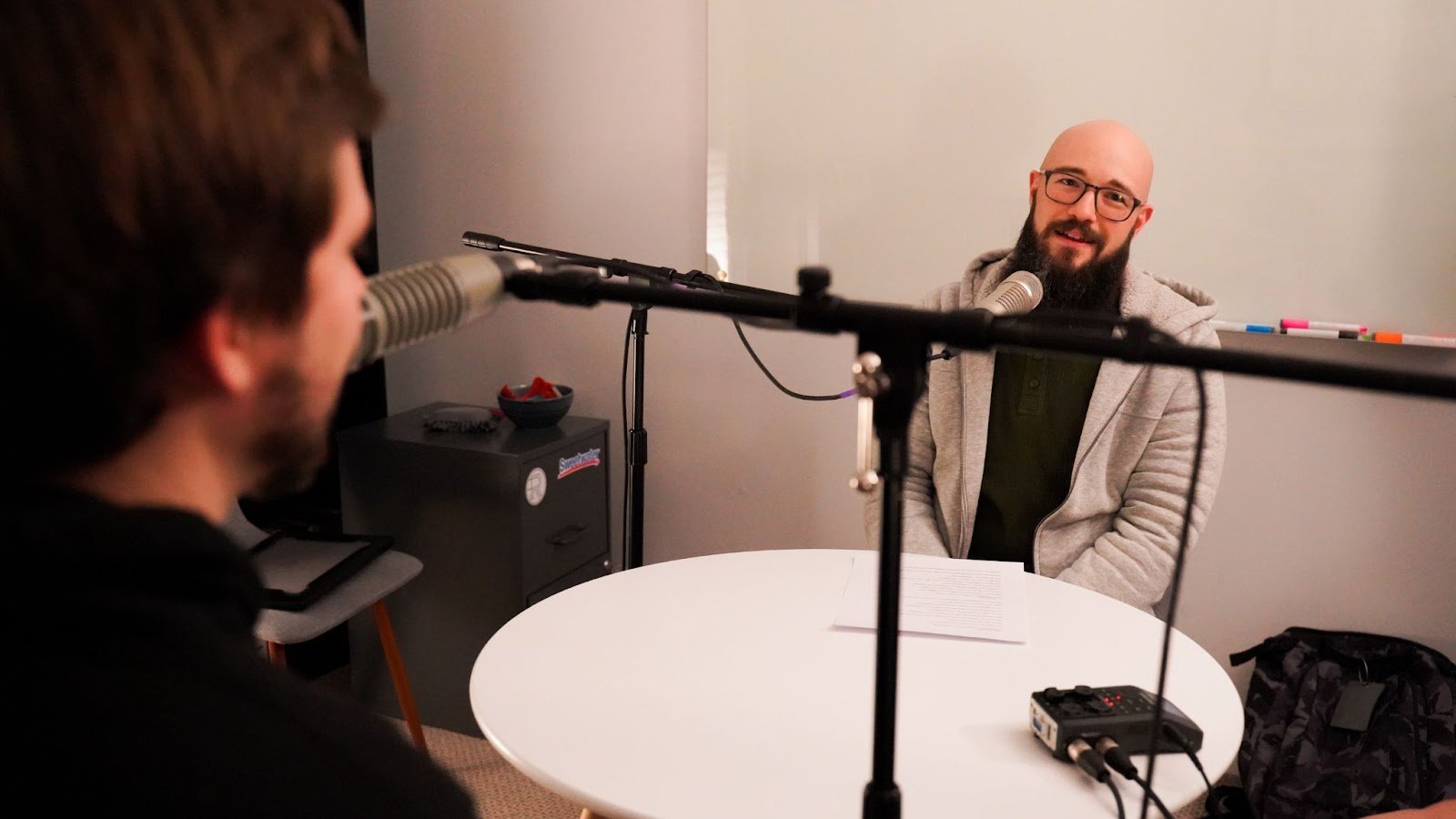 Jon Street, Chief Production Officer, and Producer recording an interview
How are you doing today and what does the future look like?
Resonate is doing very well. While the world has gone through some really hard things in the past 2 years, somehow podcasting has continued to grow. There are more listeners, and more money being spent on podcast advertising than ever before, and that has really helped Resonate.
We've grown a lot over the past 3 years. We started by simply editing and mixing podcasts. But now we're able to offer an all-in-one experience. Resonate has become a one-stop-shop for producing your show, editing and mixing, as well as video production, and much more. You can also use our tools to remotely record interviews, distribute your show on Apple, Spotify, and other directories, and see detailed analytics about your podcast.
On top of that, we've been able to grow a team of very talented Audio Engineers, Podcast Producers, Developers, Marketers, Show Note Writers, and Designers that can serve our clients with high-quality services they desire.
Moving forward, I see a lot of exciting opportunities for Resonate to continue to grow. One trend we've seen over the past few years is that more and more businesses and podcast networks are partnering with Resonate for the turnkey production experience. We want to double down on this and focus our efforts on serving these clients with a white-glove experience for their podcast. Of course, we will still always be serving creators of all experience levels and walks of life.
I'm very excited about what the future has in store.
Pat Kicklighter, Lead Mixing Engineer works on editing a podcast
Through starting the business, have you learned anything particularly helpful or advantageous?
The past seven years have taught me a lot. One of the biggest things is the importance of people and culture. Early in the company, my leadership was often driven by fear. I believe this was a fear of failure and overall did not promote a healthy work culture where our people come first. This has changed for me in part due to Mark Minnery's influence on me and experiencing some challenges and being able to reflect and see that everything is ok. This has all impacted me greatly and has helped me become a calmer and more caring leader.
I really believe that crafting a healthy culture in the workplace, a culture where people come first is critical to the health of your company. I want my employees to feel valued and empowered to do what they are skilled at, to know that it's ok to make mistakes. We learn by making mistakes and moving forward. We often tell our team to think of their work as though they are working with pencils with erasers, not permanent markers. If you make a mistake, let us know and we will help you fix it.
Another thing I've learned is that you have to focus your energy on the right things. Because we're a bootstrapped startup, everyone on the team wears a lot of hats. I need to focus my energy on only a few projects at a time, and let other things move to the backburner. It's more important to do the right thing than to do everything perfectly. It's also important to delegate tasks to others. If you feel like you have to do everything and are unable to pass things off your plate you will eventually burn out or fail as a leader.
Another thing I've learned throughout is the importance of building repeatable systems. Systems are crucial if you want to be consistent, save time, and be able to delegate tasks as your team grows. I think that being able to create repeatable systems that you can pass along to others is a really important skill every entrepreneur should work on.
Jacob recording voiceover at the Resonate studio
What platform/tools do you use for your business?
One of my favorite tools that I use almost every day is Ahrefs. I use it to check our SEO and how our marketing website is performing. Growing organic traffic has been a really important part of our brand. Most new customers find us on Google. Ahrefs is a super powerful tool and worth the cost.
Shipping your work is critical. Ship it, get as much feedback as you can, then do better the next round.
Another powerful tool we use is Intercom. Intercom lets us chat with prospects on our website, set up bots to manage FAQs, and is how we created our Help Center. Intercom is incredibly easy to use but has some amazing features we're using to make our customer experience easier for both us and our clients.
What have been the most influential books, podcasts, or other resources?
Basecamp's books like Remote, It Doesn't Have to be Crazy at Work, and Rework have all been really helpful for me. They've taught me a lot about bootstrapping a company and how to create a healthier work culture. We were contemplating going remote for a long time even before the pandemic. Since then we've decided to go fully remote for the future. Basecamp's book on remote work was integral in helping us make that decision and is a great resource if you're thinking about starting a remote-work company yourself.
The 5 Voices by Jeremie Kubicek - This book provides a framework for understanding the personality and work style of everyone on your team. This was incredibly helpful for me to understand how to work better with everyone on our team. We even did a team-wide workshop where everyone took the 5 voices assessment. We got a lot of positive feedback.
Building a Story Brand by Donald Miller. This book was incredibly helpful in 2017 when we were building out our marketing. It taught us the importance of telling a story that makes our customers the hero of the story.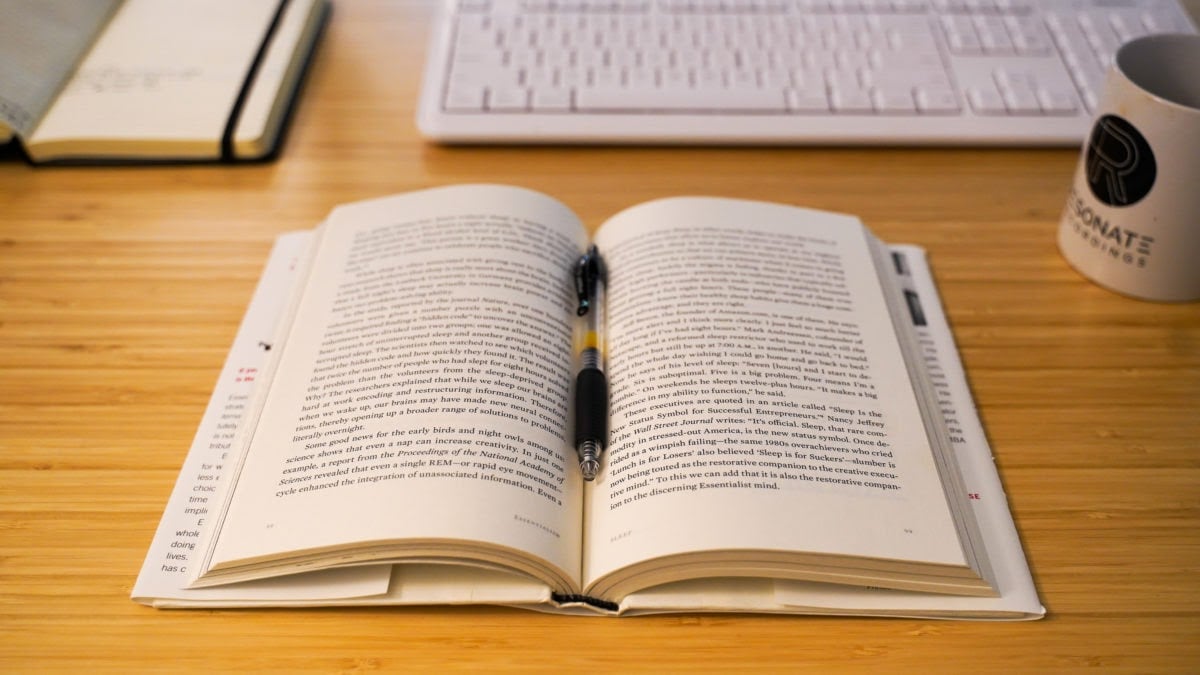 Reading Deep Work by Cal Newport
Advice for other entrepreneurs who want to get started or are just starting out?
Don't wait to get started. Something I often remind myself (and my team) is that 80% out the door is better than 100% in the drawer. Don't wait until your ideas are perfect before you ship them. Shipping your work is critical. Ship it, get as much feedback as you can, then do better the next round. Give yourself grace for making mistakes along the way and don't be afraid to just start something.
Do your homework and raise your prices. It's important to set healthy prices for your company to ensure you have everything you need to do a great job, and you can deliver on your promise to clients as well.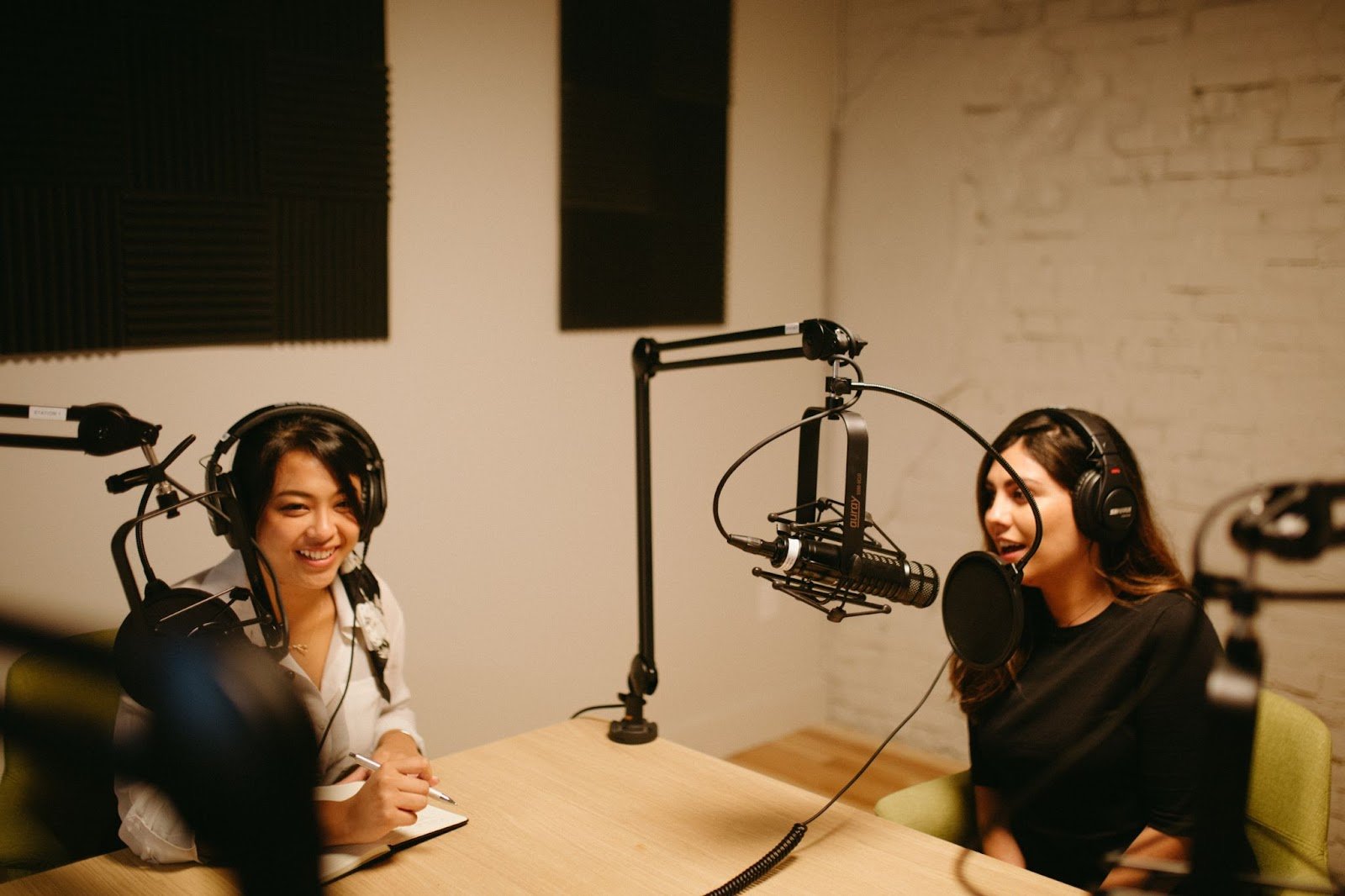 Resonate team members recording a podcast
Are you looking to hire for certain positions right now?
We're not currently hiring for any new positions. But we're always accepting resumes on our Join Our Team page.
Where can we go to learn more?
You can learn more about Resonate at resonaterecordings.com. We have a ton of free resources like blogs, a monthly newsletter, and YouTube tutorial videos.
Follow us and send us a DM on LinkedIn, Instagram, Twitter and Facebook.
-
Jacob Bozarth, Founder of Resonate Recordings
Discover the best strategies of successful business owners
Join our newsletter and receive our handcrafted recap with the best insights shared by founders in Starter Story each week.
Useful, convenient, and free:
PROMOTED
Did you know that brands using Klaviyo average a 95x ROI?
Email, SMS, and more — Klaviyo brings your marketing all together, fueling growth without burning through time and resources.
Deliver more relevant email and text messages — powered by your data. Klaviyo helps you turn one-time buyers into repeat customers with all the power of an enterprise solution and none of the complexity.
Join Brumate, Beardbrand, and the 265,000 other businesses using Klaviyo to grow their online sales.
Starter Story
Wanna see 52 business ideas you can start with less than $1,000?
Join our free weekly newsletter and get them right now.