Thank you Klaviyo for sponsoring Starter Story ❤️
Turn one-time buyers into repeat customers. Try the platform loved by 265,000 brands
On Providing Advice For Better Coffee
Start A Consultancy Business
I am a Coffee consultant and the author of several technical books on coffee brewing and roasting.
In recent years my focus has been on using data generated during coffee roasting to figure out systems to make roasting more consistent and easier to master.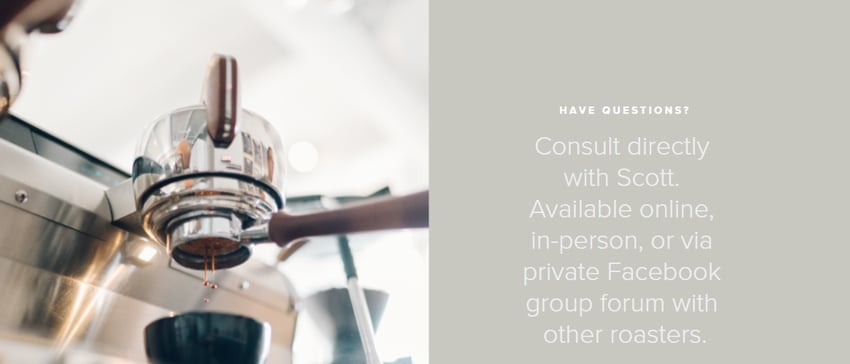 What's your backstory and how did you get into entrepreneurship?
In my 20s I opened my first café and coffee roasting company. As a university student, I loved going to cafes to study and socialize, and I began dreaming of owning my own café. When I was 22, I realized that dream.
Starting with knowledge, experience, and a good network is invaluable and will undoubtedly make your future business safer and more profitable.
In my 30s, I opened two more cafés and began technical books on coffee brewing and roasting. In my 40s, I have become a full-time consultant and author, working with clients around the world both in-person and online.
Take us through your entrepreneurial journey. How did you go from day 1 to today?
At the age of 22, I left university and embarked on a road trip across America to seek investment money and find the perfect location for my future coffee shop. Looking back I realize that journey was full of naïve optimism. However, I think naïve optimism is often a secret to the success of entrepreneurs.
At the age of 29, I sold my first business. To be honest, I was heartbroken after selling it and often look back with regret. One's first business is like his or her baby and I didn't realize at the time how emotionally invested I was in the business and the community that formed around it.
I spent four years traveling the world, enjoying myself after working very hard for several years. Along the way, I spent a couple of years in Australia and New Zealand and was inspired by the quality of the cafe scene down under. They were doing some things much better than anyone was doing in America, and I decided to return to the US to open my second café and coffee roasting company.
Since that time, I have found it and sold another coffee company, I have invested in several coffee startups, and I have written four technical books on coffee brewing and roasting, aimed at professionals and serious coffee geeks.
How are you doing today and what does the future look like?
In recent years, my growing social media presence has allowed me to promote my books and consulting work. I have also had the opportunity to partner in several interesting projects that have taught me a lot about both coffee and entrepreneurship.
My income has grown and become steadier while the number of hours I work each week has become lower and more manageable.
I plan to release a new book or start a new project or partnership each year. Having a variety of projects both diversifies my income stream and makes my income steadier and more reliable.
My long-term goal is simply to have an impact on the quality of coffee roasting and brewing throughout the world.
Through starting the business, have you learned anything particularly helpful or advantageous?
I have learned a lot over the past 25 plus years in the coffee industry. One important lesson has been that the longer I stay in one industry, and the more experience I get, the more valuable I become as a worker, investor, and consultant.
I have also learned the hard way how difficult business partnerships can be. However, even though I had a couple of difficult business partnerships, I did not carry baggage from those experiences to my future experiences. I currently have several wonderful business partners and enjoy collaborating with others.
What platform/tools do you use for your business?
I have used Instagram extensively to promote my work and my ideas about coffee preparation. My website is based on Squarespace, and I use two wonderful fulfillment companies to warehouse and ship my books, Ship My Orders and Heftwerk.
What have been the most influential books, podcasts, or other resources?
I have closely followed and learned a lot from the online work of Matt Perger (Barista Hustle), James Hoffmann, and Jonathan Gagné.
Advice for other entrepreneurs who want to get started or are just starting?
My best advice to budding entrepreneurs is to get as much experience as you can working with knowledgeable people in your field before you start your own business.
There is no hurry. Starting a business before you are fully ready can lead to failure, which is very difficult to recover from. Starting with knowledge, experience, and a good network is invaluable and will undoubtedly make your future business safer and more profitable.
Where can we go to learn more?
Instagram: @whereisscottrao
-
Scott Rao, Founder of Scott Rao
Want to start your own business?
Hey! 👋I'm Pat Walls, the founder of Starter Story.
We interview successful business owners and share the stories behind their business. By sharing these stories, we want to help you get started.
Interested in starting your own business? Join Starter Story Premium to get the greatest companion to starting and growing your business:
Connect + get advice from successful entrepreneurs
Step by step guides on how to start and grow
Exclusive and early access to the best case studies on the web
And much more!
PROMOTED
Did you know that brands using Klaviyo average a 95x ROI?
Email, SMS, and more — Klaviyo brings your marketing all together, fueling growth without burning through time and resources.
Deliver more relevant email and text messages — powered by your data. Klaviyo helps you turn one-time buyers into repeat customers with all the power of an enterprise solution and none of the complexity.
Join Brumate, Beardbrand, and the 265,000 other businesses using Klaviyo to grow their online sales.
Starter Story
Wanna see 52 business ideas you can start with less than $1,000?
Join our free weekly newsletter and get them right now.