Krit Update: How We Grew Revenue 40% And Hired 5 Full-Time Employees
Become A Freelance App Developer
This is a follow up story for Krit. If you're interested in reading how they got started, published almost 3 years ago, check it out here.
---
Hello again! Remind us who you are and what business you started.
Hey Starter Story! I'm Andrew, I'm the co-founder and CEO of Krit, a Product-led Growth agency for Cybersecurity companies.
We specialize in designing and developing custom software (think web and mobile apps) for growing Cybersecurity startups. We come in when a business has a rough MVP and help them create something more polished to accelerate their growth. We're really good at taking extremely technical products and making them beautiful and approachable. Getting those little user experience details that push a product over the top, that's the kind of stuff we geek out over.
In 2020 we grew our business by close to 40% and hired 5 full-time team members, we're right on the edge of the $1 Million annual revenue mark.
Tell us about what you've been up to! Has the business been growing?
Like everyone else, we've had some really low points in 2020. First, there was the pandemic, then tough clients, a great team member leaving, and grappling with my lack of knowledge around DEI and social justice. For the first time, I really questioned whether I was qualified to run a company this year.
Don't get too caught up in arbitrary goals, it's your business you can move as fast or as slow as you find fulfilling and sustainable.
But at the same time, I feel so incredibly lucky. In a year when so many have struggled to make ends meet, we:
We gave our team raises
Hired 5 new employees
Donated a month of profits to social justice efforts
Improved healthcare benefits
Launched 5 new products for clients
Had our second client acquisition
Grew our revenue by almost 40%.
The biggest change this year (at least from a strategic standpoint) has been our positioning.
When I was last interviewed by Starter Story, I said we were "the software agency for non-technical founders."
At the beginning of 2020 that was still our focus, but we were starting to work with more and more cybersecurity startups. We hired Daisy Quaker in January to lead marketing strategy for us and told her we wanted to appeal to non-technical founders AND cybersecurity startups.
Luckily, Daisy is smarter than I am and challenged me to pick. Building a cohesive marketing plan for one audience is hard enough, but doing it for two totally different audiences is a bad strategy.
So we looked at who our best clients were and made the scary decision to start pivoting to cybersecurity.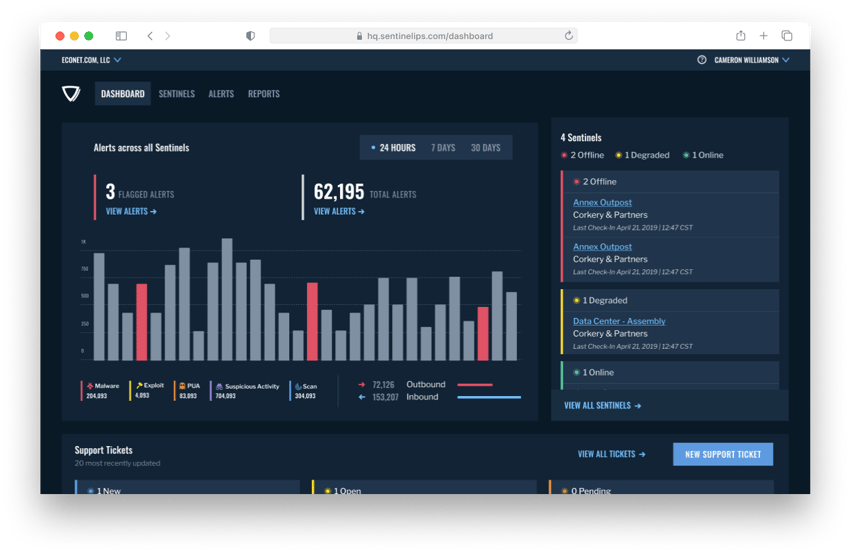 Positioning isn't talked about nearly enough in marketing circles. If you don't understand who your best customers are and how you appeal to them, it doesn't matter what tactics you try you're constantly going to struggle. I highly recommend April Dunford's book Obviously Awesome for product companies and David Baker's work for creative agencies.
What have been your biggest lessons learned in the last year?
In addition to working with Daisy to hone in on our positioning, one of the big shifts for me this year came from reading David Baker's book The Business of Expertise. SaaS is seen as the gold standard for business models amongst most founders these days, and so agency owners are all trying to productize their business to be as close to a SaaS model as possible.
That's what we were chasing too. But David's work helped me realize that wasn't the type of business we really wanted to build. There are 2 ways to build a service business:
1. Productize
Productized businesses are all about volume and efficiency. You want your business to run as close to a SaaS business as possible, but with human beings doing the bulk of the work. Your focus is on efficiency, process, and volume. How can you streamline things as much as possible so you can work with a larger volume of clients?
2. Innovate
The second option is to focus on creativity and innovation. You tackle big, custom engagements for a small number of clients. You want to hire really talented people and free them up to do incredible work that drives your clients forward in a big way.
I realized we are particularly good at efficiency, and we don't like focusing on it. We love to be creative. We love to tackle big, challenging problems and come up with innovative new solutions.
This completely changes the way you build your business though. Instead of growing by adding more clients, you grow by building your expertise. You do higher-value work, for clients with more to gain.
This mindset shift has completely changed the way I look at building Krit.
On a personal note, I learned to never buy a boat, even for free. I spent much of last year restoring my grandfather's 1981 Hunter 22 sailboat. This year I sold it and including 12 months of slip fees lost about $5400. But I did build a ton of confidence in the process.
I also made strides in therapy, learning a lot about myself, and how to process thoughts and emotions. I highly recommend all entrepreneurs find a therapist.
What's in the plans for the upcoming year, and the next 5 years?
In the next year the two biggest things I want to focus on our margins and client experience. Both of which come back to having solid processes in place (choosing the innovation route doesn't mean you get to ignore the process).
We were stretched super thin this year. We were at the upper limit of the number of clients we can handle. And while we made a lot of investments into the business I'm proud of, our literal margins were slimmer than ever before (under 10%).
That's not a healthy way to run a business.
Profits aren't just about greed, they're about balance. Reinvesting in the business is good, but you also need to operate within your means. If you aren't profitable you can't reward yourself or your team for your hard work, or build up savings for a rainy day.
Likewise, if you're operating at maximum capacity all the time, you can't build the expertise or take the risks you need to take to grow. And when you slip up clients will feel it much faster.
Next year is all about finding that balance. We want to start taking some money out of the business. We want to have the time and resources to invest in training our team and to experiment with pricing.
We also want to make sure our client experience is top-notch. We only succeed in the long term if our clients succeed.
Having the right margins and client experience now should set us up to hit our 5 years goals. In 5 years we aim to be known as the premier design firm in the cybersecurity industry, with a team of ~30 people doing great work and a long list of happy clients.
Have you read any good books in the last year?
I've already named a few, Obviously Awesome and the Business of Expertise have both been huge. David Baker also has a podcast called 2Bobs with Blair Enns that is packed with useful knowledge for agency owners.
I loved the newsletters from Nat Eliason and Peter Kang, both run successful agencies (Nat just handed over the reins to his COO) and write about what they learn often.
I also read some great fiction this year. I absolutely loved the Mistborn series and I'm a sucker for a good Rom-Com, my favorite this year was Beach Read.
Advice for other entrepreneurs who might be struggling to grow their business?
Focus on positioning as early as possible.
Don't delay your personal rewards for too long. It will suck your energy and excitement for running the business, and you need lots of both.
Get really good at customer interviews and do them often.
Don't get too caught up in arbitrary goals, it's your business you can move as fast or as slow as you find fulfilling and sustainable.
Protect and appreciate your team.
Go to therapy.
Are you looking to hire for certain positions right now?
We're likely going to hire for 5-6 positions next year, so readers should definitely reach out if they're interested in working for a growing agency.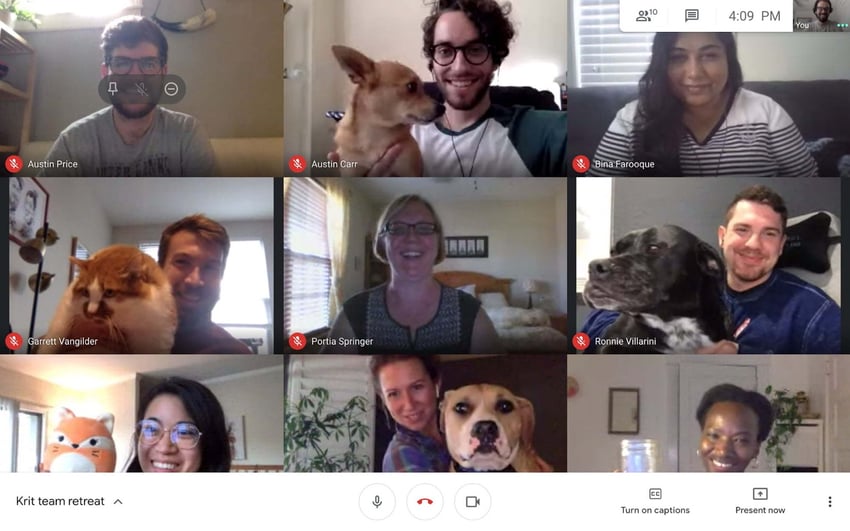 We're currently looking for a Senior Fullstack Developer.
This year we'll likely hire for the following roles:
Product Designer
Frontend Developer
Technical Account Manager
Project Manager
Director of Operations
Growth/Twitter content
Where can we go to learn more?
I write periodically on my website and the Krit blog. I run a newsletter called Startup Watching that I sent to about 5,000 founders. I've been taking a break from it for a while, but I'm planning to bring it back in 2021 and make some changes. I also tweet about growing an agency, designing software, and mental health.
If you have any questions or comments, drop a comment below!
-
Andrew Askins, Founder of Krit
Krit has provided an update on their business!
6 months ago, we followed up with Krit to see how they've been doing since we published this article.
Want to start your own business?
Hey! 👋I'm Pat Walls, the founder of Starter Story.
We interview successful business owners and share the stories behind their business. By sharing these stories, we want to help you get started.
Interested in starting your own business? Join Starter Story Premium to get the greatest companion to starting and growing your business:
Connect + get advice from successful entrepreneurs
Step by step guides on how to start and grow
Exclusive and early access to the best case studies on the web
And much more!