Our Grandfathers Recipe Inspired Us To Start A $1M/Year Pierogi Business
Start A Healthy Snack Food Business
Hello! Who are you and what business did you start?
Hello! My name is Casey White and I am the co-owner of Jaju Pierogi, alongside my sister Vanessa White. We started our pierogi manufacturing journey back in 2016 with farmers' markets and pop-up events. We both worked in the corporate world but knew pierogi may be something to explore.
For those who don't know what they are, pierogi are Polish dumplings that are pasta dough casings filled with traditional stuffings like potato & cheese, and sauerkraut & mushroom, and at Jaju Pierogi. We fill our pierogi with both traditional fillings and more unique modernized fillings like jalapeno cheddar, spinach & feta, and sweet potato & caramelized onion.
From 2016 to 2018, we mostly focused on pop-up events, festivals, and farmers' markets to get our brand out in the local market. In 2017, we received our wholesale license so we could start distributing to grocery stores.
As of August 2022, we are in multiple grocery chains and over 650 specialty independent stores. Our monthly revenue hovers between $80,000-$100,000.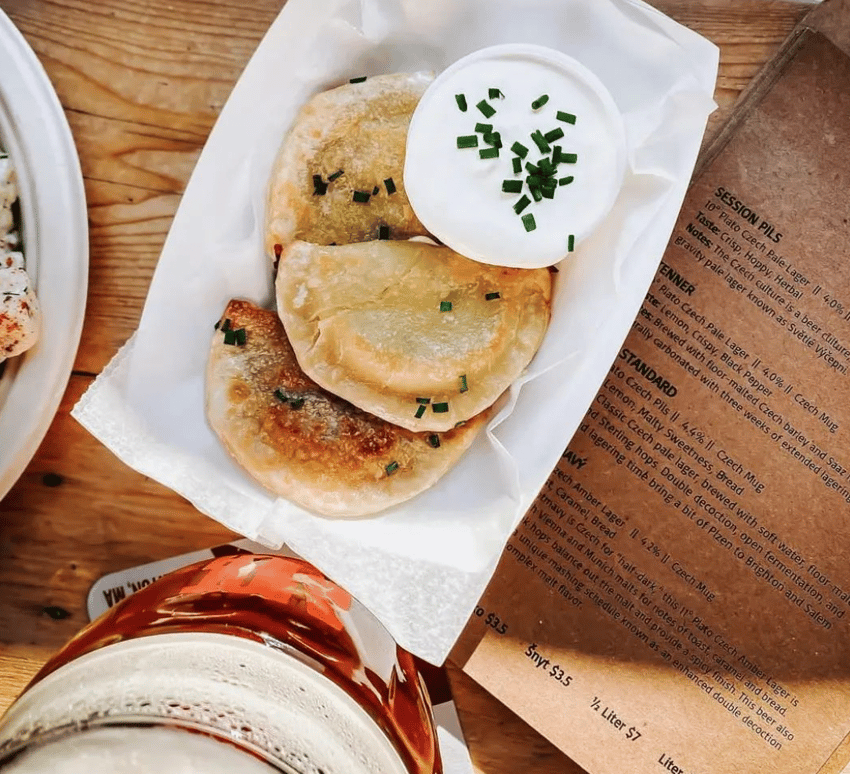 What's your backstory and how did you come up with the idea?
We couldn't keep up with the demand, so we knew we had something to explore and develop further.
There weren't many pierogi in the Boston area and we always thought someone would realize this and start a pierogi business of their own. We grew up in Western, Massachusetts where there is a large Polish population.
Our grandfather (Jaju, dziadziu) opened up a Polish deli alongside his siblings in the 1950s, so we grew up on his food and always had his Polish delicacies from the store (pierogi, golumpki, etc) in our freezer at home.
When Vanessa and I went to college, our mom would hand deliver pierogi from the store, and our friends would always ask "Where did you get those?" and they'd say things like "I can't find any good pierogi around here."
We knew pierogi were missing from the community, we also knew that people who know pierogi LOVE pierogi and that dumplings are a thing. So, we went into the corporate world after college and waited for someone to open a pierogi shop or to distribute handcrafted pierogi of their own, but no one did.
In 2016, Jaju Pierogi was born. We went back to our grandfather's deli, took his recipe books from the back room, and started tinkering with his recipes on Vanessa's kitchen table. We kept our day jobs and started making pierogi at a local deli on Sundays, to test the product and concept.
We received our permit to sell directly to consumers. Neither one of us had any culinary experience and we wanted to keep it simple, all while making pierogi available to the masses. We would make pierogi on Sundays and we planned to attend farmers' markets in neighboring towns on Saturdays.
We attended our first farmers market in January 2016 and sold out in an hour. Two weeks later, we sold out in an hour again. While the market was supposed to be four hours long, we spent most of those hours at the first few markets taking down names so we could hand deliver pierogi to their doors. We couldn't keep up with the demand, so we knew we had something to explore and develop further.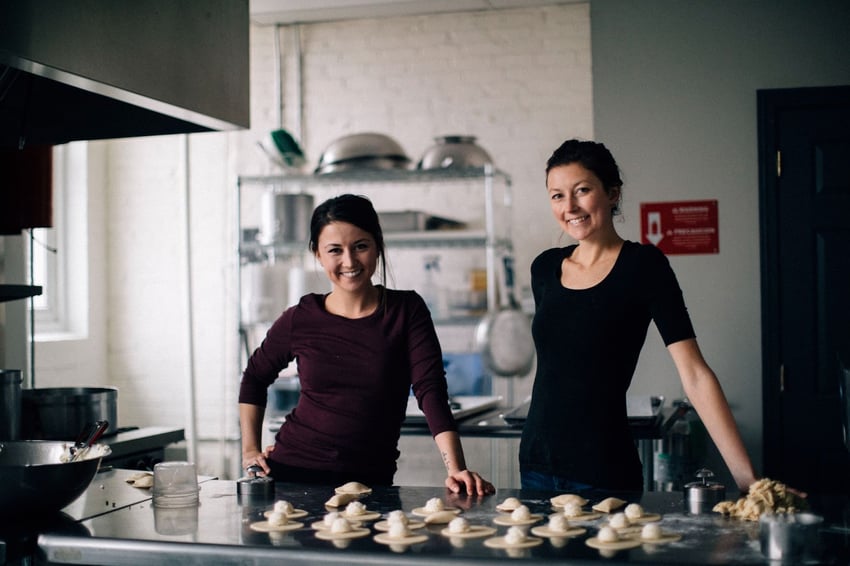 Take us through the process of designing, prototyping, and manufacturing your first product.
We knew what a good pierogi tasted like, our grandfather was our favorite pierogi ever, so we wanted to create a dumpling that was just as good as his. Having his recipes in hand was extremely helpful. His recipes were for 500 pierogi, so initially, we had to calculate down to make a couple of dozen at a time, but once we did that, we were able to build off of his recipes.
The first thing we invested in was a dough sheeter because we realized quickly that hand-rolling dough was not scalable, extremely inconsistent, and time-consuming. It was also very important to find a place that was willing to rent out their space. Commissaries can be expensive and limiting the time and space in which you can produce from the start can make growing and scaling financially difficult.
Finding a deli that wasn't using their kitchen on a certain day of the week, that wanted to make a little extra money, and that was willing to let us use it for an unlimited amount of time that day, allowed us to produce with limited overhead, and to continue to bootstrap the business without outside money.
When it came to designing our packaging, we were lucky enough to have a designer friend who was willing to hear what we were going for with the packaging design, logo, and brand. He was extremely talented and excited to work with a start-up that trusted his judgment and design skills to bring the brand to life.
He suggested wrap-around labels to create a grassroots type feel with the packaging. So, we started with wrap-around labels that we hand cut and manually wrapped around hinge containers. The process was very manual, but at a time when labor costs were Vanessa and me (which was nothing, ha!). People enjoyed the grassroots look of our initial packaging because the packaging and product looked handmade by the two sisters behind the brand which was not only true but also the exact messaging we were trying to get across.
We realized early on that our followers enjoyed us, the two sisters, the co-founders. People were invested in our success and followed us wherever we went. Our story resonated with people.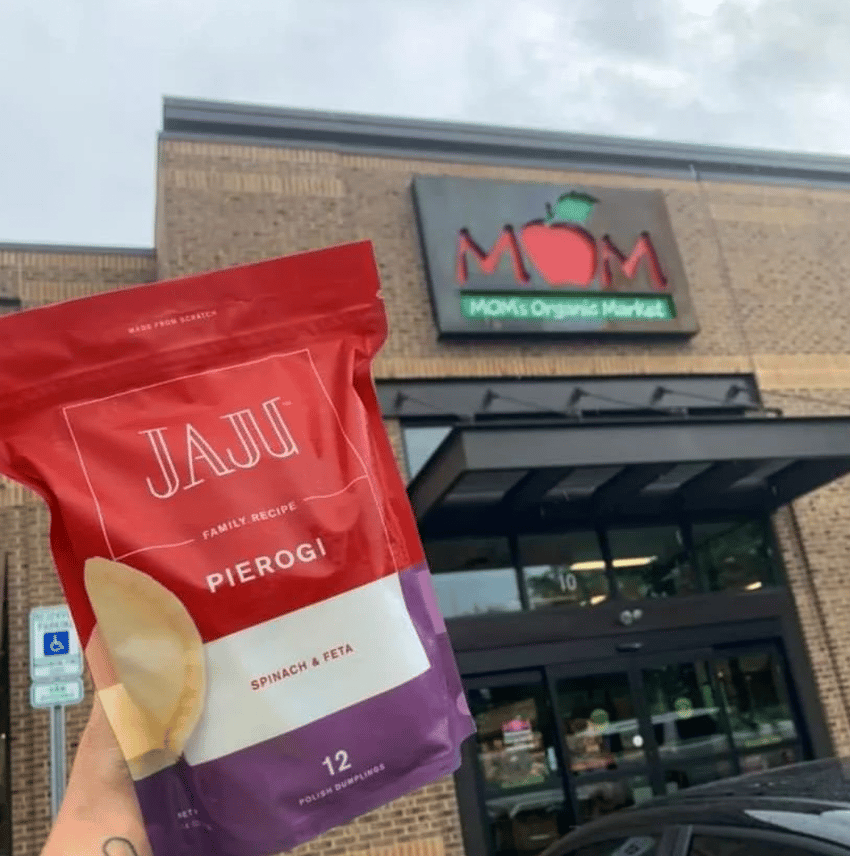 In the first year and a half, we spent around $30,000 to get the business up and running. This money was spent on things like city and town permit fees, the dough sheeter, kitchen supplies, and packaging materials. Most of the $30,000 came from funds generated at our early farmer's markets and events. We were always reinvesting into the business operation.
Describe the process of launching the business.
Launching a business is not for the faint of heart. We realized pretty quickly that we needed to be everywhere all the time to create brand recognition in our local market. We created a website that included pictures of us, our story, and our products, and were quick to create Facebook and Instagram accounts to post where we were "popping up" that weekend.
We came on the scene when pop-ups at breweries were new and cool, and when farmers' markets weren't everywhere, so when we posted on social media that we would be at a certain brewery or market, people showed up.
We learned pretty quickly that not everyone knows what a pierogi is but most people know what dumplings are. Who doesn't like wrapped dough with potatoes and cheese inside?
Picture of a sauteed pierogi from a brewery event
We also realized early on that our followers enjoyed us, the two sisters, the co-founders. People were invested in our success and followed us wherever we went. Our story resonated with people.
Some customers are Polish and had their grandparents with whom they made pierogi, others dated a Polish person who introduced them to the cuisine, or visited a country where dumplings were an essential part of the culture. It's a very nostalgic food for people, and it has been nice being able to relate to people on a personal level from the beginning.
As for financing, we always have and continue to reinvest a lot of the money we make right back into the business. In 2018, we began borrowing money from the bank because we needed to invest in additional equipment to scale and needed additional working capital to hire employees, and cover ingredients and daily operational expenses.
It was time to figure out the direction we wanted to go in with the business. We were tapping out at 8000 pierogi by hand a week and wanted to get our wholesale license so we could begin distributing our product to stores.
Borrowing money was our only option if we wanted to continue to scale, so it made sense to take on this debt in the second year of the business.
Since launch, what has worked to attract and retain customers?
Consistently being everywhere all the time has helped us attract and retain customers.
It's also extremely important to make a good product. I eat our pierogi every single day, and it's been seven years since we started the business.
People like good food and they also like eating things that have simple, straightforward ingredients. Our pierogi don't have a laundry list of questionable ingredients, and consumers appreciate that. They also want a product that tastes homemade and one that is quick and easy to prepare.
A strategy that has also worked for us, is attending events and markets that are geographically close to stores that carry our product. Customers sample our pierogi at the event, enjoy our pierogi, and then seek our product out at their local grocery store to bring home to their freezer.
This has been a great way to get people to the stores that carry our product and to get recognition from grocery stores that hear about our brand and products from their customers or other local businesses.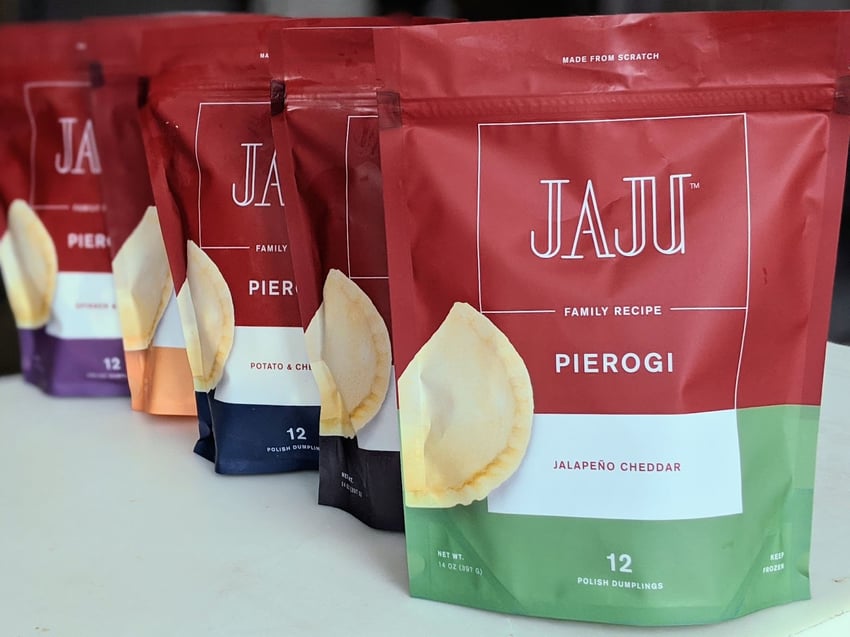 Our current packaging can be found on shelves throughout the Northeast
How are you doing today and what does the future look like?
We have been profitable since year 2 of the business, and I think it's because we've been pretty methodical with our growth. Now as we plan to scale operations and become focused on more volume through wholesale distribution, our margins will become thinner and our revenue higher, which will be an interesting balancing act.
That said, it's where we want to go with the business. We have generated buzz in New England and have placed ourselves at every event imaginable across the region, but now the focus will be outside of New England, and on larger accounts to capture the national audience.
We've grown 20% YoY and plan on growing 30-40% YoY as we transition to co-packing. We've manufactured our pierogi for the last six years, and have come to realize that to really scale, outsourcing the manufacturing component of the business so we can focus on sales and marketing is most likely the answer.
We need to continue to manage our ad spend and be strategic about when and where we spend it, and we also need to be on top of our cost of goods sold as raw material costs continue to rise and our labor costs.
We are very aware that to remain competitive in the marketplace and grocery, we must figure out a way to increase output, so our cost per unit goes down. If our cost per unit can go down, we can suggest a retail price that is a bit more reasonable and competitive, which will also increase our margins.
Our long-term plan is to become a nationally distributed company. Our short-term plan is to continue to tackle grocery distribution by region. The focus for 2023 is the Mid-Atlantic and the eastern seaboard. We work with UNFI and KeHE which are two national distributors and our goal is to continue to open distribution centers with the two companies to expand our reach.
Through starting the business, have you learned anything particularly helpful or advantageous?
I've learned that you really can't control anything besides what you do personally as a business owner to push the business forward. There are a lot of external factors and daily hiccups and fire drills that you can not predict, so you have to have the "I am doing the best that I can" mentality and work through it. You have to enjoy problem-solving and be willing to put on your thinking cap at all times of the day.
It seems scary, taking the leap, but living a very monotonous, predictable life is also pretty scary. There isn't that much to lose and so much to gain from the experience.
I have also learned that you should always ask questions to anyone and everyone in your network and in the business that has been doing it as long, or longer than you have. Talking to like-minded individuals about the business and the challenges they have faced can help you avoid some of those challenges when they come up in your own life.
Listen to what people have to say about their own experiences. Pick their brains and take notes but don't ignore your gut feeling either. If the direction you want to take is different from what others are suggesting, listen to your gut. It's probably telling you the right thing.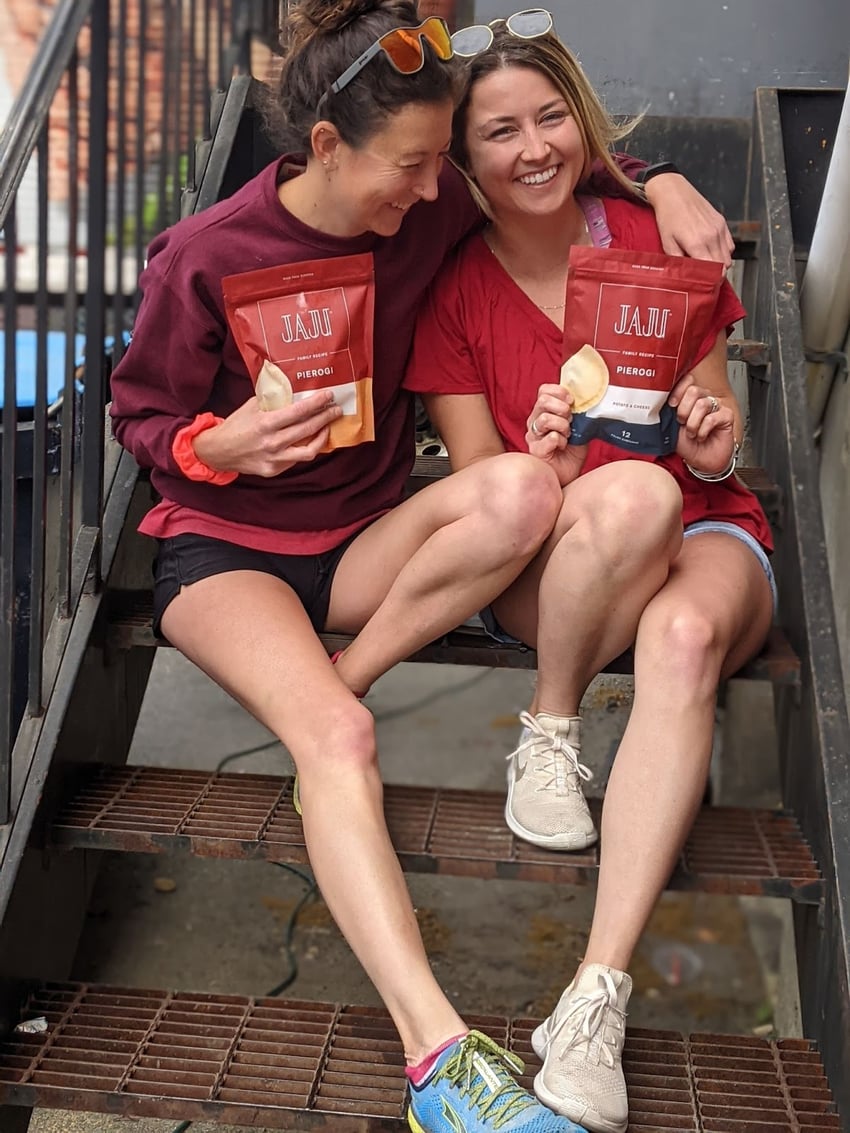 Casey and Vanessa, the co-owners & founders
What platform/tools do you use for your business?
We use Shopify for all our direct-to-consumer shipping business. As for social media, we are on Facebook, Instagram, and Tik Tok and post to all platforms regularly. We try to keep up with all social media trends.
We share A LOT of content about our staff and daily operations, as well as content from our events and festivals. From May through October, you can find us posting and at an event of some kind almost every weekend!
For payroll and accounting, we use Quickbooks online which has been very useful for the business.
When it comes to paying bills and receiving payments, we LOVE bill.com. It's a wonderful tool that saves us time and minimizes the amount of paper we use. Epayments and electronic billing eliminate the need for filing cabinets and physical checks that just suck up more of your precious time.
The more administrative tasks you can automate as an entrepreneur the better, your time is limited and time is money.
What have been the most influential books, podcasts, or other resources?
How I Built this By Guy Raz is one of my favorite entrepreneurial podcasts. Hearing about the stories of many different entrepreneurs across many different industries and the companies they have built from the ground up has always been so inspiring.
I recently read You are a badass by Jen Sincero and that ignited my soul. If self-doubt is even a thought, this book has got you covered. How to not doubt yourself or your greatness, and to remind yourself that you are a badass every single day, in everything you do. It's an easy read that energizes the mind.
Advice for other entrepreneurs who want to get started or are just starting out?
Just start. Stop talking and thinking, start doing. You are probably thinking about starting your own business because you are bored and unfulfilled in your current role or other aspects of your life. You won't regret a new challenge, and starting something that you can call your own.
I can promise you that you probably won't feel bored and you will probably feel extremely fulfilled tackling the idea and making the idea a reality. It seems scary, to take the leap, but living a very monotonous, predictable life is also pretty scary. There isn't that much to lose and so much to gain from the experience.
Where can we go to learn more?
If you have any questions or comments, drop a comment below!
-
Casey and Vanessa White, Founder of Jaju Pierogi
Want to start your own business?
Hey! 👋I'm Pat Walls, the founder of Starter Story.
We interview successful business owners and share the stories behind their business. By sharing these stories, we want to help you get started.
Interested in starting your own business? Join Starter Story Premium to get the greatest companion to starting and growing your business:
Connect + get advice from successful entrepreneurs
Step by step guides on how to start and grow
Exclusive and early access to the best case studies on the web
And much more!
Together With Food Foundry
Do you want $75k in funding to grow your startup?
Food Foundry is an accelerator program built by Relish Works & Gordon Food Service for early-stage startups disrupting the foodservice industry. Applications are open now through October 23rd! Apply today if you're looking for:
$75K in funding
Specialized early-stage curriculum and resources
Dedicated mentorship from investors and foodservice experts
Highly supportive community to help grow your business
Food Foundry's 2023 cohort will kick off in January in Chicago and end with a final invite-only showcase for companies to pitch to investors and the broader Food Foundry community.
Apply NOW [It only takes 10 minutes!]