Thank you Klaviyo for sponsoring Starter Story ❤️
Turn one-time buyers into repeat customers. Try the platform loved by 265,000 brands
I Created The Simplest Video Editor Ever & Earn $2K/Month
Start An Online Video Editing Business
Hello! Who are you and what business did you start?
Hi, I'm Ching, co-founder of Piktostory. The idea of Piktostory is simple. You can record a video using a webcam or upload one from your computer, Google Drive, or Zoom. Piktostory will auto-transcribe the video for you so that you can have it ready with captions. You can then edit the video like you would edit any text document. Just select a part that you wish to "highlight" or clip using the transcript. This makes editing simpler and faster than using traditional timeline-based video editing.
Ai Ching Goh
These are "different" times. I have not been invited to as many virtual talks as I had in 2020. These conversations can then be repurposed for social media. Piktostory appeals primarily to course creators, coaches, and consultants who already have existing video content but do not want to spend time going through 3-5 tools to repurpose their content and have a branded presence online.
In a recent promotion, we ran together with a Facebook community group, we managed to get over 350 early adopters - an encouraging early sign that we are onto something!
What's your backstory and how did you come up with the idea?
My team and I had this idea to build another tool for storytelling and found the video to be a compelling medium for that. We have another product - Piktochart, which focuses on empowering professionals to communicate impactful visual stories at work. During the pandemic, our organization has gone through several changes.
We were a hybrid organization (remote and in-office), and we went fully remote.
We also experimented with a four-day workweek and ended up sticking with it in 2021.
I bring up the above changes in our culture to say that a lot is going on in the world today. As a company that has focused on communication for the past ten years, we found the video to be an effective medium to communicate emotion, show "rawness" and authenticity. Things that matter to your audience, especially, at a time like this.
I'll admit that I'm not the most confident person in front of the camera, but it has been necessary. Every conversation we're having now for work and at work is made through the video.
Know how much of a risk you can take and know your run!
We have been speaking with people who create tonnes of videos and know what their pain points are. We realized that the video space is very fragmented. People use a mix of various tools. Each for a different outcome they are trying to achieve. The users want to have one tool to consolidate their video editing needs, e.g., captioning, branded look-and-feel, easy trimming, integrations within their workflow, etc., without having to cycle through 3-5 tools!
Piktostory is still quite a considerable risk for us to take as a company. It can distract our focus from the central business, but we are still betting on the future of video and repurposing together.
Take us through the process of designing, prototyping, and manufacturing your first product.
Our initial idea wasn't actually to go with the video. Instead, we thought about the no-code movement and building a beautiful, immersive experience to bring stories to life on web pages. We ended up not going in that direction because we wanted these stories to be very authentic and carry a robust emotive factor. Videos are a more "portable" format, and they are also a lot more relatable.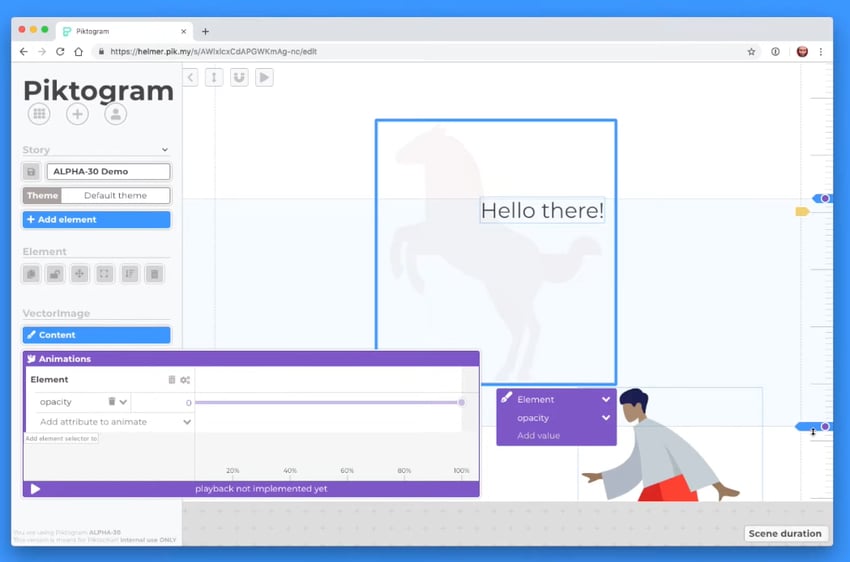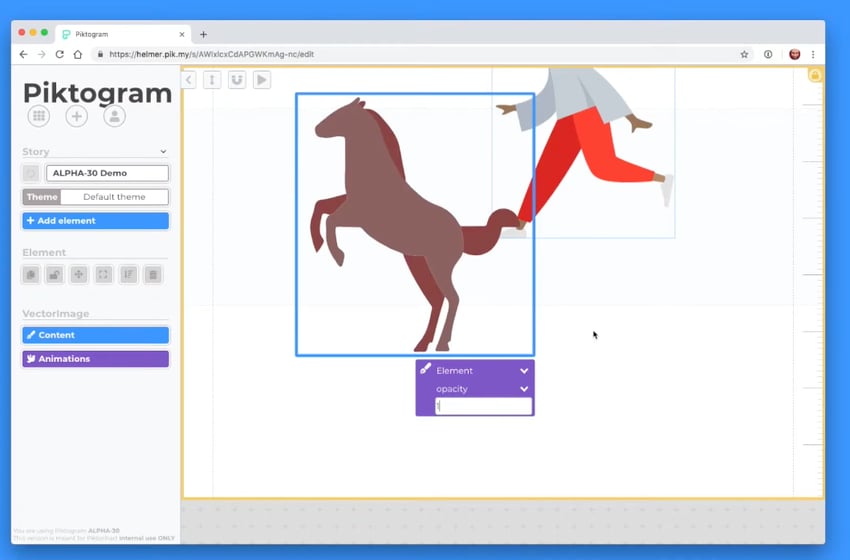 The first prototype called Piktogram
Once we started looking into videos, we thought that we wanted to serve the "repurposing" market and help people easily create video content with their existing setup—no need for expensive DSLRs or lighting equipment. Everyone would be able to make great video content from their home.
It was challenging to get started because the team did not have prior experience in the video before this. We encountered many bugs and had to re-examine the architecture (still doing this) and kept learning along the way.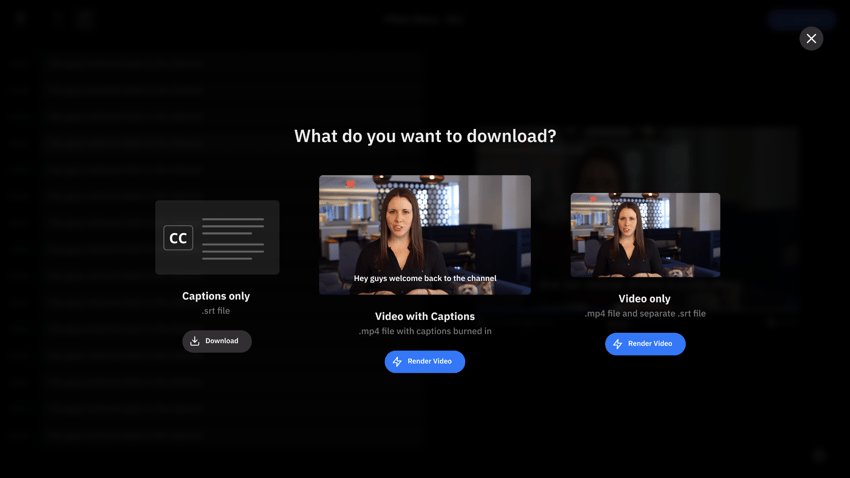 The initial look of Piktostory editor
We would like to help people not just with their video editing needs ultimately, but going back to their storyboarding and storytelling elements. However, there is still a long way to go since we have to first deliver on the entire video editing experience.
Describe the process of launching the business.
We launched on ProductHunt as we felt that this audience was relevant to us. These would be the content creators/marketers/entrepreneurs who may already be using multiple video editors and are looking for something to streamline their process.
We got some advice from ProductHunt's coaches, who told us to treat it as if it was a "birthday party." You would send out invites beforehand, plan the logistics ahead of time, tell the guests what to expect, etc. He was right. It was a lot like planning a birthday party.
There was a spike of sign-ups on the launch day but afterward, the buzz died out.
Not so great. But we already expected this.
We got some feedback about affiliate marketing and that it could work for us since our users were ready to promote us as a tool. We then also launched with another Facebook community which got us paid traction and validation that the product is also for the paid market.
We were entirely self-financed, with the profits from Piktochart going into running Piktostory. Close to 90% of our primary expenses were coming from payroll, 10% in marketing, and servers and databases.
Since launch, what has worked to attract and retain customers?
When we launched Piktostory Beta at the end of last year, Product Hunt was a huge part of our success (we were ranked #3 as a product of the day). It helped us drive over 1000 sign-ups in the first weeks following the PH launch. Then we kept the momentum going by creating buzz around it on social media, in our newsletter, and via email campaigns.
For Piktostory 1.0 release in April this year, we decided to go even wider with our promotional campaigns. Apart from Product Hunt (which I mentioned wasn't as successful as with Piktostory Beta, although we got to #2 for the product of the day), we launched on various other SaaS platforms like BetaList, IndieHackers, or Alternativeto. We were also very active on SaaS community forums such as Mind The Product and related Linkedin and Facebook Groups.
What worked particularly well for us in acquiring new paying customers was launching on a closed Facebook group consisting of SaaS enthusiasts who are always looking for tools to improve their work. We also got a lot of valuable feedback from them, which helped us pull the product in the right direction.
A lot of Piktostory customers came from word-of-mouth too.
Be scrappy, keep learning, don't be stubborn. Have common sense and be humble with what the market is showing you!
Keeping the users informed about your roadmap and listening to what the market is telling you are two crucial things to keep your newly acquired customers happy. Especially that the product is still evolving, and we need to be very receptive to feedback. That way, the users will be patient with you while you build features that they need.
How are you doing today and what does the future look like?
We are not yet profitable. We are using the transcription engine, and it is quite expensive, at $0.02 per minute of the uploaded video. That's not yet taking into account storage, rendering, database, servers. Not to mention headcount!
Traffic is now coming in primarily from partnerships or ProductHunt launches, although we expect to diversify this to include affiliates, social media channels, etc.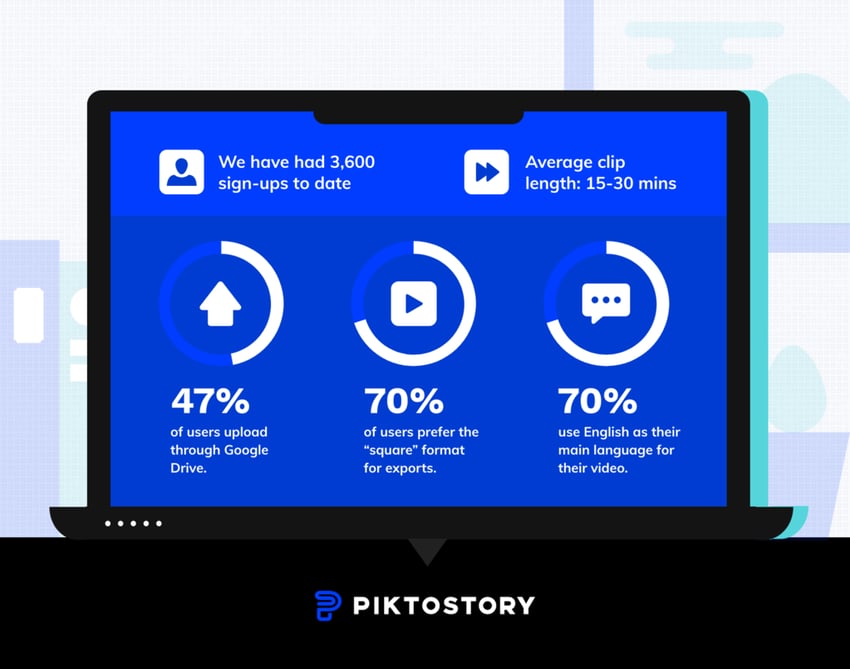 Pitkostory metrics
As a product, we're supporting over 60+ languages, and it will be interesting to see more people from different countries adopt and use the product.
We have a public roadmap as well as feature requests which you can take a look at.
We are focusing on ensuring that the product does more than fast editing and basic font and color customizations, but also adding on templates and effects. Naturally, as a business storytelling tool, we'll be looking at adding storytelling features on top of making sure that the core experience of making video content easily is delivered.
Through starting the business, have you learned anything particularly helpful or advantageous?
The biggest lesson learned from the entire episode was that we took too long to go from idea to launch. While it's understandable since we did not have experience in the video field, it took too long for us to validate the concept and find product-market-fit. If we had to start from scratch again, we would have likely spent more time validating a Figma prototype and not begun development until we are sure about the direction.
One big learning for us was to choose a channel that we could partner with for paid traction. We thought about going with Appsumo initially, but the referral cut that they took was a little too high, and we felt that we could not afford that due to our lower gross margins. We ended up partnering with a smaller closed community that has also given us a lot of feedback.
Before 2020, this space had just a few players. During the pandemic, we saw at least ten competitors spring out to life. We probably were not the only ones who saw the rise in video and somehow tried to capitalize on it. That's good in terms of market validation and bad in terms of having this constant pressure to outperform the other players who may or may not pay the same attention to details as we do.
What platform/tools do you use for your business?
We are using:
What have been the most influential books, podcasts, or other resources?
There are many things that Gary V said that resonated with us and spurred us on the path of content repurposing, as well as storytelling.
Advice for other entrepreneurs who want to get started or are just starting?
I would calculate costs before beginning. Always know how much you're willing e.g., to forego a salary in the early stage of a venture. Know how much of a risk you can take and your run rate. Know from early on whether this requires venture funding or not. Never start something on a part-time basis unless it's meant to be a side business.
Don't build it yet until you've gotten some positive validation. In general, I wouldn't put any investment into something until I've spoken to about 20-30 people who said they would buy the product/service if it were available today. And until I've figured out a differentiator or a market need that is underserved.
Always build a team that would go a long way together with you and the vision. This refers to co-founders, but also the core/key people that you need, e.g. the first developer, product designer, marketer, etc. Get the right people, and do not hire too early either.
Be scrappy, keep learning, don't be stubborn. Have common sense and be humble with what the market is showing you!
Are you looking to hire for certain positions right now?
We're looking for a social media intern and Dev Ops engineer for Piktostory.
Piktochart is also looking for a Lead Product Designer and a Lead/Principal FE engineer.
Where can we go to learn more?
If you have any questions or comments, drop a comment below!
-
Ching Goh, Founder of Piktostory
Want to start your own business?
Hey! 👋I'm Pat Walls, the founder of Starter Story.
We interview successful business owners and share the stories behind their business. By sharing these stories, we want to help you get started.
Interested in starting your own business? Join Starter Story Premium to get the greatest companion to starting and growing your business:
Connect + get advice from successful entrepreneurs
Step by step guides on how to start and grow
Exclusive and early access to the best case studies on the web
And much more!
PROMOTED
Did you know that brands using Klaviyo average a 95x ROI?
Email, SMS, and more — Klaviyo brings your marketing all together, fueling growth without burning through time and resources.
Deliver more relevant email and text messages — powered by your data. Klaviyo helps you turn one-time buyers into repeat customers with all the power of an enterprise solution and none of the complexity.
Join Brumate, Beardbrand, and the 265,000 other businesses using Klaviyo to grow their online sales.
Starter Story
Wanna see 52 business ideas you can start with less than $1,000?
Join our free weekly newsletter and get them right now.