This article is sponsored by AppSumo ❤️
Start selling your digital product on the marketplace trusted by 1M+ entrepreneurs
I Built A Tool That Helps Blur Sensitive Information [With Just $5]
I Built A Tool That Helps Blur Sensitive Information [With Just $5]
Hello! Who are you and what business did you start?
My name is Sanskar Tiwari, I am 21 years old, a software developer from India and Founder of blurweb.app. A browser extension that helps hide sensitive information while recording video live or screen sharing in just a few clicks, saving hours of post-video-editing time.
Blurweb App is made for Youtubers, Teachers, Content Creators in general who don't want to spend a long time hiding sensitive info in their videos.
Right now I am working on blurweb.app and others full time. Been in business for close to 1 year making 1000$+ per month with blurweb app, by serving 2000+ customers and growing.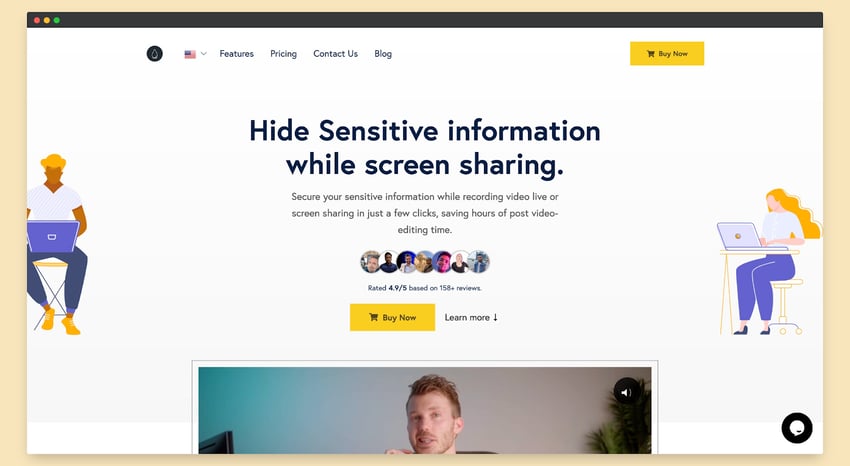 What's your backstory and how did you come up with the idea?
I always wanted to do business, so after 12th grade, I decided to not attend college and instead, learn coding to build my projects.
I worked on MarksPlus for 6 months plus learning everything online. All I knew was c++ which I learned in 11th and java which I was learning from an offline institute.
I was all about making, I added every other feature I found I could. Thinking all I need to do is add the right features as time goes by. I did work on SEO but it made 0$ this was 3 years ago I was 17.
From then on I lost $500 of my father's money in a business so after that within 3 days I found a job in a call center worked there 4 months then joined another company where I sold life insurance on the phone calls did that for 8 months, I was 18 years old that time
After that, I wanted to launch a digital marketing business. I had previously tried to connect with a person who was running a marketing agency. He referred me to a customer I went to for the meeting. That client wanted cheap work with a lot of expectations. But in the meeting, one thing came up, he said it's not like you are coding, it is very simple to run FB ads, it hit me. I was like what am I doing? I have a skill that is very valuable even though I have not made it in 1 year. I should give it more time so come back home and build the skill.
If anyone reading this wants to build a business on their coding and content creating are the two most valuable skills you can have.
Last year I started teaching code on YouTube. I don't like editing videos especially since mine was like 30 min - hours long. I used to reveal a lot of info like emails, API keys, and more. One day I had to make a screen share video for a google sheet full of emails. I spent hours learning how to add blur buying video editing tools. I thought to myself: there had to be a better solution than this. I knew this was the right idea to work on since I faced the problem myself and honestly I have been thinking of making something. I read 12 startups in 12 months and wanted to do the same. I did not talk with many people to validate the idea. I thought if I need it other content creators will be facing the same problem so they might need it too.
I have previously launched a chrome extension but this was different I started working on blurweb app on holy Diwali 2020, it was a festival and 3 days off from my full-time job. The day started with me wanting to build and launch on the same day but I worked till around 3 pm then chill. But the good thing is I felt very close so what was required was to package it and create a landing page to distribute. And later as I found time I completed it and launched.
Take us through the process of designing, prototyping, and manufacturing your first product.
I launched the MVP within 2-3 weeks, the launch was stretched one place at a time. It just had the main feature of clicking to blur and remove all, I didn't want to spend a lot of time and I wanted to launch right away and let people decide if I should work on it further.
Launch soon: Don't spend months working on the MVP. Launch with the smallest version for which people can pay.
I have seen posts from indie hackers like levels about the best way to validate the idea is to get people to pay for it, even if it's just a payment button that does not work because if you share the idea and ask what you think, the instant answer will be that it is good. When asked to pay people only pay if they truly care about the problem they are solving which is very important. You could build the best solution but if the problem is not good enough you will struggle to find customers. Not because you do not have a great product but because people do not care enough about the problem. The benefit of building MVP quickly is you are forced to focus on features that matter and get very clear of what your app is about, more specifically the problem it is solving rather than the solution. Because if you focus on solving the problem you can build a great solution. What usually happens is people focus on solutions, adding this feature and that and forgetting what their true USP (Unique selling proposition) is.
I did not spend much time making my landing page responsive on launch but people start focusing too much on conversion when they don't even have enough traffic to convert. So rather than spending time to make the website responsive, I felt it is better to get the word out and get customers.
To get my first sales I started sharing about it in Facebook groups. I tried multiple Facebook Group Teachers, SaaS, Digital Marketing, and more. Initially, the focus was not sales. I wanted to get awareness and see if people face the same problem. As I said I did not validate the idea before building, hence I needed to validate it. To validate I did giveaway licenses in multiple Facebook groups. It cost $12/year at that time and I was ready to share a lifetime license just if someone commented on how this can help.
Here is one of the posts I made;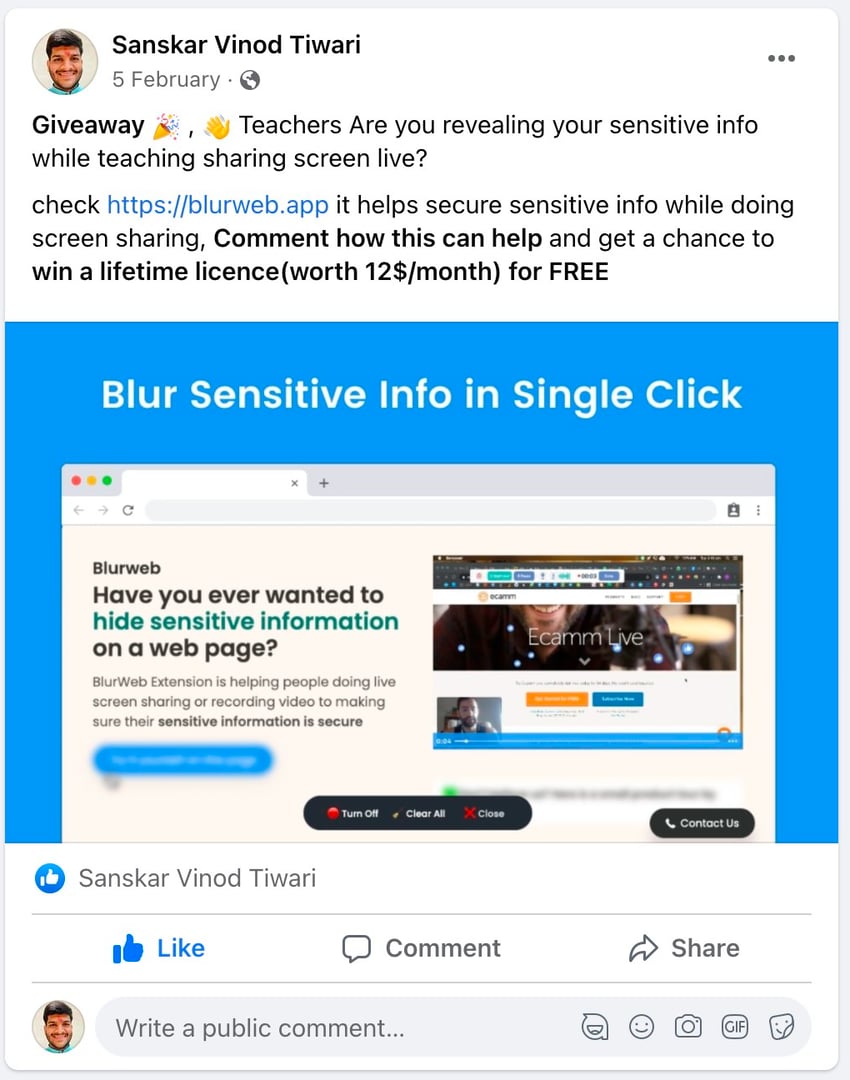 .
As you can see zero comments this was the case with the majority of the posts and this will happen what I will say though is to be consistent and you will see results. I started with a free .web.app domain by firebase which worked fine once I had sales. I got the domain. I already had the chrome web store account, but if we count that, it cost me $5. So the total cost to start was $5 if the value of my work hours is 0.
Describe the process of launching the business.
I had no experience with launching a business, so there was no key launch, I just posted about it in multiple Facebook groups. Now, these Facebook groups include teachers, course creator groups where I posted the ones which worked the best were the lifetime deal groups. People showed great responses appreciating the product sharing how much time it can save it later did video interviews where people mentioned it was worth just using once so keeping the pricing low helped too.
I created a website with pure HTML, CSS, and js and deployed it with firebase hosting. One thing I liked about the website was the call to action was to try using the extension on the website which I later removed but now I have added it again you can check it at blurweb.app.
Here is how it looked like then: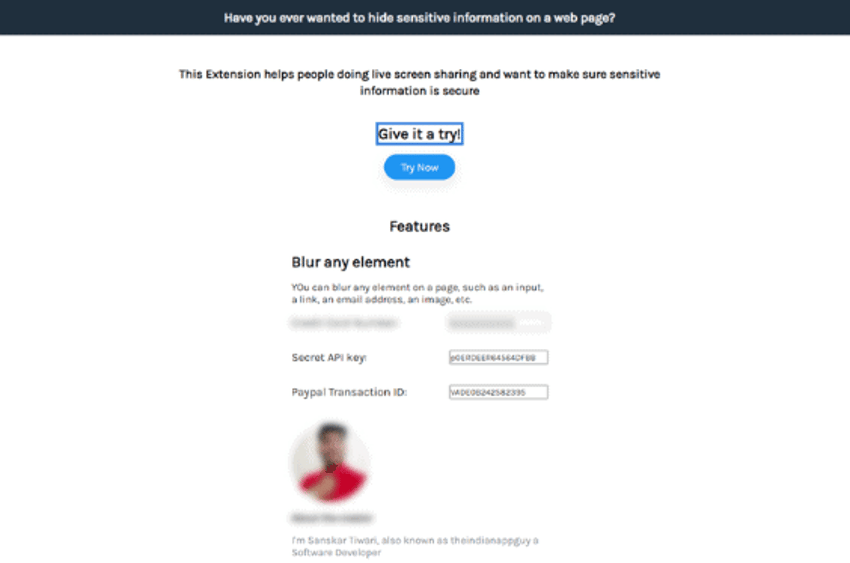 The biggest lesson is to launch soon. I think many times we wait too long to build the best version we think will be. It's just better to let the audience decide and ask what they want.
Since launch, what has worked to attract and retain customers?
To attract customers, I launched blurweb app on Appsumo marketplace, it has helped a lot with sales since they have huge traffic.
I was initially totally unaware of lifetime deals but with my previous product, I got to know about the Facebook groups dedicated to sharing about lifetime deals so I started collaborating with group admins to host giveaways to generate awareness and later sales.
From this group only I got to know about Appsumo and while I did delay some time I launched since there was no downside to it, just fill one form and share the license keys.
In the long term, though I feel you should focus on building organic traffic more than Appsumo or another marketplace, Appsumo has one big upside which is its downside. This is that Appsumo is a marketplace so you have to compete with pricing and indie hackers are going through deals to make a copy, Blurweb app had 3+ similar product launches on Appsumo.
So I am focusing on publishing more value content on blurweb app youtube channel and blurweb app blog.
I have not run any ads or promotions. I have added blurweb app affiliate program. I launched blurweb.app on Product Hunt.
The reason for the hacker news post was motivation from Vignesh, who recommended it. I did since posting is just title and link while it did get much sales (its dev community) I was able to get good awareness and then people shared about it too.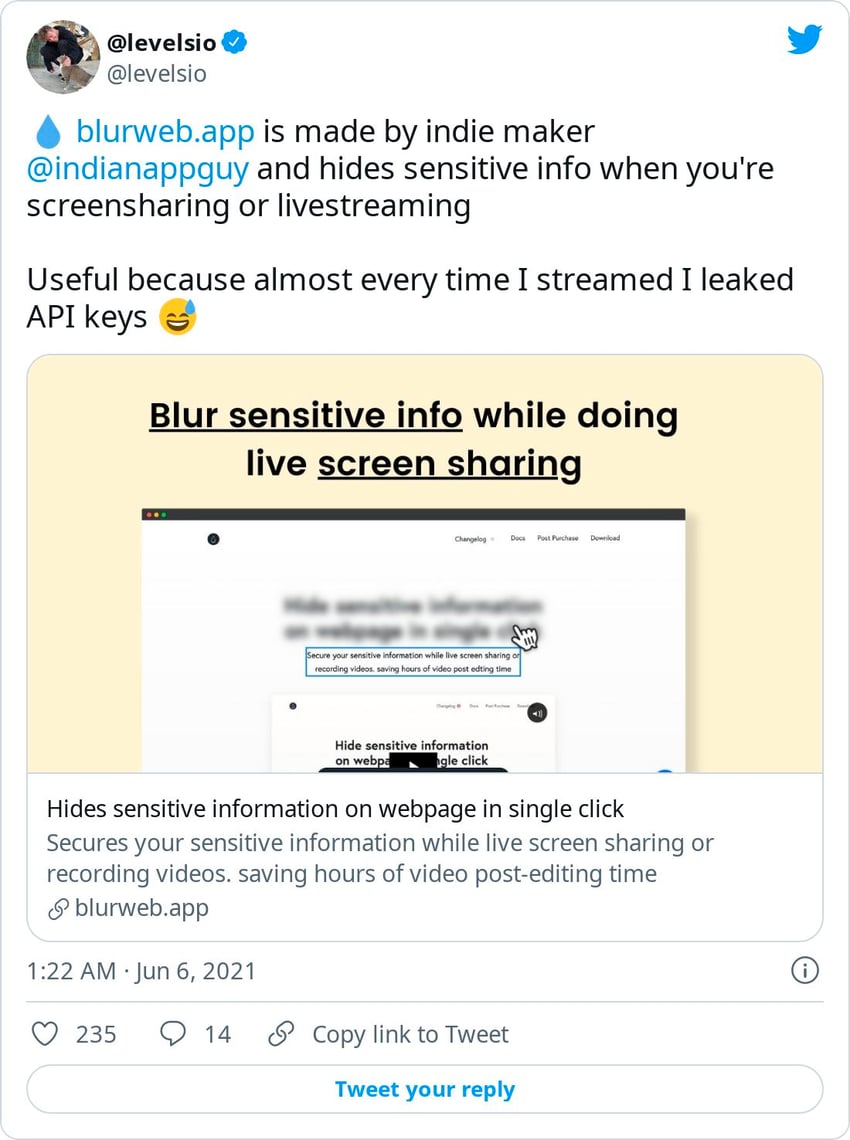 For SEO strategy I am planning to write more blogs and create more videos. I am using ahrefs free account to keep track of my backlinks and research keywords to write content about.
Regularly, I get on zoom calls with customers to better understand their needs and fulfill them. They are the ones who shaped what blurweb app is today.
It's the execution that matters. You need a good idea but without execution, you can't win.
To decide which feature to implement which don't I think if it is not going to take long just add it and share with the customers let them tell you if they like it or not I have added features because of a single request and people have loved them, I also had a time where I added something but realized it's not that useful so removed it and then people asked for it and I added it back, I have tried to keep blurweb app light as possible not adding everything but only what is required so it's clear for customers what they are buying and for me too.
How are you doing today and what does the future look like?
Blurweb App is profitable and I am working to launch the safari extension soon. I am working full time so there are a lot of updates coming. I do want to focus more on marketing in the near future.
I start my day listing important priorities for my apps and work on them. I have other product launches planned and want to diversify my income.
I want to make sure to be active. I feel the best way to stay ahead is to improve and market your product and focus on building social proof.
Right now we have crossed 2000+ customers while my plan for 2020 was 10,000+ I feel it's better to shoot for the stars and reach the moon so it's good but I would like to scale it further so will be making 10,000 next year.
To do so I will be launching blurweb app on different extension marketplace be it Edge Addons, Opera, Apple App Store.
Also i launched blurscreen.app on 1 Jan which is a complementary product i plan on creating ecosystem of screen share products to increase avg customer value
Through starting the business, have you learned anything particularly helpful or advantageous?
Here are the things I learned
Launch soon: Don't spend months working on the MVP. Launch with the smallest version for which people can pay
Get all types of feedback about project ideas - It's very common for people to say your idea is good. The real way to validate is to provide what you can offer and make a great offer to get paid.
It is not all about ideas: I used to value ideas a lot but soon I realized ideas are in abundance if you know where to look for their execution which matters, you need a good idea but without execution, you can't win
Be the hardest working person in the room: When customers request features for blurweb app I add them as soon as possible and I work as much as I can.
Prioritise: There are 100s of things we all want to find the top few and focus on just that for ideas, bug fixes, and more.
Learn more I tweet regularly @indianappguy.
What platform/tools do you use for your business?
I launched with domain and hosting from Firebase by Google used paypal smart buttons I am using Mailerlite to send emails to customers
Now I am using Gumroad checkout to automatically provide access once payment is done.
What have been the most influential books, podcasts, or other resources?
Dotcom secrets by Russel bronson helped with understanding business and Atomic Habits by James Clear helped make life better.
I don't listen to podcasts regularly, as for other resources I hope I could share but I feel you should learn the power of YouTube and Google.
Find what you need, All I know is because of these platforms and I can truly say I do not believe I would be where I am if it would have not been for platforms.
Advice for other entrepreneurs who want to get started or are just starting out?
Just do some research, find people's problems, and solve them with your skills. Focus on business; they are open to spending way more than consumers.
I spent months building my first app with no launch don't be me, build stuff fast, and launch to see if people value it enough to pay.
Where can we go to learn more?
I like connecting with fellow makers you can dm on twitter, linkedin, instagram check my personal blogs , learn code by me on youtube.
Or send me an email at [email protected]
If you have any questions or comments, drop a comment below!
-
Sanskar Tiwari, Founder of Blurweb App
Want to start your own business?
Hey! 👋I'm Pat Walls, the founder of Starter Story.
We interview successful business owners and share the stories behind their business. By sharing these stories, we want to help you get started.
Interested in starting your own business? Join Starter Story Premium to get the greatest companion to starting and growing your business:
Connect + get advice from successful entrepreneurs
Step by step guides on how to start and grow
Exclusive and early access to the best case studies on the web
And much more!