I Bootstrapped A $600K/Year Video Production Company [10M Downloads]
•
Published: November 18th, 2021
Become A Sound Effects Producer
Hello! Who are you and what business did you start?
Hey everyone!
I'm Chris Kelly, founder of ProductionCrate.
I work with a group of artists and developers who are making tools for other artists. If you need royalty-free music, video effects, graphics, or sound assets, we've got you covered.
ProductionCrate got its reputation from our VFX library, FootageCrate. That's our flagship product, and where most of our million-plus users first found us. Filmmakers don't just need one asset, though. As soon as our users realize we have all kinds of production resources, they're downloading everything they need to make their project awesome.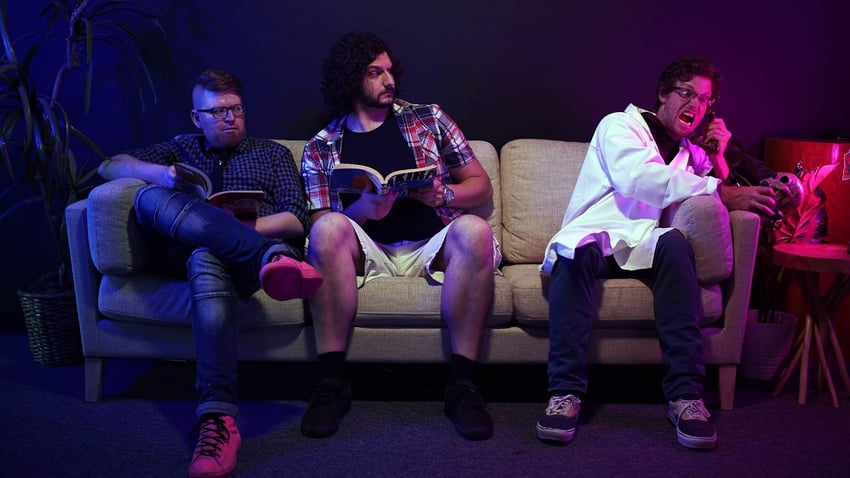 What's your backstory and how did you come up with the idea?
I was never good at school. My attention wanders, my interests don't suit any curriculum.
I spent a lot of time in college making videos with my roommates. This was 2007, only 2 years after Youtube was first launched. We would post videos of poorly choreographed fight scenes, super-hero short films, VFX tests, and spoof videos. The videos got a pretty good response. I was hooked.
Your initial idea is going to need a lot of revisions before it gets anywhere, being stubborn will stunt it.
Two years later, I was building my special effects for our films, usually instead of going to class. I would build them on my home computer but needed a way to access them at school. I decided to make a website. There, I could store my assets and download them from anywhere.
The Youtube community was pretty supportive of the work I'd been doing, so I shared the link with them. That way, anyone could download HD effects for free! I thought it would be a dozen or so visitors, but I guess I underestimated them.
After a few weeks, I added some sidebar ads. They generated a little pocket change, and that's when I first realized this could be a business.
Take us through the process of designing, prototyping, and manufacturing your first product.
I found my business partner, Patrick, after running the show for 3 years by myself. Patrick brought on the programming and SEO skills. He introduced me to A/B testing, which we promptly put to use with our payment options. We still test various payment tiers regularly, trying to find that magic formula for a total fee, length of subscription, and promotional pricing.
We tried an entirely ad-driven revenue model for a bit, but quickly realized it didn't scale as quickly as we needed it to. We switched to selling per-item, to per-bundle, but found success when we tried our subscription model.
$39/year was the price we landed on. $39/year to access our entire library, with no download limitations. This was probably 2014. Now, seven years later, our pricing model is just $99/year with 50 daily downloads. Any subscribers who signed up and retained a previous 'discounted' price can keep it. We're focused on big numbers when it comes to users, not when it comes to our pricing.
Our content varies widely. This is based on several factors. We make what our users ask for, and they ask for the content we'd never think of. Our content is also based on missing results, another way our community speaks to us, though indirectly, and helps us build a robust library of assets.
We have full-time artists who manage the content. They either create it themselves or work with specialists to build out the assets. Our developing team creates toolsets for our community, often stemming from one of our creatives needing a tool that does not yet exist.
We have a few of those tools under-wraps at the moment, but one that we've teased already is a face-relighting tool. This is something that the Augmented Reality community has already figured out and nearly perfected, we were able to piggyback some of their ideas and port them over to post-production!
When we first started, it was just me making content. I wasn't that good if we're being honest, but I got better. For the first few years, Patrick and I put every dollar we made back into the company. We hired designers for the website and saw a noticeable increase in revenue. We started hiring specialists, often friends of mine, for various asset creation. The company has grown immensely since the early days, but the roots are the same.
Describe the process of launching the business.
Our first website cost me around $15/year for hosting and some extremely basic web-building tools. I don't think I ever had to go out of pocket, we just put every dollar back in for the first few years.
Here is ProductionCrate in 2014. We've come a long way since then!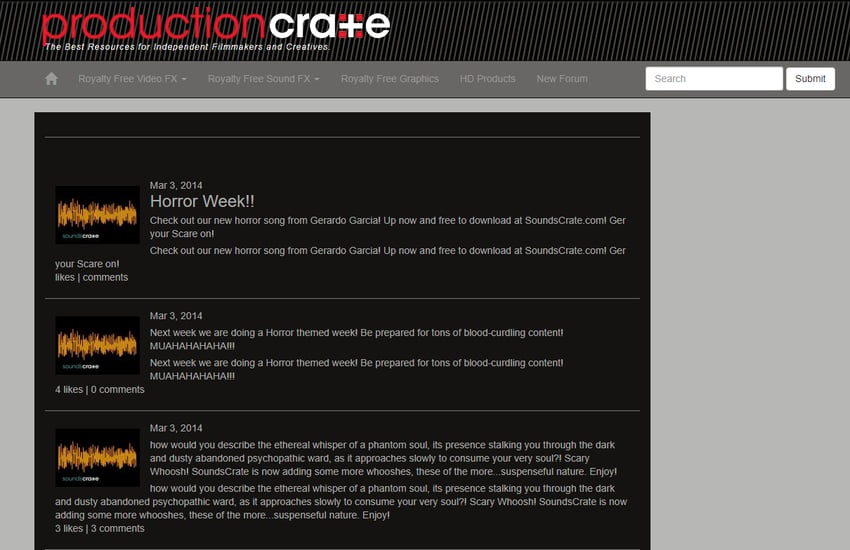 Everything is 100% bootstrapped. We don't have any investors to answer to, which is probably a good thing, at least at the moment. We're focused on R&D, there are too many ideas and projects not to pursue, even if they ultimately don't work. The ones that do can change the entire industry.
Since launch, what has worked to attract and retain customers?
We have a pretty massive email list, something like 200k people, who like to be updated on our latest content. Every subscriber to our Email list came through ProductionCrate.com, one of the most common questions we hear is "How do I know when you've added more content for me to download?" The email list is a great way, but we're also extremely active on social media, primarily Youtube.
The most common mistake I see first-time entrepreneurs making is being unwilling to pivot.
We use Youtube to teach our user-base how to use our content. It's a great free platform, we get a lot of new users directly through there. Since we maintain a free membership option, a lot of them are grateful to be able to not just learn, but use our content. That being said, we're users of the site ourselves! We don't want to just teach, we want to make exciting content ourselves. We had this idea a few years ago to take movie scenes with the Hulk and give him the powers of Thor. Honestly, we didn't expect much, but with over 800K views we're happy to see we're the same demographic as our user base.
How are you doing today and what does the future look like?
Since we're entirely bootstrapped, with no investments or loans, we're profitable. Our customer retention rate is around 80% year over year. Both owners maintain a healthy salary, as well as our employees.
YoY growth is around 120%.
We have over 10 million downloads and one million users on the platform. We don't sell outside of our store, every sale goes through us directly.
We have a studio here in San Diego, California where we handle film shoots, meetings and manage our workstations, but we're primarily a virtual studio. Our crew is spread far and wide around the globe!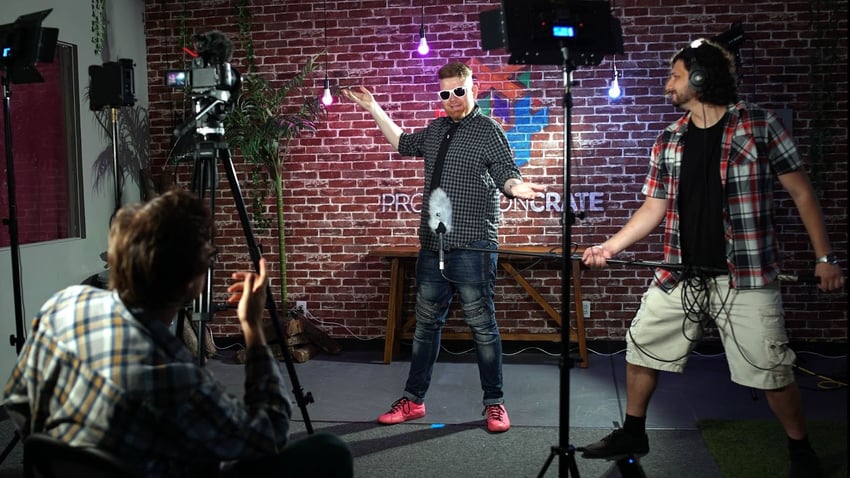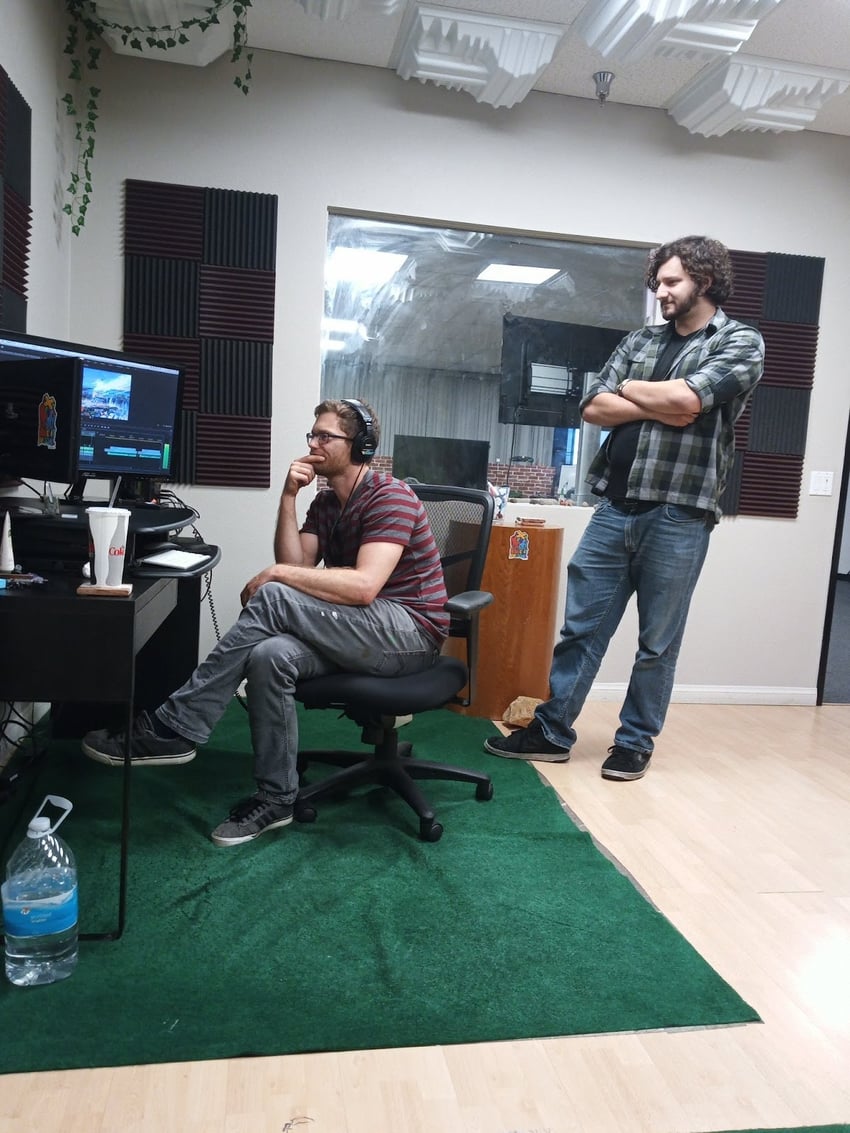 Through starting the business, have you learned anything particularly helpful or advantageous?
I love having a business partner. Patrick is in this as much as I am, we're both oriented on the same trajectory and have an equal stake.
I see a lot of startups with two founders whose roles are extremely similar. Any differences they have will just get exaggerated over time. Avoid this at all costs.
Having a business partner can propel your company forward. It works for us because we're doing different things. He's a developer, I work with content. We don't step on each other's toes, and we appreciate what the other one brings to the table. We don't weigh one another's input because we don't have any ability to compare.
I see a lot of startups with two founders whose roles are extremely similar. Any differences they have will just get exaggerated over time. Avoid this at all costs. Oh, and make sure to get a partnership agreement signed as soon as possible. It'll be a weight off both of you and will help you lock down your responsibilities.
What platform/tools do you use for your business?
If you're not A/B testing everything, get on it. Google Optimise is an extremely user-friendly way to do it, I highly recommend it, especially for any E-commerce site.
For communication internally, we're on Slack, like most of the world. For talking with the community, which I encourage every company to do, Discord is the answer. It personalizes the conversation and will get you the best possible feedback.
What have been the most influential books, podcasts, or other resources?
If you're into Podcasts, How I Built This is an incredible listen. I love the huge variety of founders they speak with. I've gotten ideas from make-up entrepreneurs and restaurant chain owners, completely different industries but the advice translates.
One of my favorite books is probably Creativity Inc, by Ed Catmull. He Co-Founded Pixar and speaks a lot about his early days and aspirations to run a creative, fulfilling business.
Advice for other entrepreneurs who want to get started or are just starting out?
The most common mistake I see first-time entrepreneurs making is being unwilling to pivot. Gathering information, testing, getting feedback, and then making your decisions (and then doing it all over again) is the best way to grow. Your initial idea is going to need a lot of revisions before it gets anywhere, being stubborn will stunt it.
Are you looking to hire for certain positions right now?
We'd love to find another full-stack developer! ML experts with image-generating experience are going to be joining us soon. That's one field that continues to blow my mind.
Where can we go to learn more?
-
CHRIS KELLY, Founder of ProductionCrate, LLC
Want to find more ideas that make money?
Hey! 👋 I'm Pat Walls, the founder of Starter Story.
Get our 5-minute email newsletter packed with business ideas and money-making opportunities, backed by real-life case studies.