Imaginovation Update: How We Closed Deals And Grew Traffic By 500%
Start A Custom App Development Service
This is a follow up story for Imaginovation. If you're interested in reading how they got started, published almost 3 years ago, check it out here.
---
Hello again! Remind us who you are and what business you started.
Hello, my name is Michael Georgiou, and I am the Co-Founder of an award-winning technology company, Imaginovation. We help businesses from small to medium and large enterprises develop and launch digital products.
We build custom web applications, mobile apps, websites, and emerging technologies such as AI development, IoT development, AR & VR app development, and blockchain development. We help companies drive successful digital transformation to boost productivity, sales, and ROI.
We have worked with some top industry leaders such as MetLife, Nestle, Murgitroyd, CREE, ChannelAdvisor, and others to create compelling digital products & experiences.
Imaginovation is a 100% bootstrapped company that I started with my best friend and brother-in-law Pete Peranzo back in October 2011. What started as a humble beginning has now grown to a multi-million dollar tech company. We are now one of the leading app development companies in North Carolina.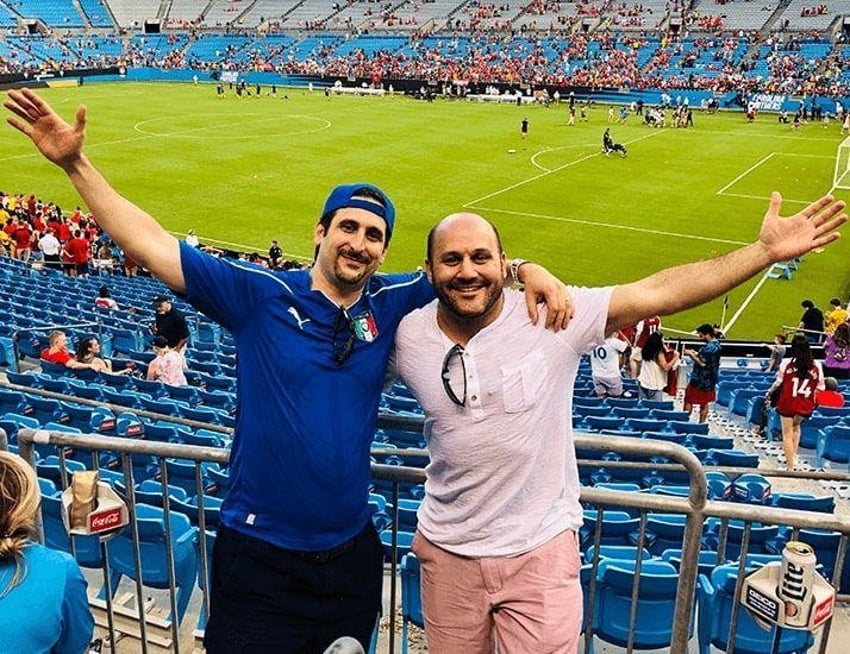 Tell us about what you've been up to! Has the business been growing?
Well, it's been an exciting year. We closed some great deals with leading companies in pharmaceuticals, healthcare, construction, cannabis products industry, on-demand market, and many others. Some projects are still in the pipeline that will be closed in the coming months. We are also working on an internal product to increase the efficiency of our business workflows, task management, and productivity.
Remember, businesses don't grow overnight, it's an ongoing process. You have to be consistent and have the patience to see good results.
As for our marketing metrics, the traffic to our website, leads, and conversions have grown tremendously since we last talked. To give you a little sneak peek, here's what worked for us.
We focused heavily on our organic SEO, Google Ads, data analysis, and content marketing efforts. I guided my marketing team to build and optimize content strategies, brand positioning, audience targeting, and messaging on our corporate website. We hired some talented writers to increase content production. The marketing team at Imaginovation did an excellent job of generating a steady flow of inbound leads.
Website traffic growth has increased in the last 12 months by almost 500%
New website visitors have increased in the last 12 months to over 470%
Our leads per month have increased 3x in the last 12 months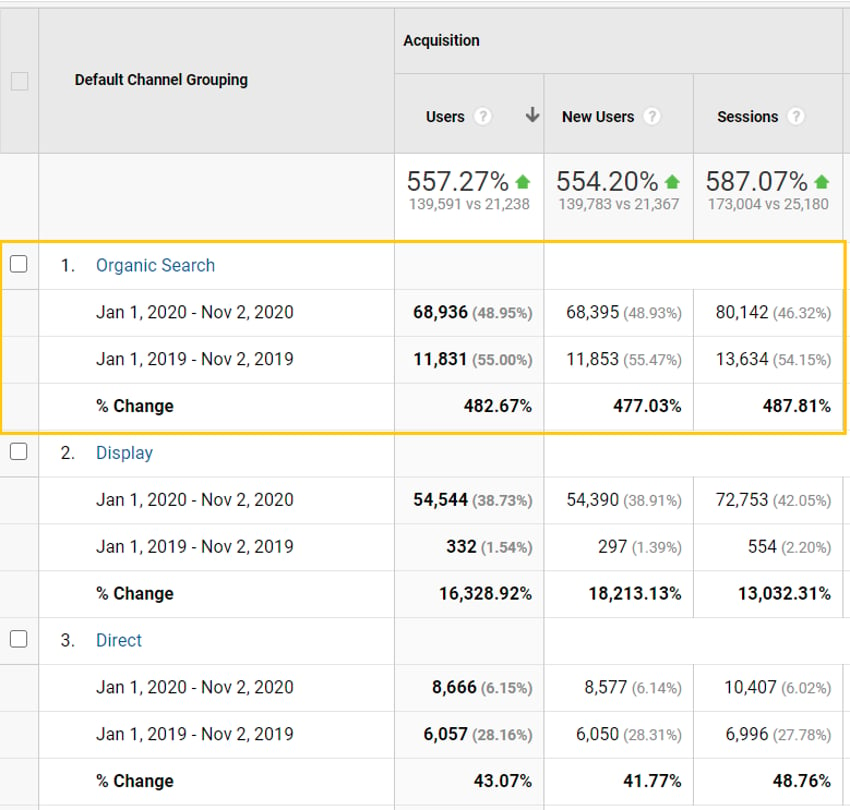 I am also more active on LinkedIn nowadays, connecting with more business leaders, and sharing my thoughts with followers. My LinkedIn followers number has grown from 3000 to 11,000 in the last 12 months, and it's continuously growing. I have been posting one piece of valuable content on LinkedIn every day, and engaging on topics from marketing to technology and leadership, business development, and entrepreneurship.
On the other hand, our development team and project managers showed unmatched dedication while working with our clients. Our team partnered with new customers to understand their business pain points and develop state-of-the-art solutions to fix those problems. We completed projects and added them to our list of happy clients.
What have been your biggest lessons learned in the last year?
With all the new business and going through Covid-19, this year has been a learning curve for me, to be quite honest.
When Covid was at its peak, we conducted several emergency meetings with our entire team at Imaginovation. The one thing that worked for us is that - we acted fast. I worked with Pete (my business partner) and Tony (our advisor) to devise our company's roadmap during difficult times. While all of us were working from home, we spent countless nights planning and implementing the necessary steps to update our clients, ensure project deliveries, and the well-being of our employees as well.
Employees are the greatest assets of any organization. I, along with Pete, held several company-wide meetings to keep our team informed about every single decision we made. We had one-to-one discussions with each team member, listened to their concerns, empathized with their struggles, and kept them motivated at all stages.
At Imaginovation, we always take care of the social well-being of our employees. We have implemented advanced team collaboration and communication platforms to ensure everyone is well connected, supported, and there is a remote social interaction.
From all the activities that helped us stay grounded even during the Covid pandemic, I learned that:
You need to act fast and make informed decisions during difficult times.
It's important to set expectations with the right intentions.
Data-driven strategies are crucial when you have limited time to think.
Understanding the market volatility, market trends, and the market demand to make well informed and strategic decisions in regards to our marketing efforts, development processes, pricing, and operational & financial planning

What's in the plans for the upcoming year, and the next 5 years?
We have made some exciting plans for 2021. In the coming year, we are planning to expand our horizons and add new locations in the DC area soon.
We have a few short-term and long-term goals that we want to achieve in the 5-year plan. For the short-term goals, we are planning to:
Continue improving organic traffic to our website
Generate and nurture high-quality leads
Revamp our corporate website
Continue A/B testing for marketing funnels
Optimize and niche out brand messaging
Hire more marketing and salespeople
Hire more senior-level developers
3x the inbound leads by the end of the year
As for the long-term business goals:
Improve our revenue by at least 30% per year
Fully launch new products to the market and generate new revenue streams
Continue adding new clients and projects to our portfolio
Continue to improve the efficiency of our development processes
Continue to improve our work culture
Have you read any good books in the last year?
Yes, currently I am reading a book - Living On Purpose by Brandon Steiner. I have recently interviewed him on my podcast show Tales from the PROS (the episode will be aired soon).
I am not really into reading books, but it is a goal of mine. I generally spend more time reading digital books, listening to podcasts as well as engaging in business and motivational content online.
Advice for other entrepreneurs who might be struggling to grow their business?
Patience, passion, and perseverance along with consistency are my most important values when building a business. I have also learned from my entrepreneurial journey so far is to put people first. Eventually, businesses are about people and therefore you need to make sure that your business is connected to its people, including employees, customers, and community.
Check out a video I made about the values you need to create a successful business.
Remember, businesses don't grow overnight, it's an ongoing process. You have to be consistent and have the patience to see good results. If it was that easy, everyone would be doing that. Remember that!
A few years ago we used to get hardly any leads. However, over time with consistency, patience, and perseverance, we achieved tremendous growth in traffic and inbound leads.
Are you looking to hire for certain positions right now?
We have recently added new members to our team, so we are not looking to hire any new positions right now.
Where can we go to learn more?
If you have any questions or comments, drop a comment below!
-
Michael Georgiou, Founder of Imaginovation
Want to start your own business?
Hey! 👋I'm Pat Walls, the founder of Starter Story.
We interview successful business owners and share the stories behind their business. By sharing these stories, we want to help you get started.
Interested in starting your own business? Join Starter Story Premium to get the greatest companion to starting and growing your business:
Connect + get advice from successful entrepreneurs
Step by step guides on how to start and grow
Exclusive and early access to the best case studies on the web
And much more!