Expanding Our Luxury Brand By Launching New Product Lines
This is a follow up story for Maxwell Scott Bags Ltd. If you're interested in reading how they got started, published over 3 years ago, check it out here.
---
Hello again! Remind us who you are and what business you started.
Hi, thanks for having me back. I'm William Scott Forshaw and I am the founder and CEO of Maxwell-Scott. Maxwell-Scott is a British-born luxury leather goods company for the refined professional seeking timeless design and high-quality craftsmanship. From the very beginning, I wanted to create a brand that supported slow, sustainable consumerism focused on quality. That is why each of our briefcases, purses, luggage bags and accessories is impeccably-made leather pieces for our customers to cherish and pass on through the generations.
As such, we handcraft our products from the finest full-grain vegetable-tanned leather in the heart of Tuscany. With this, we hope to act as an antidote to fast fashion by championing workmanship and only the highest quality materials. My aim to create pieces with such longevity stems from my time working in advertising where I noticed that some of my colleagues would carry a plastic bag or poor quality briefcase to work day after day. It was then that I noticed a gap in the market to supply corporate London clients with high-quality, functional briefcases. So, in 2002 I launched Maxwell-Scott.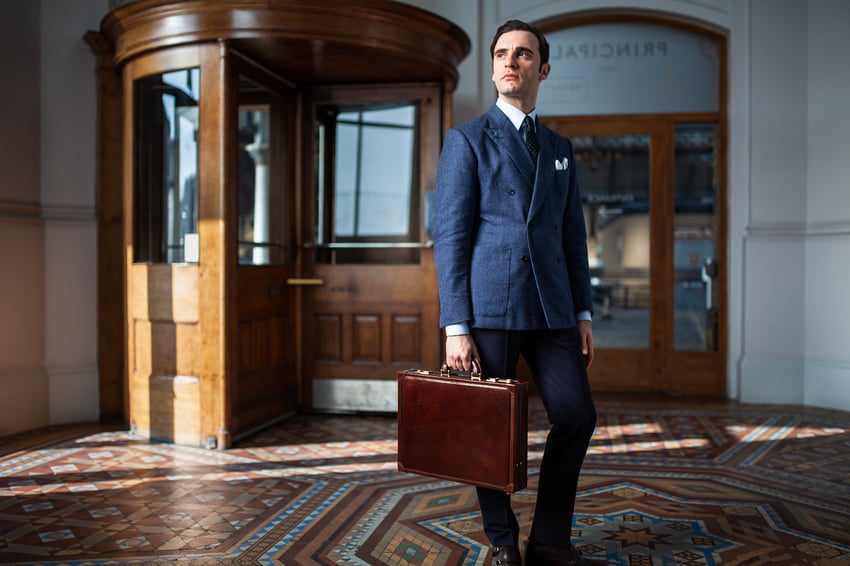 The Scanno Leather Attaché Case
Initially, I was selling my products directly to corporate customers in and around London until I moved on to doing trade shows all over the UK. In 2008 I taught myself how to build the very first website for Maxwell-Scott using only Adobe Dreamweaver and Photoshop. Initially, it was meant to be more of an online brochure for corporate clients however, within 18 months, I decided to take the whole business online and create a fully shoppable website. This has worked incredibly well for the business and we now operate seven websites in the UK, US, Australia, Germany, Austria, Switzerland, France. This international expansion has not only introduced us to a whole new audience but also given us the opportunity to work with great athletes from the NFL and Major League Soccer in the US and the AFL in Australia.
Over the course of the 18 years of the business, we have expanded our product offering immensely and we now sell more than 200 products including luggage bags, briefcases, and purses, as well as an array of other leather accessories.
Tell us about what you've been up to! Has the business been growing?
From new collections to awards to new marketing focuses - we have done it all in the past 12 months since I last sat down for an interview with you. First of all, I can confirm with absolute certainty that the business has been growing immensely. Our US website alone is 47k ahead in sales year on year and across all of our seven websites, we are 36% ahead. I'm really pleased with the way things are going and I feel like we have the right team and strategies in place to grow the brand even further within the next few years. Because after all, our mission statement is 'to become the most loved British bag manufacturer in the world'.
Try to grow your business at a sustainable pace. Rather than growing too quickly, let it grow organically step by step.
After working on the collection for more than 2 years, we finally launched our new women's handbag collection late last year under the theme of 'My Bag My City'. This new collection offers 14 completely new women's bags and epitomizes the lifestyles of all types of city women. The designs blend functionality with elegance for the high-flying businesswoman as well as the laidback creative. This has been an exciting new venture for us as we have been able to see quite clearly where the gaps in the market are and what women will invest in.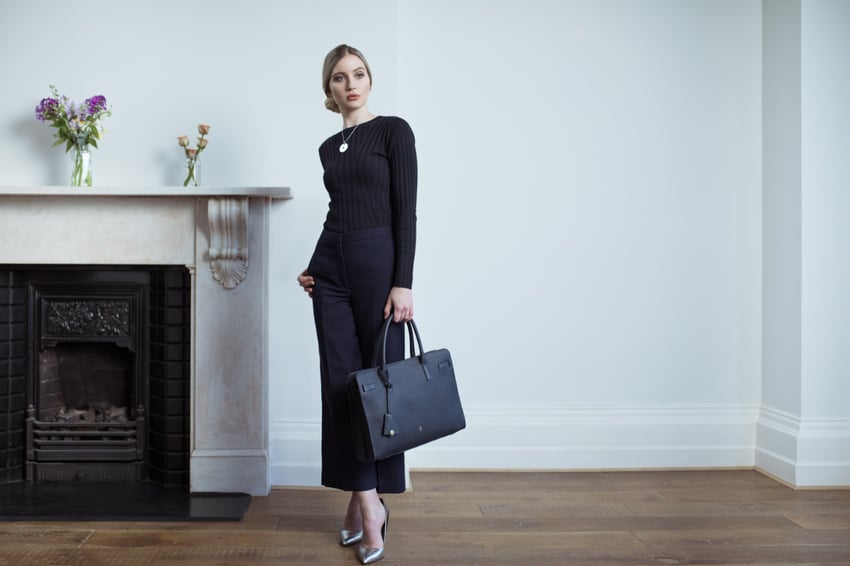 The Enrica leather briefcase tote from the new women's collection
Once the designs for the new women's collection were finalized, we started to prepare our next collection launch - this time with a focus on men's briefcases for laptops. This should launch within a few months as we are currently in the midst of photoshoots and marketing campaign plans. I am really looking forward to the launch of this collection, however, because we have listened to customer feedback and have designed the briefcases to these specifications. With this, we are hoping that these briefcases will become firm favorites among customers and vastly increase sales - particularly in the US.
In the last twelve months, we have also been lucky enough to be nominated for three awards including a Drapers Award as Accessory Brand of the Year for the second year in a row. Personally I was very excited to be nominated for a Small Business Entrepreneur of the Year for the North West region among other entrepreneurs that I really admire. However most excitingly, we also took home our first award win in November, as we have been named Exporter of the Year at The York Press Business Awards. This award means a lot to me as it honors the hard work that the team and I have put into our international expansion.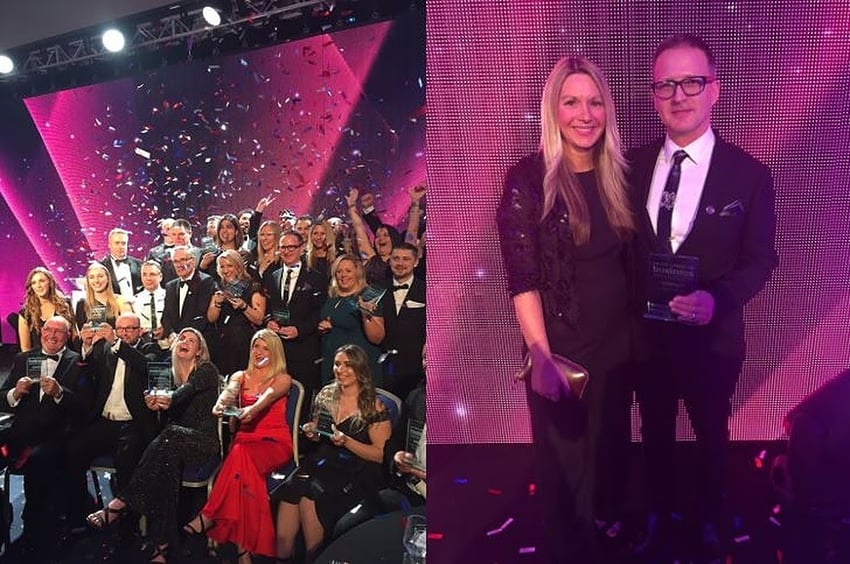 William & Charlotte Forshaw with the other York Press Business Award Winners
Within the last 12 months, we have tried to put an even greater emphasis on sustainability in order to do our part in combating the environmental impact of the fashion industry. From the beginning of Maxwell-Scott, we have offered a 25-year warranty on all of our products to encourage our customers to treat their purchases as investments rather than throwaway items. Furthermore, we don't use chemicals in our tanning process and only source leather that is a byproduct of the meat industry. In order to amplify this ethos, we have pledged a Sustainability Promise for the coming decade that focuses on every stage of the supply chain. I hope that our initiative will encourage other companies in the industry to follow our example in order to combat our combined effect on the environment.
What have been your biggest lessons learned in the last year?
In my last interview with you, I mentioned that we were going to start a wholesale campaign however this didn't work out as planned for us. We arranged several meetings with buyers in Germany and the UK, but we found that they are currently only interested in buying well-known brands as the brick-and-mortar stores are facing increasingly difficult times. Due to this, buyers are unable to take any risks by taking new brands on board. So, unfortunately, we have realized that it might not be the best time for us at the moment to pursue wholesale. Nevertheless, it will be something that we are going to look at again in the future.
I have also realized that you and your in-house team are the only ones who truly understand the brand ethos and products. This has meant that we have shifted away from agencies and hired more in-house talent in order to capitalize on this inherent knowledge that those with only a single view on the business will never manage to understand. Therefore, I now manage our PPC campaigns. Though this has been an incredibly steep learning curve, I am so pleased that I can now target keywords in search that I know work for our products. It is that in-depth knowledge that is truly priceless.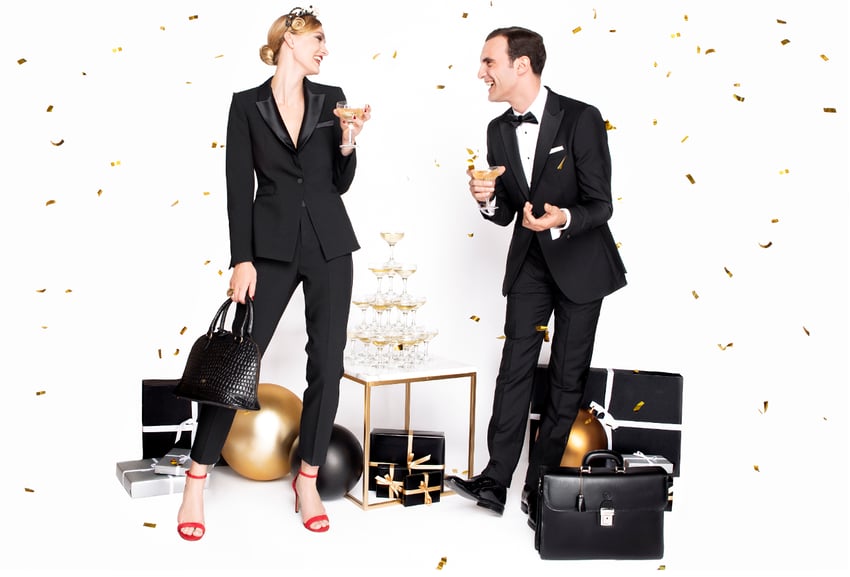 Our 2019 Roaring Good Christmas Campaign
Moreover, understanding the technicalities of targeting customers in this way has also encouraged me to invest more resources into paid social. I really believe that this is a key channel that any SME should be using to grow their business. It's easy to find good online courses that take you through the process of creating campaigns but, at the end of the day, everything requires significant testing to work out what works for you. When you do find it, it is very easy to cheaply increase traffic to your website and engagement with your brand. I think the key thing to remember is that these are social networks - social being the operative word - and so these ads are all about building a relationship with the consumer. You must consider their lifetime value.
What's in the plans for the upcoming year, and the next 5 years?
It really never stops at Maxwell-Scott and within the next few years, I'm really looking forward to seeing the brand grow even further. We are considering expanding into new markets such as Asia but a big step like that will obviously have to be carefully planned. As for our other markets, I would be keen to work with native speakers in-house in order to make sure our website is translated to the highest standard and our marketing plans are adapted to any cultural differences.
However, there is still so much scope for growth in our existing markets. One avenue I'm quite excited to explore more in the upcoming months is paid social media. Here we are able to target customers on lifestyle and interests, as well as demographics such as age, gender, and location. In the US, it is even possible to target customers based on income which creates a truly refined audience to be sending ads to. This way they certainly are as effective as possible. One of my biggest pieces of advice for Facebook advertising is to use the Audience Insights tool as this will help you to find your target audience. You never quite know exactly what their other interests lie.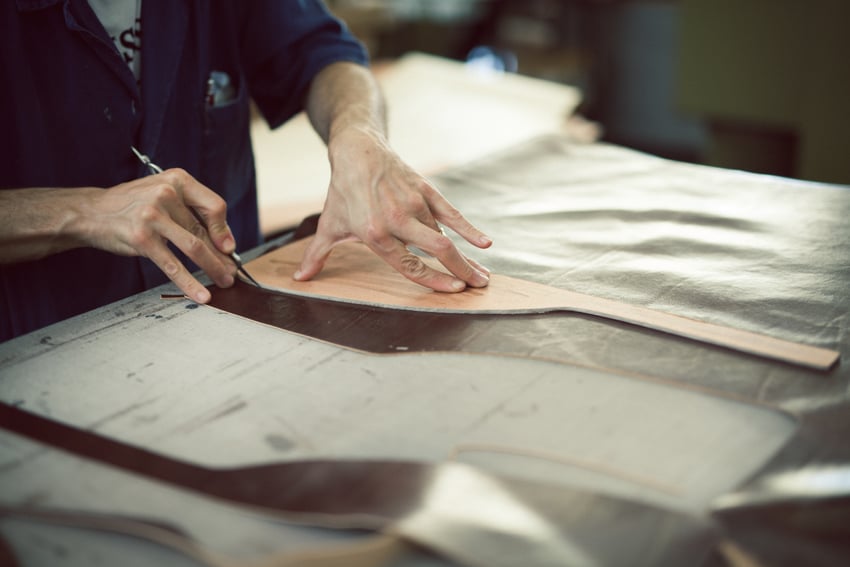 Production image from Maxwell-Scott's factory in Italy
As already mentioned, we are also looking to implement a more environmentally friendly business agenda. As part of our nine-point Sustainability Promise we will look to replace all plastic packaging with more sustainable options by 2025 and improve our recycling system at the Maxwell-Scott HQ in 2020. We are also planning to half our use of paper in the Maxwell-Scott HQ and during the purchasing process by 2022. The positive impact that these measures will have on the environment is immense. For instance, in the last 12 months, we received 7756 orders worldwide. All orders are dispatched with two printed sheets of A4 paper which amounts to 15,512‬ sheets of 5g each. If even half of that usage is eliminated we would save 38.78 kg of paper every year. It is going to be interesting to see what we at Maxwell-Scott can achieve with these new measurements in place.
Have you read any good books in the last year?
Unfortunately, two young children, as well as a growing business, don't leave me too much time to read a good book or listen to a podcast. However, I have been fortunate enough to experience the other side of podcast production last year as I was invited as a guest speaker on the Wavebreaker podcast. I really enjoyed sharing my business experience with my peers via this medium and I've already recorded another episode on a different business-focused podcast that should be released in the next few weeks. Watch Maxwell-Scott's social media channels for an update on that.
Advice for other entrepreneurs who might be struggling to grow their business?
My advice would be to try to grow your business at a sustainable pace. Rather than growing too quickly, let it grow organically step by step. If you are trying to do too much too quickly, things can easily spiral out of control and all of a sudden you are faced with some serious crisis management and potentially spiraling overhead costs. Instead, take very calculated risks and make sure that you see the return of every investment and project you take on.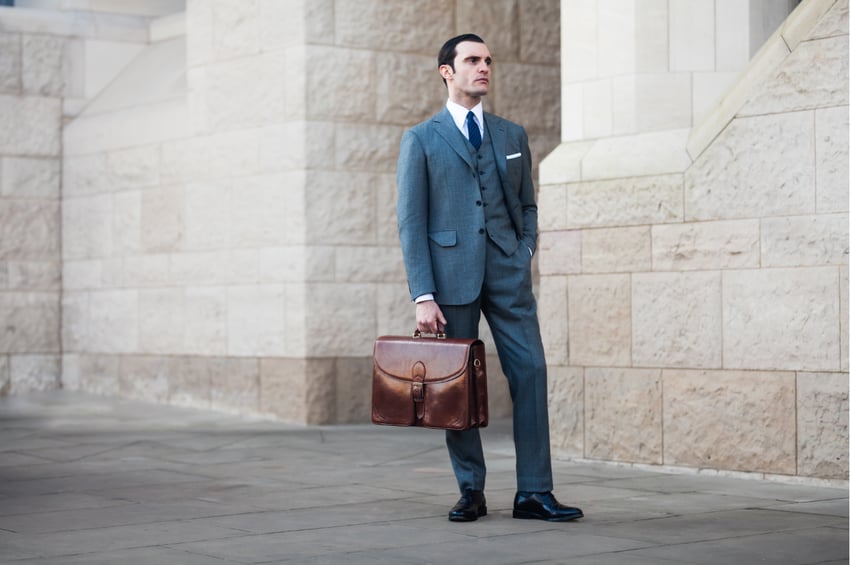 The Tomacelli Large Leather Briefcase for Men
If you are selling a product I would also recommend considering marketplaces such as Amazon in addition to selling your items on your websites. This will help grow your business not only in terms of sales figures but also brand awareness. If you have the budget, it is best to invest in staff members to start a PR and Marketing team as well as they will be instrumental in further growing your brand recognition and subsequently helping your company's growth.
Are you looking to hire for certain positions right now?
We are always looking for new staff members and I constantly have CVs landing on my desk. I really enjoy meeting new talent and I actually have employed somebody just from a speculative CV. As long as I can see potential and determination in the candidate, I am always excited to take new staff members on board. We are always interested in receiving CVs for our ever-growing Marketing team, especially when the candidates have a background or an interest in PR or content.
Where can we go to learn more?
-
William Forshaw, Founder of Maxwell Scott Bags Ltd
Want to start your own business?
Hey! 👋I'm Pat Walls, the founder of Starter Story.
We interview successful business owners and share the stories behind their business. By sharing these stories, we want to help you get started.
Interested in starting your own business? Join Starter Story Premium to get the greatest companion to starting and growing your business:
Connect + get advice from successful entrepreneurs
Step by step guides on how to start and grow
Exclusive and early access to the best case studies on the web
And much more!
Together With Semrush
If You Don't Rank In Google, You Don't Exist.
In order to be successful, you need to be visible online. If you're not, then your competitors might be stealing customers from you.
Semrush lets you quickly create content that ranks, and compete with the biggest brands in your niche.
Try Semrush Free Today ➜