Thank you Klaviyo for sponsoring Starter Story ❤️
Turn one-time buyers into repeat customers. Try the platform loved by 265,000 brands
My SEO Agency Has Made $70M For Clients In The Past 15 Years
My SEO Agency Has Made $70M For Clients In The Past 15 Years
Hello, my name is Adrienne DeVita, and I am the founder of Digital Media Cube, based in California. All work is done remotely for clients across the United States, although I have local clients, too.
As an SEO company who also specializes in Google Ads, I have made clients well over $70M in the past 15 years.
A referral to a water softener company that was about to go out of business contacted me and I saved the owner $15,000 a month in Google Ads on his existing campaigns while increasing sales of water softeners by 30%.
Through SEO and Google Ads strategies, I made the struggling water softener company $3M in water softener sales in only 19 months.
With very specific strategies that are well rounded online, I utilize SEO and Google Ads as well as the Google Business Listings, Yelp, and Nextdoor platforms that have brought in $5 million in gross revenue for a current dental client of 10 years.
What's your backstory and how did you get into entrepreneurship?
Digital Media Cube's main service is focusing on clients like successful dental practices who already have great reviews on Google and Yelp, so my team and I can take their business to the next level. Any type of business who is making at least $1-2M already has the marketing budget we need to take over most of their competition in that geographic region over time.
Do what you will enjoy each day and work hard.
You would be surprised to know many brick-and-mortar businesses are usually happy with the "status quo" of their practice or business. They do not know that over time, I can bring in millions of additional revenue from various online marketing strategies. Each strategy is different, depending on the niche.
My team in the USA builds custom WordPress sites with full SEO (search engine optimization), 100% unique content, fully optimized images, and internal linking structure with proper SILO's. I do all the keyword research (nothing else should come first after speaking with your client about their goals) and build out the SILOs, which is a core strength of knowing buying keywords from tire-kicker phrases.
After the sites are built with conversions in mind, I focus on weekly or bi-weekly content and off-site strategies that are important for authority, brand building, and ranking the site's core services or product pages.
I review analytics and heatmap software data, as well as many other types of algorithm factors that affect rankings. I use that data and specific software tools to reverse engineer every single top competitor nationwide and improve upon what they are doing, which helps me beat every local (and often nationwide) competitor.
It normally takes one year from the time we launch a custom site with all the content and optimized images to start taking over significant market share from competitors, where it brings in a good amount of traffic and revenue for clients to recoup their investment. Often, it can happen in a matter of 90 days from the site's launch. Every business is different based on various factors and their competition.
At that time, I will build a highly targeted Google Ad campaign with very specific ad groups. Daily management is critical when it comes to Google Ads. You cannot "set it and forget it." Many agencies use automated bidding tools, or they let Google manage it with their software. That is a big NO for managing my clients.
I have saved clients millions of dollars by spending time daily on their Google Ads, and it takes a good year to make a stellar account with higher quality scores, lower cost per conversion, and increased leads or sales over time. Google rewards account when you manage the campaigns correctly each day or at least several times per week.
People think you can just set up some ads and let it run itself. It does not work that way. There are so many facets of how Google Ads and SEO go hand in hand. Building separate landing pages just for sales and not indexing them gets you a lower quality score. Google sees everything. Make sure your landing pages are real, high-quality, and seasoned SEO pages with lower bounce rates.
Sure, you can make a no index page just for sales, but you wind up paying more per click because it won't get a higher quality score with the statistics Google sees on organic pages. Just make sure you have the right keywords on that landing page you will be bidding on or the theme-related content on that page.
LSI, or latent semantic indexing, is a huge benefit when you know how to write content. I can rank one page for hundreds of keywords. But knowing how to do that correctly, along with your internal linking structure, is key.
Take us through your entrepreneurial journey. How did you go from day 1 to today?
My technical journey began when I was 19 years old and joined the Navy. Their Legalman field (legal secretary) was too crowded, so the recruiter asked me if I was interested in electronics and electricity. I had no clue what that entailed, but I said, "Sure!" Little did I know the lifetime journey that would propel me into the more exciting career I have now.
Fast forwarding to many years later, I landed my dream job at AT&T and supported over 15,000 midrange computer systems residing on various hardware platforms.
My Bachelor of Science degree in Information Technology, specializing in Network and Telecommunications, at AT&T helped me get a promotion to my dream job as a Senior Communications Specialist monitoring over 100,000 routers and switches across millions of circuits within the Enterprise (USA).
I was finishing college while working nights and started teaching myself Internet marketing when there was corporate talk of outsourcing our jobs to India. A year later, when that came to fruition, I had to teach 19 men in India to take my job. Having 4 years of Internet marketing experience at that time, I decided it was time to take a leap of faith and quit my job at AT&T while taking a pay cut to work for an online startup, where I taught 19,000 students how to make money online with Google Ads.
I was flown to Boston and then Connecticut to teach $5,000 students, one-on-one, how to set up Google accounts and monetize products. I had the pleasure of speaking on stage in Las Vegas to the same students, which was exciting.
However, fate would tell me I should change paths yet again. A "student" who sold his multi-million-dollar company contacted me after the Las Vegas event and we had lunch. This was the only time I met a student in person, even though many reached out to me. Something told me this man was the real deal, and I was right.
He was one of the most intriguing, intelligent people I ever had the pleasure of meeting and working with to this day. That venture paid me $1 million dollars over 3 years working in the insurance industry. I was able to work with a startup team that included 4 people. We developed a strategic business plan to take back $1B in market share in lost revenue over the past 5 years (at that time) from Allstate, GEICO, Progressive, State Farm, and Farmers.
Over 24,000 independent insurance agents across the USA were in trouble financially, and the dream of helping them stay in business with one project was purposeful, exciting, and challenging.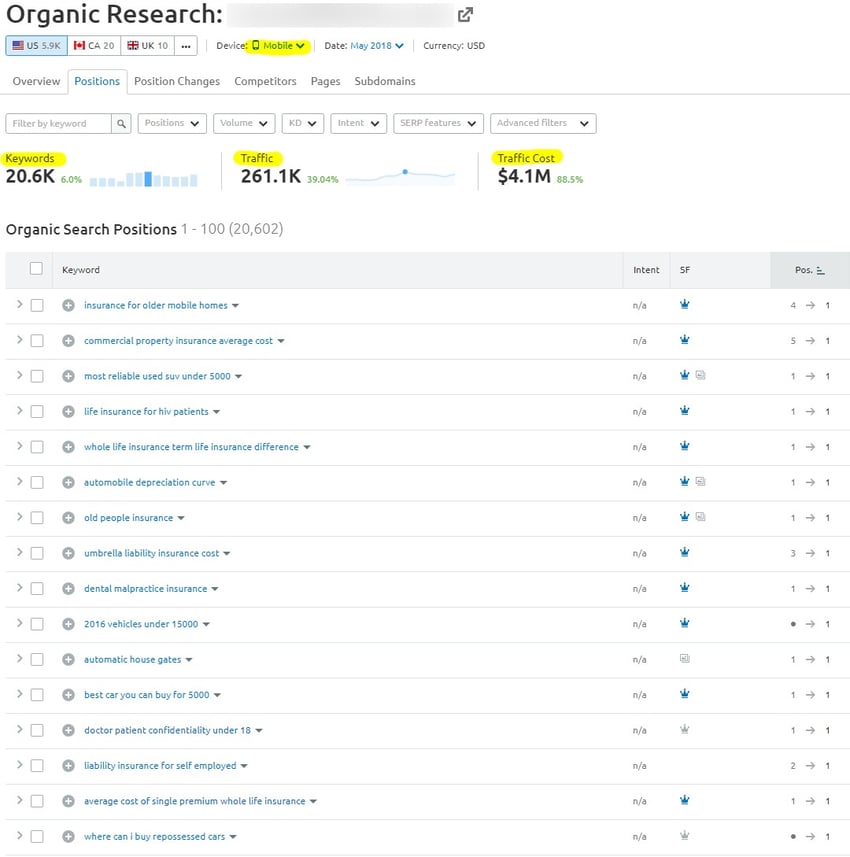 I invested $300,000 of my own money in my Internet marketing education. I was finally paid what I was worth. The small team we had was unstoppable.
I interviewed and trained the brand-new Traffic Department (team of 6), and by the time the site was designed with the UX I had provided, along with 25 content writers I trained and then hand-selected only the best writers, the site would go on to be valued at over $2-4M in organic traffic over time between mobile and desktop devices.
That site went from 200 visitors per month with zero brand recognition to over 186,000 visitors and increased brand awareness.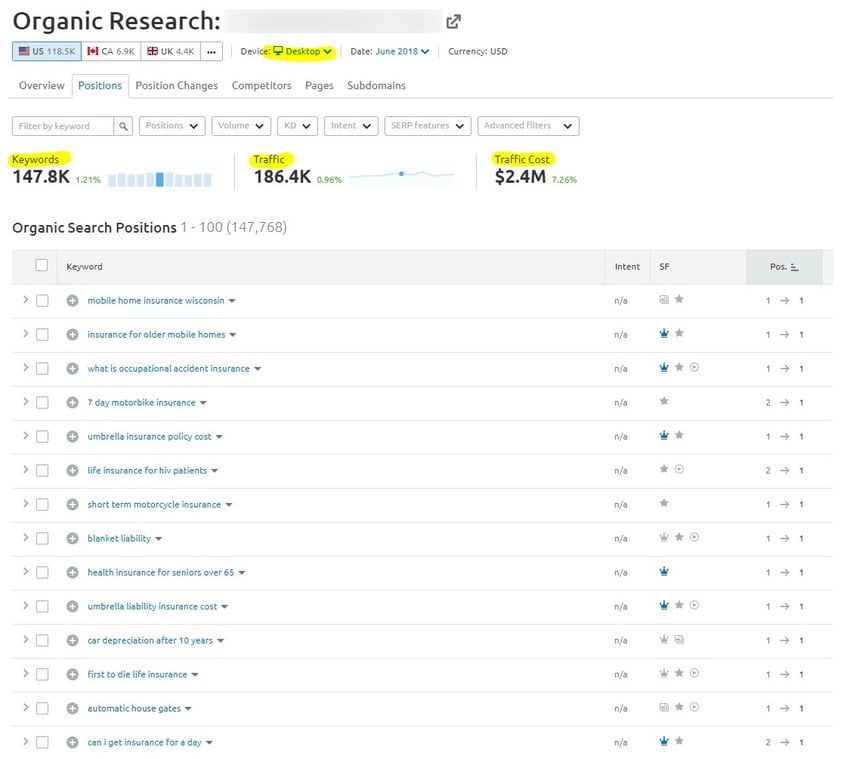 How are you doing today and what does the future look like?
Business is great. I am Blessed to be choosy and take on wonderful clients who appreciate what I do to build their business. After all these years, I can choose clients I "want to take" versus "need to take." I am profitable.
My goal now is to either get a few more clients right or take on another traditional business role (remote) helping a larger company bring in more clients/customers/sales and possibly train a team again. I loved the challenge of the insurance project for three years and bringing something meaningful that helped over 24,000 small business owners nationwide was personally satisfying.
I work well remotely and have for the past 13 years full-time. Remote workers put in a lot more hours than if you were to sit in an office like I did in the past, and you do not have to waste time sitting in 2-4 hours of traffic per day. I am very disciplined. If you want to work from home, you need to set boundaries for yourself, so you get the work done each day.
My personal true passion and purpose in life are rescuing animals. I've rescued at least 75 animals over the years, and I built these gorgeous, custom pet sites to help dog owners and cat owners. My goal is to build the brand names of BarkWiki and MeowWiki and take them to the next level.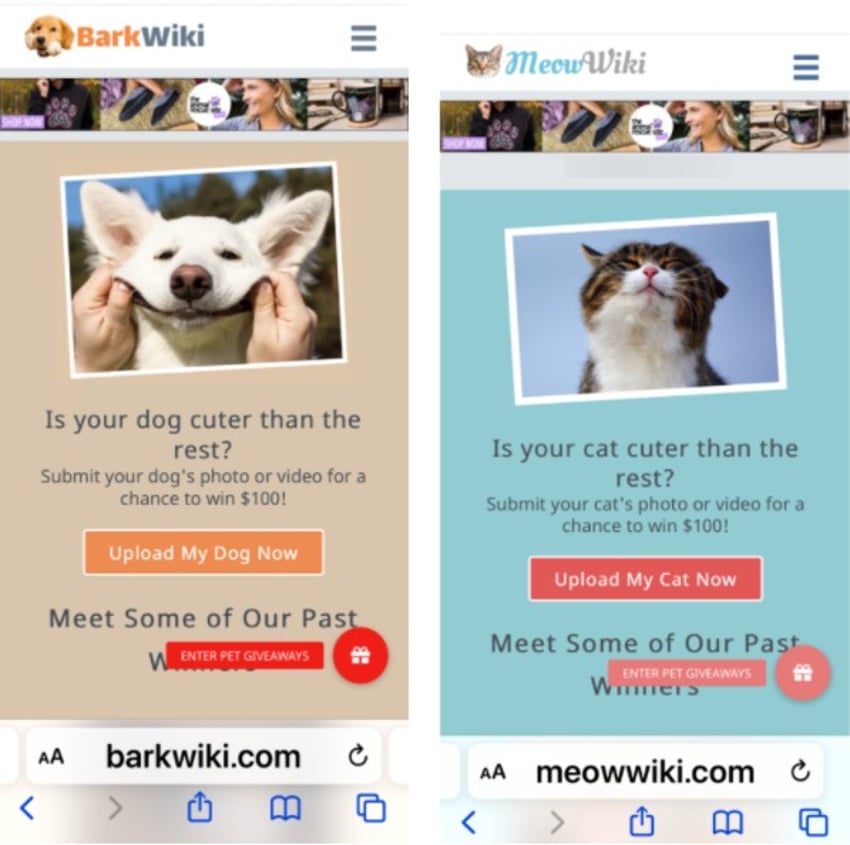 Through starting the business, have you learned anything particularly helpful or advantageous?
If you take on a client who has primarily bad reviews, you will not be able to turn their business around just by getting them more traffic–organic or paid. Consumers read reviews. They will leave their website and read their Google Local Business listing, Yelp, and oftentimes Facebook reviews, as well as their Next Door page to check out what everyone else is saying about them.
I had a local dentist literally beg me to take them on as a client. They were a sinking ship and found me online. Their reviews were the worst I had ever seen. I told her I could not help her until she turned around her reviews by getting more positive ones, which will eventually push down the bad ones. You cannot pay anyone to have bad reviews removed. If it is a competitor who is making a fictitious bad review, you can report it and hope it gets removed. People think when you advertise on Yelp that your bad reviews go away. This is not true at all.
The dentist told me she would pay me whatever I wanted. I told her my monthly price and she did not care. I felt bad because I knew their doors would not stay open much longer and they were a sinking practice because of their reviews. If I took them on, I could not help them just by getting them more traffic. Choose your clients carefully, no matter what they want to pay.
Yelp's algorithm will filter the review of the writer if they do not use their Yelp account. If they do not log in to their Yelp account at least once a month, their reviews go into YOUR filtered area. It has nothing to do with YOUR account. They want ACTIVE Yelpers. There is no point in asking people to write a review for your business on Yelp if they do not have an active account because there is a high likelihood it will become a filtered review.
Google and Yelp do not even want you to ask for reviews. They want customers and patients to be so happy, they want to leave you a review on their own. You and I know that does not necessarily happen. Sure, people will ask for a review, but you cannot ask for a 5-star review or a positive review. That's unethical. You cannot give them a reward, gift card, or incentivize anyone for a review, either. Business owners could lose their accounts.
Over the past 15 years, I have found that the integration of social media and reviews will either make or break your business. It won't matter how much organic or paid traffic I bring to your business if your reviews are horrible.
The main thing I would highly recommend is taking a core strength you enjoy doing and focusing on that as your area of expertise. I made the mistake for the first three years of wanting to be an expert in "everything." Sure, I learned a lot and did almost everything, but I only started making money when I decided to focus on Google Ads and offer that as a service. A couple of years later, I learned from experience with Google Ads that SEO played a big part by combining them together with certain factors that matter to Google. Only at that time, did I want to become an SEO expert.
Pick one thing and become an expert that is in high demand. Programming is everything now. If you can become an amazing app developer, you will call your own shots and income. Apps are not going away. Big corporations will pay you top dollar for your skills. Product development is big right now, too. Think along those lines and the future. Do what you will enjoy each day and work hard. If I were to start over, I would have been more invested in programming classes in college.
What platform/tools do you use for your business?
There are so many tools out there, but these are my favorites. I cannot do certain things for clients without them, depending on the task and goals at hand.
What have been the most influential books, podcasts, or other resources?
I will never forget the very first product I purchased to learn Internet marketing. It was Yanik Silver's Underground seminar in 2005. I spent $800 on this metal briefcase that came with a number on it. Mine was number 156. Scarcity works! I think he was only selling 500 in the beginning. I thought that was an outrageous sum back then. Little did I know how much money I was literally going to waste on my Internet marketing education over the next decade unnecessarily after that purchase.
I put the CDs that came with the briefcase in my car and listened to them on the way to and from work (70 miles each way working nights). I would come home and put in a DVD and watch these experts speaking on stage. I was in awe about this fascinating world of how to make money online. I had to be part of it.
StomperNet was amazing. It was $800 per month, and I flew to the seminar and met some amazing, successful people who I still talk to today. Those connections were inspirational and insightful for my journey in the beginning.
I have to say back then that Tony Robbins, Get the Edge, was the most inspiring set of CDs I would listen to in the car. He helped give me the confidence to learn something new, while I was working full time at night, commuting, finishing college, and starting my own Internet business. If I started to doubt myself, I would pop in the next CD and I knew I could do anything I set my mind to in this world.
Advice for other entrepreneurs who want to get started or are just starting out?
I primarily take B2C businesses. B2B can be difficult because there are not as many people looking for them online. If the search volume is low, you will not be able to bring them in enough business. However, there are some B2B I will take on as a client, i.e., an accountant, tax firm, or SaaS (software as a service) clients. They need to have established, positive reviews.
I cater to brick-and-mortar businesses since they already focus on their local print ads and have usually tried to hire other Internet marketing companies without much success. Sadly, many have been taken advantage of, which is why I do a free, initial consultation with them as no other company provides.
You cannot just expect to get a new client and keep your "trade secrets" to yourself and think they will hire you. I have heard so many times that my initial calls are so refreshing because I will answer every single question. I will answer it in detail. I have been told that so many other marketing companies will not tell them what they are going to DO for them. They do not explain what they need and WHY.
Share your knowledge. My entire career from the time I served in the Navy as an Interior Communications Electrician set me on this path. Working at AT&T in the ROCC (regional operations control center) and then monitoring the network as a Senior Communications Specialist has given me the core experience and background to understand the Internet, algorithms, and strategies to know how it works and help businesses today.
Are you looking to hire for certain positions right now?
The only jobs I am looking for at this time are excellent content writers with impeccable grammar who write well while integrating the SEO keyword phrases we provide. My rules for writing are more stringent than others in the IM world, but with these specific strategies, they rank well. It takes time to train each writer, so they need to be patient and understand our strategies to help our clients, which means we keep writers for a longer period. The pay is different for each client and article, depending on the complexity, topic, and word count.
Where can we go to learn more?
It is ironic that an Internet marketer like myself does not maintain my own professional social media accounts and website. They are so outdated because I am busy, and clients always come first. I would say if a company wants to take its business to the next level online and has a good monthly budget with long-term, ongoing marketing expectations, they can email me directly at [email protected] No SPAM, please.
I hope my experience and insight can help others provide quality services to clients while being ethical and delivering results that help businesses hire more employees, which in turn helps everyone keep their homes and feed their families.
-
Adrienne DeVita, Founder of Digital Media Cube
Want to start your own business?
Hey! 👋I'm Pat Walls, the founder of Starter Story.
We interview successful business owners and share the stories behind their business. By sharing these stories, we want to help you get started.
Interested in starting your own business? Join Starter Story Premium to get the greatest companion to starting and growing your business:
Connect + get advice from successful entrepreneurs
Step by step guides on how to start and grow
Exclusive and early access to the best case studies on the web
And much more!
PROMOTED
Did you know that brands using Klaviyo average a 95x ROI?
Email, SMS, and more — Klaviyo brings your marketing all together, fueling growth without burning through time and resources.
Deliver more relevant email and text messages — powered by your data. Klaviyo helps you turn one-time buyers into repeat customers with all the power of an enterprise solution and none of the complexity.
Join Brumate, Beardbrand, and the 265,000 other businesses using Klaviyo to grow their online sales.
Starter Story
Wanna see 52 business ideas you can start with less than $1,000?
Join our free weekly newsletter and get them right now.