How I Started A YouTube Channel That Generates Over $80K Per Year
•
Published: November 15th, 2022
Start A Debt Reduction Service
Hello! Who are you and what business did you start?
Hey there! My name is Josh Ellwood and I am the founder of Debt To Dollars on YouTube. I use my channel to teach people how to start their favorite side hustle and leverage it to create financial freedom. Primarily, I focus the channel around selling on Amazon using Fulfillment by Amazon (FBA) services.
Since starting my channel, I have been able to start multiple side businesses that relate to my content. In 2020, I started mentoring students through one on one chat using Patreon, and in 2021, I began selling my Amazon services on Fiverr. Along with brand deals and affiliate marketing, my YouTube business allowed me to quit my full-time engineering job and focus on my channel full-time. I would've never imagined transforming my full-time career into being a YouTuber!
Today, I make over $80,000/yr from ad revenue generated from my YouTube videos. The majority of my monthly income comes from video tutorials that I created over a year ago! This goes to show how powerful of a passive income outlet YouTube can be. My Patreon, Fiverr, affiliate marketing, and brand deals produce another $102k/yr on top of this.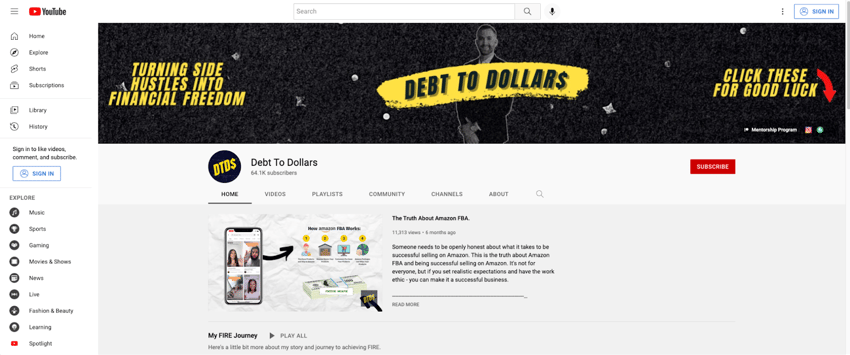 My YouTube channel Debt To Dollars
I understood that a tutorial on starting a Turo business wouldn't go viral, so I decided to make videos on other topics to gain exposure to different audiences.
What's your backstory and how did you come up with the idea?
When I was three years old, my Father passed away due to a sudden heart attack. As I grew up, I began to understand how precious your time truly is and how important relationships are. In my mid-20s, I shifted my goals from corporate success and generating financial wealth to what I call "time wealth." This is the ability to have complete control over your time and the freedom to spend it as you wish.
In early 2018, I knew that I had to begin creating businesses to achieve this goal of quitting my full-time engineering job. First, I would pay off my student loan and credit card debts to become financially free. Then, I would use that income to quit my full-time job.
I began my journey by advertising local companies in the backseat of Ubers. This business quickly fell apart as a much larger competitor entered the market. From there, I purchased a Polaris Slingshot to rent out on Turo and began selling private-label products on Amazon using their FBA service. Both of these businesses were successful and were producing a combined $3,000/mo on average. It was a considerable amount while working a full-time job, but I knew if I wanted to quit my job I would need more to sustain my current lifestyle.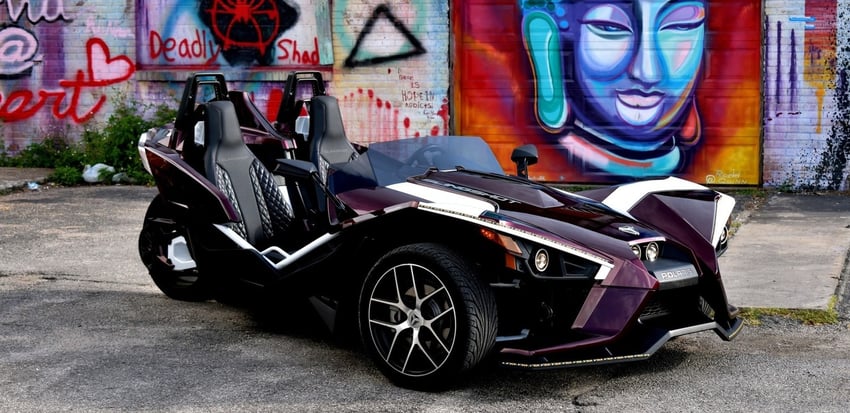 The Polaris Slingshot I rented out on Turo for two years
Fast forward to February 2020, I was talking to my wife about possibly creating a YouTube channel. I had this wealth of knowledge about starting side hustles that could be useful to others. So we started thinking about a catchy channel name. After some thought, she said "Debt To Dollars" and I immediately knew it was the right name. After all, I used all of my side hustles to first pay off my student loan and credit card debt. That was the start of my YouTube channel and over the next 2 years, it grew into something I would've never imagined…
Take us through the process of designing, prototyping, and manufacturing your first product.
Creating my first YouTube video was - well, a very, very difficult process. The first time recording yourself for a video can be oddly intimidating. Even though my channel only had 2 subscribers (my other account and my wife) at the time, I felt like I was talking to millions of people! This was my first order of business - getting comfortable making videos.
After a couple of days of practicing, I decided to create my first YouTube video on an in-depth tutorial. I was and still am logically minded, so tutorials always fit well with my way of speaking and interacting. At the time, my favorite side hustle was renting out my Slingshot on Turo so I saw this as a good fit. I began by researching existing topics on Turo and discovered that there were few "how to" tutorials on the renting process. So, I made my first video about how to list your first vehicle on Turo.
My strategy was to throw as many darts at the board on topics that I had experience in and once one stuck, I was going to focus everything on that topic.
My first YouTube video on how to list a car on Turo…man, I was awkward!
I made the video using a Nikon D3500 DSLR beginner camera, a cheap $15 microphone, and free editing software that came with my Microsoft Surface Pro. Yes, I used a tablet to create my first video! I taught myself how to edit by watching YouTube videos and my total startup costs were about $315.
Describe the process of launching the business.
After releasing my first YouTube video, it went viral that night reaching millions…just kidding. I think after the first week, I gained 1 subscriber and about 16 views. I knew this would be a challenging business to start, but I didn't fully appreciate how difficult it was. I understood that a tutorial on starting a Turo business wouldn't go viral, so I decided to make videos on other topics to gain exposure to different audiences.
My goal was to make 2 videos per week on different topics going forward. I made videos on Turo, sold on Amazon, and real estate, and even credit card reviews. As long as the video topic related to my channel and something I had experience in, I considered it. My long-term goal would be to focus on one or two of these featured topics once I saw some traction.
In 4 months, I had released over 31 videos and had fewer subscribers than videos. My motivation was at an all-time low on creating more content, but I continued pushing myself to stick to my goal. Then, one of my videos began to take off. That video was a tutorial on how to list your first Amazon FBA product. In the first month after its release, it gained 800 views and 17 subscribers. This wasn't a lot, but it was something to work with! In May, it ended up grossing over 9,000 views and about 400 subscribers.
My strategy was to throw as many darts at the board on topics that I had experience in and once one stuck, I was going to focus everything on that topic. Over the next couple of months, I only created content on my experience selling products on Amazon and teaching others how to do it. Today, it is still the featured topic on my channel and the reason for my YouTube success. That single video has grossed almost 600k views and nearly $40k since its release.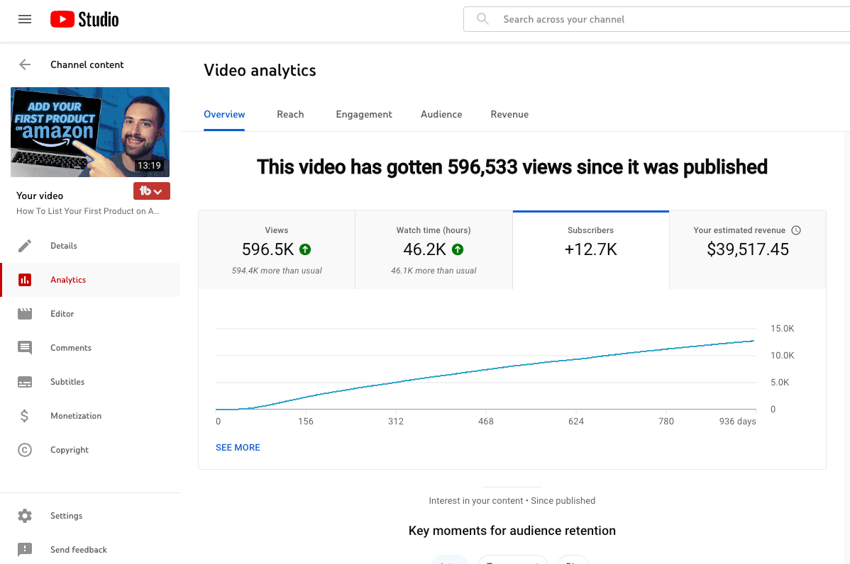 Video analytics for "How To List Your First Product On Amazon…"
You'll never know ahead of time which video will take off. I create every video thinking that it has the potential of being great, but in reality, less than 5% of my videos reach tens of thousands of views.
Since launch, what has worked to attract and retain customers?
Since launching my channel, I haven't advertised or promoted my channel externally. All of my views and subscribers have come from organic resources, mainly the YouTube search algorithm. This can be very tricky because the algorithm doesn't always work in your favor.
Early on, I used an extension called TubeBuddy to brainstorm new topics. TubeBuddy provides insight into trending topics, shows you analytics, and determines your chances of success in ranking a video in that niche. This helped me find trending topics with a high search volume and allowed me to make the content audiences were looking for.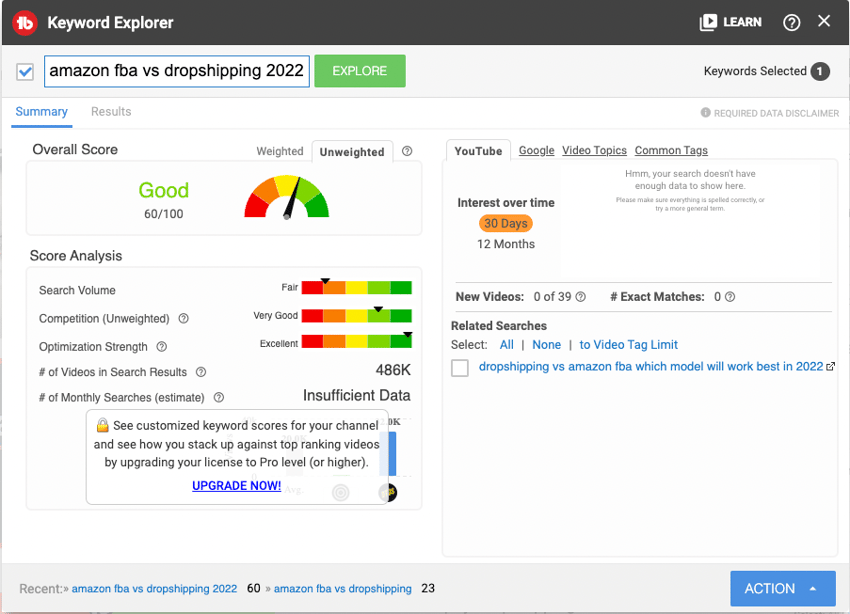 TubeBuddy's Keyword Explorer Tool
Retaining my existing subscribers has been difficult since most of my videos are tutorial based. About 70% of my views come from people stumbling upon one of my YouTube tutorials through search, watching the tutorial, and not engaging with my channel after that point. This challenge led me to create recurring video series, like my top Amazon products to sell each month, to retain my audience. If you're interested in starting a YouTube channel, consider creating video series to keep your audience routinely coming back.
All in all, I attribute much of my success on YouTube to my authenticity and ability to teach others from my experiences. Many of my peers on YouTube, making videos on Amazon, falsely describe the process as simple and easy - it is not whatsoever. The more authentic and genuine you can be in making content, your audience will recognize that and be more likely to engage with you through views, subscriptions, and appreciation. I do not have any courses to sell and my side businesses that spiraled from YouTube (e.g. Fiverr, Patreon) were a result of subscribers requesting to work directly with me. This has been the most important aspect of attracting and retaining new subscribers.
How are you doing today and what does the future look like?
The future of Debt To Dollars is changing as I began to steer away from tutorial-based videos and plan to make videos with more of a focus on entertainment. Over the past year, I've noticed audiences preferring to see case studies of what selling on Amazon looks like. I will begin launching new products and covering the success - along with the failures - of the overall process. This is more entertaining than watching tutorials, yet it still allows me to teach others.
Through starting the business, have you learned anything particularly helpful or advantageous?
Through starting my businesses, I've learned that you'll never know ahead of time which video will take off. I create every video thinking that it has the potential of being great, but in reality, less than 5% of my videos reach tens of thousands of views.
The most difficult part is finding the motivation to continue working towards your goals when the validation may not always be there. I've been able to find this motivation during these tough times by focusing on the long-term mission and reminding myself "why" I am creating videos.
What platform/tools do you use for your business?
I use many tools to bring my ideas to life in the form of videos. I use TubeBuddy to brainstorm new ideas, in addition to Google Trends.
For editing my videos, I use Final Cut Pro and Headliner to caption my Shorts.
Storyblocks has always helped license clips music, and sound effects.
What have been the most influential books, podcasts, or other resources?
Two of my favorite books that changed my mindset on how money could be made are The Richest Man in Babylon by Geroge S. Clason and Money: Master The Game by Tony Robbins.
The Four Agreements by Don Miguel Ruiz has also influenced the way I manage my business and personal life.
Advice for other entrepreneurs who want to get started or are just starting out?
I hesitated to leave my job for years because of the possibility of failing. That word scared the heck out of me: failing. If I left, I would become vulnerable to failing since entrepreneurship and starting businesses usually end up that way. However, I knew that if I didn't take this path in life, I wouldn't be true to myself and I would regret it later down the road. It wasn't the easiest path, but it was the right path because it was true to what I wanted.
If I could give any advice to aspiring entrepreneurs it would be to always stay true to yourself, chase after what you want, and don't be afraid of betting on yourself. You are the only person that's capable of building out your dreams. Start today!
Are you looking to hire for certain positions right now?
Looking long term, I plan to hire individuals to handle the growing workload. Currently, I handle the entire pre-production and post-production process of my videos. Additionally, I've started multiple side businesses that I manage solely by myself. Once I begin to hire, I will post all job openings on my YouTube channel in the community posts.
Where can we go to learn more?
If you have any questions or comments, drop a comment below!
-
Josh Ellwood, Founder of Debt To Dollars
Want to find more ideas that make money?
Hey! 👋 I'm Pat Walls, the founder of Starter Story.
Get our 5-minute email newsletter packed with business ideas and money-making opportunities, backed by real-life case studies.