Thank you Klaviyo for sponsoring Starter Story ❤️
Turn one-time buyers into repeat customers. Try the platform loved by 265,000 brands
Comfy Cup Update: How We Sold 15,000 Athletic Cups In All 50 States
Start A Sporting Goods Store
This is a follow up story for Comfy Cup LLC. If you're interested in reading how they got started, published over 3 years ago, check it out here.
---
Hello again! Remind us who you are and what business you started.
My name is Kyler, I am the inventor and co-founder of the Comfy Cup. I am currently 15-years old, but I was 8-years old when I came up with the idea to create a more comfortable athletic cup for boys.
I was frustrated by the protective athletic cup my baseball coach required boys on my team to wear. It was hard and uncomfortable. I would fidget with it in the batter's box, on the field, and in the dugout. It was constant interference from focusing on the game. I tried a variety of athletic cups available in sporting goods stores and online, but couldn't find a better solution.
Instead of whining about it, my parents challenged me to come up with a solution. And now, I hit a homerun! Comfy Cup is changing the game for youth boy athletes. My simple invention has grown into a successful business venture for me and my family. Comfy Cup is now available on Amazon and The Grommet and in my local Scheels sporting goods store.
I have sold Comfy Cups in all 50 states, plus Canada and Australia. My company grossed over $91,000 in 2020 and profited around $30,000--which helped fund my college savings and my Roth IRA.* *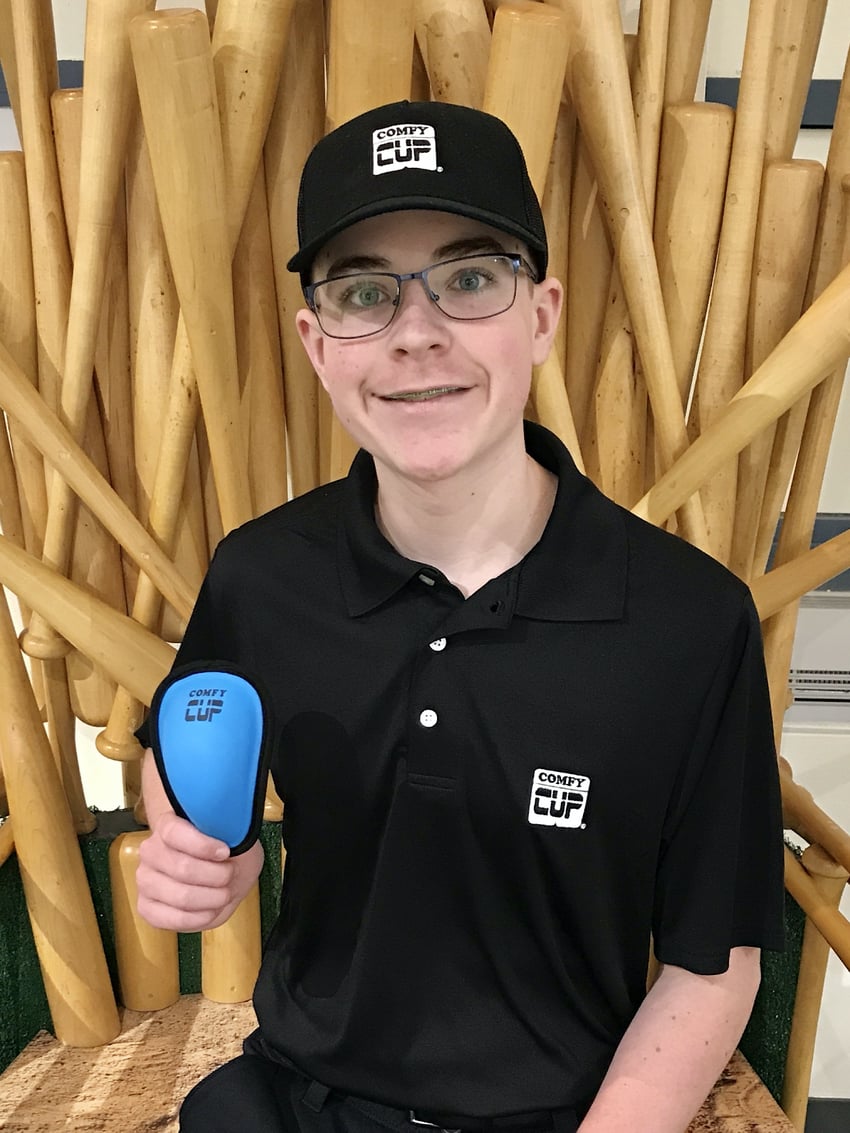 Tell us about what you've been up to! Has the business been growing?
We have sold Comfy Cups in all 50 states, Europe, Australia, Mexico, and Canada. To date, we have sold over 15,000 Comfy Cups. We used our profits at the end of last year to purchase a year's supply of Comfy Cups, which are currently housed in our basement warehouse and at Amazon distribution centers. We are feeling grateful for this decision, as the factory in China is currently not able to manufacture our product due to COVID-19.
Create a solid business plan and marketing strategy so you will be ready to take off when the economy gets back on its feet.
Create a solid business plan and marketing strategy so you will be ready to take off when the economy gets back on its feet.
COVID-19 has thrown a wrench in our sales, with baseball seasons on hold, orders for equipment have slowed. Our sales were down 52% from 2019 to 2020. Already in 2021, our sales are increasing, so we are hopeful that we will start making a comeback as boys get back to playing contact sports.
We have explored adding bigger sizes, but there is a lot of testing that goes into that, it is not as simple as just making a bigger cup. We need to consider a stronger material for bigger, more advanced-level players. We also have explored adding slider shorts to our product line, but again, that requires manufacturing many different sizes and minimum orders for each size. So, for now, we are sticking with what we know and what works. We currently offer one size Comfy Cup for boys ages 7-11 in three different colors. I hope that the Comfy Cup will be the solution for boys all over the world who are just getting started with contact sports, looking for a softer and safer solution for athletic protection.
We did not make it on to Shark Tank Season 12, but we are trying out for the show again and hope that the third time is a charm. We have our fingers crossed that you will see us on Shark Tank-Season 13.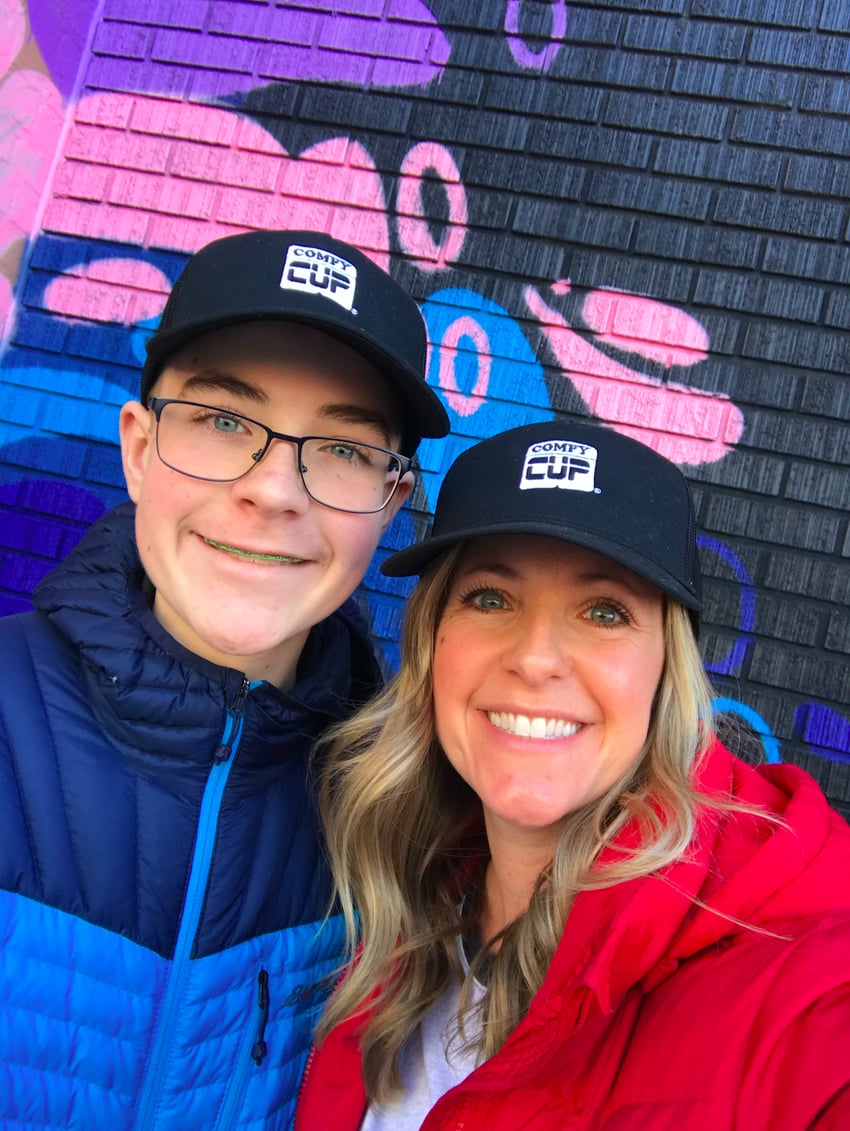 What have been your biggest lessons learned in the last year?
We learned the value of staying connected to our community resources such as the Small Business Development Center and our amazing accountant, Kelly Klusman with OwlFi to stay educated about available grants and loans.
Comfy Cup was able to get $20,000 in EIDL, SPARK, and local county grants to help keep us stay afloat and have the money to buy products so we have plenty of Comfy Cups available for our customers when they are ready to purchase them.
What's in the plans for the upcoming year, and the next 5 years?
We are hopeful that this is the year that we will get to appear on Shark Tank (fingers-crossed). We would love to recruit the help of a Shark to take Comfy Cup to the next level. Of course, isn't that every entrepreneur's dream?
We feel grateful that Comfy Cup has consistently grown year over year, except 2020. We anticipate COVID-19 will continue to impact our sales in 2021, but we are already seeing sales begin to grow again.
Have you read any good books in the last year?
We read Shoe Dog by Phil Knight, the story of how Nike was founded and its growth. The parallels of Nike's start and slow methodical growth were inspiring to us, a fellow sporting goods company.
We love Chris Guillebeau's new book The Money Tree. He was so kind to share an advanced copy of the book with us and we couldn't put it down. The story was engaging and interwoven with valuable nuggets of inspiration for creators and entrepreneurs. This is a wonderful book and a fabulous gift for any aspiring entrepreneur, student, or anyone who wants to make money.
Advice for other entrepreneurs who might be struggling to grow their business?
Hang in there. 2020 was an uphill journey-- it can only get better!
Use this time to re-evaluate what is working and what isn't working in your business. Create a solid business plan and marketing strategy so you will be ready to take off when the economy gets back on its feet.
Be sure to connect with the Small Business Administration. They have valuable resources right now for government grants that can help you stay afloat during these challenging times. Consider applying for opportunities under the CARES Act, including SBA Economic Injury Disaster Loans (EIDL), the Paycheck Protection Program, (PPP), and the Employee Retention Tax Credit.
Are you looking to hire for certain positions right now?
We are not in the position of hiring any new employees at this time, but hope as Comfy Cup grows to add new team members to support us in growth and marketing strategy.
Where can we go to learn more?
-
Kyler Russell, Founder of Comfy Cup LLC
Comfy Cup LLC has provided an update on their business!
Over 2 years ago, we followed up with Comfy Cup LLC to see how they've been doing since we published this article.
Want to start your own business?
Hey! 👋I'm Pat Walls, the founder of Starter Story.
We interview successful business owners and share the stories behind their business. By sharing these stories, we want to help you get started.
Interested in starting your own business? Join Starter Story Premium to get the greatest companion to starting and growing your business:
Connect + get advice from successful entrepreneurs
Step by step guides on how to start and grow
Exclusive and early access to the best case studies on the web
And much more!
PROMOTED
Did you know that brands using Klaviyo average a 95x ROI?
Email, SMS, and more — Klaviyo brings your marketing all together, fueling growth without burning through time and resources.
Deliver more relevant email and text messages — powered by your data. Klaviyo helps you turn one-time buyers into repeat customers with all the power of an enterprise solution and none of the complexity.
Join Brumate, Beardbrand, and the 265,000 other businesses using Klaviyo to grow their online sales.
Together With Klaviyo
Companies using Klaviyo see a 95x ROI (yes, 95x)
Use Klaviyo to turn hard-earned customer data into hard-working emails and texts.
Try the platform that 265,000 brands use to grow their business.
Try it now (it's free) ➜