Thank you Klaviyo for sponsoring Starter Story ❤️
Turn one-time buyers into repeat customers. Try the platform loved by 265,000 brands
How We Focus On Marketing And Invested Company's Profit Into SEO
Start A Skin Care Product Line
This is a follow up story for Aura Sensory. If you're interested in reading how they got started, published almost 2 years ago, check it out here.
---
Hello again! Remind us who you are and what business you started.
My name is Danna Norek, and I am the founder and owner of Aura Sensory® hair and skincare products. When it comes to the question of what our "flagship product" is, It's a toss-up between our Natural Shine Enhancing Shampoo and Nourish & Hydrate Face Cream. Both of these products have been around since day one of the company's inception in 2012, and have enjoyed enduring popularity as well as a loyal customer following. These two products account for around 35% of sales, so they are the bread and butter of the business!
Over the past year or so, my overall sales volume has remained around the same, perhaps just a bit higher but averaging roughly the same. However, overall profitability has increased due to a few different measures taken which I will get into. One of the more recent developments is I've taken a bold step to invest a fairly sizable portion of my company's profits into Search Engine Optimization (SEO) and am excited to see what type of results this yields!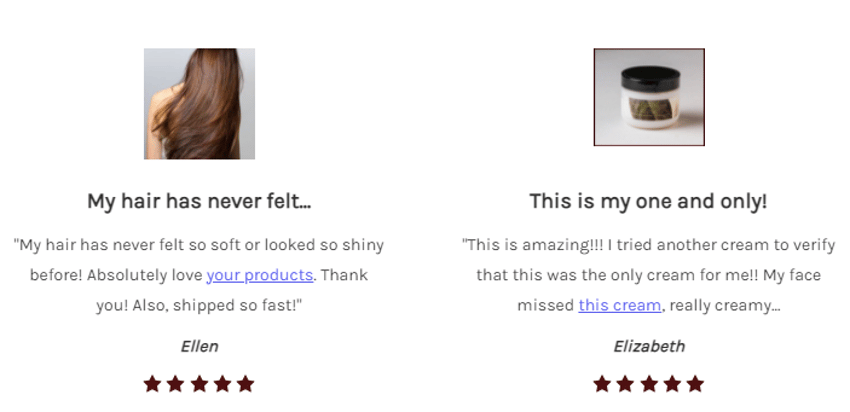 Tell us about what you've been up to! Has the business been growing?
Aura Sensory is in a really good place right now. It has reached a point of stability and reliability due to the sheer loyalty of the customer base. We've even noticeably regained customers via email campaigns who took a break from purchasing and came back after a hiatus! We've put a marketing focus on a facet of our products that makes them so effective: our business model is strictly direct sales which means constant product turnover. In other words, you never get anything that takes up retail shelf space and maybe months old. I believe this contributes to the efficacy of our products, and customers seem to appreciate this aspect of our products.
Direct customer email campaigns advertising limited-time sales have been incredibly effective over the past year. More effective than ever before. Customers seem hungry for not only value and products they perceive as effective for their stated purpose, but also safer than your typical big brand store-bought products. I suspect this is due to the post-Covid environment, people starting to go back to work in the office and needing more self-care and beauty products, and a return to value awareness in a rising inflationary environment.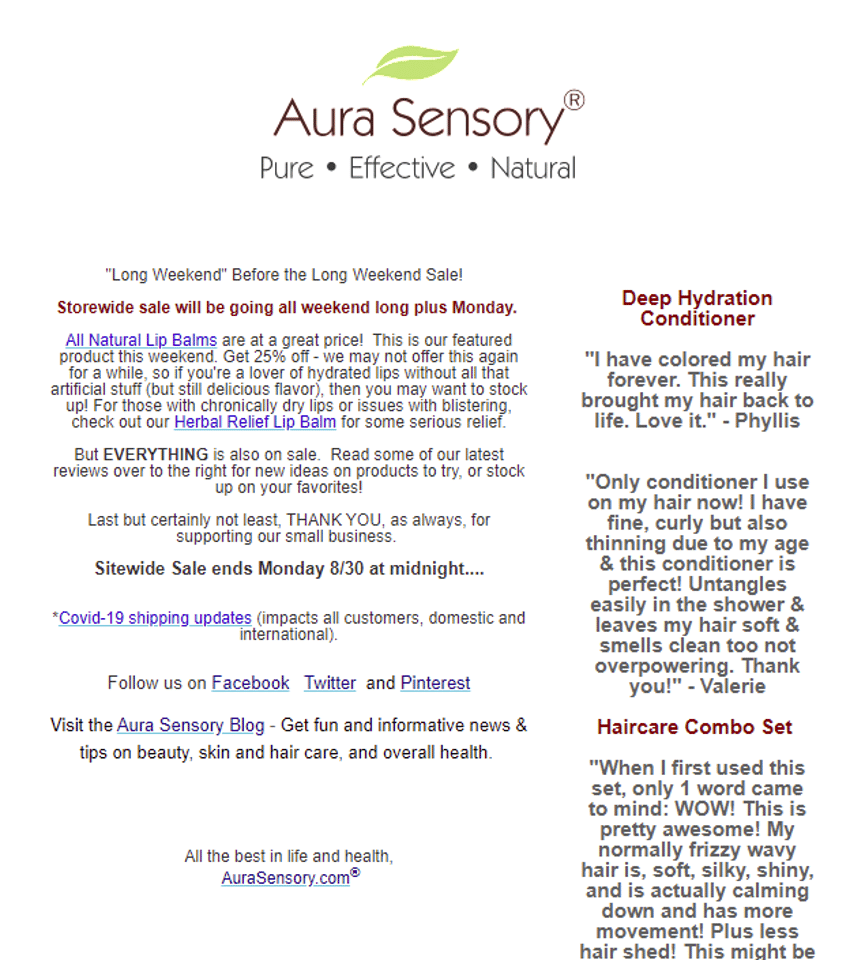 Since our products are priced fairly for our market segment and we offer free shipping on orders over $35, this has seemed to appeal to not only existing customers but also seems to be more easily attracting new ones. We've also compiled a pretty nice resumé of customer reviews on many of our products, which helps increase the value proposition.
One of the staples of my business model is to have a loyal customer base that continues to repurchase products as they run out. This is not a business where customers repurchase the product every few years (like an electronic product for example). So this is a foundational part of my business model, to have products that "run out" on a fairly regular basis and must be replenished.
Write a lot. If this means blogging, then great. If you write a lot about the subject matter even vaguely related to your business or product, it keeps the creative juices flowing.
SEO is an area where I need the expertise of someone who has experience and knowledge. We have started the process of getting the AuraSensory.com website in a better search engine ranking position, and the prospects are exciting. I'm anxiously awaiting the next phase of our business in anticipation of bringing in more new clients than usual. This could elevate the business to a new level, as it has been lacking attention for quite some time.
This means more blogging too. Admittedly the blogs were not consistent before this SEO push, so I've taken that responsibility and have been publishing new blogs on at least a weekly basis. Fresh content is important for Search Engine Optimization. It helps to keep your website fresh and up to date, even if it's not the type of business that has constantly rotating stock and new products.

What have been your biggest lessons learned in the last year?
As far as lessons learned in the past year, a big epiphany occurred to me personally about six months ago. I started to wonder, what is the purpose of running this business? My corporate job tends to be high-stress at times. I was finding the dual responsibility of also running a "side hustle" had me second-guessing the wisdom of running myself ragged at times. I found myself resenting the business at times, which was destructive to my overall energy and ambitions around it.
Part of what pulled me out of this cycle of sabotage were a few great, new enthusiastic customer product reviews. Sometimes the smallest things can change your outlook. I ultimately decided the purpose of the business overrides my periodic stress. This momentary feeling of defeat ended up energizing me and galvanizing my belief in this business.
A large part of the reason I started Aura Sensory was that I had a hard time finding products exactly like ours. I use every single one of them myself (ok, except the body wash, because I'm more of a bar soap kind of gal), and I know we have so many customers who rely on them as well. That gives me a great sense of fulfillment and pride on a personal level.
Owning this business will also ultimately allow me to fulfill a personal goal of retiring from corporate America earlier than the typical average retirement age. This thought of attaining that type of creative and financial freedom is also a motivating factor in making this business an ongoing success.
I feel like having a personal sense of responsibility for your life outlook and an innate sense of "mental toughness" is crucial in running a successful business or starting any entrepreneurial venture. Being able to pick yourself back up, dust off, and begin anew is essential if you want to achieve success in any realm of life. Business is certainly no exception.
What's in the plans for the upcoming year, and the next 5 years?
I have a really good feeling about 2022. With the new SEO push and a renewed sense of personal purpose in furthering this business to the next level, it feels like this next year is ripe for opportunity and growth. And I mean that on both a business and personal front.
I have no plans to introduce new products but to energize the existing product base by gaining more new customers than ever and expanding our base while nurturing the relationship with our current base. We did recently have to modestly raise prices in response to higher raw ingredient prices and increases in shipping costs. This was not a decision that was taken lightly.
But it was time for it, and will ultimately position the business for long-term success and growth.
Any good business owner knows that razor-thin profit margins are unsustainable. So this move was crucial to put us in a better profitability position for upcoming growth plans. I still know we are priced very competitively and we continue to offer one of the best values for the products in our market segment.
Have you read any good books in the last year?
I've read two books that were memorable enough to mention in the realm of self-improvement and business, which go hand in hand. While I wouldn't say I would read them again, they provided some memorable anecdotes and nuggets of wisdom that stuck with me.
One was The Success Principle by Jack Canfield.
He's the co-author of the venerable "Chicken Soup" book series. He has a great way of writing on the subject of a positive mindset and a sense of personal accountability and responsibility. I'm always drawn to books like this because they remind me of this responsibility. Reading books in this realm can turn periods of self-pity and negativity around once you realize how many blessings are in your life. Gratitude for what you already have is a central theme in going after that next phase of success while still enjoying and appreciating the life that you currently have.
The second book that I'm actually in the middle of now is The Mental Toughness Handbook by Damon Zahariades. It is a quick, to-the-point read about how you can become more mentally tough. He argues that no one is born with this attribute. He says anyone can attain it, but it is not going to be easy and requires real work to achieve and retain regardless of life's circumstances.
It's a reminder that it is a constant battle to stay mentally strong. But with more and more practice it makes life seem easier. Obstacles that once seemed insurmountable can be navigated with much more ease and peace once you've mastered this often-elusive trait.
Advice for other entrepreneurs who might be struggling to grow their business?
My best advice for entrepreneurs struggling to grow their businesses is to stay motivated, refreshed, and focused. Some of the ways you can do this are to surround yourself with materials that promote this type of mindset.
It can be small habits like keeping motivating magazines around the house. This could mean anything from Field and Stream. After all, you have an outdoors business, or Entrepreneur because you enjoy reading about others' success and find this motivating. It's amazing when you surround yourself with materials like this, how it eventually becomes "learning by osmosis".
Write a lot. If this means blogging, then great. If you write a lot about the subject matter even vaguely related to your business or product, it keeps the creative juices flowing. For me, that means writing about all things related to holistic health and wellness. The more you write (and ironically, read), the better your writing skills will be. Just having to research to write an informed piece about something can lead to new ideas. New ideas = opportunity and growth.
Where can we go to learn more?
-
Danna Norek, Founder of Aura Sensory
Want to start your own business?
Hey! 👋I'm Pat Walls, the founder of Starter Story.
We interview successful business owners and share the stories behind their business. By sharing these stories, we want to help you get started.
Interested in starting your own business? Join Starter Story Premium to get the greatest companion to starting and growing your business:
Connect + get advice from successful entrepreneurs
Step by step guides on how to start and grow
Exclusive and early access to the best case studies on the web
And much more!
PROMOTED
Did you know that brands using Klaviyo average a 95x ROI?
Email, SMS, and more — Klaviyo brings your marketing all together, fueling growth without burning through time and resources.
Deliver more relevant email and text messages — powered by your data. Klaviyo helps you turn one-time buyers into repeat customers with all the power of an enterprise solution and none of the complexity.
Join Brumate, Beardbrand, and the 265,000 other businesses using Klaviyo to grow their online sales.
Together With Klaviyo
Companies using Klaviyo see a 95x ROI (yes, 95x)
Use Klaviyo to turn hard-earned customer data into hard-working emails and texts.
Try the platform that 265,000 brands use to grow their business.
Try it now (it's free) ➜