How This Aerospace Engineer Created A $21K/Month Air Cleaner
•
Published: August 20th, 2022
How This Aerospace Engineer Created A $21K/Month Air Cleaner
Hello! Who are you and what business did you start?
Hello, I'm Arjen de Jong and I am the founder of AirTulip. At AirTulip, we're on a mission to provide clean air to everyone and to help people breathe easily again. AirTulip is a hardware & software technology company that builds cleanroom-grade air purification systems for public spaces and homes. Our unique controlled flow technology enables us to create zones of 100% completely clean air, verified by independent labs.
Our flagship products are the patent-pending AirTulip Stem and the AirTulip Canopy. The AirTulip Stem is a standalone air purification system for large indoor spaces that harnesses the power to reach an astronomically high amount of flow that calls for an extreme filtering capacity. The AirTulip Stem typically boosts the removal of particles (even in well-ventilated rooms) by over 10x.
Our patent-pending AirTulip Canopy uses its diffuser to build a column of laminar, downflowing clean air. The AirTulip Canopy acts like a lens, but for air. The zone concentrates its cleaning power which allows the Canopy to generate astronomical ACH values of over 200.
Our new product is the patent-pending AirTulip Sleep, a one-of-its-kind headboard with an integrated air purification system that creates a shielded bubble of clean air around you as you sleep, so you can rest easy knowing the air you breathe is clean and fresh.
We launched the AirTulip Stem at the end of last year, after extensive testing. We placed units at clinics, dentist offices, bars, restaurants, and meeting venues so far. We also have an interest in providing clean air for large open offices. We're now in the process of generating more sales for the B2B side of our business. The AirTulip Sleep, our B2C product, will launch on Kickstarter this August 30th.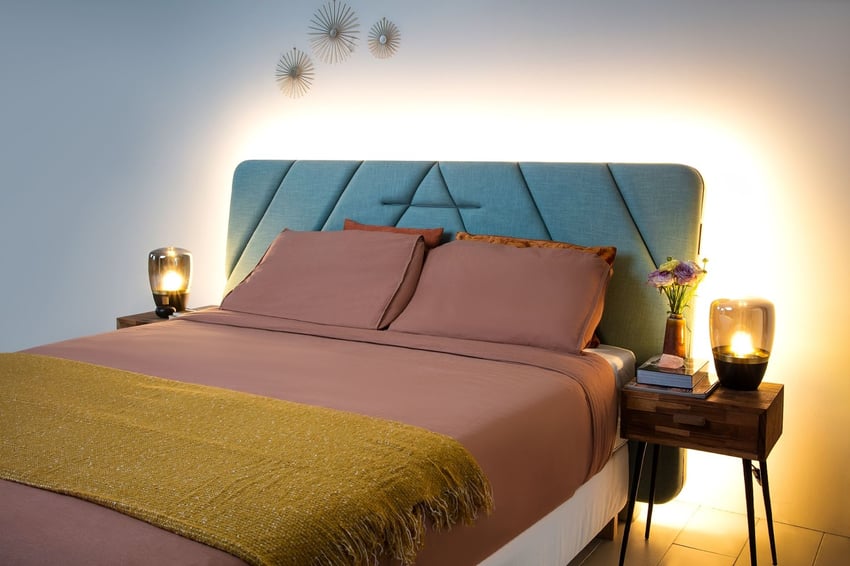 What's your backstory and how did you come up with the idea?
I grew up watching my father in his factory. He ran a company creating cleanrooms and large equipment for industry. It felt like a true playground, so I learned to build early on. Later I got my Ph.D. in aerospace engineering, so now I am combining my theoretical experience with my practical experience. I always love coming up with a creative new idea, something that changes the way we think, which is what I've been doing over the years for large and well-known tech companies.
For AirTulip, the spark started way back. I was 16 and joined the maintenance team for hangar equipment at a large airport. In the cleanroom booth, one of the workers lit a cigarette (he wasn't supposed to!). Instead of a plume of smoke, the cigarette drew a line in the air straight down. It felt like magic. And you didn't smell it at all. Now, these installations are large and expensive and integrated into the ceilings and floors of the actual building.
Try to make your MVP good and then get it out there as soon as possible.
During the Covid pandemic, I recalled the non-spreading line of 'smoke' in the air and thought: this could prevent outbreaks indoors! So I set off with the team to develop a standalone version: can we democratize cleanroom environments and make them available to all?
Take us through the process of designing, prototyping, and manufacturing your first product.
Early on, I knew we had to test in the outside world as soon as possible. So instead of making the perfect product, we started installing wooden structures in a bar of a friend of a friend. We then iterated into something moveable but still rough around the edges. We went across all of New York, hauling the evolving prototypes from bars to restaurants to gyms to offices. Based on the feedback we got, we focused and developed. We wanted the product to be whisper-quiet (this is where my PhD topic of aeroacoustics came in handy!).
The next step was finding the right components and suppliers. This was quite tricky so initially, we had to scrap some other equipment to take out motors and get creative. We then made sure we got at least 3 supplier relationships for the critical components. We also started a full-service lease for the systems, which gives us the responsibility of running them perfectly. The assembly was initially done to spec by ourselves and our manufacturing network.
Describe the process of launching the business.
For the B2B product, the actual launch was more of a soft launch: awareness grew from us talking to people directly and from word of mouth. We then noticed traction growing in the dental industry, where dentists are known for being quite technical and key decision makers. So, we doubled down and got a booth at the largest dental conference. That paid off!
For our B2C product, we have the Kickstarter coming up (you can sign up for pre-ordering here). We had great success with our previous Kickstarter, where we raised around half a million dollars.
Planning a campaign takes a lot more time and effort than people think. We assembled our team based on what worked well and what we didn't do as well previously. We are now very excited to get the AirTulip Sleep into the hands of many more people, beyond just our pilot testers!
Since launch, what has worked to attract and retain customers?
One of the things we focus on is PR. For PR outreach you can look in all kinds of directions for media coverage, and the kind of product you have (software/hardware) to determine which outlets are relevant. But aside from the obvious large tech media, you can also look at things related to your product, so this can be media about engineering, startups, design, hardware, sustainability, healthcare, etc. Fuzehub is an engineering outlet that wrote about us. We also had one of the biggest Dutch media, RTL Nieuws, outlets write our new product AirTulip Sleep way before we launched our Kickstarter campaign for it. These things are really helpful for exposure, gaining subscribers, and also for driving sales.
For the AirTulip Sleep, we're now running a pre-campaign across different channels. We're actively posting on social media, we're planning blog posts (our new blog we launch soon) and we're experimenting with paid advertising. We're testing multiple different advertising platforms to test which ones are working for us to see where we can double down.
When it comes to B2B, we're using LinkedIn a lot to get in touch with the right people. For example, we're now in contact with a sports agency that provides work for professional athletes. This will be excellent to explore how we can get these athletes to use the AirTulip Sleep to improve their performance.
Related to that, networking with people face-to-face also helps us a lot. It brought me in contact with a sports agent who works for NFL players, so now we're able to place an AirTulip Sleep at an NFL player's home to test and see if it has a positive effect on their performance.
How are you doing today and what does the future look like?
Long term, we will connect the products by offering AirTulip Sleep to hotels, for example. The public spaces in these hotels can then use the AirTulip Stem for air purification, while the AirTulip Sleep will purify the rooms themselves.
We are actively looking for strategic partners to scale up production. We also are continuing to research the human benefits of living in completely clean air, sponsoring PhDs, and collaborating with research centers. We have a pipeline of other related products to bring to market and thus are on our way to become leaders in flow control. We also envision focusing on the air quality data we collect to see how that might benefit people.
Through starting the business, have you learned anything particularly helpful or advantageous?
When starting a new endeavor, the team is small at first and people have many overlapping tasks. But as you grow quickly, you need to learn to trust and delegate. Building a culture of trust where proactive thinking is rewarded is key. The other thing is to not overthink, it is better to get out there with something than perfect in the dark.
What platform/tools do you use for your business?
For our website, we now use Squarespace. It's a great CMS platform that enables you to create good-looking websites and make changes within moments. They have also updated their design/edit experience recently which gives us even more flexibility.
For social media, we use Planoly to schedule all posts and plan everything. And for customer support, we're using Helpscout which is great when you're working with multiple people and easy to keep everything organized.
What have been the most influential books, podcasts, or other resources?
Currently, my co-founder and I are going through Startupschool by Y Combinator. It's a great experience with a lot of insightful talks and they encourage us to keep up our weekly progress and set goals. This is something every aspiring entrepreneur can participate in and they have a few batches each year, so I highly recommend it.
As a book, Getting Things Done by David Allen is a classic that has been so valuable.
Advice for other entrepreneurs who want to get started or are just starting out?
Focus on product-market fit in the early stages. Try to make your MVP good and then get it out there as soon as possible. In our case, this was an early prototype, but with software, it can be a very basic version of what you envision. You can also go for a faster approach by using mockups and designs, showing them to people, and starting conversations about what you want to build. Then you can see whether or not people would use it based on what you showed them.
I think it's important to keep momentum during every stage you go through. So in our case, we're going to launch the AirTulip Sleep on August 30th on Kickstarter. We're going to keep this first version limited when it comes to features. Later on, you can test with the market the demand for more features, but it's important to ship your product and not make things too complicated.
Are you looking to hire for certain positions right now?
Yes, currently we're in the phase of hiring a content creator. Aside from that role, we're looking to hire sales, customer support, marketing, and engineering in the coming months! So if you think you can add value to our team and you want to be part of improving indoor air quality, contact us at [email protected].
Where can we go to learn more?
If you have any questions or comments, drop a comment below!
-
Arjen de Jong, Founder of AirTulip
Want to find more ideas that make money?
Hey! 👋 I'm Pat Walls, the founder of Starter Story.
Get our 5-minute email newsletter packed with business ideas and money-making opportunities, backed by real-life case studies.