Thank you Klaviyo for sponsoring Starter Story ❤️
Turn one-time buyers into repeat customers. Try the platform loved by 265,000 brands
On Starting A STEM School Workshops And Speaker Services Business
Start An Education Workshop
Hello! Who are you and what business did you start?
My name is Vidura. I'm a qualified Aerospace engineer, dancer, and speaker. I run an educational startup delivering Science, Technology, Engineering, and Maths Workshops (STEM) workshops in schools as well as delivering speaking engagements. All our engagements are mixed with dancing for entertainment and delivered by professional artists.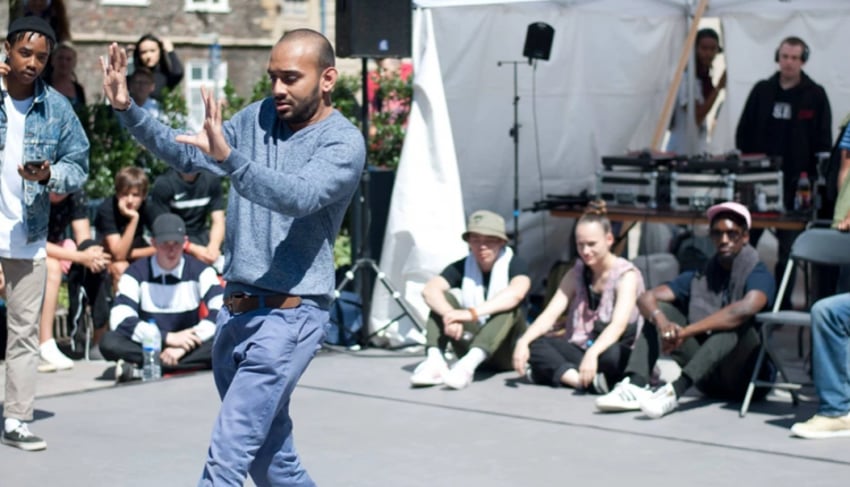 We have 11 STEM workshops covering a wide range of curriculum-based topics from renewable energy, biology to coding and robotics. Our main customers are schools. Our speaking engagements cover 4 areas. These are careers in STEM, sustainability, graduation events, and motivational speeches.
Over the last year, we reached over 5,000 students through our school workshops and speaking engagements alone. We were on course to deliver more engagements this year and hope to resume after the pandemic.
What's your backstory and how did you come up with the idea?
I came from a difficult background struggling with mental health issues since childhood. I graduated with a degree in Aerospace engineering and worked in the industry for almost five years. At the same time, I trained to become a professional street-dancer. I love both science and art. I always chased things that I had a passion for, not money.
After leaving my full-time post, I worked in several different teaching positions. I also worked as a children's entertainer. I felt something was missing in education. I wanted children to have at least some real-world practical science and engineering in the classroom. At the same time, I wanted them to walk into the classrooms with the same enthusiasm that I did when I first went to my dance classes. The idea grew on me slowly with time, so I began working on it. I developed a few workshops and tried them in school free of charge, and they were very successful from a science engagement point of view.
With speaking engagements, I first became a public speaker. I subsequently asked dancers to join my speaking engagements. It has made us stand out from the crowd.
We are still very much a startup and have a long way to go financially, but before the pandemic, we had the most booking we ever had and had opportunities to grow.
Take us through the process of designing, prototyping, and manufacturing your first product.
Each of the 11 STEM workshops we currently deliver has taken us at least a month to develop and trial. Things we have to consider include, one-off material costs, running material costs, age group and links to the curriculum, the quality of the science engagement, ease of packing and delivering, safety, and more.
If you have relevant qualifications that apply to your startup, I recommend including these in the marketing campaigns to get through the door.
The first stage is the research phase. We first identify the topic in the national curriculum that we want to target. We then research for practical experiments that we could potentially conduct in classrooms related to that topic. Next, we purchase the equipment and trial those practical experiments in our office. We discard any concepts that didn't work and repeat the whole process until we end up with a set of activities that will work 100% in a classroom setting.
For example, for our renewable energy workshop, we considered various toys that we could build, such as solar-powered toy cars. However, these were unreliable as the amount of light in a given day can vary. We eventually settled on building windmills that could power LEDs. These windmills could be turned by wind-generated from a fan and thus worked 100% of the time. Once the activities are developed we offer them to private students and some schools as a trial before making the workshop available to schools.
Our speaking engagements were developed in a similar trial and error process. First, we develop the presentation content, then we incorporate the dancing and trial the concepts of combining science with art. For example, we combine flips when we are presenting concepts such as forces to the audience.
Finally, we deliver our presentations in schools and refine them based on feedback from teachers. It's pretty fun getting together with the dancers to develop this content.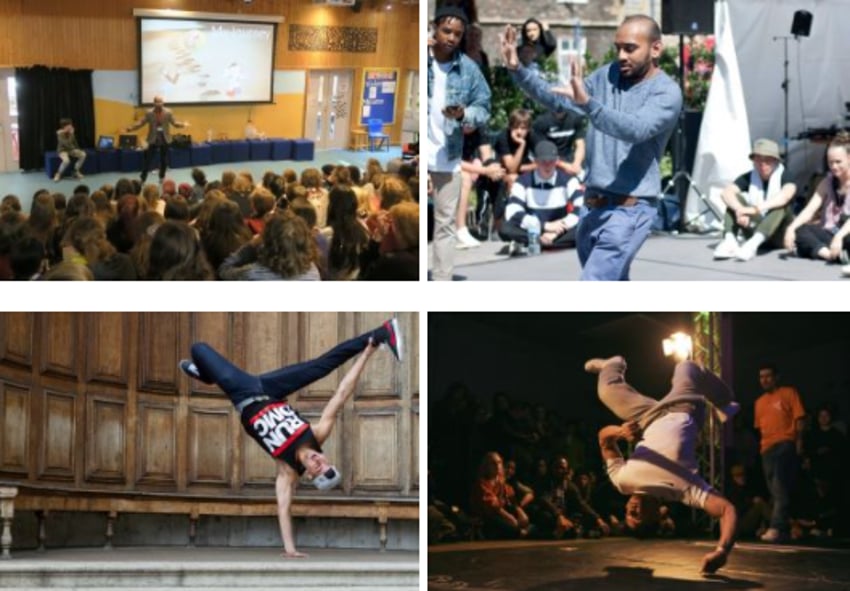 Describe the process of launching the business.
Launching the business was a slow and gradual process. First, we had to develop the workshops and the presentations. This process is still ongoing. We then advertised our services on a website and launched marketing campaigns. Our services were eventually separated into two websites. One website for school engagements and the other for public engagements. Both are marketed under the same brand VSTEAM Education.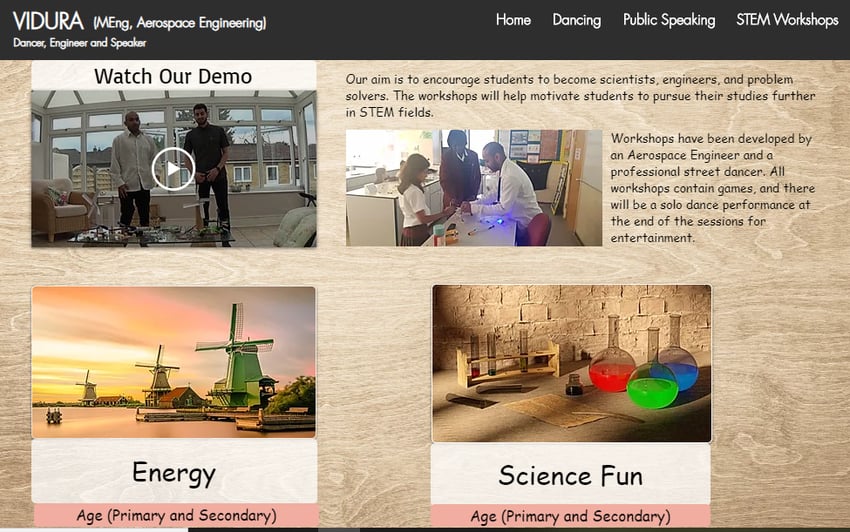 Our first website (for both services)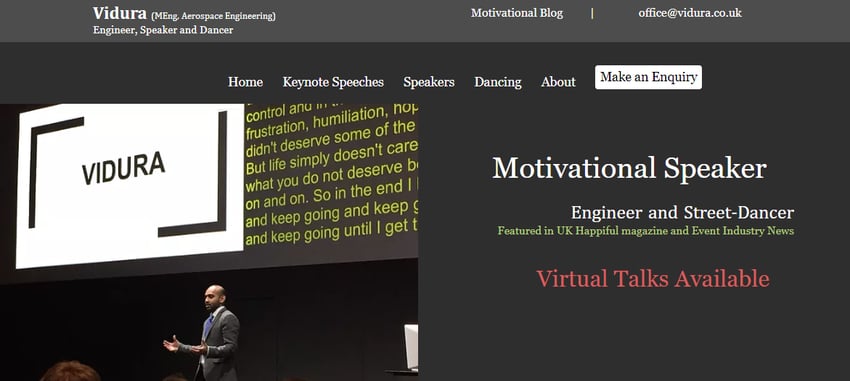 Our latest website for speaking engagements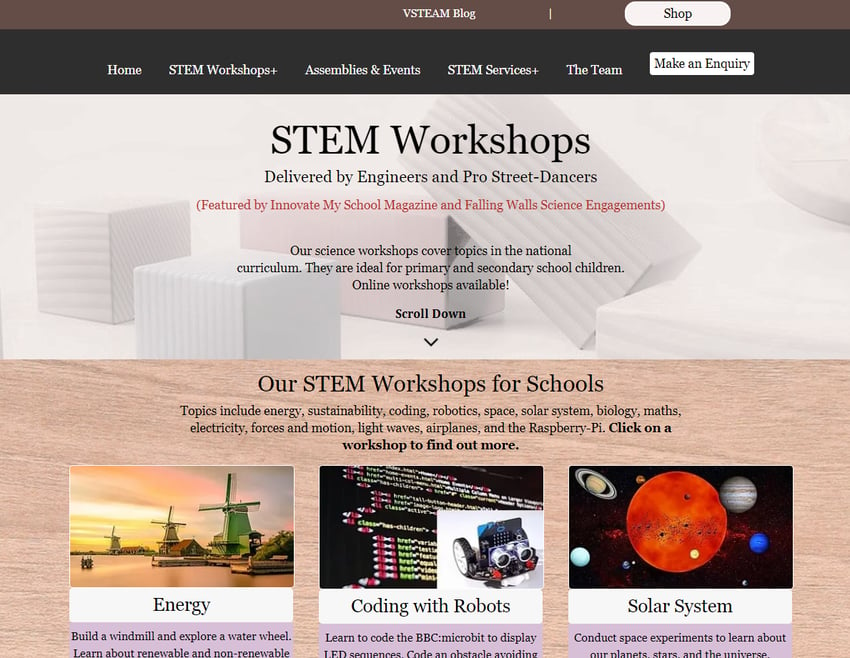 Our latest website for school engagements
We finance our startup entirely from earnings in other jobs as well as from our revenue. I still work part-time in other educational-related jobs. I didn't want to take loans to avoid debt. It's slow that way, but the risk is minimal, and it's stress-free.
We learned early on that it's not a good idea to be fixated on certain aspects of the business. For example, we initially wanted every child to take an item home at the end of the workshops. However, after many months we realized this was simply not affordable to schools, and settled for interactive workshops instead. I could have landed more bookings had I changed my mind earlier. It's a massive learning curve at the beginning, just keep going and be willing to change.
Since launch, what has worked to attract and retain customers?
Using my education and work experience credentials in marketing campaigns has been helpful to reach teachers. If you have relevant qualifications that apply to your startup, I recommend including these in the marketing campaigns to get through the door.
In terms of marketing methods, I tried lots of methods at the very beginning. You need to find which marketing methods work for your startup. We tried mail marketing, email marketing, Google Adwords campaigns, Facebook advertising, and using social media.
Mail marketing was a failure. It never reached the teachers. Today, we mainly use email marketing campaigns, Google Adword campaigns, and word of mouth. We found these worked the best for us.
Instead of letting a year go to waste due to the pandemic when we couldn't work, I invested my time to learn and develop more content to offer schools. There is no point worrying about things outside your control.
Learn to use the advanced features with Google AdWords campaigns, if you decide to use them. I don't recommend using the default features as you want to be specific with your targeting. Use this tutorial to get started with the advanced features from Google Adwords.
For email marketing, we also use a third-party agency (Sprint Media). They are a professional company delivering an excellent service. In terms of social media, we focus on Twitter, as this is where the majority of the education community interacts.
Our two new websites were custom built from scratch. It has given us full control over Search Engine Optimisation (SEO). I do not recommend that you learn professional web development, as this is a time-consuming process. You should either use an online platform like Wix (this is where we first hosted our website) or hire a professional developer. If you want to improve your website's Google ranking, I highly recommend Neil Patel. It has only been 7 months since we launched our new website, and we have managed to climb steadily through the ranks thanks to some of his free content.
How are you doing today and what does the future look like?
Our new website for schools was launched about 6 months ago, and we have received around 800 visitors so far (See the diagram below). We are confident with SEO, and when the pandemic is over our number of visitors will increase. That peak on the diagram is when we launched an email marketing campaign with Sprint Media.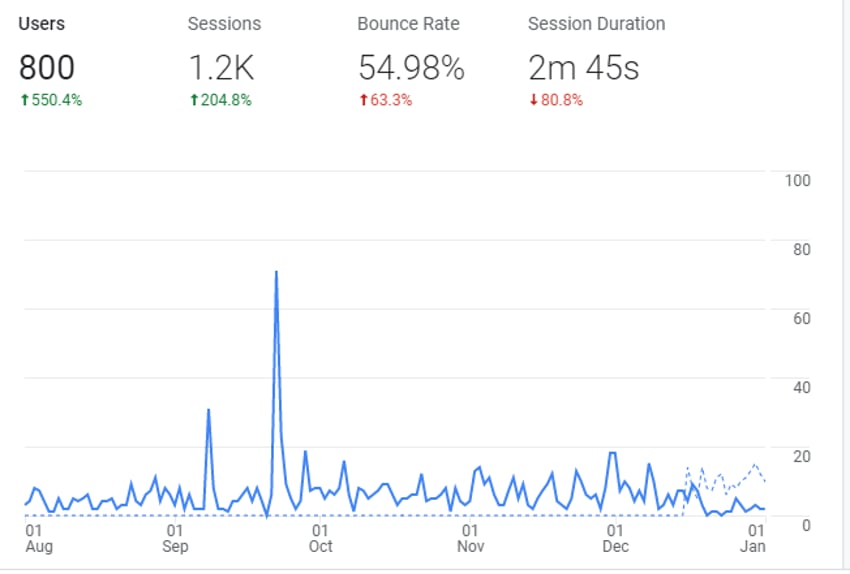 We broke even for the first 8 months, and this year we made a slight profit. We have around 24,000 email subscribers and over 1000 followers on Twitter (our biggest social network). Pretty much all of our contacts, leads, and followers are school teachers or schools. We are currently in touch with schools abroad and hope to deliver some engagements abroad next year.
Our services currently on hold until schools resume, but we are continuing to develop more workshops and presentation content. Progression is important. Also, we are not driven by money, but by passion and education. As an engineer, I want to move the world forward and this remains my ultimate goal. I see my startup as the gateway to reaching the public to promote social change through science and technology. Our short-term goal is to turn our business into a full-time living for its employees. Long term goal is to use it as a platform to promote change.
Through starting the business, have you learned anything particularly helpful or advantageous?
As mentioned earlier, I wish I wasn't fixated with some of my business ideas and allowed for more flexibility at the start of the project. However, I'm glad I experimented with lots of things at the very beginning. For example, I'm glad I tried out as many marketing methods as possible, so now I know which ones work best for us. A lot of things at the start will be trial and error, and that's part of the process.
There are a lot of external factors that affect your project, so I try my best to focus on things that are within my control. Instead of letting a year go to waste due to the pandemic when we couldn't work, I invested my time to learn and develop more content to offer schools. There is no point worrying about things outside your control, although you should be aware of them. Ultimately focus on your vision and goal. A lot of businesses out there are always looking at what their competitors are doing. I tend to develop and improve what we are offering.
What platform/tools do you use for your business?
I use VSDC free video editor to produce video and marketing content. I use another free tool Audacity to edit music and audio. These are some of the best editors you can use at no cost.
To track finances, I use the free Money Manager Ex software. Setting it up takes a little while, but it will save you a tonne of time in the future. You can track all your expenditure with this software by simply downloading your bank statements and categorizing your expenses. Doing taxes will be a breeze as it generates weekly/monthly and yearly reports. I also use this for personal finances.
Remember to back up the important stuff. I store my data on the cloud and offline storage devices. I recommend the free "Cobain Backup" software. You can make incremental backups, as well as full backups.
What have been the most influential books, podcasts, or other resources?
As mentioned, Neil Patel has been very helpful when it comes to online and digital marketing. I always YouTube to learn about SEO or new marketing strategies. In addition, before I try anything new or learn a new skill I have a look at some tutorials or try to gain some insight from methods others have tried. The chances are someone has probably made the same mistakes you will make, so why not learn first when you can.
Advice for other entrepreneurs who want to get started or are just starting?
Once you have set up your services or products, set up a nice website and have a business card at hand. Be organized from the beginning and plan. This is so important. Doing the little tasks such as keeping your paperwork and files tidy, tracking your finances, and backing up your content and data will save you a lot of time and headache in the future.
Treat your employees well, not just your customers. I think of my organization as a team trying to make a difference. Each one of us has learned and grown through the work we do.
Are you looking to hire for certain positions right now?
We are not looking for anyone right now as the pandemic has hit us hard and ground our work to a halt. Perhaps late this year or early new year, we might need more additional part-time assistants to run the workshops.
Where can we go to learn more?
If you have any questions or comments, drop a comment below!
-
Vidura, Founder of VSTEAM Education
Want to start your own business?
Hey! 👋I'm Pat Walls, the founder of Starter Story.
We interview successful business owners and share the stories behind their business. By sharing these stories, we want to help you get started.
Interested in starting your own business? Join Starter Story Premium to get the greatest companion to starting and growing your business:
Connect + get advice from successful entrepreneurs
Step by step guides on how to start and grow
Exclusive and early access to the best case studies on the web
And much more!
PROMOTED
Did you know that brands using Klaviyo average a 95x ROI?
Email, SMS, and more — Klaviyo brings your marketing all together, fueling growth without burning through time and resources.
Deliver more relevant email and text messages — powered by your data. Klaviyo helps you turn one-time buyers into repeat customers with all the power of an enterprise solution and none of the complexity.
Join Brumate, Beardbrand, and the 265,000 other businesses using Klaviyo to grow their online sales.
Starter Story
Wanna see 52 business ideas you can start with less than $1,000?
Join our free weekly newsletter and get them right now.