How I Started An $80K/Month Vitamins And Supplements Business And Franchising
Start A Nutrition Supplements Business
Hello! Who are you and what business did you start?
Hi, my name is Ricky Hall, the founder of NutritionHQ and NutritionHQ Franchising. I opened my first nutrition store in February of 2000 as a GNC franchise in a small Northeast Missouri town. The town was Kirksville Missouri and the home of Truman State University. I worked the store open to close for the first five months until I hired my first employee was a Truman State student and soccer player majoring in Exercise Science.
It took me 3 plus years to get the business profitable and at that point, I sold 30% to a friend/business partner so we could start expanding. There were a lot of franchisees struggling in the St. Louis MO market. Tim and I partnered to buy failing stores, implement our business model to make these stores once again successful.
At one point we owned four St. Louis locations and one Tucson AZ location. Tim was from Tucson, we planned to expand the same business model to the Arizona market.
In late 2009 I listed the St. Louis stores for sale as I was ready for a change in the Nutrition retail environment. The stores sold in early 2010, Tim purchased my interest in the Tucson AZ store and I was off to the next venture.
In 2011 I started another franchise concept that I worked to help grow until 2014 and decided I would be much more successful on my own. In the spring of 2014, I split away from Complete Nutrition and started NutritionHQ. in January of 2015.
I was approved to start franchising NutritionHQ in 2020 and franchised my first store on October 20, 2020, to a former Complete Nutrition manager Jeremy Sexton.
I have over 20 years of franchise experience as an owner and operator. I am also a veteran of the Air Force and have over 30 years of coaching, leading, and guiding individuals to success.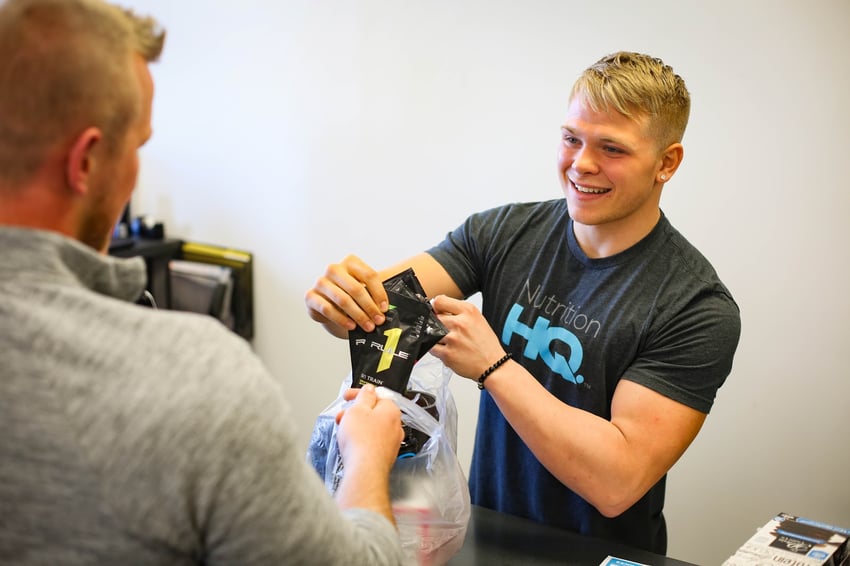 What's your backstory and how did you come up with the idea?
I have been very passionate about nutrition and supplements since the early '90s while serving in the Air Force. I remember seeing a picture of myself and how overweight I had unconsciously become. After seeing that picture I purchased a book about nutrition and supplements within six months I had lost over 50 pounds. I was hooked on helping people lose weight, gaining muscle, and live healthier lives. I started training and writing diet plans for friends and family members and realized this was my true passion.
After leaving the Air Force in 1995, I moved to New Jersey and worked at a gym selling memberships and personal training. In 1998 I moved back to Missouri to be closer to my son and start my first nutrition store. I scraped together everything I had saved working a construction job and begged my Mom and Dad to cosign a loan to open my first franchise store in February of 2000.
In 2009 I felt like I couldn't take care of my customer and I was forced to sell products that I did not believe in. I sold my four stores in 2010 in hope of finding a franchise concept that cared about the customer as much as I did. I worked as a consultant for a few months with a new franchise concept. In 2011 I bought into the new franchise concept to finally change the way people thought about Nutrition stores. Quickly I learned the franchise was not the answer and I was growing more and more frustrated every day. I wanted to provide the best products for my customers and my hands were tied.
On May 27th, 2014 I left my latest and LAST franchisor to take care of my biggest asset…..THE CUSTOMER! We have unfortunately closed three underperforming stores during this transition to NutritionHQ. and sold two other locations. We have two great locations and a wonderful website to help customers reach their goals. My passion and my teams' passion is to comb through all the nutrition companies and put the best products on the shelf to meet the customer's needs. We will provide effective weight loss products, the most cutting edge sports nutrition lines, the best Multivitamins, healthy snacks, RTDs, and minerals. If it is Health & Wellness products, we will stock our shelves with those excellent products. We will be your Headquarters for Nutrition.
We are "Solution Focused" and we will do everything in our power to help you reach your goals. If we don't have the products or tools, we will refer you to the expert that does. We love to see our customers nine-ten times per year; if you are visiting our store nine-plus times per year we are both successful.
My two owners will have their most profitable year since the company started in 2015.
Take us through the process of designing, prototyping, and manufacturing your first product.
From the second you walk into our store; you will be greeted by a personable consultant that genuinely cares about your goal. We believe in building relationships with our customers. We do this with our six-step sales process.
Greet: You will be greeted and welcomed to the store within five seconds of entering the store.
Ask & Listen: Our consultants are trained to ask multiple questions to understand your goals and lifestyle. We want to completely understand your health when providing advice.
Coach: We have lifestyle sheets we use to write out your program and supplement plan. We want you to leave the store feeling confident in the product you have purchased.
Sample
Thank You cards: Our consultants handwrite a personalized Thank You card to every new customer inviting them back to the store. Each thanks you card also has a coupon offering a discount on their next visit.
Follow-up: We like to follow up with our customers to see how they are doing on their products and programs. This may be with an email, phone call, or text message.
NutritionHQ fosters a two-line culture: Our Customers and Our Consultants
Our Customers. Our customers rely on us to source the best supplements available on the market and custom stack these powerful tools to facilitate their specific goal achievement. Our clients receive the best value, unparalleled consultation, and success through our service, dedication, and consistent commitment.
We take our consultative approach by offering nutrition coaching from a certified nutrition coach. By providing free InBody scans that will tell us your weight, body composition, hydration is only fifteen seconds.
Our Consultants. We regularly receive resume's from the most experienced consultants in the industry seeking to build their careers at NutritionHQ. Our aggressive growth goals center around giving every expert a chance to build a lasting career as a leader at NHQ.
In short, NutritionHQ. serves our clients and our team with unparalleled commitment, trust, and opportunity. We believe that one company cannot make every product great, we work with more than 30 brands and vendors that we vet and qualify.
Since launch, what has worked to attract and retain customers?
When opening your NutritionHQ or any business, you MUST be committed to the success of your business. I do not believe in a turn-key business model, it will take a lot of work and dedication. When I'm speaking to a new business owner(s) I always like to ask if they will be at their business open to close for at least six months?
You will want to be a big part of your community such as the Chamber of Commerce. You need to surround yourself with other business owners. Look for a mentor or a mentoring program. Join a business organization like EO (Entrepreneur Organization) or a peer-to-peer group. There's also a program called Accelerators that is part of the EO network. You will want to be around like-minded people that understand networking and business problems. Also, surround yourself with a good network of advisors, CPA, business attorney, and financial planning.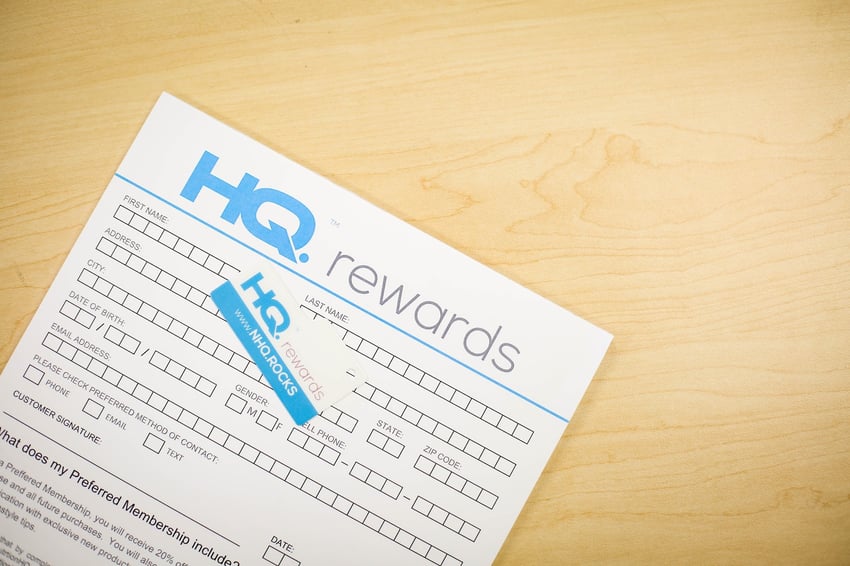 My franchisees and I believe that creating an in-store experience that is consistent and genuine. We had a lot of success keeping customers informed with email and text marketing. We have active blogs on our website and will be launching a monthly newsletter in the second quarter of 2021. You want to always stay in front of your customer with positive information about their health and wellness. We stay very active on all social media platforms with wellness information, promotions, and the newest products we are stocking.
One of the biggest mistakes I see over and over again is GREED. Greed will take everything down sooner or later.
Be genuine and care more about the customer than the sale and you will sell more. I learned that from sales coach Jack Daly. We still handwrite Thank You cards to our new customers. We go above and beyond because many service businesses are cutting corners these days. We will be the leading brand for Health and Wellness!
How are you doing today and what does the future look like?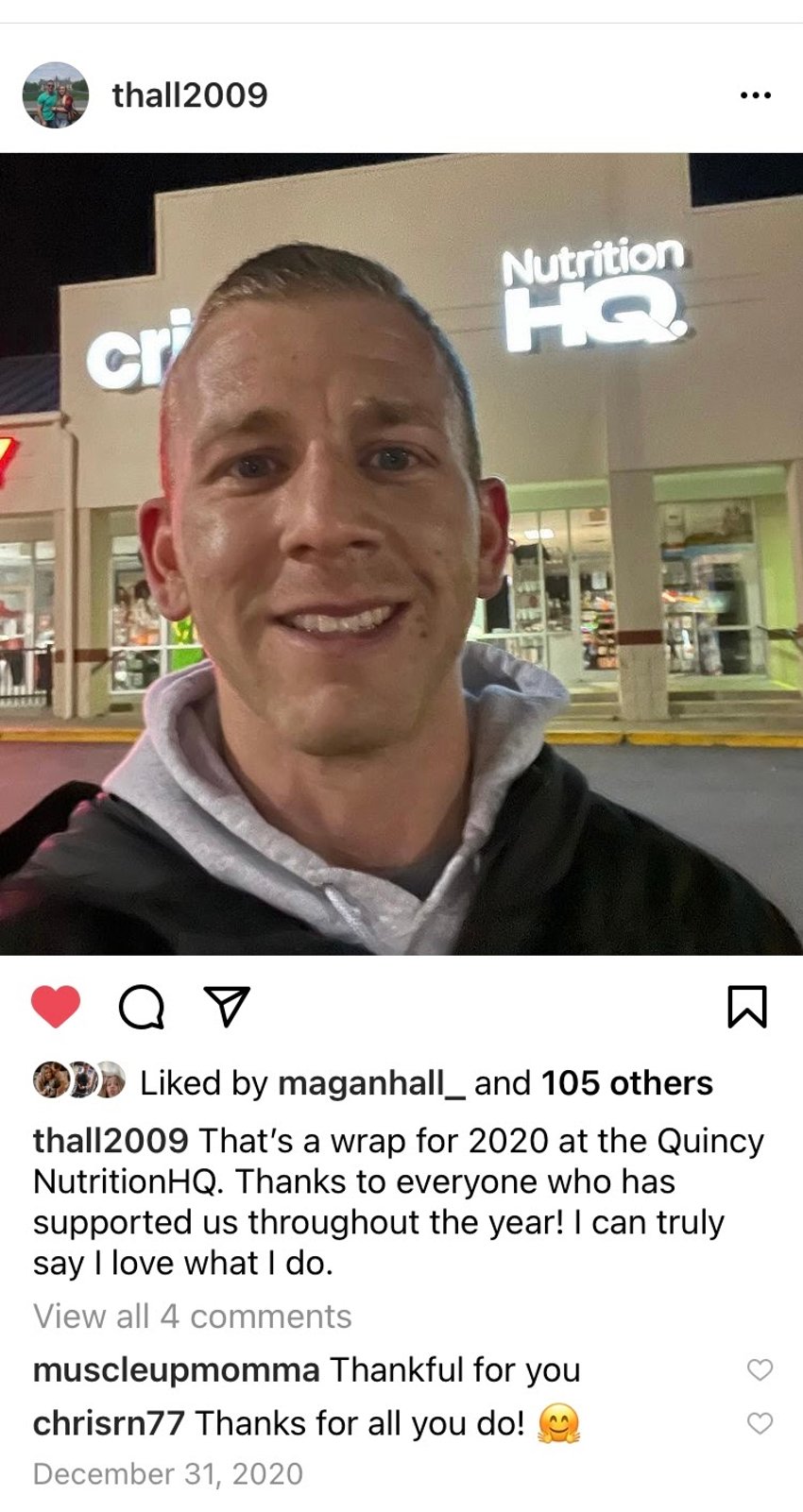 NHQ was very fortunate to have been an "Essential Business" during these trying times of COVID. My store owners, vendors, partners, and I have worked very hard the past 18 months to maintain our culture and keep our customers very happy. Our 2020 overall sales numbers beat 2019 by 21.2%. We are on pace to shatter last year without adding new locations.
Not only have we seen growth in revenue but our in-store traffic has also increased exponentially. We expand our product mix to lower margin items such as; food, protein bars, healthy snacks, RTD's and energy drinks. Adding these lower-margin items has increased our customer foot traffic and we still managed to maintain 2019 margins.
We will add three new locations in 2021, five more locations in 2022 and will be on pace to hit our 2030 goal of 100 locations with the system generating over 10 million in revenue.
Through starting the business, have you learned anything particularly helpful or advantageous?
Since I have lived as a Franchisee and now Franchisor I have been exposed to a lot of business experiences good and bad. I have no regrets about my journey and it will only help me build a better NutritinHQ Franchise system. One of the biggest mistakes I see over and over again is GREED. Greed will take everything down sooner or later. I have had greedy business partners that I had to fire or buy out. It will disrupt your company culture and make your home life miserable. I believe one of the biggest fallouts with a lot of franchise systems is a greedy Franchisor and franchisees lose trust in the business model.
Being in retail I have learned you need to listen to your customer's needs. Put products on the shelf that keeps them coming back and bringing their friends. My franchisees and I work day and night to keep the stores innovated with product selection and technology. Training is essential to staying current with product selection and taking care of the customer's needs. We hire people that are passionate about health and wellness. We want consultants that genuinely care for others and live the lifestyle.
One of the best things I did was have my Team go through core value training and establish our core values. We live by these, we hire by these, and will terminate with these values. I'm in the trust business and we needed strong core values to build the store and company culture I believed would lead us to success.
When you're in business you are going to have business problems. If you don't have any problems you are no longer in business. People are going to get sick, get in an accident, have a death in the family, you will have cash flow issues to unpredicted situations. Make sure you have thick skin so you can weather these storms. It will take grit and you will need to grind to be successful. Trust the process and keep the faith.
What platform/tools do you use for your business?
Like everyone in business and life, I use email and my calendar. Lately, I have added Asana for Task Management and Calendly for scheduling meetings. Calendly helps eliminate multiple emails trying to organize meetings and events.
What have been the most influential books, podcasts, or other resources?
The first book on business I ever read was Rich Dad Poor Dad by Robert T Kiyosaki. I purchased my first rental property the next weekend after finishing the book.
Another book I enjoy is Millionaire Next Door by Thomas J. Stanley. My favorite motivation book and "Get your butt out of Bed!" book is Can't Hurt Me by David Goggins.
The Podcasts I enjoy are Tim Ferris and Joe Rogin. I also enjoy anything Tony Robbins writes, broadcast and I have also had the privilege of seeing him at an Inc. 5000 event.
My business friend and attorney Eric Riess from Aspen Law have just launched a Podcast called Talking Risks to help entrepreneurs navigate the turbulent water of business, life, and taking risks.
Advice for other entrepreneurs who want to get started or are just starting?
Find something you are very passionate about and NEVER give up or look back. Read as many books on business, listen to podcasts and surround yourself with successful people. One of my favorite quotes is from Jim Rohn, "You're The Average Of The Five People You Spend The Most Time With." There is so much truth that surrounds people saying, find something you love and you will never work again. That is the life I have been blessed to live for the past 21 years. Stay Hungry!
Are you looking to hire for certain positions right now?
We are not looking to hire anyone at this time as I outsource most everything until I add 3-5 new franchise locations. We are also being cautious as we get through the COVID epidemic.
Where can we go to learn more?
If you have any questions or comments, drop a comment below!
-
Ricky Hall, Founder of NutritionHQ.
Want to start your own business?
Hey! 👋I'm Pat Walls, the founder of Starter Story.
We interview successful business owners and share the stories behind their business. By sharing these stories, we want to help you get started.
Interested in starting your own business? Join Starter Story Premium to get the greatest companion to starting and growing your business:
Connect + get advice from successful entrepreneurs
Step by step guides on how to start and grow
Exclusive and early access to the best case studies on the web
And much more!
Together With Food Foundry
Do you want $75k in funding to grow your startup?
Food Foundry is an accelerator program built by Relish Works & Gordon Food Service for early-stage startups disrupting the foodservice industry. Applications are open now through October 23rd! Apply today if you're looking for:
$75K in funding
Specialized early-stage curriculum and resources
Dedicated mentorship from investors and foodservice experts
Highly supportive community to help grow your business
Food Foundry's 2023 cohort will kick off in January in Chicago and end with a final invite-only showcase for companies to pitch to investors and the broader Food Foundry community.
Apply NOW [It only takes 10 minutes!]