On Starting A Handmade Sustainable Fair-Trade Lifestyle Products Brand
Hello! Who are you and what business did you start?
My name is Jhumkee Iyengar and I launched Ohrna at age 57 with a fourfold objective:
Enable rural women to develop artisanal skills and also earn a living from home
Preserve time-honored crafts by applying them to contemporary products
Use only sustainable and organic materials in our products and packaging and
Showcase India's beautiful crafts and materials to a global audience
Our ethnic, embroidered backpacks, totes, holders and pouches are our most popular products, all handmade by rural women in India. Besides, we also have cross body bags, laptop sleeves, shopping bags and more. We combine jute with natural and local fabrics to give a unique, rustic-classy look to our products. Many products are reversible too since we line our jute with the same cotton fabrics and not plastic, which is typical in the market.
Ohrna means 'veil' in Bengali, a language of India's east. For a woman, an Ohrna adorns her attire, provides her the grace and comfort she seeks and shades her from the harshness of the sun. That is what we want Ohrna to be for our makers, as our offering to mother earth.
Both our core material jute and our main embroidery style Kantha, come from my roots in Bengal. Jute is a plant fiber and we use it as a base for all our products.
We provide free training to farmers and rural housewives, give them the materials and pay them to work from home. This enables them to not only earn a living, which of course matters the most but also comes with many intangibles that create a sense of self-worth — the joy of creating, of stepping outside their home to work for the first time, having their own bank accounts for the first time and a general sense of belonging and of being part of a global world to where their work and names travel.
We sell to anyone who appreciates our unique designs, materials, traditions and mission, from individual customers to small boutiques to wholesalers. Our current customer base is spread across the US, India, and Germany. Our 2nd-year revenue has been around $12,000 and we have trained and employed around 15 women so far.
Ohrna is now almost 3 years old. We believe in people over products, organic over synthetic and handmade over mass-produced. We are satisfied to be living our tagline, 'responsible design' and to dedicate our work to Mother Earth since the day we launched.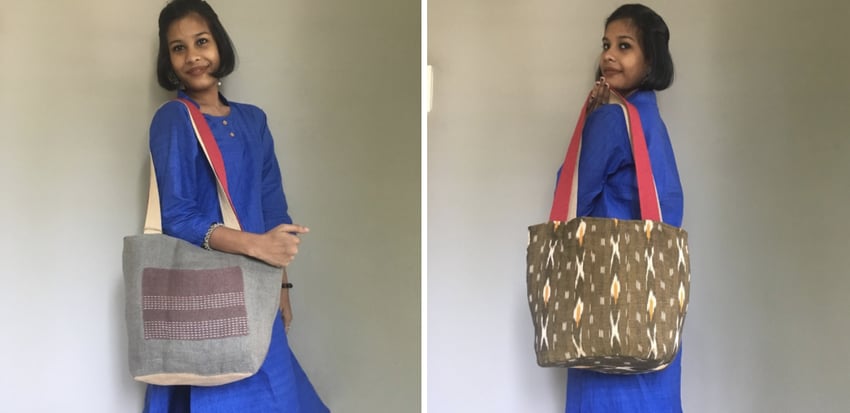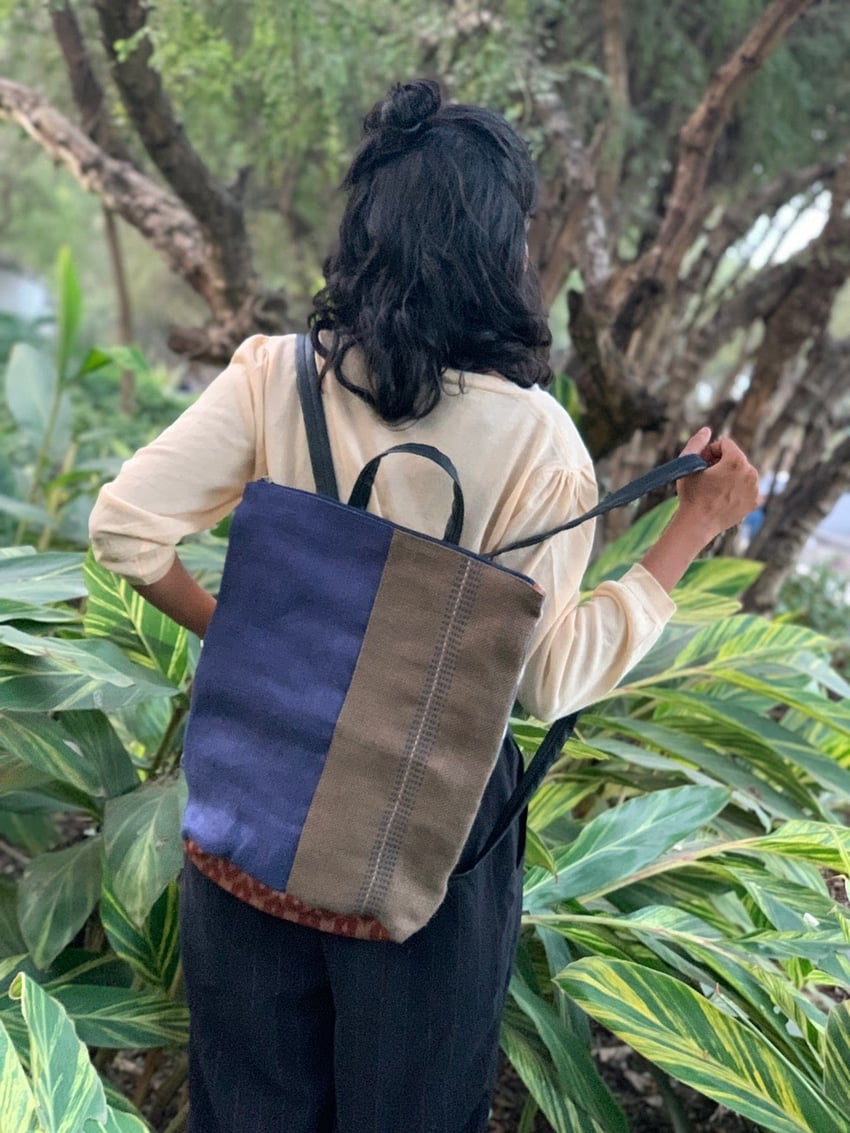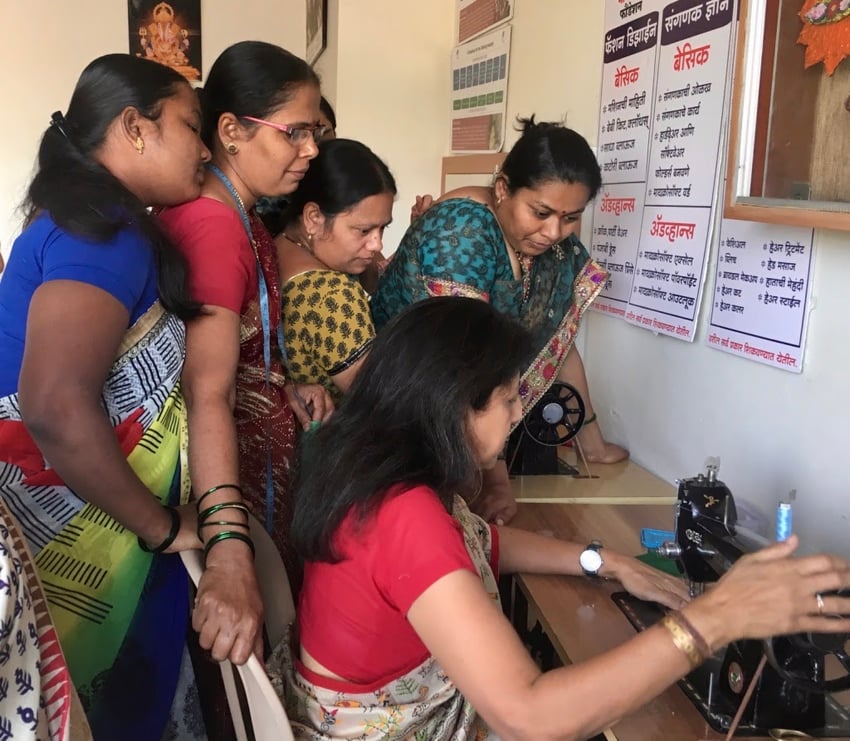 What's your backstory and how did you come up with the idea?
I have built a career in human-centered product design over more than three decades, and run my own consulting practice helping companies and organizations incorporate design thinking, after several years in corporate America and India. I also teach human-centered design for the Pittsburgh based LUMA Institute at corporations worldwide, am an adjunct faculty at the Indian Institute of Technology where I teach postgraduate design students and MBA students, and run an online course for the Indian government's National Program for Technology Enhanced Learning. I have presented at global conferences and have several publications and articles to my credit.
In my growing up years, we did not have a lot but we had enough and we always had enough to give others. This is what my parents — a scientist father and a professor mother — taught us.
I have always counted my blessings and felt a very strong urge to give back. Several defining moments came to me during my interactions with women who lack formal education but possess an indomitable spirit and deep wisdom. I realized how easily our respective destinies could have been reversed --- the only difference between us was the opportunities that I received.
And nowhere was this more evident than in the villages of India, where I began conducting design thinking workshops for rural teens in 2010. These workshops helped prove my hypothesis that anyone can design for their surroundings and context if they are given the right opportunities and tools.
My brush with rural India made me realize quickly that a woman without financial independence has no voice. And while many rural families migrate to crowded cities to get some or the other work, the women in rural settings, bound by lack of opportunities and education as well as social norms often have no means to earn a living. Once I knew that I wanted to 'do something', I realized that in order to work in this space and with this group, I would need to do so in a domain close to their comfort zone.
Since I had been fortunate as a youngster to learn sewing from a professional tailor and sewed many of our clothes myself, I chose the sewing route.
I was greatly inspired by my aunt, who ran a home-based organization for 25 years, making jute products for a local customer base in Kalyani, a suburb of the bustling eastern Indian city of Calcutta. Training local tribal women for free, providing materials to work from home, etc. are aspects of her model that I imbibed in Ohrna.
Validation of products marketable by Ohrna has happened the hard and expensive way, launching small batches of products and then streamlining the batch based on their response in the market.
Working globally and servicing a market on the other side of the world was extremely challenging both operationally, logistically as well as financially. I have used my earnings from my consulting and teaching to fund this venture but it also meant that I was doing 3 jobs to make it all happen, which I continue to do, but I give the bulk of my time to Ohrna.
My family has been a tremendous source of understanding, support and strength through it all.
I would say my biggest hurdle came from taking on too many new things simultaneously.
Take us through the process of designing, prototyping, and manufacturing your first product.
Our focus has been on sustainability since the very beginning and picking jute as the primary material was a natural first step. The designs emerged out of my Human-Centered Product Design experience in 2 ways:
Gaps or difficulties in using certain products that could be addressed and made with jute
An existing product that could be adapted to jute
And then, of course, embellishing with Kantha embroidery, products emerging out of each of the above avenues.
Since I chose to work with women who do not start out as 'artisans' but as farmers or housewives who may otherwise not find work, teaching became an integral part of my business model. This consists of teaching firstly the craft, secondly the product making and thirdly, how to do this with a good quality finish.
So our philosophy is to teach how to fish and also provide the tools and materials to fish.
The initial prototypes were made by me, starting as fun explorations combining function and aesthetics. Once I was comfortable with the outcome, which often needed 8 to 10 prototypes to get there, I started to make a pattern.
Manufacturability was a separate and next step. Because skill-building is a crucial step we had chosen to do for our target beneficiaries, a very key part of manufacturability was about ensuring our products were easy to make. So every part of every product was now revisited from that perspective and only then our making procedures were finalized. An interesting by-product of our efforts is that most of our products became reversible products as a result of this effort and innovation, and today we are proud of it!
Given our strong beliefs in sustainability as well as in preserving and showcasing traditions, we decided early that these needed to be carried forth all the way from sourcing, through our supply chain and into our packaging, starting with non plastic-coated jute. We therefore also chose to package all our products in up-cycled saris, that showcased our beautiful and fine sari fabrics, colors, patterns and motifs along with our products, all a representation of India. It was very difficult for our makers to understand why we were packaging this way and why they had to sew a unique package for every product.
So before going to the village once or twice every month, there was a long prep time of a few days, where I would personally cut, design and match fabric color combinations, measure and cut matching embroidery threads, and finally package a 'ready-to-sew makers kit' that would be easy for the makers to understand and make.
Armed with a few baskets full of these kits I would leave for the village. During the workshop, I would not only teach the making technique but also refine and fine-tune it and then at night, I would document it for the 'Maker's Manual'. The workshop also involved our artisans determining how much they should be paid for each product after understanding the work involved.
Startup costs were all from my earnings while I worked on other assignments. Hence while I was not answerable to anyone and also had my family's moral support, I was not taking any money from Ohrna (my time was my CSR). I was always watching my expenses however and had an internal mental timeframe that I had set for it. This is because I had to make it happen within my means and was not going to borrow money from anyone at this stage of my life!
Below are photos of some early prototypes and concepts, bringing alive hypotheses about convenience in the design of products, while also adapting them to embroidered jute!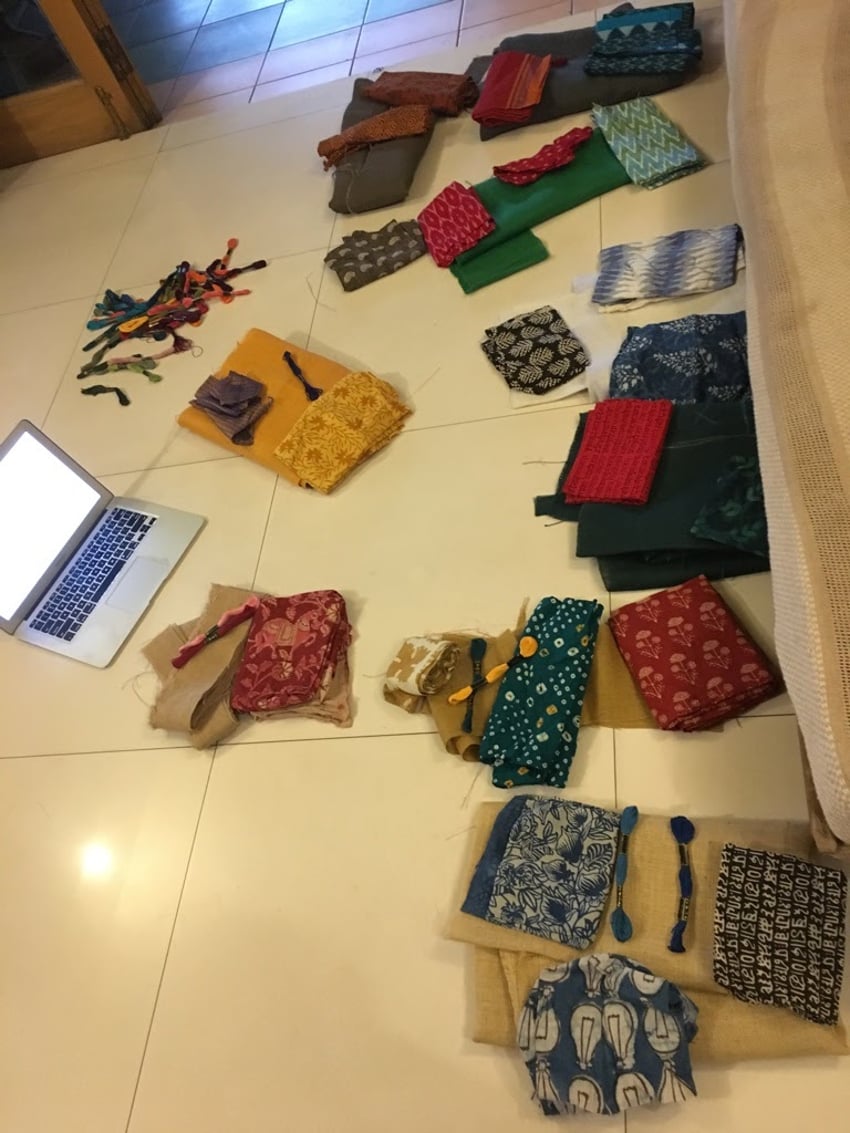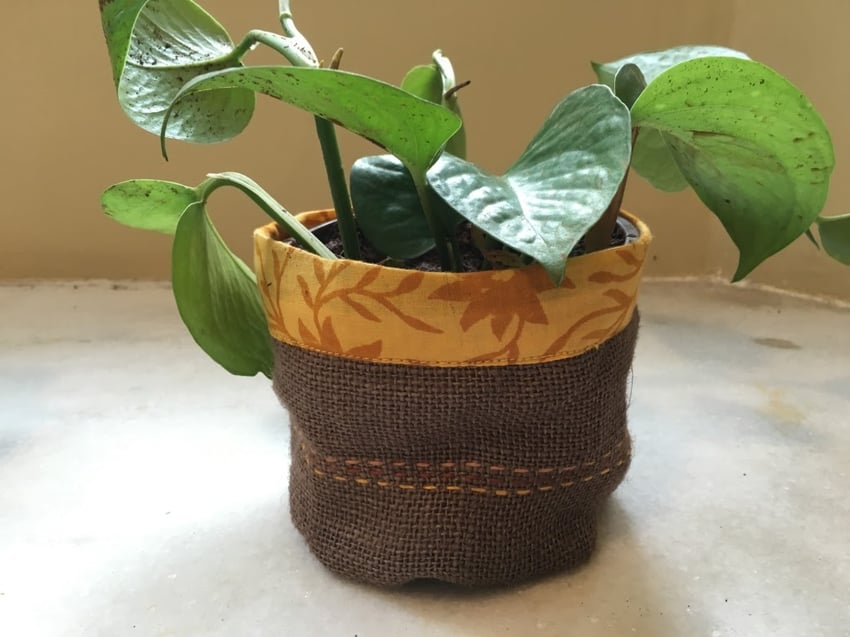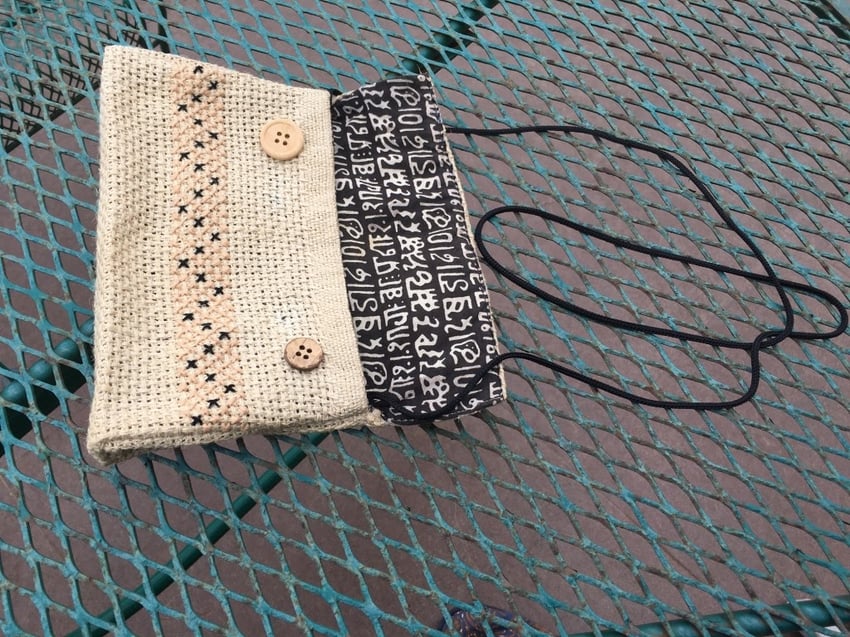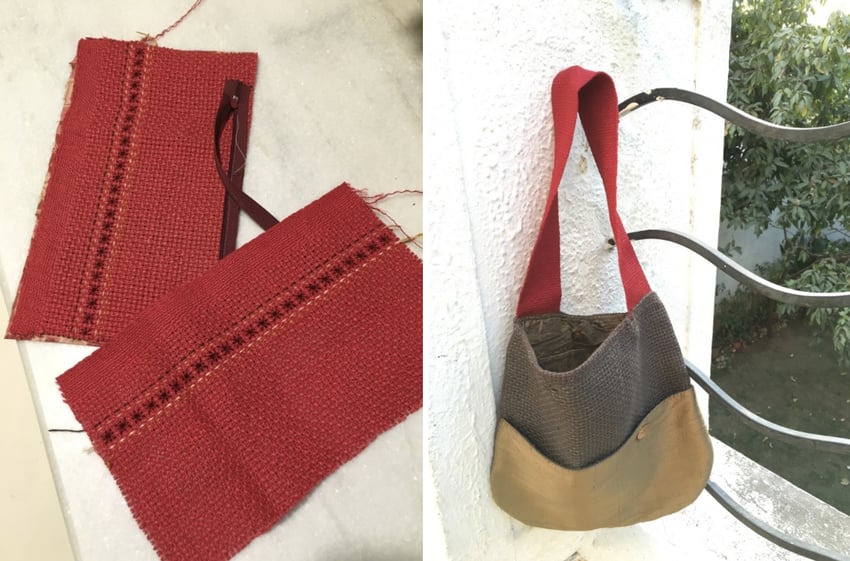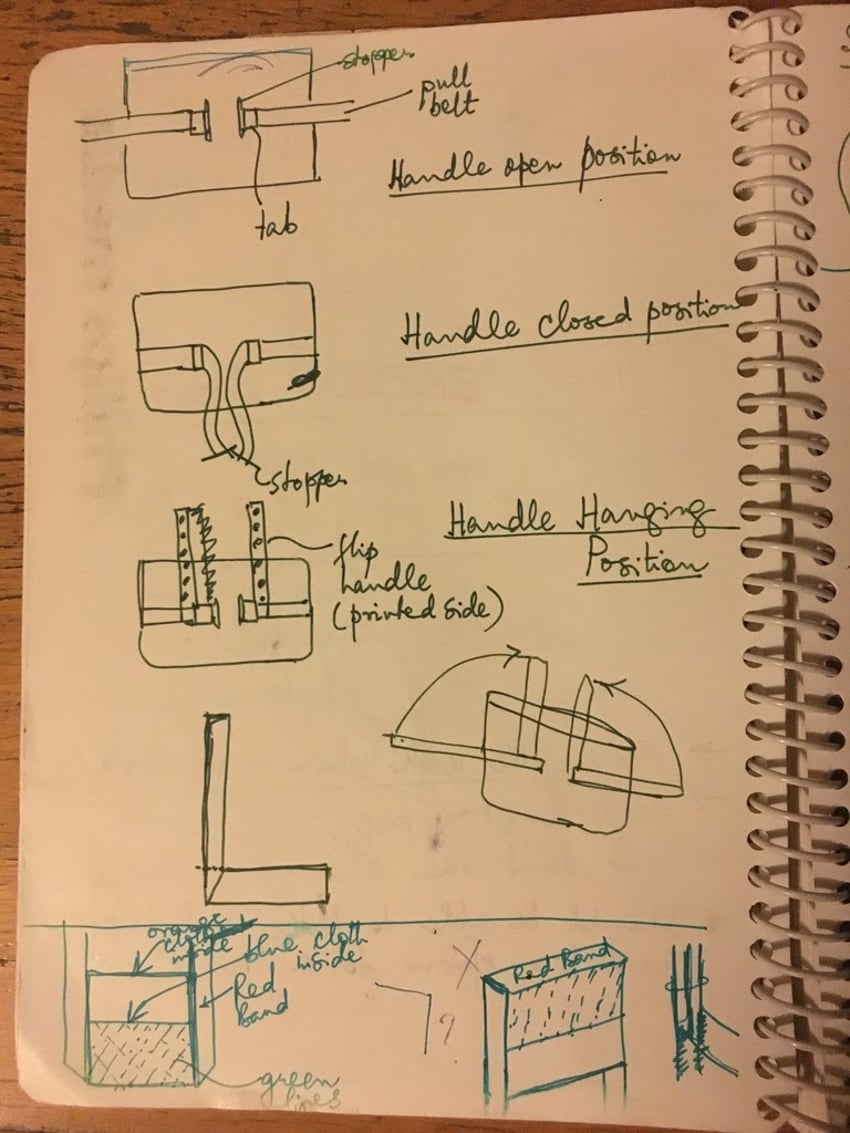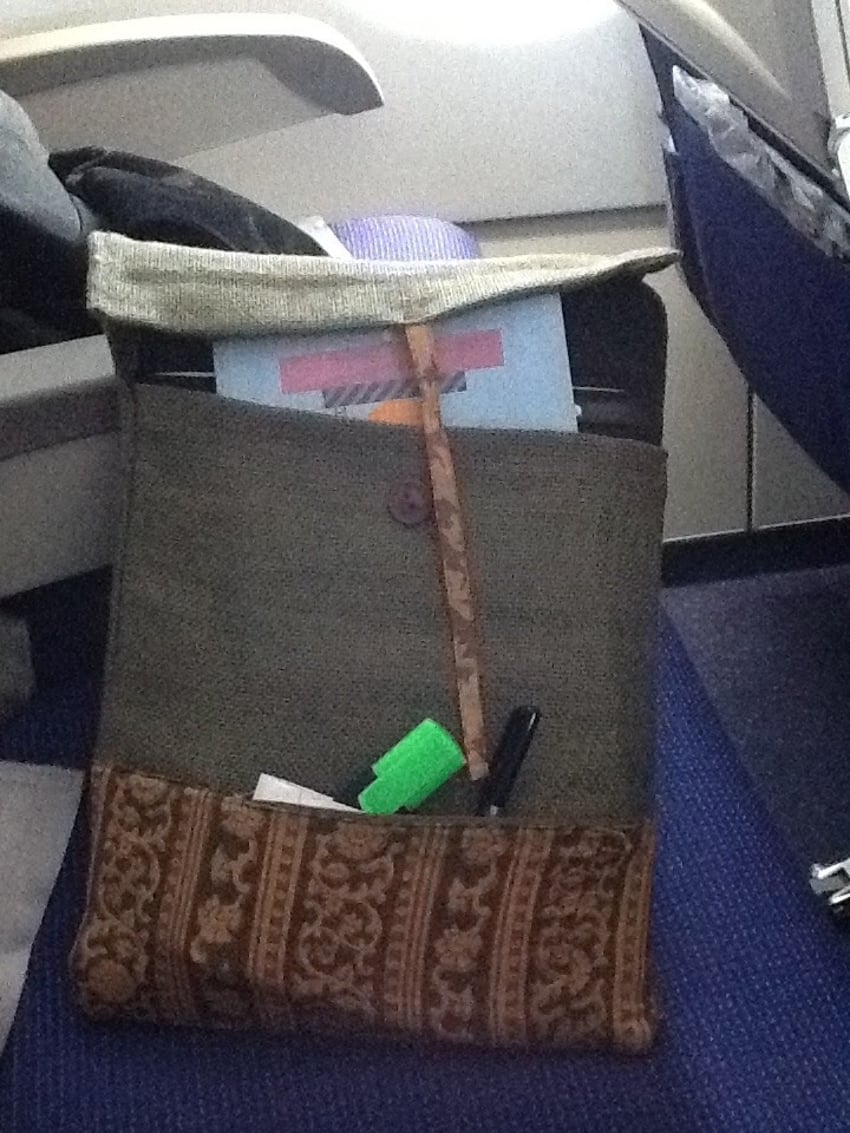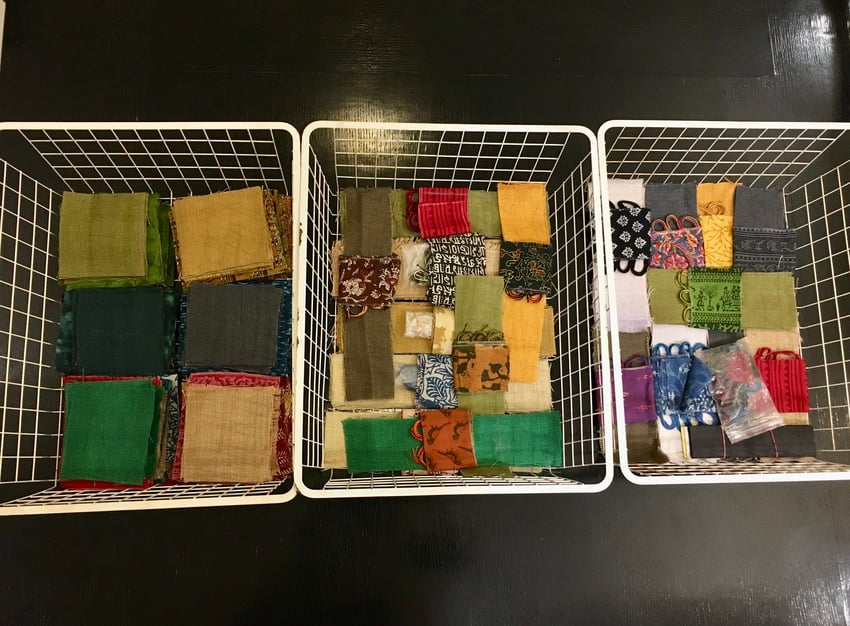 Describe the process of launching the business.
Once I had shortlisted several product prototypes for 'launch', I started to wonder where my beneficiaries were, who I could help through Ohrna. I was sure initially that I wanted my primary market to be the US, wanting to share our beautiful crafts and materials outside India and in a place, I also considered a second home, having studied, worked and lived there for over 10 years.
I was introduced to Manndeshi, a rural bank for women near my hometown of Pune, India, and they kindly offered their facilities to conduct workshops and connect with rural women who were part of their network and interested in working from home.
That kicked off a year and a half of regular journeys to the village — running workshops, teaching, and building up an inventory of many types of products, still untested in the market but taught and made with great passion. As I taught, I also learned that there is a big difference between making something myself and teaching others how to do it, especially those with minimal skills in this area. As I taught, I began to not just document it in my Teaching Manual but also started to record the lives of these women. And we started getting to know one another --- people belonging to two very different worlds but bound together as women who understood how each of our hearts worked.
I had already decided that I would launch an e-commerce store in the US as a pilot, initially spreading the word through friends and family. This was a non-trivial undertaking as all the components --- from setting up the e-commerce store to photographing the products to shipping overseas --- were completely new to me. I also needed to get an Import-Export license, trademark, and other legalities and formalities. Not yet knowing where Ohrna was headed, I launched it as a project in my consultancy, which made some of the administrative hurdles a little easier to get around.
Every step was a struggle. But the women I was trying to help were my inspiration to keep going, and they continue to be. A couple of people helped me at the right time with each of the components to launch the business, while I hired a couple of others as contract workers on my shoestring budget.
With this, I was able to send out my first shipment from India to the US. When my initial order-shipping arrangements within the US fell through, my cousin jumped in and offered to store them under his bed and ship orders when they came in. My friends and family were aware of my work trying to help rural women and were very supportive. While this kick-started my business, it was also extremely stressful because I was sitting in one world while my inventory sat in another outside my field of vision, a very big timezone away, managed by someone who didn't know my products at all! I realized in a few months that while some orders were coming in, this was not a sustainable model.
My expenses at this time were probably three or four times my sales, but because of my other project earnings, I was able to pay for it all.
Around this time, I visited the US, trying to get some support for my social venture, when an acquaintance mentioned the trade show NY NOW to me. I visited the Javits Center casually, as they were dismantling the show, so we couldn't enter, but two signs coming down caught my eye: 'Global Handmades' and 'Artisan Resources'.
A random and casual application to NY NOW thereafter resulted in Ohrna getting selected as a 'Market Incubator' for its social impact work! I was delighted and very excited. That selection, on offer for 3 NY NOW shows (and we were the only enterprise from India that first year) put us on a different trajectory in terms of learning, visibility, direction, and focus.
While expenses were still a big challenge since show costs were very high and orders rarely matched, it helped us understand who our target user was, which of our products had greater appeal and that people appreciated our designs. It also helped us recognize that in the world of fast fashion, there was not only unfamiliarity with our core material jute as an everyday fabric, but also not a large enough interest in sustainable businesses, that made our offerings in the US market very niche.
NY NOW certainly led to contacts and connections, however it was clear that while there was a place for us in the US market, growth was going to be slow and needed considerable awareness and marketing efforts to break into a marketplace whose majority focus was on profit above sustainability. Our model, on the other hand, was based entirely on creating responsible products.
But the biggest lesson we learned is that if you truly believe in a bigger good, be patient, be perseverant and the world will work with you to make it happen.
Some screenshots of our early website are below: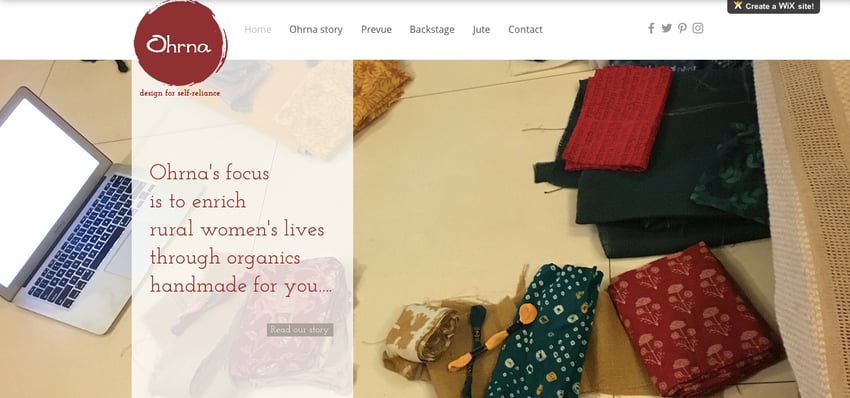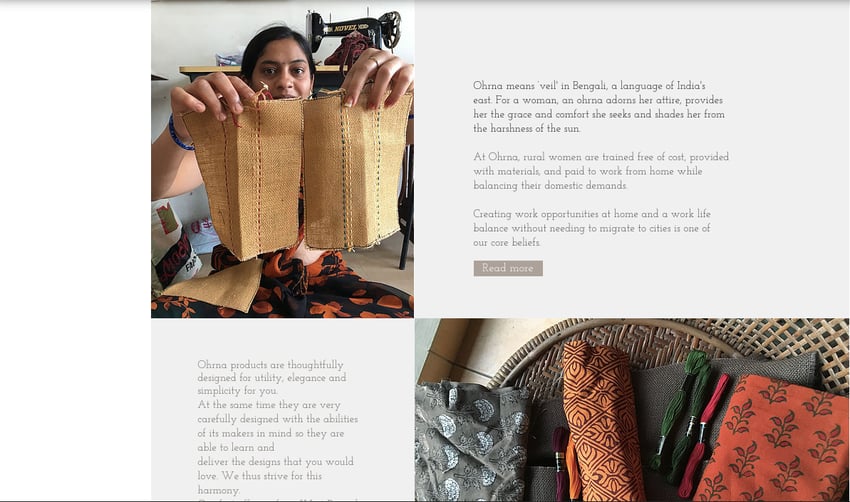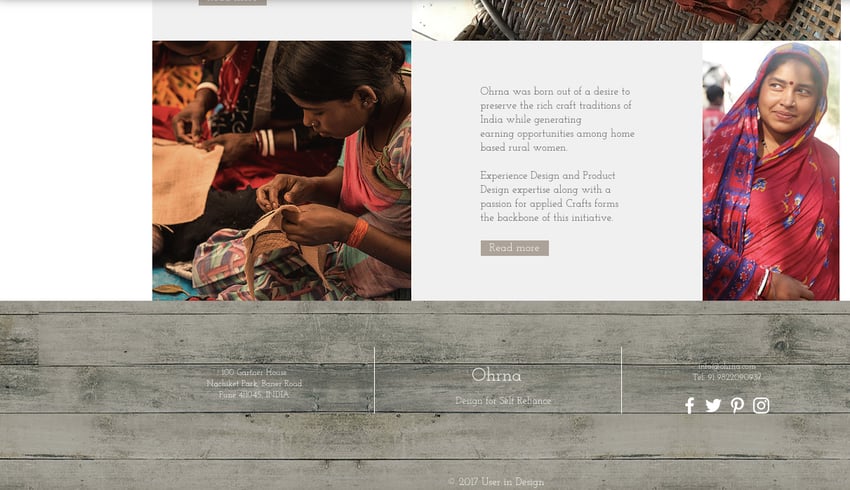 Since launch, what has worked to attract and retain customers?
Identifying our target audience and clientele early on has made a big difference. It is hard to convince people who are riding the fast fashion wagon because they are simply not interested. So in a sense, we were operating in a niche space, with a material that was relatively unfamiliar and in a market where our products could easily be viewed as 'just another bag'.
But with people who are sensitive to artisan businesses, sustainability and craft preservation, a 10-minute face to face where we've sincerely told our story, has definitely hit home.
What made us unique was our story and our material. We heard from enough people that they loved our products and our mission, and we knew they were the 'right' customers. They were just not enough in number and we didn't know how to reach more of them. After our 2nd show at NY NOW, we were invited by Faire to be a part of their platform and by 'The Little Market' to apply to join. We started selling on Faire in June 2019 and got about 11 orders in 6 months.
Being an entrepreneur is really hard. Being a social entrepreneur is even harder. After many years in corporate work, that feels so much easier than working in the social sector!
We started using Instagram fairly early and later connected it with Facebook. Our Instagram focus has always balanced products, people, processes, and artisan's lives. We have since learned that we need to give a lot more emphasis on the product because that is the biggest draw.
During the growth phase, we've done email outreaches, created a blog to record our journey, and tentatively launched a newsletter that has now become a fairly powerful tool. We had tried Etsy too, but despite getting the attention and help of their UK office, we found it to be too crowded a market and it did not work for us. We researched Amazon, but just never had the bandwidth to devote to exploring it and were also in 2 minds whether it was the right marketplace for us or whether we would drown amidst its thousands of products.
We have not done any advertising or promotion of the business.
I made presentations at two global technical conferences, on 'Can Design with a purpose inspire the Underserved?' and 'Can Anybody become a Designer?'
Several turning points come in a business where you have to make a decision. One such for us was when we decided to abandon our e-commerce model and focus instead on live shows and exhibitions. That helped structure our collection and our business, and understand better what did not work, for a while. However, while it was clear that this market was going to grow, it was also clear that it would be slow. And so the second turning point came when we had to decide whether to give up or diversify. We chose to diversify.
So against a lot of odds, we launched in India a year ahead of plans. Just prior to our India launch, we were invited to do a trial show at a local event, which gave us a lot of confidence to not just launch in India and get validation of our products, but we were also able to fulfill my dream of making the artisans the face of Ohrna.
The India launch was very hard because, and as we discovered, it was a very different market - in many ways the opposite of the US. We launched at a big show whose organizers, like NY NOW, were convinced as well by the sincerity of our efforts and our mission. But the sales in India proved to be good and helped us stabilize.
One other thing that happened a little before India launch, was a visit to the Maison show in Paris, just to get a feel for the European market. It was a very expensive investment, but we met a company there from the Czech Republic that proved to be our best customer. They are big but also care about people and sustainability and resonated with both our products and our story. They placed a large order with us that helped us a lot and we both see an ongoing relationship going forward post-COVID. We just came across our 2nd similar customer in the US who was about to place an order this March. We hope to pick up again with them as well. We have also been approached by a third platform that is focused on sustainable, organic, and fair trade and we look forward to beginning work with them. We greatly value having good relations with good people and know that they will grow slowly.
Around our India launch, I was joined by a partner, my daughter, who has now taken charge of the digital aspects of the business as well as trying to relaunch our US e-commerce shop. This has added a lot of life and color to the face of Ohrna.
Ohrna continues to be a social enterprise, and we are still not taking any money from it. And of course the world has changed in 2020. However, we are in this with a long term view in mind. Given that Ohrna is a complex, multilayered global enterprise, we feel fortunate to be able to support ourselves and to also nurture it, to go forth and build a strong foundation that we believe will generate livelihoods in years to come.
I am also a person with an abundance of faith and while that may not bring in a lot of business, I have found that it has taken me from nothing to where we are today, experiencing obstacles at every step along the way and then getting cleared through timely help from someone or the other!
Instagram today: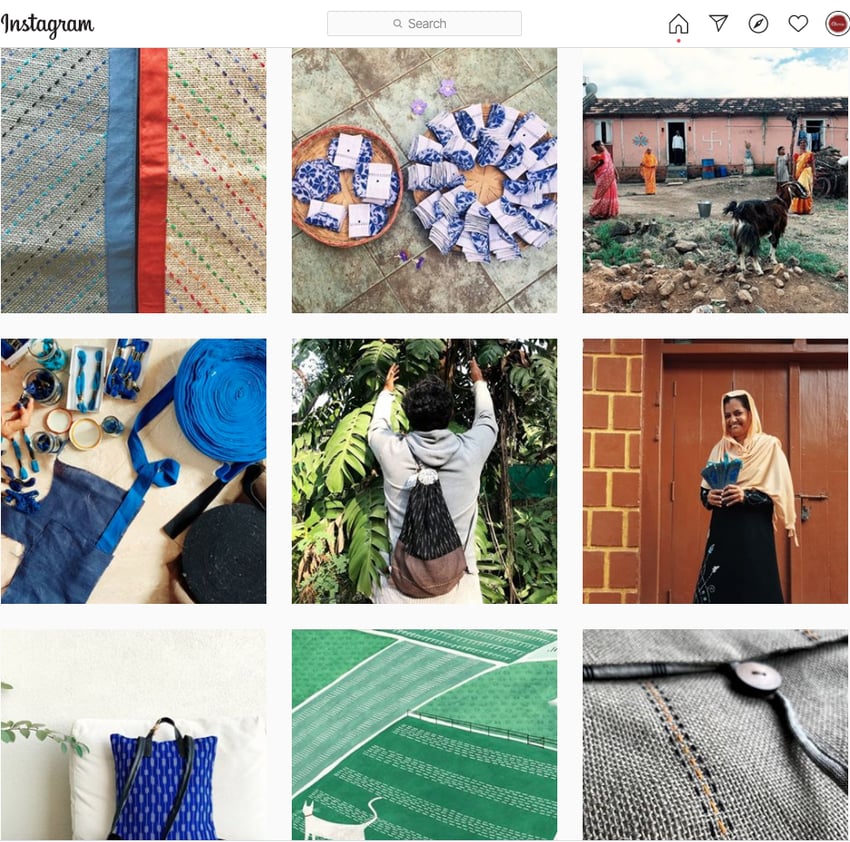 Instagram a year ago: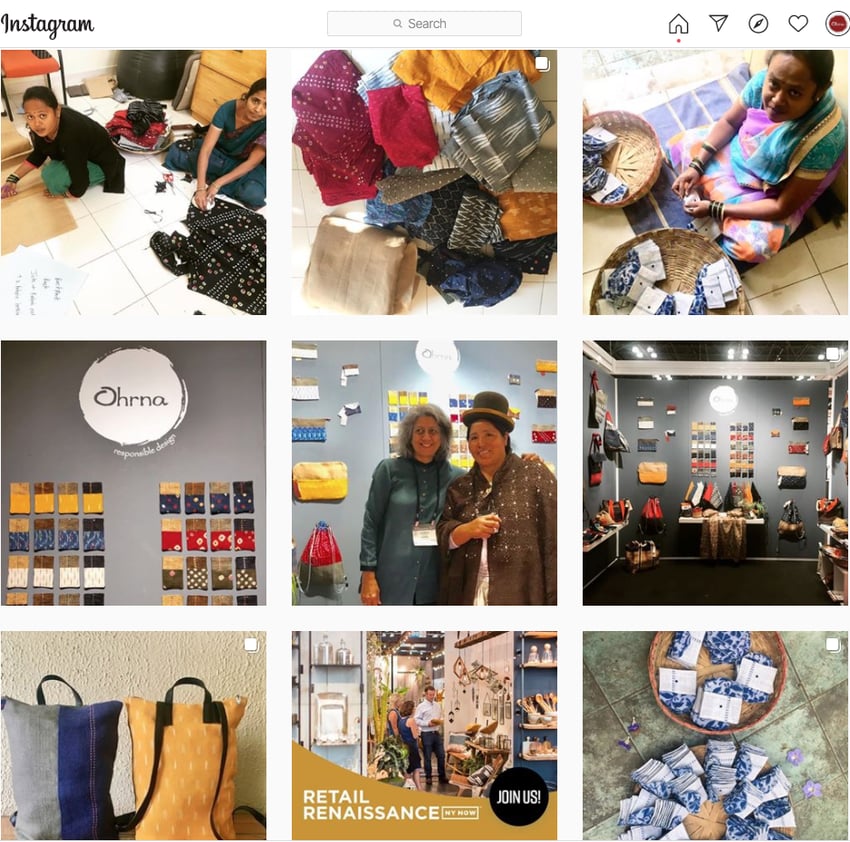 Website today: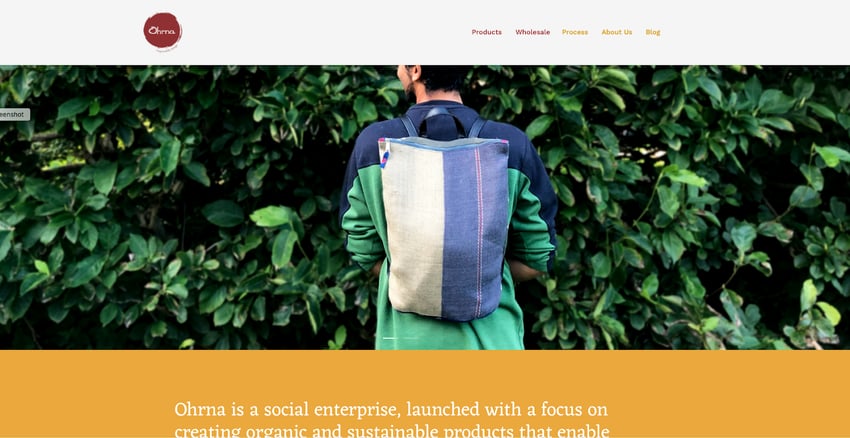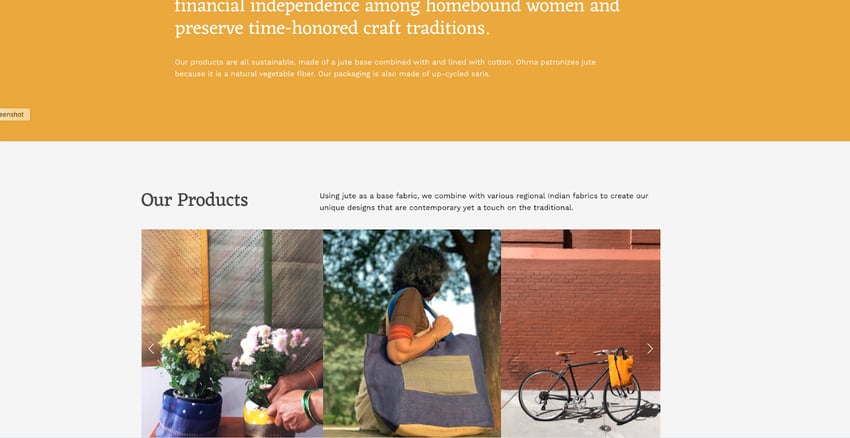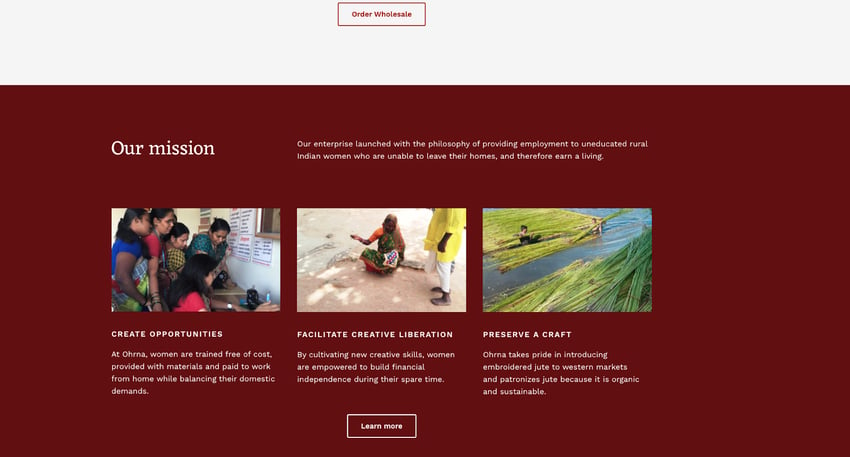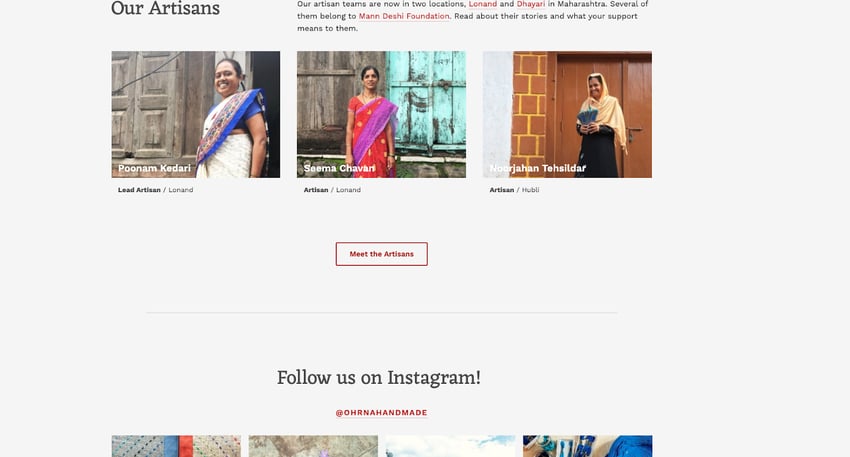 Our first newsletter: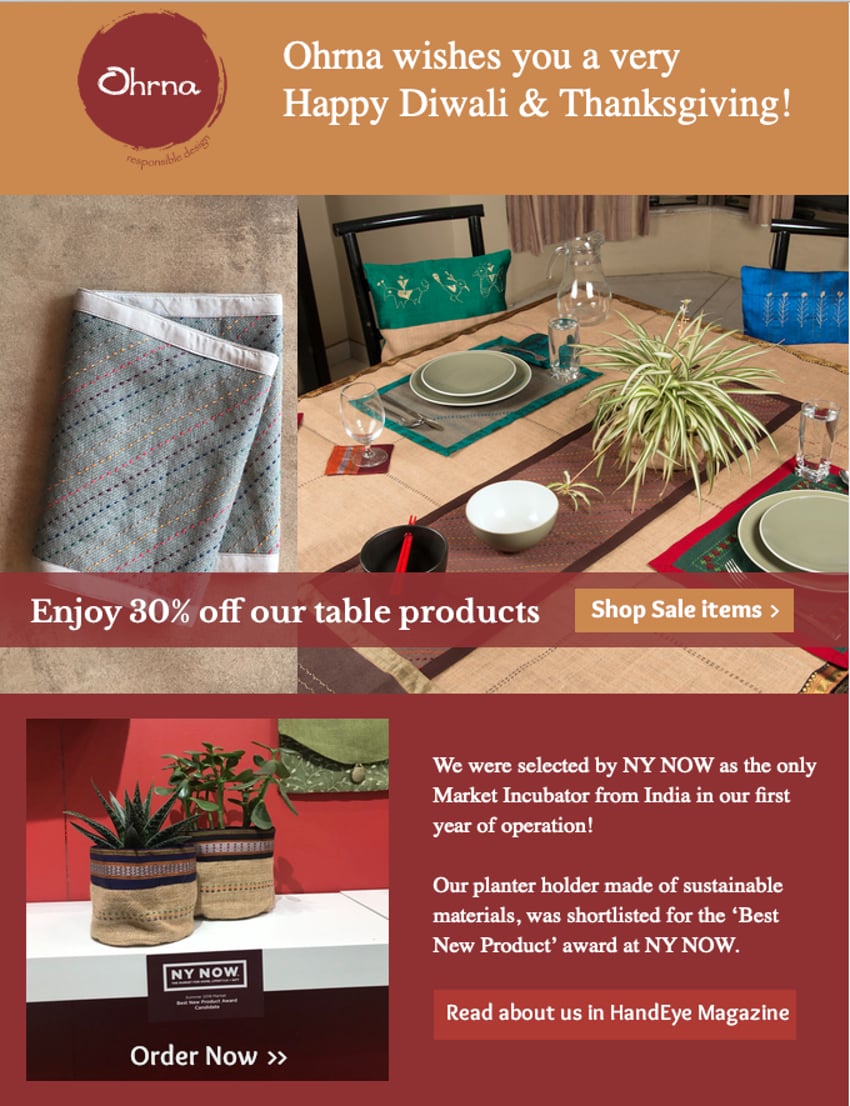 And our latest newsletter: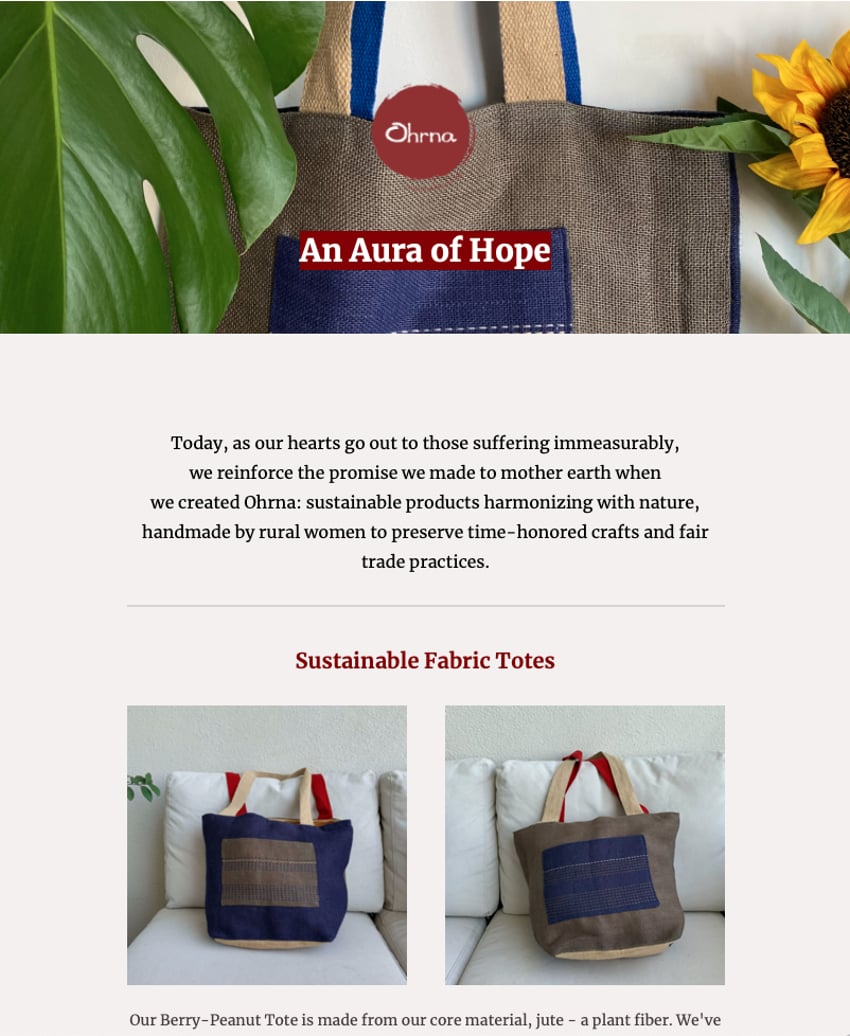 How are you doing today and what does the future look like?
Our operations today are as follows:
We get an order, either through one of our platforms, direct customers or from a show
We create a Makers Sheet from it in Marathi, the local language that our literate artisans follow. For the ones that don't know how to read, we help them with pictorial representations. The Sheet has the delivery date
Once or twice a month, our lead artisans come from the village to my home studio in Pune and we work together to prep for a batch of orders
They fill up a couple of suitcases with the prepared material and take it to their villages to be distributed among women there. Before departure, they are expected to fill up an inventory sheet for materials they have used
When they deliver the products along with its packaging, they are expected to complete a job card detailing how much they are owed for the products they made
Quality control is done here and the order is packed, ready for our shipper
Shipper delivers the order directly to our customers in the US within about 3 days
All sourcing, inventory management, and inventory tracking is done at our studio in the city
Gross margin has been approx 6.5% in our 2nd year of operation. Our sales grew by a little over 100% from last year to this year, mainly due to our India launch.
Our distribution: Our sales in India have been about 30% through personal networks and 60% through shows. In the US it's been around 20% each via shows and personal networks and 60% via the Faire platform.
Our cost of goods is higher than desirable because our main raw materials are sourced from faraway locations, to where they each are native. We work not just with jute which grows far from where we are, but also our combination cottons, ikkat, and bandhani, that are from two other states of India, also far from us but both made by home-based artisans.
Our makers are also far away from us, adding to our costs.
Our customer acquisition costs have also been really high due to the 3 NY NOW shows we have done over the past 2 years.
Today, we are doing well. Minus some of our US show expenses which I try to view as an investment, we turned profitable in our 2nd year, after our India launch. We were gearing up for four India shows and one on the west coast this year. We just started work with a new partner in a new cluster of villages where we started training with a view to expanding them into order delivery responsibilities.
Our wonderful Czech customer was gearing up to launch a new product they are co-designing with us. And we started making samples for an agent who was gearing up to start representing us.
Then 2020 happened. Amid the constraints from COVID, we are trying hard to find our feet. We received orders for masks that we have handed over to one of our artisans who is not just making and delivering them on our behalf to local hospitals and industries in large numbers, but she has managed to create work for 5 other women near her home. We have just set up our India online shop and are putting up our inventory with requests to people to pre-order - all profits from which will go to our artisans in remote rural areas.
Short term goals we envision for the upcoming 3 years are:
Employ 25 rural women for 50% of their available time
Setup a standalone rural order-making and delivery unit, managed and run by rural women
Create a rural women's' "exhibition team" empowered with sales and billing skills to manage shows in India selling Ohrna products
Long term goals we envision for the upcoming 5 years are:
Employ 100 rural women for 100% of their available time
Develop a small team of designers, grown from makers to artisans to designers
And my personal long AND short term goal is to become dispensable within 3 years! Having built Ohrna into what it is, I want it to eventually run without me.
Through starting the business, have you learned anything particularly helpful or advantageous?
The fact that Ohrna began solely as a work of passion meant I followed a path somewhat different from most startup founders in building the business.
As a result, everything flowed from what I wanted Ohrna to be and envisioned it would become. It evolved inwards to outwards, based largely on skills I had, that I could transfer to rural women.
The decision to use jute as a primary material also came from my personal passion for sustainability over market demands. Training rural women from scratch was such a core component of my business model, adding considerable overhead costs and time constraints that I had underestimated. And sometimes the idealistic designer in me tended to create works of passion as opposed to a marketable and manufacturable product line.
In hindsight, I would say my biggest hurdle came from taking on too many new things simultaneously. My lack of experience in the textile sector and the "just do it" strategy without more detailed market research meant a steep learning curve in many respects. But along with my steadfast desire to help these women, the other thing that helped me was patience. Being patient and not getting disheartened easily is one piece of advice every entrepreneur should take to heart.
There were hurdles, difficulties, and barriers at every step. But there would emerge a way out and the path forward would become clear. And many, many people have appeared at many junctures, albeit for a brief time, to pull me through the setbacks as they came. Whether you'd call that luck, faith, providence, or other, but it gave me the signal I needed to forge ahead. Most of all my husband, my inspiring 84-year-old mom, and my two children have stood by me through it all.
The entire journey of starting Ohrna has been the greatest learning of my life, professionally and personally, and I'm excited to take the next step.
What platform/tools do you use for your business?
Instagram has been a wonderful tool because it let me tell my story visually.
Numbers on Mac has been my steady partner in tracking every little expense of my business from start until today, so at any point in time, I know where I stand.
And of course, being able to use simple photos, videos from my iPhone to capture and document along with Pages on Mac that helps us create our Training Manuals as well as much other documentation.
Mailchimp has been another tool that let me take aspects of my story to my customer base and keep them connected with our thinking.
We first launched our website using WordPress and WooCommerce because it was the lowest cost option. While it was limiting, I was grateful for the ability to manage my inventory and get both visitors and orders through it.
Paypal has been hugely helpful and fairly simple, for international payments, which were a big challenge at the start before we got familiar.
We worked on moving our US website from Squarespace to Shopify and it is now live.
We have just started our India online shop and a simple, free eCommerce platform called Instamojo has come to our rescue as we slowly venture into this mode of sale in the new post-COVID world.
But the biggest tragedy for us is that we are unable to connect to shopping on Instagram, simply because our shop started in India. That has become the greatest barrier for us and one for which we have no solution to overcome!
What have been the most influential books, podcasts, or other resources?
All of these along with my own personal experiences, beliefs, and convictions inspired me into understanding that
There is much potential, sincerity, and talent in the rural poor that lacks expression due to an absence of opportunities
That a dream and passion are sufficient to start something in which you believe
And nothing happens without extreme hard work, patience, perseverance and many steps of apparent failures
Advice for other entrepreneurs who want to get started or are just starting out?
Being an entrepreneur is really hard. So is having a child. Yet the rewards, joys, and satisfaction are immeasurable. The experiences of both are very similar in many ways.
Being a social entrepreneur is even harder. After many years in corporate work, that feels so much easier than working in the social sector. The social sector pushes you to your limits of patience, perseverance, and tenacity. But if you have a fire inside that wants to serve people who are able to rise up to a better life with your help, then to me, it's a no brainer. It's about being able to recognize your purpose in life.
My top tips and learnings:
Have a strong cash reserve before you start, to avoid sleepless nights (you will still have those) and prevent a hasty retreat away from your dream
Start with a dream, a passion but try to have a strong business plan with a 3-year picture - I did not, hence I engaged in more trial and error than I could have
A social enterprise like mine that started with 4 goals is too many. My dream was holistic and wide. That's a good thing to start with, but chop it to no more than 2
It is very lonely at the top, especially working in an area that many appreciate at a distance but do not feel a need to work or participate in
People close to me have heard me say 'I don't know why I am doing this'. Those are certainly the moments of anguish and exhaustion but I know very well why I am doing this and that I would not do anything different at this stage of my life.
Ohrna for me has been a spiritual journey. I know I am being moved forward with grace and also veering to the right path at the many forks that keep appearing, the same way.
This has been an exhilarating journey, one in which I grow a little every single day. I do not expect that Ohrna will necessarily become something phenomenal in my life and it is perfectly fine if it does not. I got into this for the long haul and I will be gratified if the philosophy and goals I have tried to instill stay alive beyond me.
But post-COVID, I have faith that there will be many more people who will have heard the voice of Mother Earth and will respond. I have great hope and consider myself blessed to have had this opportunity to experience Ohrna and to leave behind something that is perhaps of value for others.
Are you looking to hire for certain positions right now?
I always had a dream that the core of this enterprise would be made of people like myself (with corporate experience under their belt, done with earning and learning and now looking to give back their expertise in the benefit of the underserved). I would be delighted if someone like this may feel inspired and like to be a part of helping us grow. Specifically someone with sales skills who may feel inspired by our story to spread our message and sell for us.
Where can we go to learn more?
If you have any questions or comments, drop a comment below!
-
Jhumkee Iyengar, Founder of Ohrna
Want to start your own business?
Hey! 👋I'm Pat Walls, the founder of Starter Story.
We interview successful business owners and share the stories behind their business. By sharing these stories, we want to help you get started.
Interested in starting your own business? Join Starter Story Premium to get the greatest companion to starting and growing your business:
Connect + get advice from successful entrepreneurs
Step by step guides on how to start and grow
Exclusive and early access to the best case studies on the web
And much more!
Together With Semrush
If You Don't Rank In Google, You Don't Exist.
In order to be successful, you need to be visible online. If you're not, then your competitors might be stealing customers from you.
Semrush lets you quickly create content that ranks, and compete with the biggest brands in your niche.
Try Semrush Free Today ➜