Thank you Klaviyo for sponsoring Starter Story ❤️
Turn one-time buyers into repeat customers. Try the platform loved by 265,000 brands
How We Started A $30K/Month Video Production Company
Start A Video Production Company
Hello! Who are you and what business did you start?
Hi everyone! My name is Joe Forte and I am one of the owners and producers at D-MAK Productions, a content agency specializing in Phoenix video production. Our clients include many Fortune 500 companies that you may have heard of such as Intel, Amazon, Apple, Denny's, Cold Stone Creamery, and HP.
We primarily work on corporate, commercial, branded, and digital media productions and have been in business since 2011. We've averaged $350k a year in sales for the past 5 years or roughly $30k/month.
What's your backstory and how did you come up with the idea?
In 2011, I and one of my best friends from college, Danny McManus, just graduated from Arizona State University. Danny has been making videos since he was a little kid, taking every opportunity to produce videos whether for school projects or fun. Being that he loved making videos, he decided to start a video production company. My background is in sales and marketing, as I have a passion for connecting with people and sharing with them the quality products and services I believe in.
The first thing we did when we joined forces to start the production business was we reached out to every large video production company in the area and offered to take the owner out to lunch.
After a little over a year out of college, Danny was busy building the video production company, working long hours for little money. I had a job working as a marketing manager for a large chiropractic firm in Phoenix. I saw the opportunity to join Danny in the business, as he was a phenomenal video creator, but noticed he was focusing on clients that were unable or unwilling to pay him a fair rate for his production services.
I asked if he would be interested in taking me on as a business partner, and he accepted. With me as a co-owner, he would be able to focus solely on the creative aspect of producing videos, and I would be able to focus on sales, marketing, and account management. We excelled immediately, focusing on corporate and commercial clients that were willing and able to pay market rates for the production services we were offering.
Take us through the process of designing, prototyping, and manufacturing your first product.
The first thing we did when we joined forces to start the production business was we reached out to every large video production company in the area and offered to take the owner out to lunch. This accomplished two things, the first being that we built a network of potential mentors in the area that could help us with larger projects that we didn't have the ability to execute on our own. The second being that it made the production company real. We met real people making really good incomes and realized this wasn't a pipe dream. This was a business that we really sink our teeth into.
What we found was that most everyone was receptive to our lunch invitation. We ended up meeting individuals in the production business that we still keep in touch with to this day, with a few being great mentors to guide us through the early stages of growing our production business.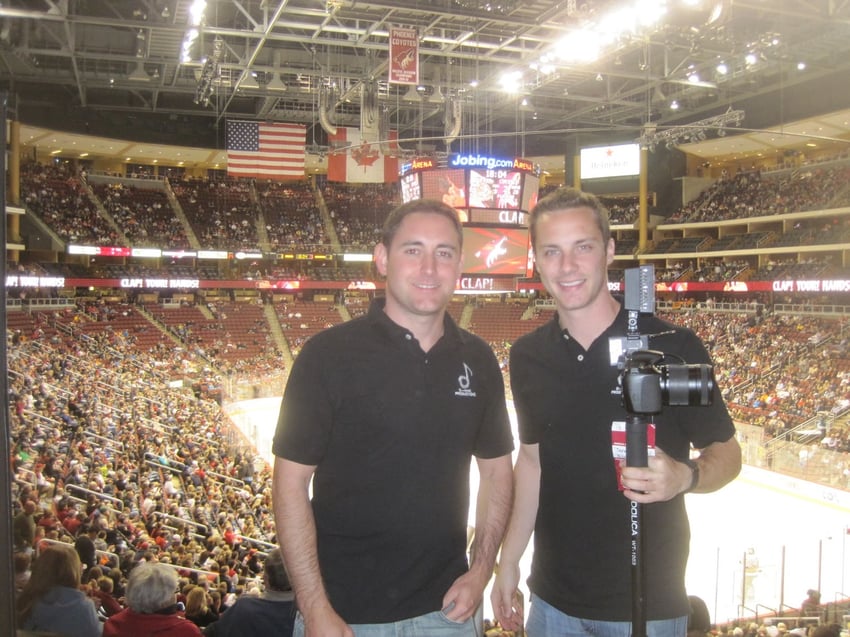 Describe the process of launching the business.
The next area of focus to launching our business was to get a new website built. Before I came on board, the main content we were producing was marketing videos for bars and clubs and music videos. We knew that we needed to reach corporate clients and we needed to have a professional appearance to attract the clients that we wanted.
Another thing that we started to do was to produce videos on our own business. Previously, we were trying to communicate the impact that videos can have on a business, but with no videos ourselves, it was a hard sell. Once we realized the impact videos were having on our own business, it became an easy sell to share with others.
We bootstrapped the entire business, never putting anything on loans or credit cards, but rather utilizing existing equipment that Danny owned and saving a percentage of profits from each job to purchase higher-end production gear as needed.
Since launch, what has worked to attract and retain customers?
We would have to say the biggest thing we have done to attract and retain customers is focus on exceptional customer service. This starts with our first interaction. As soon as a potential customer gets in touch with us, I make it a point to get on the phone with them as soon as possible. In this digital world, most just do the back and forth with email.
Not us though. I want to give a human touch to every interaction, so they really know who they're working with. We also get them a quote within the same day we talk with them. I want them to think "if they go out of their way in the interaction before we've started working with them, imagine how responsive they'll be when we're actually clients." I've had clients mention our response time and time again as to why they work with us.
Another thing that sets us apart from our competitors is our relentless pursuit of online reviews after completing a project. We get the vast majority of our leads from online, and being that everyone wants to read reviews before making even the most basic of purchases, a high ticket purchase like professional video production services benefits from an endless amount of 5-star reviews.
I would have to say the one thing we have done that has kept us at an advantage throughout all these years is saving a percentage of our profits from each job and putting it into our savings account.
We also make sure that we feed the social media monster quite often. With social media being at the forefront of most everyone's lives, having a robust social following with quality content helps showcase our company and our work, giving potential clients the utmost confidence in pulling the trigger and deciding to work with us on their projects.
How are you doing today and what does the future look like?
D-MAK Productions is set up for a very bright future. While the pandemic hurt many of our contemporaries, by keeping our costs low and having healthy savings account to get us through 2020, we have only become more resilient in the face of future challenges.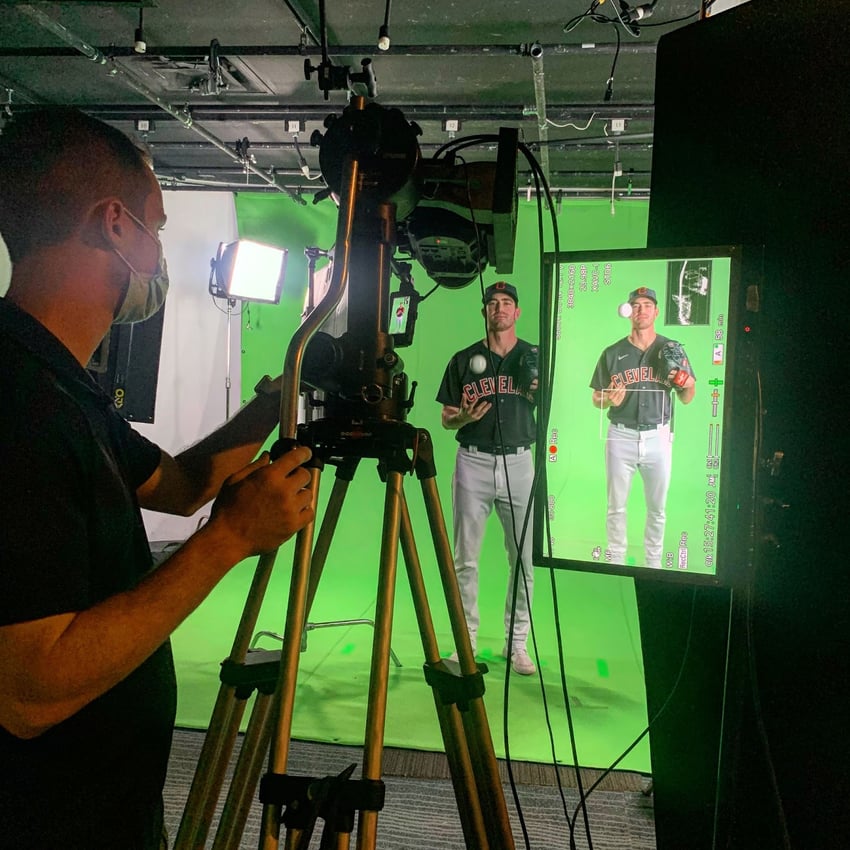 We continue to take on projects that we feel we can execute at a high level and that have healthy margins. When we first started the company, we would take any and every job just to keep busy, regardless of the budget or what we were doing. We found out as we grew, that by being choosy in what projects we were working on and saying no when the budget wasn't sufficient to make a quality product that we could be proud of, we were more likely to work on those higher-quality jobs by not being bogged down with low quality, low budget, and high-stress work. It's pretty funny too, that when you work with clients with high budgets, the value you much more than the client with little resources and high expectations.
Through starting the business, have you learned anything particularly helpful or advantageous?
I would have to say the one thing we have done that has kept us at an advantage throughout all these years is saving a percentage of our profits from each job and putting it into our savings account. When we first got started in the business, we would get greenlit for a new project and immediately try to find where we could spend our newfound fortune. Whether that was to buy new gear or squander it one way or another.
What we found was that once we started taking a set percentage of our profits to put towards savings from every project, we still seemed to have the money we needed to buy all the other things we were buying before, just that now, we were building a nice cushion for the lean times in the business. This helped tremendously in 2020 when practically all our projects we were scheduled to do in the 2nd Quarter were canceled, and we still had bills to pay and put food on the table.
What platform/tools do you use for your business?
One of our most favorite tools that have saved so much time and frustration is Wipster. Wipster is a collaboration tool that we use during the editing process. Before using it, when our clients needed to make suggested revisions during the editing process, they would give vague remarks over email and they would always get lost in translation. By using Wipster, our clients can click on the exact location in the video where they are suggesting a change and we now always know exactly what they're talking about.
Another tool that we've learned to love is Vimeo. By being a professional video production company, we need to professionally show the videos we've produced on our website. In the early days, we would use YouTube, but with the suggested videos at the end as well as all the ads and things like that, it's not the ideal platform for showcasing our work. Vimeo has helped keep our videos looking professional on our website and when sharing through email and social media.
What have been the most influential books, podcasts, or other resources?
The one individual who has had the biggest influence in our personal and professional lives has been Jim Rohn. Jim was an American entrepreneur, author, and motivational speaker. His content is so straightforward and easy to digest, but the impact is immense. We started saving a percentage of our profits in our business and personal lives after listening to one of his speeches. That one thing has changed the game for us, and we believe it will change the game for all of you reading this right now if you put it into practice and develop the habit moving forward.
Advice for other entrepreneurs who want to get started or are just starting?
My biggest piece of advice for other entrepreneurs is to not overextend yourself at first. There's nothing to be ashamed of to live within the means of your business and scale from there. In the video production business, we could have very easily bought all the newest equipment, rented out large studio space, and did that all on credit. But we took the thought process of delayed satisfaction.
We started the business with a Canon 60D DSLR camera and a Macbook Pro and grew from there. As the jobs came in, we would make strategic purchases as needed. If there was an expensive piece of equipment we needed for a certain job, we would just rent it. And if we found that we needed it multiple times and it made sense to purchase it, we would. If you can start your business from a spare room in your place, then do that. No need to overextend yourself when you're first starting.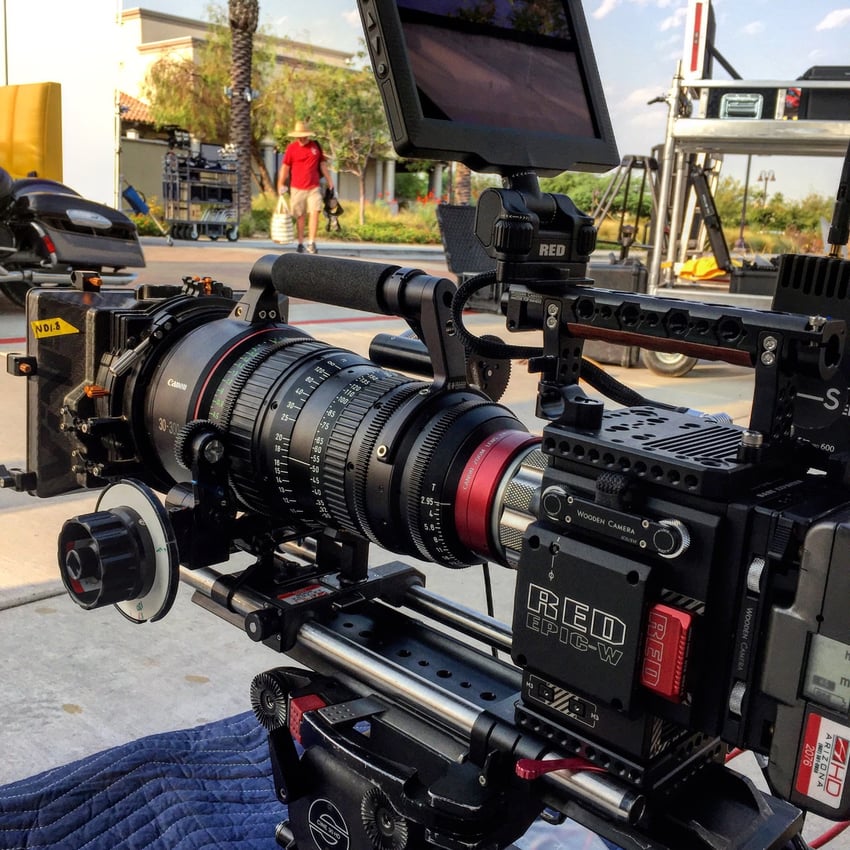 Are you looking to hire for certain positions right now?
We are always looking for talented freelancers to join our team. If you know any talented cinematographers, video editors, or animators in the Phoenix, Arizona metro area, please feel free to connect us with them.
Where can we go to learn more?
If you have any questions or comments, drop a comment below!
-
Joe Forte, Founder of D-MAK Productions
Want to start your own business?
Hey! 👋I'm Pat Walls, the founder of Starter Story.
We interview successful business owners and share the stories behind their business. By sharing these stories, we want to help you get started.
Interested in starting your own business? Join Starter Story Premium to get the greatest companion to starting and growing your business:
Connect + get advice from successful entrepreneurs
Step by step guides on how to start and grow
Exclusive and early access to the best case studies on the web
And much more!
PROMOTED
Did you know that brands using Klaviyo average a 95x ROI?
Email, SMS, and more — Klaviyo brings your marketing all together, fueling growth without burning through time and resources.
Deliver more relevant email and text messages — powered by your data. Klaviyo helps you turn one-time buyers into repeat customers with all the power of an enterprise solution and none of the complexity.
Join Brumate, Beardbrand, and the 265,000 other businesses using Klaviyo to grow their online sales.
Starter Story
Wanna see 52 business ideas you can start with less than $1,000?
Join our free weekly newsletter and get them right now.