How We Started A Business Designing Sleepovers And Slumber Under Parties
•
Published: April 6th, 2021
Start A Children's Party Planning Business
Hello! Who are you and what business did you start?
Hi there! We are Jane and Louise, the founders of The Little Teepee Company where we create extra special sleepovers and slumber under. Each child has their own individual teepee styled with bunting, fairy lights, luxurious blankets, cushions, and floor rugs with a breakfast tray and lantern at the end of each mattress. We set up and decorate the teepees on the day of the party and take everything down the next day allowing the host to have a stress-free party.
We started to generate an income of around $2000/mo for a few months until the pandemic hit and we found ourselves canceling bookings and offering refunds. Everything came to a grinding halt in March 2020. More about how we adapted our business model in this 'new norm' that we find ourselves in, below.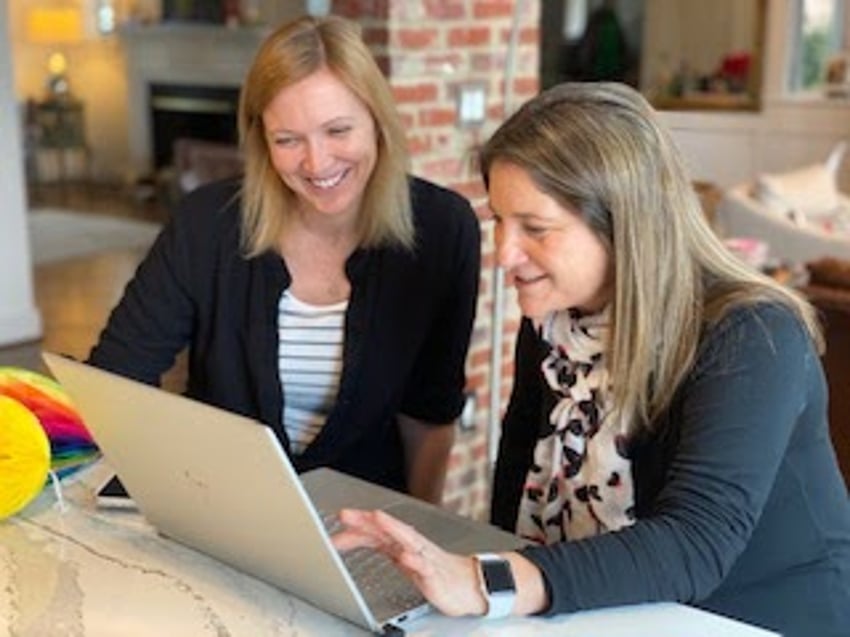 What's your backstory and how did you come up with the idea?
This is the first time we've tried anything completely different from our previous careers. We came to D.C at virtually the same time (Louise in August 2018 and Jane in September 2018) and literally bumped into each other at an Estate Sale in Chevy Chase! Two Brits queuing for furniture for their new rentals in D.C. We hit it off instantly and formed a lasting friendship that has now blossomed into a small business. A win, win.
Three-quarters of the way through our first year in D.C we'd settled our children into schools and gotten used to our husbands being away for a large part of the time-traveling internationally wasn't a surprise as we knew it was part of the package, but it didn't allow for a normal 9-5 job for a trailing spouse either. The great thing about the teepee parties was that we could book them in to fit around our schedules at times that we knew we could deliver and set up.
The idea first struck us while looking for ideas for birthday parties. We both have sons the same age and they were just old enough for sleepovers so we started searching. We came across the teepee parties through a friend of a friend who had set up a company in Northern Ireland offering Teepee Sleepovers there and discovered that there was nobody in D.C offering this service, so we decided to create our own. This was back in 2019 so we set to work coming up with party themes, creating a website (which neither of us had done before), and sourcing teepees and accessories. This took about 3 months and so by September 2019 we launched The Little Teepee Company.
We knew our main customer base would be children's birthday parties so we promoted ourselves at our kid's school fairs which took place in October and November of 2019 where we set a competition to win a #BFF party and talked directly to our target audience to get more ideas for themes. By November we had secured our first 'Starry Night' themed sleepover party! And the winner of our #BFF competition reviewed us on Our Kids. We were off to a steady start.
Take us through the process of designing, prototyping, and manufacturing your first product.
We dived straight into designing the teepees researching how to make an 'A' frame tent, went to home depot and a local fabric store, and took it from there. Two weeks later and a few redesigns we had eight gorgeous looking teepees ready for use.
Accept that the current climate is tricky but do not let it stop you.
Next, we knew we had to get a website up and running to promote our business and enable clients to contact us directly to make inquiries and bookings. We looked at a few different providers and settled on Squarespace because we loved the choice of templates and support is 24/7. We can attest to that as we contacted them several times during the design stage. This was completely alien to us but it felt great to be doing something creative.
Next, we wanted to create a logo that had a tag-line and colors that would compliment our website. We used an online service that was based in Norway. Not ideal due to the time differences, but we were happy with the outcome. Our logo uses the tag-line 'The Ultimate Sleepover'.
Describe the process of launching the business.
Our overheads were low which worked well for us as we were funding the business ourselves initially. Costs included things like our website, the logo, teepees, the accessories, permitting ourselves as a small business, paying for the school fairs, and marketing materials. We used our friend's house (thanks Gemma) to set up the teepees so we could take photos for the website. She baked cakes for the kids and we had a blast but unfortunately, none of the photos made it onto the website because we just weren't very good at taking pictures at the time. Everything, in the beginning, was a steep learning curve.
Time was of the essence. We knew we needed photos to wow our potential customers for our website and the opportunity arose during a 10th birthday party for Louise's daughter Daisy. We dressed the newly acquired teepees and prepped the room ready with all the accessories for a 'Dreamy Spa' themed party. Our lovely friend, Lara from Home Sweet City, kindly took shots with her professional camera and they came out beautifully. The party photos went straight onto our website.
We combined our launch with the fall festivals at different schools throughout the district. We were able to connect directly with our target audience and gathered lots of ideas for other themes. We ran a 'Jellybean' competition at all the events where the winners won a #BFF party for two. By complete chance, the parent of one of our winners was a blogger for 'Our Kids' an online service that reviews and highlights kids' activities in and around the DC area. Their audience reach was in the thousands so we were delighted at the glowing review she wrote after the sleepover.
We were also approached to donate sleepover parties to the school's yearly fundraisers. We jumped at the chance to support our schools and promote our business once again. But soon after the pandemic hit everything stopped.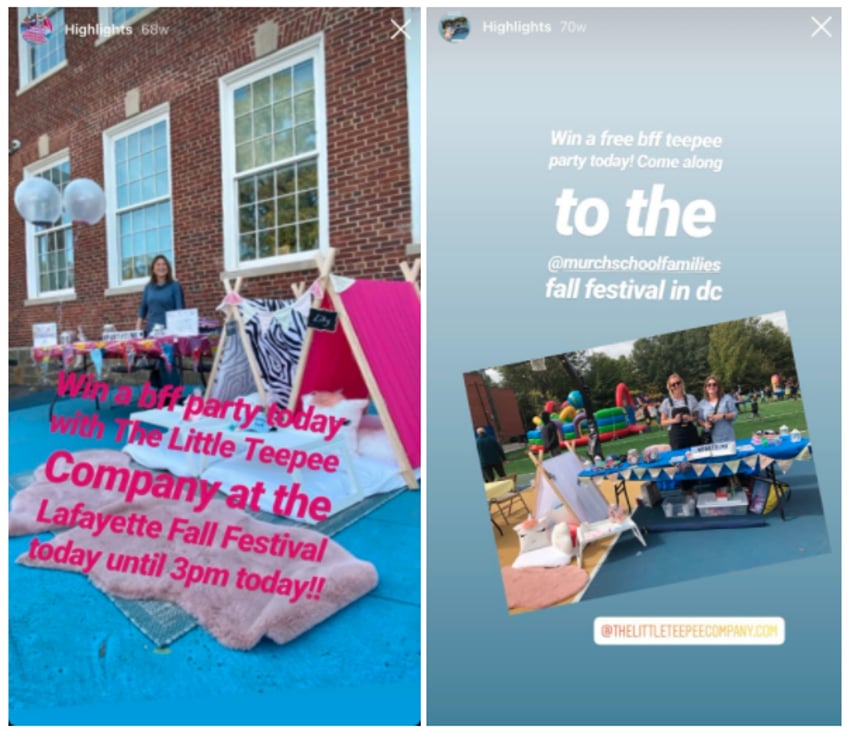 Since launch, what has worked to attract and retain customers?
Google searches bring most of the traffic to our website. Since we are the only business in the area offering Teepee Parties and having maximized our search engine optimization using keywords, we have been fortunate that our company comes up quickly when searching. We're able to monitor this through Squarespace analytics. The app is free to download and is really easy to use.
We ran a campaign via email to subscribers and we were able to monitor the responses immediately. Ensure your SEO has keywords relating to your specific business. These are picked up during Google searches.
We update our Instagram account regularly. It's an ideal platform for our type of business and link this into our Facebook page too. Facebook allows us to monitor the traffic and we paid very little for an ad campaign through them, it's an effective, easy way to publicize your business.
And of course, word-of-mouth works. We talked to lots of parents and people that we met at the fairs and received bookings off the back of parents telling their friends.
How are you doing today and what does the future look like?
Incredibly, the past 6 months have been very busy! People have been at a loss of how kids' birthdays can be celebrated during the pandemic. After shutting the business down for a couple of months last March, we looked at how we could adapt our business to meet the restrictions that were in place to keep everyone safe from Covid-19.
We introduced a no contact drop-off service where we leave the teepees and accessories outside and the host completes the set-up. We do as much as we can to simplify this, for example attaching fairy lights to teepees, putting mattress protectors and sheets on the mattresses, and providing a photo of a styled party we have set up previously. We then pick up from outside the house the following day at a convenient time for the customer. We have reduced the price of the parties to reflect this. This has enabled us to plan and deliver more parties than previously as we save time on the set-up and takedown.
Through starting the business, have you learned anything particularly helpful or advantageous?
As our concept initially developed we realized that exhausting our research of what similar event businesses existed and understanding where the gaps were allowed us to tailor the business towards a particular market. We also had the advantage that many of our initial customs came from where we live and the surrounding areas. This was extremely helpful with regards to inquiries from word of mouth.
Another thing that we have both found really helpful is that we have an excellent working relationship. We both seem to fall into our separate roles without discussion. We have each relished in the creativity it has allowed us. Most importantly we thoroughly enjoy working together and have a lot of fun!
What platform/tools do you use for your business?
We currently use Instagram, Facebook, Squarespace for our website. We are about to set up a Google review account.
What have been the most influential books, podcasts, or other resources?
We listen to Holly Tucker's podcast on her business start-up. This is a woman who started a business in the UK called Not on the high street. She also has a book called Love what you do. We also listen to Elizabeth Days' podcast How to Fail.
Advice for other entrepreneurs who want to get started or are just starting?
Go for it! Accept that the current climate is tricky but do not let it stop you. Ensure that the business concept will keep your interest. Allow friends and family to help review your products and accept constructive criticism. If you are going into a partnership with someone ensure you are on the same page and most of all get on well!
Where can we go to learn more?
If you have any questions or comments, drop a comment below!
-
Louise Wild, Founder of The Little Teepee Company
Want to find more ideas that make money?
Hey! 👋 I'm Pat Walls, the founder of Starter Story.
Get our 5-minute email newsletter packed with business ideas and money-making opportunities, backed by real-life case studies.