Thank you Klaviyo for sponsoring Starter Story ❤️
Turn one-time buyers into repeat customers. Try the platform loved by 265,000 brands
How I Raised $15M To Build A $800K/Month Math Online Tuition Platform
Launch An Online Tuition Platform
Hello! Who are you and what business did you start?
Hello, my name is Tom Hooper and I founded Third Space Learning in 2013. We have developed an online learning platform that recruits STEM graduates in emerging markets, such as India and Sri Lanka, to provide scalable, high-quality, and low-cost online tuition for maths.
Since launching the business, our particular focus has been on establishing this model to support pupils from disadvantaged backgrounds in UK state schools.
We started by just focusing on primary school tuition and providing maths intervention programs for children aged 6-12 but are now expanding the business to include secondary schools, particularly in preparation for the end of year national exams for 16-year-olds in England and Wales. Our new GCSE maths revision program launches in January and tutors are undergoing their training in teaching it now.
Since 2015 Third Space Learning has delivered nearly 800,000 hours of teaching to just under 70,000 pupils in the UK. This year we are launching in the US as the first step toward our goal of making one to one maths tuition more accessible to students around the world.
The main product we sell is TSL in School, where we provide online tutoring at scale to integrate with school time tables and support the work that teachers do in class. What makes our model different, aside from the global nature of our tutor community, is a strategic integration of digital and human one to one tuition that guarantees the best outcomes for the child.
Every child sits a diagnostic assessment on the Third Space Platform, allowing us to diagnose their learning gaps and create a personalized curriculum for them, populated with all the content they need to learn.
Their online maths tutor will then guide them through this each week in our online classroom, with reports and additional practice provided to the teacher (or parent) and student. This creates a much more holistic learning experience that works for hand in hand with the class teacher, and therefore in the student's best interest.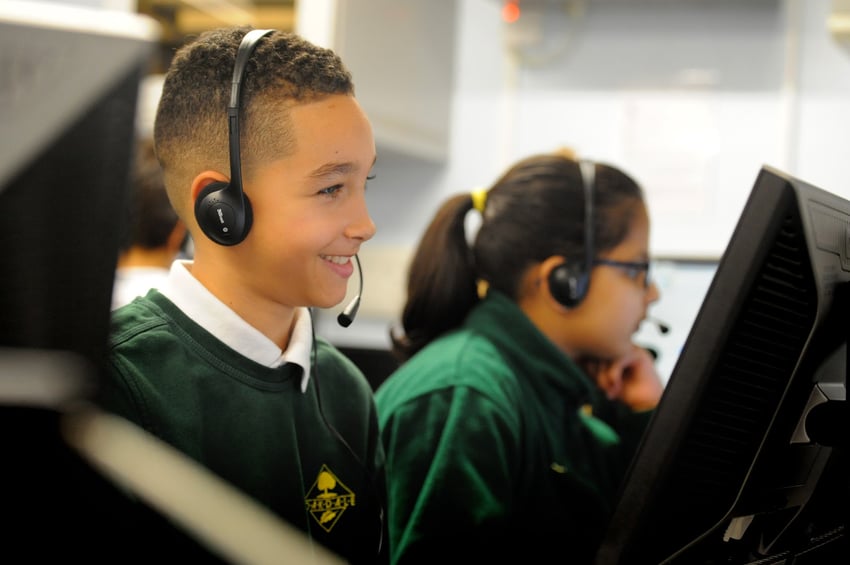 A child using Third Space and talking to their tutor.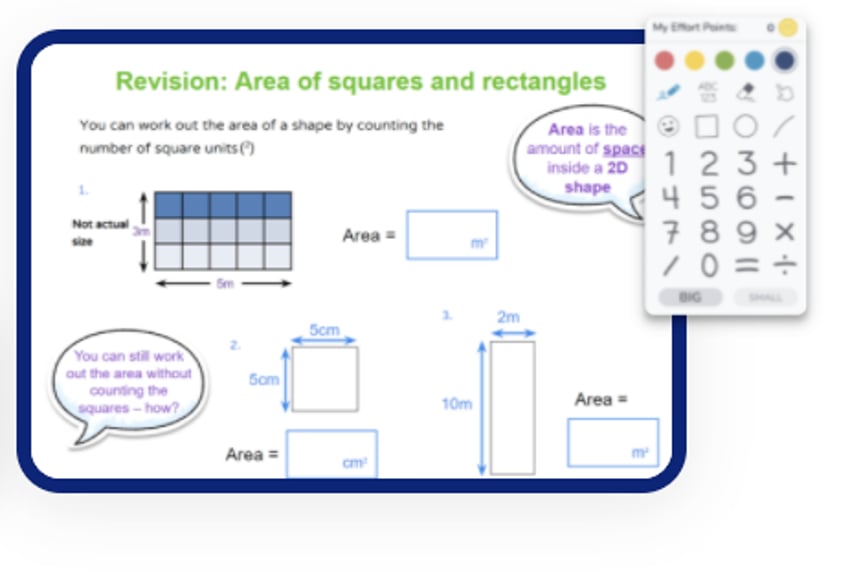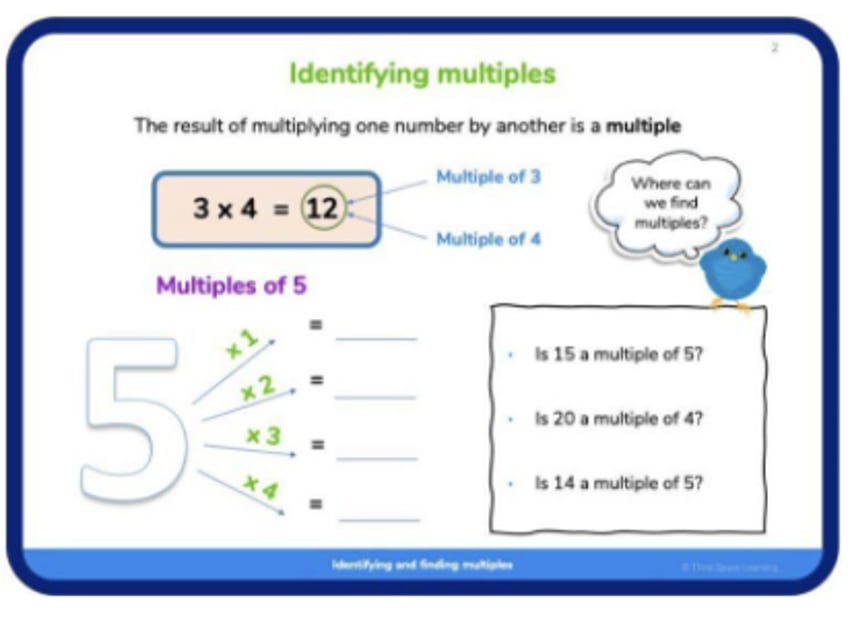 Examples of our maths lessons
We have now established ourselves as the largest, and we believe the best online tutoring company in the UK schools market. We have around 75% of English primary schools and over 100,000 teachers signed up to our platform, using our free maths resources. From here we then upsell tutoring services based on the learning needs from these free accounts and should generate around £8m in revenue this year.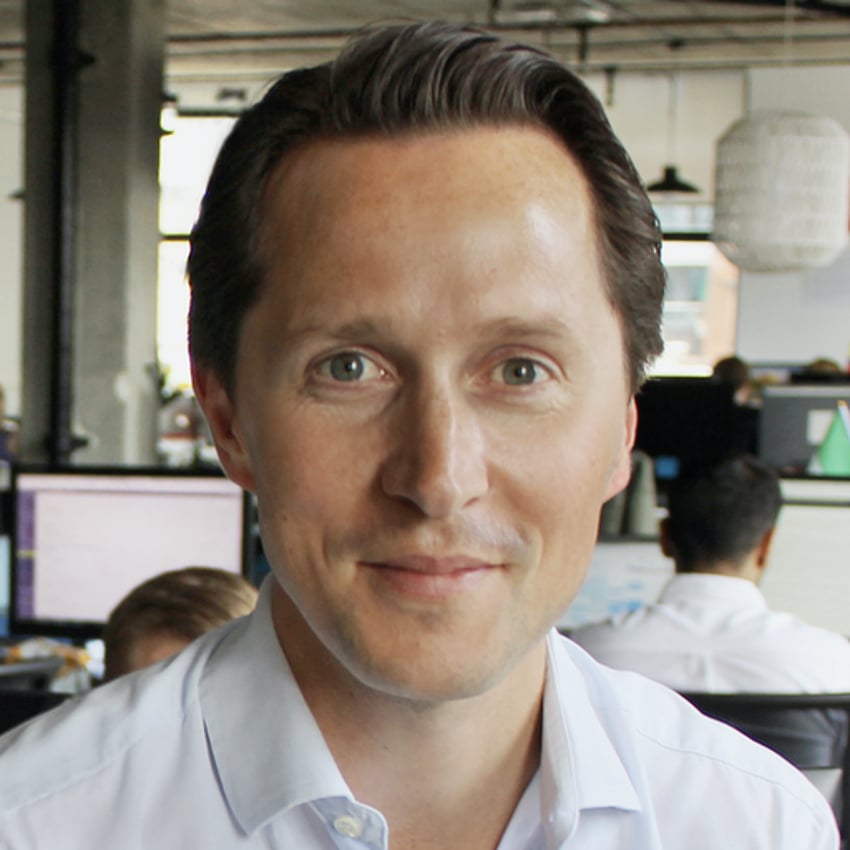 Video case study from a headteacher:
What's your backstory and how did you come up with the idea?
I studied Philosophy and Politics at University, before spending the first few years of my career working in investment in London. Whilst I am glad that I worked in finance, it was never a career for me. I enjoyed meeting company management teams and analyzing their outlook to inform investment decisions. But, in truth, I always wanted to be on the other side of the table helping to build a business. That said, understanding the financial and operational structures of businesses, and how this relates to their plans, is undoubtedly valuable in building a business and working with investors.
I think success is often based on learning quickly enough from your mistakes, such that you are constantly improving.
My family is all entrepreneurs. Both of my parents are, which must have influenced me and my brother and sister. All three of us siblings have founded our own businesses so now we have a full house of entrepreneurs. I guess that growing up in this environment gave us confidence in entrepreneurship as a means of building a career and that the risk was worth it (even if that meant failure). Certainly, it helped to have encouragement and support from our parents that we should go for it and had their total support. I even remember being discouraged from my original decision to work in Finance!
When I did take that first step, I didn't know that I would end up in education. I am neither a teacher nor a technologist by background. I am not sure if this was a help or a hindrance in founding and building Third Space. Probably I think it helps to come at a problem without too much knowledge as to the market realities that relate to this. That said, market insight and research can suggest a good counter-argument to this view, and are clearly essential to launch and growth.
I left investment in 2009 and later that year I founded a company called BrightSpark, which was also in the online tutoring sector. The initial idea was based on my experiences of online learning for exams in finance (CFA), and my experiences of being a tutor and having been tutored. This structure was focused on building a global tutor community to deliver pre-designed online lessons to students in both schools and at home. I sold BrightSpark to TES Global, one of the largest global online teacher communities, in 2012.
This was a very positive and formative experience in how to build a business and to the education and edtech world that shaped my ambitions for launching Third Space in 2013.
Take us through the process of designing, prototyping, and manufacturing your first product.
One of the main lessons from BrightSpark was the importance of market focus, particularly in the early years. By the time of the sale, we had established BrightSpark in a variety of markets (primary and secondary, school, and home). But at launch we were spread too thin, making it far harder to zero in on what markets to prioritize for early growth. Alongside some key product insights, there were valuable lessons that led me to launch Third Space as a second venture in online tutoring.
Third Space is designed to make one-to-one tuition accessible to those students with the greatest need. This led us to focus solely on primary schools as a customer in the early stages of building the business. Working with teachers we were able to develop a valuable product feedback loop to ensure we were delivering good academic outcomes. It also helped us to create a service that teachers could use to support pupils from disadvantaged backgrounds.
In pre-launch and the first few months, we worked with a small group of schools, mostly based in London, to gain initial market feedback on the operational, product, and budgetary requirements. In addition to ensuring that the proposition and pitch spoke to the real needs of teachers and decision-makers.
Describe the process of launching the business.
It was about 3 months after launch that we felt we had started to find the right blend of market and product traction. Mostly this was about ensuring the product was pitched at the right problem to really appeal to budget holders' priorities. The actual product remained quite simple and gave teachers a fair amount of flexibility in how to use it. We also invested heavily in customer services to support our early users.
Talking with other founders or people in companies where you can compare notes on the market, phase of growth, funding, team, etc is really valuable. As much because it reminds you that we all tend to go through the same challenges.
We had raised about £750,000 in Angel funding in our first year to get us through testing and launch. This was great support and was largely based on my track record with BrightSpark and also the simplicity of the idea. Everyone understood the market and could easily pitch it back to their husband or wife over dinner, making the prospect of investment more exciting (alongside a passion for the problem it was solving). As we started our second year we did our first institutional round, raising £1.5m. We have since raised a total of £12.2m from four VCs and our Angels.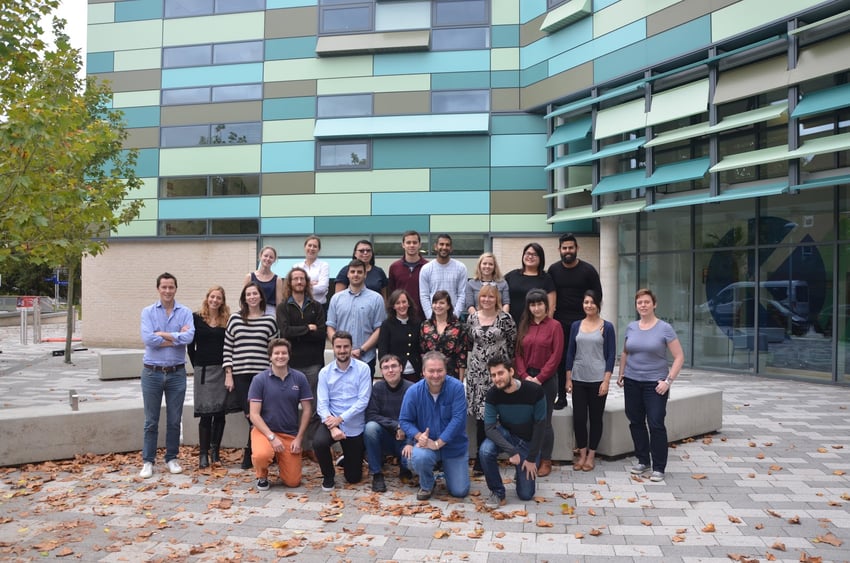 The team in 2015 outside Kensington Aldridge Academy, the school whose classroom we borrowed for our office.
Our original site in 2014
Our site today
Since launch, what has worked to attract and retain customers?
Our marketing was initially very much word of mouth, referrals from local authorities, and some email lists. I think we probably assumed that this would scale, and realized in our second year that this provided a diminishing return. Clearly what works in one phase of growth is unlikely to be the tactic that keeps on giving. It was at this point that we started to invest a lot more in content to drive organic search and email marketing, both of which have been a great success for us.
Our content marketing strategy centers on the Third Space Learning blog where we share best practice in maths teaching, educational guidance of relevance to our audience of school leaders, educators, and teachers, and the timely search led topics. Increasingly, as we have expanded our Third Space Learning at the Home offer, and have been supporting parents during periods of homeschooling during Covid 19 lockdowns we are also including lots more home learning resources.
These can range from step by step guidance on the best long division method to a list of our favorite maths games to play with children. We also provide lots of advice drawn from our own experience on running maths interventions and what to look for in a primary school maths tutor.
While we provide value to our audience we are also encouraging them to start a more regular relationship with us by downloading our free resources and signing up for our emails.
One unexpected outcome of our content marketing strategy was the opening up of a new income stream from customers who'd experienced our free resources requesting deeper engagement with our resources via a paid-for offer. We opened up the Third Space Learning Maths Hub in 2018 and many of our subscribers ended up having paid subscriptions to access our premium content.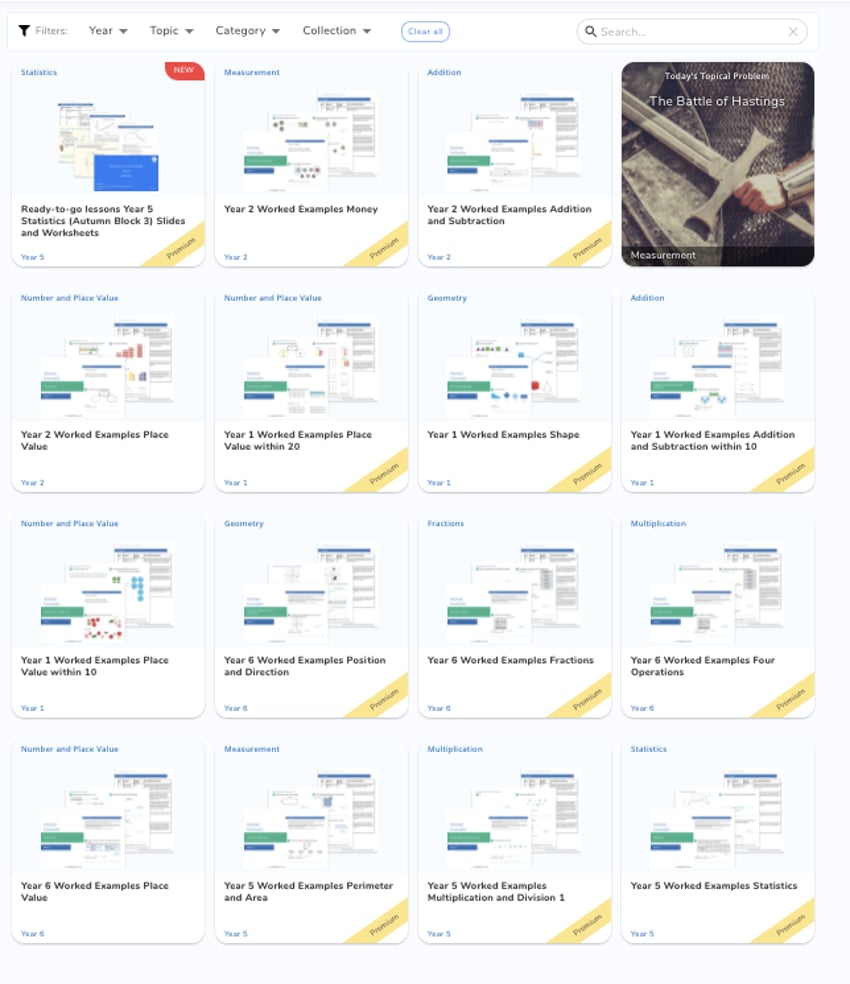 Third Space Learning Maths Hub
The big priority for us now is looking at how to expand our content strategy to appeal to a more global audience, and how we migrate from content-based marketing channels toward a more content-based product engagement and upsell (and retention) model.
As a B2B company with schools as our main customer, we sell high-value contracts so customer retention does require relationship management.
As much as we'd love to automate this, that is not possible. We also dont need to as the unit economics are very attractive whilst allowing us to invest in maintaining hands-on customer touchpoints.
How are you doing today and what does the future look like?
We should reach profitability this year, on revenue of around £8m. As we scale our gross margin should continue to expand, whilst still allowing us to actually invest more in our tutors, with margins now reaching 55%.
The next 3 years are focused on adding new curricula to our platform to allow us to work with students at a primary and secondary level across multiple English-speaking markets (UK, USA, Australia, New Zealand, International Schools). This allows us to leverage the global tutor supply model that we have established over recent years.
Through starting the business, have you learned anything particularly helpful or advantageous?
I think success is often based on learning quickly enough from your mistakes, such that you are constantly improving.
On this basis, a lot of the advice I would give is around resource allocation and investment.
Certainly, most of my mistakes have been related to this.
On the one hand, I would advise, as most would, that adopting a lean approach to understanding and proving an opportunity is sensible, before scaling resources and the related RoI. I have certainly made the mistake of over-investing in a new market before we were ready, which caused us to waste cash, but also led to under-investment in other parts of the business with a more proven opportunity.
At the same time, I think there can be a real risk in focusing too much on the minimum viable product. When we launched in 2013, we quite quickly established product/market fit, which sounds great. The problem was that we then ended up scaling an MVP, both operationally and technically, to keep growing revenue. Our investors were happy, but in reality, we should have been much more focused on also investing in the foundations that would allow us to scale more efficiently. Ultimately this has to happen, and the longer you leave it, the more painful it can be.
What platform/tools do you use for your business?
This has been the most amazing transformation between my first startup (BrightSpark, 2009-12) and Third Space being founded in 2013. When I launched BrightSpark, none of these tools existed. You had a physical server and a backup. Google Apps for business didn't exist, and none of the marketing automation tools were around.
Now it is a different ball game and incredibly for innovation. We use all the standard stuff you'd expect - Slack, Salesforce, AWS, plus a bunch of analytics and marketing automation tools.
The only thing I would say is that whilst any one of those tools is useful and valuable in and of itself, they can very quickly add up to a significant cost line in your budget, so keep a close eye on the utility of all of these.
What have been the most influential books, podcasts, or other resources?
Talking with other founders or people in companies where you can compare notes on the market, phase of growth, funding, team, etc is really valuable. As much because it reminds you that we all tend to go through the same challenges. One of the reasons I like the startup world is that people tend to be very open and supportive.
I should probably read more than I do. That said, I think it can be very easy to be pulled into getting overly involved in 'the scene' whereas you should really be focused on the team and customers. I keep an eye on LinkedIn for news and interesting articles from people I know.
In our sector the EdTech Podcast, Edsurge, and TeacherTapp (a daily survey tool of teachers) keep you updated.
Advice for other entrepreneurs who want to get started or are just starting?
I think a defining characteristic of entrepreneurs is that they often have a necessary and wilful optimism, which is very necessary at the start. I think the one simple piece of advice I would give, which has both served me well and also been the source of mistakes when I have veered away from it, is to ensure you stay true to what you (and your team) believe is the right thing to do.
In particular, when you go down the VC funding route, it can be very easy to get sucked into this hype where everyone is insisting that you have to 10x your business, even though hardly any VC backed businesses are actually going to achieve that growth. If you create a plan for what you think someone needs to hear, then it's probably going to fail.
Are you looking to hire for certain positions right now?
We are particularly interested in hearing from flexible problem-solving developers and primary or secondary teachers with an interest in edtech and fantastic maths teaching skills! These are our current career opportunities.
Where can we go to learn more?
If you have any questions or comments, drop a comment below!
Want to start your own business?
Hey! 👋I'm Pat Walls, the founder of Starter Story.
We interview successful business owners and share the stories behind their business. By sharing these stories, we want to help you get started.
Interested in starting your own business? Join Starter Story Premium to get the greatest companion to starting and growing your business:
Connect + get advice from successful entrepreneurs
Step by step guides on how to start and grow
Exclusive and early access to the best case studies on the web
And much more!
PROMOTED
Did you know that brands using Klaviyo average a 95x ROI?
Email, SMS, and more — Klaviyo brings your marketing all together, fueling growth without burning through time and resources.
Deliver more relevant email and text messages — powered by your data. Klaviyo helps you turn one-time buyers into repeat customers with all the power of an enterprise solution and none of the complexity.
Join Brumate, Beardbrand, and the 265,000 other businesses using Klaviyo to grow their online sales.
Starter Story
Wanna see 52 business ideas you can start with less than $1,000?
Join our free weekly newsletter and get them right now.