How To Reach Out To Prospects Via LinkedIn InMail
•
Updated: October 6th, 2022
How To Reach Out To Prospects Via LinkedIn InMail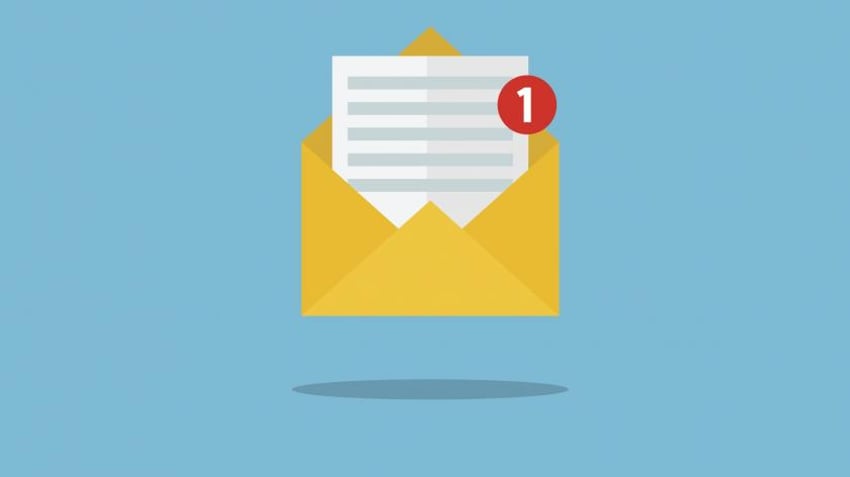 Topic
Social Media (Organic)
Cost Details
The InMails are sent on a pay-per-send basis, and cost anywhere from $0.30 to $1 per send depending on your target audience
What Is LinkedIn Outreach?
LinkedIn Outreach is the process of sending direct LinkedIn messages to prospects.
Consider that direct messaging is LinkedIn's primary one-to-one communication approach. Therefore, sending direct LinkedIn message provides marketers an effective approach for reaching the target audience in a personal way.
Often referred to as LinkedIn Inmail, LinkedIn direct messaging could accelerate your lead generation pipeline.
LinkedIn Outreach Key Takeaways
LinkedIn InMail is limited to 1st connections or users with LinkedIn Premium
Before sending a LinkedIn direct message, take time to understand your audience and customize the message
Your LinkedIn direct message should try to achieve positive emotional and behavioral reactions.

To attain higher response rates, ensure a catchy subject line and make the content easy to understand.
Understanding How LinkedIn Outreach Works
The core reason for turning to LinkedIn direct messages is to turn new connections into genuine leads. LinkedIn outreach starts with a simple connection request.
After a successful connection, you send a follow-up message. Whether you send the connection request or follow up via LinkedIn InMail, make sure you get the message right.
Remember, LinkedIn users are often professionals, and they do not have time to read a fluffy message. Thus, follow these tips when composing and sending LinkedIn InMail.
It is better to keep the message short and direct to the point
Take the time to personalize LinkedIn messages so that your prospects can take time to respond.
Find a way to create an original message and stand out from other LinkedIn marketers.
Try to slip a tease into your message so that your prospects will want to learn more.
Real-World Examples Of Succesful LinkedIn Outreach
1. Blackline
Blackline is a leading creator of cloud-based accounting and financial software.
The company hosted a webinar featuring PepsiCo`s Finance and Accounting executives as they discussed their successful experience using blackline.
At first, the digital marketing team Faced a challenge in driving webinar registrations and increasing content marketing engagement.
Blackline's digital marketing team started using LinkedIn Sponsored InMail to connect with CFOs, CAOs, and Controllers, who were the main target audience.
LinkedIn Sponsored InMail, Blackline's digital marketing team, sent personalized messages targeting them by title, geographic location, industry, and more.
Recognizing the quality of LinkedIn InMail, Blackline Management doubled down on content marketing efforts and hired a manager to reinforce messaging and build awareness using LinkedIn Sponsored InMail.
2. CBRE
CBRE is a commercial real estate services and investment firm focusing on helping investors, property owners, and occupants solve the most demanding industry challenges.
In the past, CBRE relied on traditional communication channels to reach their target audiences.
Recently, the digital marketing team switched to Sponsored LinkedIn InMail as an outreach platform for targeting and delivering one-to-one communications.
LinkedIn Sponsored InMail gave CBRE the confidence that an active and engaged audience that would more likely convert will receive their messages.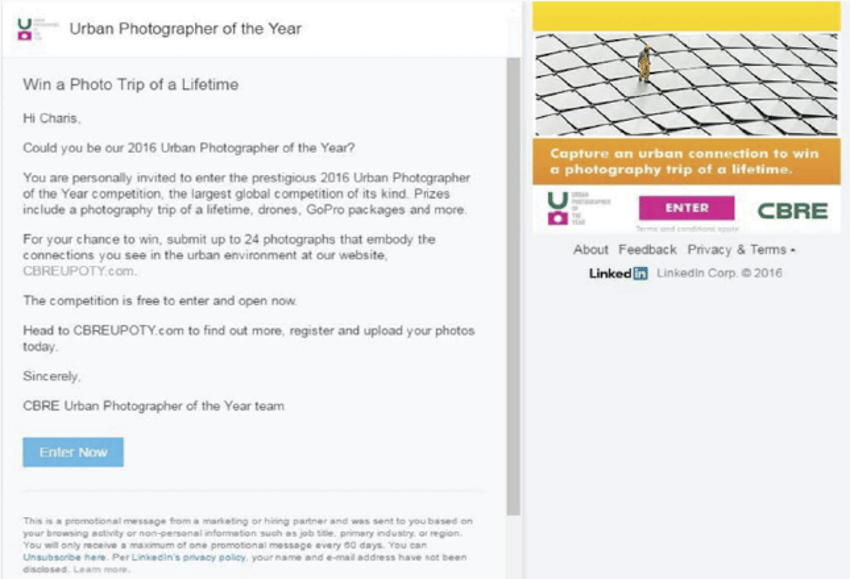 How To Start LinkedIn Outreach
Navigate to campaign manager
Choose campaign goals and objectives
Set up sender permissions
Build a message based on the campaign objectives
Add creative (choose to include a banner image)
Preview the message and send yourself a test version of the message
Select the target audience
Set bid and budget
Measure and optimize the results
LinkedIn outreach campaigns can be rewarding so long as you put in the effort to customize the message and target a potential audience.
To get started, create your LinkedIn account. Alternatively, hire a virtual assistant on Upwork to lead your LinkedIn Outreach campaigns.
LinkedIn
A business- and employment-oriented social networking service that operates via websites and mobile apps.
Businesses using LinkedIn:
594 successful businesses are using LinkedIn ➜
Upwork
The largest freelancing website, where businesses connect with talented freelancers.
Businesses using Upwork:
321 successful businesses are using Upwork ➜
Contributors
Contributors to this article:
Pat Walls, Founder @ Starter Story
Samantha Walls, Head Of Content @ Starter Story
David Gitonga, Writer @ Starter Story
Want to start your own business?
Hey! 👋I'm Pat Walls, the founder of Starter Story.
We interview successful business owners and share the stories behind their business. By sharing these stories, we want to help you get started.
Interested in starting your own business? Join Starter Story Premium to get the greatest companion to starting and growing your business:
Connect + get advice from successful entrepreneurs
Step by step guides on how to start and grow
Exclusive and early access to the best case studies on the web
And much more!