Thank you Klaviyo for sponsoring Starter Story ❤️
Turn one-time buyers into repeat customers. Try the platform loved by 265,000 brands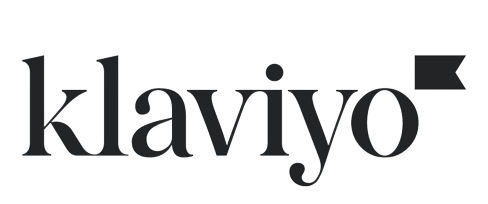 How To Get Started With LinkedIn Advertising [2022]
•
Updated: July 6th, 2022
How To Get Started With LinkedIn Advertising [2022]
This article is a part of our encyclopedia, and is editable by you. Edit ➜
What Is LinkedIn Advertising?
LinkedIn Advertising refers to the use of paid LinkedIn Ads targeting the platform users.
The LinkedIn paid ads provide an exceptional benefit that will help brands to meet the specific business goals.
LinkedIn advertising is ideal for businesses that want to reach customers via a professional network.
LinkedIn Marketing Key Takeaways
LinkedIn does not boast the largest user base but it is a concentrated community of professionals.

LinkedIn ads can be an effective way to reach relevant professionals.

To drive real results with LinkedIn advertising, target influencers, decision-makers, and executives who act on new opportunities.
How LinkedIn Advertising Works
LinkedIn Advertising works on a bidding system. Therefore, the advertiser will pay to place the advertisement.
The amount you pay to advertise on LinkedIn depends on the activity type and the ad auction.
Thus, the advertiser will start the campaign by placing the bid when he launches the campaign.
Since the LinkedIn ads are sold through an ad auction, your bid will compete with the other advertisers wanting to reach the same target audience.
Remember that the target audience consists of the LinkedIn members you are trying to reach with the Ad campaign. Therefore, the total cost to win the auction depends on the bid and the desirability of your target audience.
Real-World Example
1. Duo Security
Duo Security gives us a good example of how to advertise on LinkedIn.
The Computer and IT security company created a LinkedIn Page where followers can find all information relating to the company.
Apart from running a LinkedIn page, the company uses promoted Ads on LinkedIn to target the relevant audience.
To inform and keep the followers engaged, Duo Security posts on LinkedIn on a regular basis.
In their posts, they include a relevant hashtag to target LinkedIn users, and even link to the company website, which is a traffic generating strategy.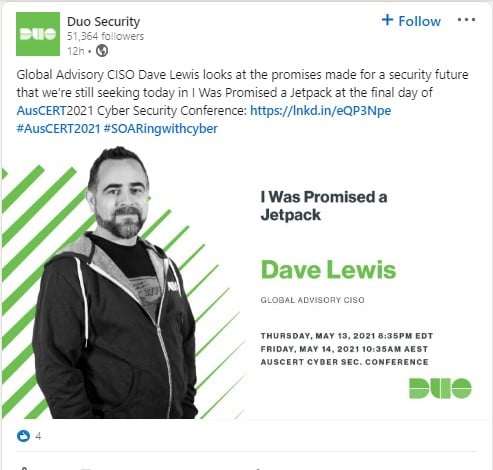 2. Connex One
Connex One A UK-based customer engagement platform, is another example of how to use LinkedIn advertising to reach your customers.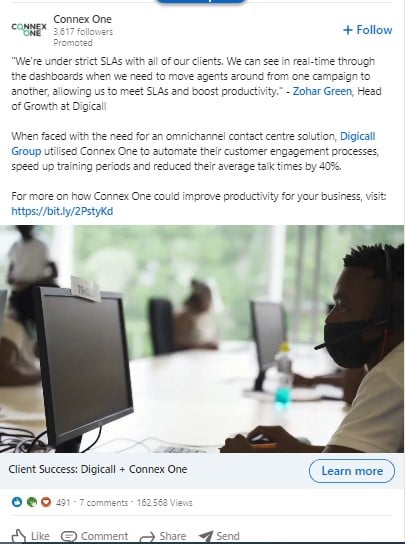 Through its LinkedIn page, the company educates its followers on how to make use of its tools for business success.
By sharing insights with their customers, Connex One enjoys the potential for increasing its customer base.
How To Get Started
Create a free LinkedIn Page
Determine the objective to help LinkedIn streamline and customize the advert
Create the campaign manager account and choose the objective
Build and save an audience for your campaign
Get to know the ad formats; Sponsored Content, Sponsored Messaging, Text Ads, or a mix of the three
Set your bid and budget
Set up the Ad Creative
Save the billing information
The LinkedIn campaign will enter the review process before launching.
Creating your first LinkedIn Ad can feel overwhelming. For effective LinkedIn Ads, hire freelancers on Upwork or Fiverr.
Contributors
Contributors to this article:
Pat Walls, Founder @ Starter Story
Samantha Walls, Head Of Content @ Starter Story
David Gitonga, Writer @ Starter Story
Want to start your own business?
Hey! 👋I'm Pat Walls, the founder of Starter Story.
We interview successful business owners and share the stories behind their business. By sharing these stories, we want to help you get started.
Interested in starting your own business? Join Starter Story Premium to get the greatest companion to starting and growing your business:
Connect + get advice from successful entrepreneurs
Step by step guides on how to start and grow
Exclusive and early access to the best case studies on the web
And much more!
PROMOTED
Did you know that brands using Klaviyo average a 95x ROI?
Email, SMS, and more — Klaviyo brings your marketing all together, fueling growth without burning through time and resources.
Deliver more relevant email and text messages — powered by your data. Klaviyo helps you turn one-time buyers into repeat customers with all the power of an enterprise solution and none of the complexity.
Join Brumate, Beardbrand, and the 265,000 other businesses using Klaviyo to grow their online sales.
Starter Story
Wanna see 52 business ideas you can start with less than $1,000?
Join our free weekly newsletter and get them right now.