On How I Develop Analytics For Marketers
Start A Marketing Consulting Business
Hidely-hodley, neighborinos! My name is Keith Perhac, and I'm the founder of SegMetrics -- an analytics platform built specifically for marketers. Our goal is to make it quick and easy to get the valuable information marketers need about their funnels
I'm the first to admit that I'm kind of a crazy data guy, and through the last decade of working with marketers, I've realized that the last thing that many of them want to do is look at spreadsheets for hours at a time. But they need that data to make better marketing decisions.
That's the pain that SegMetrics was built from -- we needed something reliable, that was simple to set up, and easy to understand. Because no matter the size or type of business, success shouldn't depend on wrestling some sense out of confusing or conflicting data.
Connecting directly to the data allows us to track visitors and customers through the entire marketing funnel, and gives marketers advanced lead and revenue attribution for all their funnels. No more half-baked JavaScript implementations.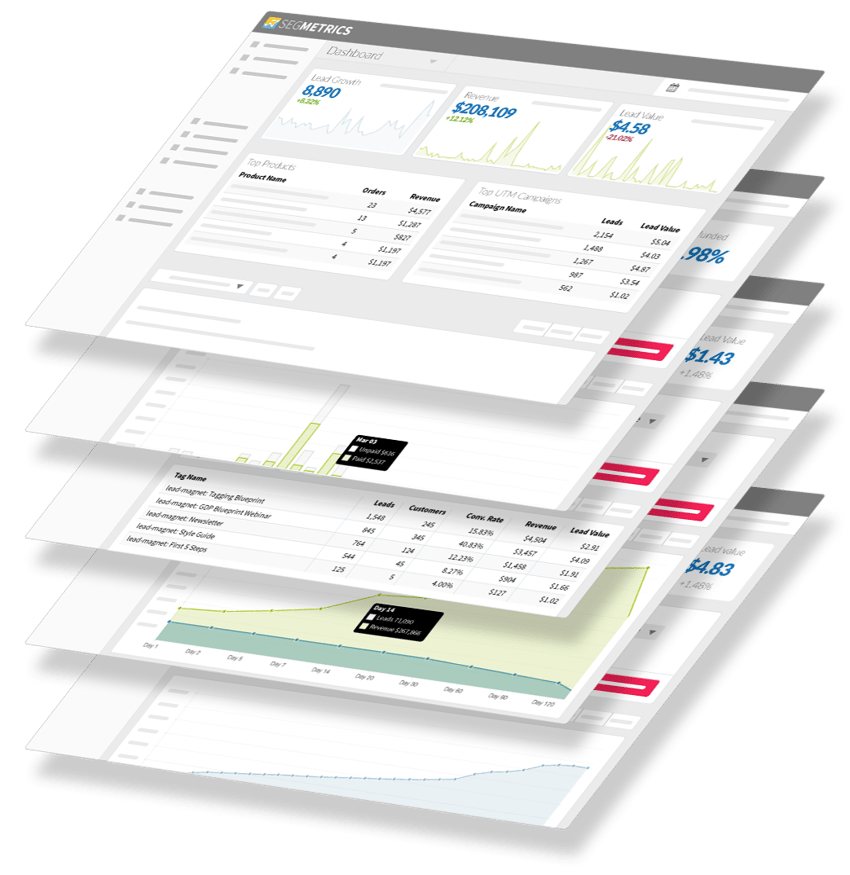 What's your backstory and how did you get into entrepreneurship?
I started SegMetrics around 5 years ago, but it really started over a decade ago, back when I was a salaryman working in Nagoya, Japan.
I graduated from college right after the first dot-com crash. And as a designer/computer science major, there weren't a lot of jobs in the tech industry for new graduates. I'd always had an interest in Japan, and so I decided to teach English for a year.
Building a team complements and improves itself is the best strategy to build a sustainable business.
A year turned into three, and when my teaching contract was up, I went through the Japanese hiring process. After almost 6 months of searching, I joined a Japanese startup in Nagoya that focused on digital signage. I worked there for 6 years, eventually working my way from "technical translator" to the head of the development department.

Eventually, the company was acquired, and I had a decision to make -- would I stay with the new company, or head out on my own. At this point, as head of the development department, I was doing all the product design and development as well as working as a sales engineer.
This was really the first step in my entrepreneurial journey -- would I continue to work until 11 pm every night for the rest of my life as a salaryman, or would I strike out on my own, and see if I could make it work. If I was going to die from overwork, shouldn't I at least do it for my own benefit instead of someone else's? So I quit.
In the end, entrepreneurship was something I kind of fell into. If I hadn't had that line drawn in the sand, I don't know if I would have ever made that decision by myself. I had just built a house, had a family, and was a foreigner living in the middle of nowhere Japan. How was I going to get clients? How was I going to make ends meet? How was I going to support my family?
There were two people that gave me the emotional support and kick in the pants that I needed to go out on my own. One was Patrick McKenzie -- my best friend and the only other foreigner programmer in our prefecture. He had gone through the salaryman slog with me, and quit to run his own business a few years earlier.
The other was my wife. To be honest, without the emotional support of my wife, I don't think I could have taken that first step. And if I hadn't, I would probably still be working until 11 pm every night in Nagoya.
So, in August I quit my job, and started my new journey, as a solo-preneuer.
Take us through your entrepreneurial journey. How did you go from day 1 to today?
My first real client was a bit of a lucky break. Through Patrick, I got introduced to a then little-known digital marketer named Ramit Sethi. Ramit had just gotten his book on the NYT best-seller list and was looking to bring on a front-end developer/marketer to improve his marketing funnels.
For the next 4 years, I don't think I'd ever worked so hard.
For those who don't know -- Ramit is a whirlwind of energy and pure marketing brilliance. He's one of those people that keeps you on your feet through every moment of a conversation, and working with him was essentially marketing baptism by fire.
Staying at the forefront of marketing meant that I was constantly working to improve designs, marketing funnels, and offers. And because digital marketing was still in its infancy, that meant building out the tech and tracking for all of it. Online Webinar Systems? Build it. Referral Contests? Built it. Those little Proof / Fomo popups? Build it.
And if we were building it, we had to track its' effectiveness. That meant tagging, pixels, and lots and lots of spreadsheets and pivot tables.
Fast-forward and I'd built a small marketing agency. We had 12 people on the team and were serving clients in the US, UK, Singapore, China, and Japan. We worked with many of the titans of digital marketing, as well as a number of high-profile enterprise clients. We were solely focused on conversion rate optimization -- taking our clients' existing marketing and improving them to get two, three or even four times the results.
And to be honest, we were very good at what we did.
But for me, there was something missing. I enjoy building new things, and as we improved as a company, we had gotten into a rut. We were building the same things over and over - the same marketing funnels, the same integrations, the same webinar systems, and communication strategies.
For each of our clients, it was something new and exciting, but for me, it was old hat, and hard to get excited about.
There was also an aspect of being "always a bridesmaid, never a bride" as we were working with our clients. We helped clients with 7 to 8-figure product launches, but our effort was always to build someone else's business, never our own.
So, like the first time I stepped out on my own, we had a decision to make.
As a team, we decided that we wanted to shift focus and to build a product that we could call our own. Something that was built from the pain that we experienced as a marketing agency -- something that we knew that would help other marketers.
And so we hit our biggest pain point -- reporting. Reporting is a core part of the marketing process, but it's slow, repetitive and constant.
When the entire business revolves around how much marketing is improving, you have to have those numbers front and center for the client, at least once a week. And pulling those numbers from multiple systems could take hours for each report.
And the worst part? When you're showing that data to the client, they always have an "aha" moment where they ask something like "But how does the Facebook traffic compare between the east coast and west coast?"
Which means that we have another couple of hours to compile that report data.
Reporting is a key part of the marketing process that ties directly into the effectiveness of your marketing. It is the thing that tells you whether you're making money or not. But most marketers hate it. And even those that do enjoy it realize that it is a huge time sink for the business.
And from that, SegMetrics was born, and a new phase of our business began.
How are you doing today and what does the future look like?
Today, we're in phase 4 of the business. I've gone through being a freelancer, being a consultant, leading an agency, and now into running a software platform. It's been an exciting journey, working with some of the most talented people I've had the pleasure of working with.
Anyone who's done software knows that it's almost never an overnight success story. SegMetrics didn't start growing until we put time, effort and thought into it. And didn't start really making an impact until we understood who our target audience was, and why they use the product.
SegMetrics sat on hold for almost 3 years, sitting at $2,500 MRR, until we drew a line in the sand to make it a success. Once we decided that SegMetrics was where we were focused, things started to take off.
Now, almost five years into its life, SegMetrics is profitable, but every dollar goes back into business growth. We've increased revenue by 4x in the last 18 months, with almost no customer acquisition costs. Marketers are a hard niche to target effectively with ads, and we haven't been able to crack paid ads in a scalable way yet.
Customers stay with us for an average of 18 months, and we have a trial conversion rate of over 60%. We've redoubled our efforts into providing educational, actionable content both before and during the trial, which increased our open-rates to over 70%. Even our 180-day nurture sequence has a consistent open rate of over 35%.
The future of SegMetrics looks bright. While we have competitors, our unique selling points give us a strong foothold in the marketplace, allowing us to compete on our positioning within the market, and not have to compete on price.
Through starting the business, have you learned anything particularly helpful or advantageous?
When I started out on my own, I was excited because I thought it was going to be 90% hands-on-keyboard work time to 10% business admin. If I had realized that the reality was essentially the reverse, I might have thought twice about it.
To me, the biggest challenge of running your own business is that your mental state is the biggest roadblock to success. When you're working for someone else, you can have lazy days; you can have days where you phone it in, and you can have days when you punt the big decisions to your boss.
But as an entrepreneur, you don't have that freedom. Your biggest hurdle to your success is a mental one -- because you don't have the freedom to phone things in or acquiesce to a higher authority in the company.
If you're not motivated, then your team isn't motivated, and nothing moves forward.
And balancing your own mental state, motivation, and burnout is probably the hardest part of being an entrepreneur.
That's probably why there are so many time-management systems and products out there. In my own business, I've found two things that have helped me immensely:
Having a daily schedule with alerts that tell me what I should be doing when.
A set "quitting" time for the day.
Without that structure (and specifically that stop time), my hours and days bleed together. I lose that sense of urgency because there's no deadline to stop -- either for the day or for the week. Without a structure, deadlines become meaningless, especially as you don't have a boss telling you that things have to be done.
It becomes easier to play video games or read Reddit than to focus on the tasks that need to get done.
The second big realization that I had with business is understanding what types of work I like to do, and what I hate.
Going back to managing motivation, it's important that we focus our time to be the most productive with it, and if there are tasks that we put off, or spend too much time on because we hate to do them, then we need to figure a way to get them done in a way that doesn't ruin motivation levels.
I enjoy many parts of the business, even those that many people don't, like invoicing and budgeting. But for some reason, support tickets completely destroy my motivation.
Which is odd, because I love getting on support calls. I like talking with customers. But there's something about the never-ending nature of support tickets that just fills me with stress.
In fact, here's my support ticket process:
Get a cup of water
Open helpscout
Check Slack
Go to restroom
Get another cup of water
Check Reddit
Open helpscout
Read support ticket
Go get a cup of coffee
Make sure the music is playing
Read support ticket again
2-minute response
Total time: 3 hours
Realizing which tasks keep your motivation up, and which act as blockers is important because it ties into one of the biggest realizations that I had about business:
There are people who enjoy doing the tasks I hate, and I can hire people to fulfill those roles.
Looking back, it's completely obvious -- I like managing numbers and spreadsheets, while most people would rather have wild weasels on their faces. There are people out there that love customer support, and building documentation, and organizing knowledge bases.
The things that are the biggest blockers to my productivity is something that I can offboard onto my team.
And in the end, that's the power of a good team -- not just increasing how MUCH you can do, but also finding the people that complement your own deficiencies. If copywriting is a demotivator, you can get a copywriter. If you can't stand project management, you get someone to manage you and the team.
Building a team complements and improves itself is the best strategy to build a sustainable business.
What platform/tools do you use for your business?
We've gone through a LOT of different platforms (mainly project management systems) through the years. Basecamp, JIRA, Infusionsoft, Drip, etc -- we've done it all. The following is what I would recommend for a semi-technical team that doesn't want to mess around with technology but also doesn't want to break the bank.
What have been the most influential books, podcasts, or other resources?
I'm at a point in the business where I've stopped reading as much and am finally focusing on implementing what I know I need to do, rather than studying what I need to do next. I decided to make the switch when I got back from Traffic & Conversion and realized that I had 4 notebooks full of conference notes, book memos and ideas that I still hadn't implemented.
Here is a list of some of the books, podcasts, and conferences that have been influential to me:
MicroConf - The small (ish) conference for micropreneurs and bootstrappers. This is probably the conference that made me realize that starting a business without VC funding is a possibility and taught me the most about how to build and marketing business, especially as a solo founder.
SPIN Selling - This book is probably the best book I've ever read on sales and the sales process. Rackham tears down the sales process, and goes through the psychological hurdles that must be overcome before closing a sale, in stark contrast to the "always be closing" mentality of other sales books.
Hooked: How to Build Habit-Forming Products - This is probably one of my favorite "marketing as psychology" books that I read, and it left a profound impact on me. It was the first time that I had looked at the way that a product itself can become the marketing, and how to create products that are compelling and addictive to use. Looking back at this book in the wake of addictive mobile apps and games, I have a more critical eye towards using many of the ideas in the book, but it's a fascinating look into the way that software and products manipulate us.
Getting Everything You Can Out of All You've Got - Jay Abraham leads through how to re-evaluate and better understand your product offerings, and how they relate to your target audience.
Paradox of Choice - Barry Schwartz dives into how overwhelming choices create paralysis, and how a straightforward, simple approach to decision making increases the chance that people will be able to make a decision. This is incredibly important in marketing, where sites try to overwhelm users with hundreds of calls to action, rather than focusing on a single core action, and 1-2 "secondary" actions.
Advice for other entrepreneurs who want to get started or are just starting out?
My biggest advice is to just start. Put yourself out there. Don't listen to the haters, and see where you can go. The internet is the great democratizer and enables people from all over the world to connect.
I started my business from a small factory town in the middle of nowhere Japan. I couldn't go to networking meetings and didn't have VC connections. But I was able to make a name for myself through blogging, podcasting, and working hard for my clients, who recommended me. Even now, years later, an out-sized majority of my clients come from recommendations.
The biggest mistake I ever made was thinking that I had to be perfect before I put myself out there. I never realized that putting myself out there was how I got better.
Since I was 9, I wanted to be a cartoonist. I went to after school classes, I took summer programs, I practiced constantly. But I never submitted any of my work, because I didn't feel I was good enough. I wasn't ready. I hadn't earned it.
In college, I met a friend who had the same passion for cartooning as I did. Probably around the same talent level (at the time). But every year since junior high, he submitted his work to Marvel. They were all rejected, of course, but in college when he applied for an internship, they remembered the kid that had sent them submission packets for the last 8 years and gave him the internship.
Now, he's an animator on a bunch of the shows that I enjoy (and has his own IMDB page).
I'm not unhappy that I'm not a cartoonist, but my friend influenced me greatly by showing me that as a creator, it will never be "perfect." As Steve Jobs famously said; "Real artists ship."
Where can we go to learn more?
-
Keith Perhac, Founder of SegMetrics
Want to start your own business?
Hey! 👋I'm Pat Walls, the founder of Starter Story.
We interview successful business owners and share the stories behind their business. By sharing these stories, we want to help you get started.
Interested in starting your own business? Join Starter Story Premium to get the greatest companion to starting and growing your business:
Connect + get advice from successful entrepreneurs
Step by step guides on how to start and grow
Exclusive and early access to the best case studies on the web
And much more!