5 Shopify App Success Stories [2022]
•
Updated: October 20th, 2022
5 Shopify App Success Stories [2022]
Here are some real life success stories of starting a shopify app:
1. SuperLemon ($348K/year)
Preetam Nath (from Bengaluru, Karnataka, India) started SuperLemon over 3 years ago.
Team
2 founders / 0 employees
Case Study
Heyo! My name is Preetam Nath, and I'm the co-founder of SuperLemon together with Sankalp Jonna.
I have written extensively about how our app gained traction during the initial days, lessons learned on the journey to $25k MRR (which we crossed in June), and most recently an extensive guide for new developers looking to build a Shopify app. All this in the hopes that it helps anyone else who finds themselves in the same place we were at before we started and got this far.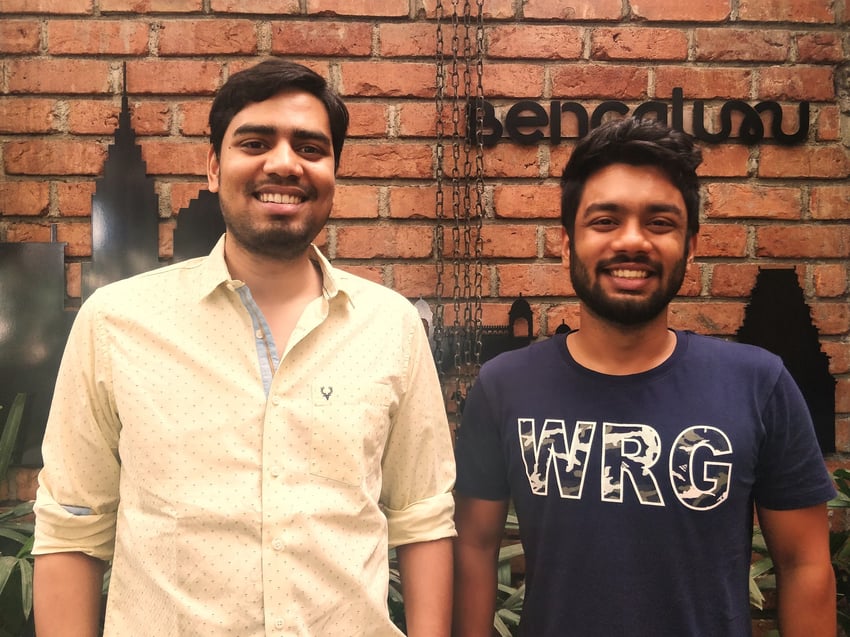 2. Cinquanta Cox-Smith ($120K/year)
Cinquanta Cox-Smith (from Killeen, TX, USA) started *Cinquanta Cox-Smith * about 13 years ago.
Team
1 founders / 1 employees
Case Study
Hey, y'all I'm Cinquanta Cox-Smith I hate putting myself in a box, but If I had to explain what I do: I'm a Multipreneur. (Author, Podcaster, and Entrepreneur) I've been helping entrepreneurs start an EASY Print On Demand side hustle from anywhere for about 3 years now. I'm originally from a small town in South Carolina called Georgetown. It's historic in many ways, especially for the Geechee Gullah culture. I'm an Army Veteran and my Husband (Shawn) is an active-duty soldier. We have 2 kids Kyree (15) and Sharye (12). Let's not forget about our dog ChuChu. He's most definitely the star of this show.
I've always felt like this was just a hobby, or I was just making shirts but Print On Demand is so much more than that. It's helped me create $7,000 in one month selling POD journals on Amazon KDP, it's helped me land a Magazine Cover with my T-Shirts for Stars & Stripes (American Military Newspaper). It's helped me teach over 10,000 people how to create passive & residual income from home with just a computer and some wi-fi. Most importantly it's allowed me the gift of TIME. Time to spend and travel with my family. Once we get further along into this interview. I'll tell you about how I accidentally started in the Print On Demand industry 12 years ago.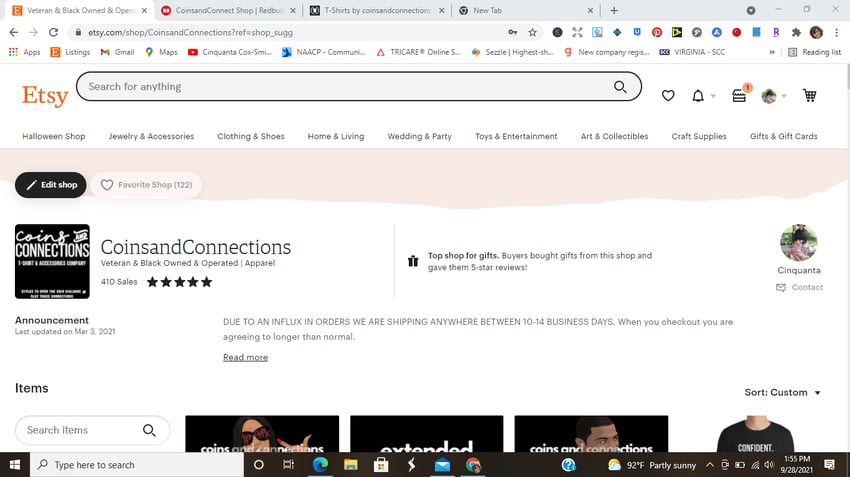 3. Analyzify ($144K/year)
Erman (from Tallinn, Estonia) started Analyzify about 2 years ago.
Team
1 founders / 5 employees
Case Study
Hey, guys! This is Erman, an entrepreneur and a 12+ year veteran in digital marketing. Not long ago, in 2017, I co-founded a company named Solverhood that offers productized services for companies and entrepreneurs in Upwork. Up until now, we have already completed over 300 projects and passed $500K+ in revenue with a 100% proven success rate and only positive feedback.
At Solverhood, we've been receiving many data-analytics-related requests from Shopify stores. As a result, we decided to create our own Shopify Data Analytics app. We did not expect these numbers at all. Analyzify empowers over 350 Shopify stores and generates $12K+/month only after 7 months since the launch - and with the first version of the app.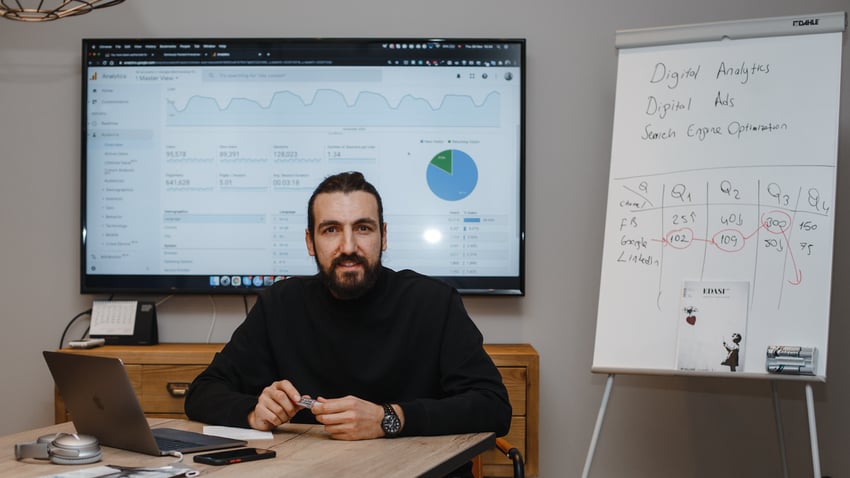 4. Exto.io ($1.15M/year)
Artyom Rabzonov (from Chicago, IL, USA) started Exto.io about 4 years ago.
Team
1 founders / 10 employees
Case Study
My name is Artyom Rabzonov and I am the CEO and founder of Exto.io. Before organizing this business, I co-owned Aheadworks, one of the most famous extensions development companies for Magento.
Our goal is to help online merchants around the globe sell more, grow faster, and engage customers with effective sales strategies.
5. Rush - Ship, Track, Notify ($240K/year)
Kiril Kirilov (from Sofia, Bulgaria) started Rush - Ship, Track, Notify almost 3 years ago.
Team
2 founders / 9 employees
Case Study
Hello, everyone! My name is Kiril Kirilov, and I am the co-founder of Rush — the most versatile shipment software for Shopify businesses. Rush is a Shopify post-purchase solution that turns first-time customers into returning customers.
As far as how much money we are making today, we just hit $20k MRR. With more than 1500 active installations, we are steadily growing. On top of that, we are building strong relationships with customers, experienced dropshippers, and brand owners on Shopify.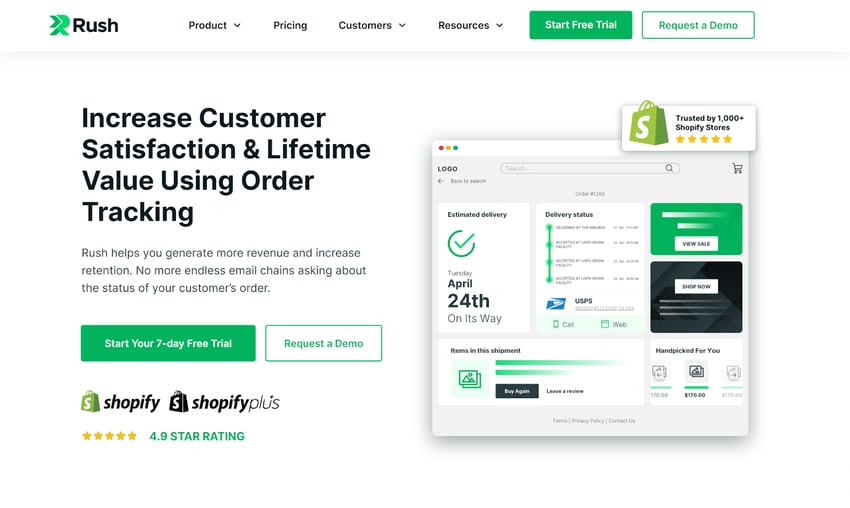 Want to find more ideas that make money?
Hey! 👋 I'm Pat Walls, the founder of Starter Story.
Get our 5-minute email newsletter packed with business ideas and money-making opportunities, backed by real-life case studies.
You'd like to grow your engineering team, now what?
Having open roles is one thing, but getting qualified candidates to apply is another. That's where Hired can help.
Get instant access to a curated pool of responsive top tech and sales talent
Filter by what you need (skills, experience) and what they want (WFH, equity)
Trial Hired and pay nothing until you make a hire
See candidates now.